Understanding Forklift Accidents and Compensation Means Knowing the Law and History of Forklifts.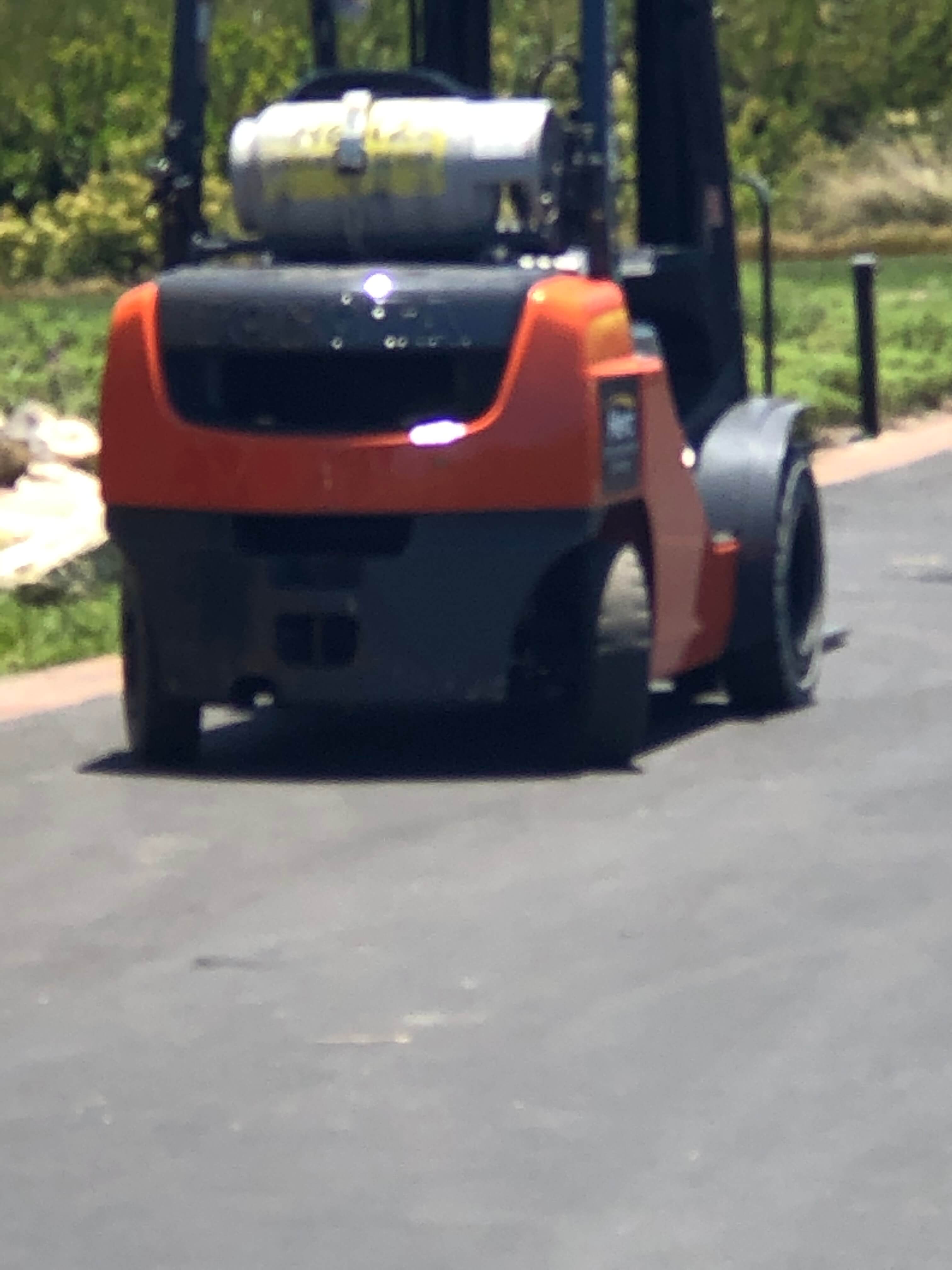 A forklift can be large, and it can be small. It has been given and has earned itself many names and distinctions over the years. And these were coined by the people who admire it most, laborers. For example, it was given the name "jitney," long ago, which is a slang word for something cheap, like a bargain cab fare. Having worked in the construction and warehouse industry before I was a lawyer, I learned to drive these machines.
And I know first hand that we blue-collar guys become very fond of our forklifts. As a result, over time, manual workers have given them glorified, or odd names depending on the industry (farming, sawmilling, dock work, commercial and residential construction, aircraft, trucking/shipping, aviation manufacturing, and with locomotive trainmen, etc.). Most of all, these powered industrial trucks are heavily used at locomotive terminals, meatpacking plants, and in the longshoring trades.
The forklift is used in many phases of construction projects. And anyone who has seen the phases of land development has noticed various types of forklifts moving around. Most of all, these machines are indispensable tools used at virtually every warehouse or dock's Material Transfer Zone ("MTZ").
The industry also has other widely used names for these powerful workhorses, such as:
PIT.
Stacker.
Lift truck.
Fork hoist.
Forklift truck.
Lifter Pallet jack.
But a working guy may call it a "bull." Sawyers have coined other examples of the machine's street talk definitions in sawmills like "Hyster," "Gerty," or "Gobbler." (Think Cat 966). And some cliques such as union ironworkers may use their lingo when referencing this contraption. Just like Marines call their M-16 a "rifle," and soldiers call it a "gun," this tool's name remains a term of endearment beloved and unique to each type of workplace and industry.
Forklift Defined: Not to be confused with a human-powered floor jack or hand truck, forklifts can be one of a variety of machine-powered, wheeled devices designed and used to lift, stack, store and carry various materials. Examples of some things these heavy machines carry are agricultural goods, cumbersome construction pallets, and other commodities over short distances.
Due to its ability to lift heavy objects into the air with its "fork" or "forks" and stack and slide them into shelves, these hoisting machines are indispensable at warehouses, agricultural harvesting, and storage areas, construction sites, agricultural, and manufacturing industries. As will be discussed, the history of forklifts and various safety laws is full of catastrophes. Here we discuss the aspects of employer and third party liability to compensate you when you are injured in a forklift accident.
Los Angeles, California Forklift Accident Attorneys – What Makes Us Different?
As noted alluded to above, attorney Michael Ehline was a building contractor, day laborer, and warehouse worker. He has driven forklifts and directed them. He has seen the accidents and injuries they can cause. As a personal injury lawyer, his offices at Ehline Law Firm Personal Injury Attorneys, APLC, have successfully won injured workers, pedestrians, and surviving families, millions of dollars for heavy machinery accidents, including those involving lift truck.
Ehline is the holder of multiple Super Lawyers Rising Star Awards and was recognized in 2016 as Personal Injury Warrior of the year by Personal Injury Warriors International. Although Michael is not a hail fellow, well met, he is a man of high social standards and integrity, and he expects the same of those he works with. As a former Marine, he understands slothfulness, motivation, and leadership.
Motivated, Delightful Staff.
He also understands that having the wrong member on his elite team hurts your mission in getting paid what you deserve for undeserved personal injuries and all your past hard work. We understand you may be partially or permanently disabled. And it goes without saying that you are probably struggling hard to pay your rent as you lick your wounds and rest.
So we know that right now, probably more than ever, money is your primary objective because you need it now just to heal up and get better! Because of this, Ehline has taken great effort to surround himself with the grandest and most trustworthy team of file clerks, investigators, paralegals, legal secretaries, staff attorneys, and more. That way, calls get returned, and a certain degree of hand-holding can occur so our clients can have peace of mind, and we guide them through the investigative process, on to final victory.
We Help People With Forklift Accidents.
Below, we will cover more about forklifts, what they do, how they can help, and how they can cause injuries and death. Next, we include the costs of workplace safety laws and licensing, as well as how to avoid being harmed. Finally, we cover how to get paid if you or someone you know gets hurt or killed by one of these massive, industrial machines.
A Little More About Forklifts Past, Present, and Future.
Humans are amazing creations. But like machines, repetitive lifting movements can cause our body's parts, like our spine, to wear out. And unfortunately, we can't switch out our injured lower backs, or upgrade to a new model. Because of this truth, humans invented things like the wheel and other machines, to help us become more productive, with fewer injuries and other problems attendant with relying solely upon human automation.
Although the Clark Company is given credit for "inventing" the gasoline-powered fork truck in 1917, other examples of similar steam-powered self-propelled behemoths with metal wheels and iron axles existed as far back as the 1800s. One thing is certain, the utility and necessity of this wonderful industrial lifting machine have made it a staple tool of whole economies, giving rise to millions of forklifts being used modernly.
In the 1920s, a sea change in lifting power occurred due to more advanced electronics and hydraulics, which led to a vertical lifting cantilever device and other advancements, making these machines more natural to use for stacking and storing pallets, for example. But it was the 30s that saw the forklift come into its own, with the standardization of pallet size.
Uniform pallets led to the uniformity of nomenclature of whole classes of forklifts. Standardized forklifts helped the United States win World War Two, due to their ability to rapidly load and offload heavy supplies in support of our fighting men.
Present Day Forklift Machines.
Presently, manufacturers commercially sell heavy carriers, light electric-powered lifts, and even high torque diesel-electric versions. But did you know some factories and plants using non-human controlled, automated forklifts already exist?
You heard right. The marathon race to replace man with machine equipment is rapidly coming to an end. Presently, as will be discussed below, the future of forklifts includes replacing expensive and vulnerable human operators with robotic drivers programmed by artificial intelligence. But for the time being, there are at least 105 different types of forklifts available in the market place.
That's a lot. But then again, from avionics to supercar manufacturing, there are many specialized forklifts to get the job done. For business owners, a wide selection of styles and models exists to choose from. So this can make it difficult when companies select a forklift to lease or purchase. Battery power, wheel turning configurations, ergonomics, and other advances have made many of these machines easier to operate in tight spaces, safer, and better.
No matter what, whether you're looking to rent a forklift for your next project or wishing to purchase a new one, our below information covers some of the different forklift types, component parts, models, uses, and benefits of some popular models. Hopefully, this information can assist cash strapped companies in selecting the right forklifts and operators to suit their particular business needs.
What are the Reported Annual Costs of Forklift Personal Injuries and Deaths?
It's not just operators and loading dock workers in death's danger. Pedestrians and even loitering truckers standing near forklifts are at risk too. An example could include a shopper at a grocery store or a trucker who needs to use the restroom. Imagine a mom who needs to take her child from the aisles to change a diaper in the restroom. Well, the loading bays in many of these stores are in the direct path of many forklifts.
A driver with an obstructed load could quickly run over a small child who became lost or separated from his or her mom. Or take, for example, a trucker just left the loading ramp, ascending the platform's stairway to up head up into the bustling warehouse to relieve himself in the restroom located near the double doors to the customer-facing section of the facility. Once inside, he or she faces navigating a maze of calamities as well. So again, forklifts don't just harm or kill store employees. And these are just a few examples of how someone not connected with the store can be seriously hurt or killed by a lift truck.
Knowing the Common Causes of Forklift Accident – An Ounce of Prevention?
Is a pound of cure? So how can we stop these accidents from happening and protect our people? Knowing the most common causes of forklift accidents is a good start. But changing some laws may help too. For example, restroom locations should not be so close to forklift areas and paths.
Yet, many grocers and places like Home Depot, or Lowes, have to design their warehouses in such a way to ensure workers in the back, as well as people in the store, have access to public toilets. So it has long been that case that restrooms are located at or near the same areas where employees use forklifts, hand trucks, and other devices to transport goods to be faced and shelved inside the store. It becomes costly to locate additional restrooms in other parts of the facilities.
So many small to medium-sized stores need to balance public and employee restroom convenience and location with the law and costs. Many of you have seen the double doors that swing inward and outward to allow crates and lift trucks to stock other parts of the store. The law actually promotes this problem in the interests of being fair.
Employers must provide at least the minimum number of toilet facilities, in toilet rooms separate for each sex (see the table in 29 CFR 1910.141(c)(1)(i)), and prompt access to the facilities when needed. Restroom access frequency needs may vary significantly from worker to worker, and may be affected by medications, fluid intake, air temperature, and other factors.
Because of the ADA, and other laws promulgated by OSHA, the location of restrooms could be a factor in non-employees deaths and injuries. Since access can vary for some workers, employers must make certain everyone, not just workers, has prompt access. Because of this, others are vulnerable to being crushed by an unstable load, forklift operator inattentiveness, an overturning, such as from an unstable load, and so on. We'll explore some of these other hazards and highlight some ways to prevent them from endangering employees and guests.
Occupational Injuries, Illnesses, and Fatalities Involving Forklifts.
The numbers are conflicting. Every year over <a "href="https://www.cdc.gov/niosh/docs/2001-109/">20,000 workers are killed or seriously injured in work-related incidents, according to the Centers for Disease Control ("CDC"). CDC data also says that injured workers can total $38,000 in direct costs per injured worker and $150,000 in indirect expenses. (Source). And according to OSHA, yearly, there are over 34,900 mild, moderate, to severe injuries to people involved in "powered industrial truck" accidents.
The term powered industrial truck is defined in the American Society of Mechanical Engineers, ASME B56.1 (formerly the ANSI B56.1 standard) as a "mobile, power propelled truck used to carry, push, pull, lift, stack, or tier material." (Source).
At least 61,800 yearly powered industrial accidents don't require serious hospitalization. But OSHA also claims that one out of every six workplace deaths involves a powered truck. Forklift accidents, on average, result in 85 annual deaths in the United States.
That's a lot of close calls. Also, crush injuries arising from an overturning forklift make up around 42% of forklift fatalities each year. Another interesting thing to note is that during their "useful life," 90% of forklifts get into a wreck or accident. some type of accident. (Note. This calculation assumes there was only one accident per forklift during the average 8 years life of a front lifter such as this)
OSHA claims that about 70% of forklift accidents in the US could be prevented if companies instituted better safety and workplace training. Operator inattention remains the leading cause of forklift accidents, and it's 100% preventable. While operator inattention can be caused by fatigue, distractions, or simply carelessness, it's imperative that operators stay alert and takes steps to keep everyone, including themselves safe. (Source).
In the news, we hear stories of truck lifts and people being struck in the head by a load. But there are all kinds of cases where these vehicles fall over and crush workers, or where elevated employees are falling to their death. Again, most of this is due to a lack of proper safety training.
During the period of 2011 to 2017, 614 employees lost their lives in forklift-related mishaps. During that same period alone, 9,050 people suffered nonfatal forklift-related injuries. All these incidents cost employers and employees productive time off from work.
614 Reported Forklift Fatalities from 2011-2017.

| Year | 2011 | 2012 | 2013 | 2014 | 2015 | 2016 | 2017 |
| --- | --- | --- | --- | --- | --- | --- | --- |
| Total | 87 | 93 | 90 | 85 | 94 | 91 | 74 |
60,720 Reported Forklift Occupational Ailments and Injuries from 2011-2017.

| Year | 2011 | 2012 | 2013 | 2014 | 2015 | 2016 | 2017 |
| --- | --- | --- | --- | --- | --- | --- | --- |
| Total | 7,920 | 8,870 | 8,400 | 9,440 | 8,630 | 8,410 | 9,050 |
As a result, on average, workers lost 13 days off of work. And this is much higher than the median standard of eight days for combined cases of other industry time off from work. Of the 2,050 non-roadway forklift accidents above, 1,850 cases involved injuries to pedestrians while the forklift was in transporting items back and forth. Of particular interest, forklift-related occupational injuries to people on foot resulted in the highest median lost workdays, totaling 20 days on average.
Percentage of fatal injuries and nonfatal injuries and illnesses involving forklifts by selected events, 2017. Use up and down arrows to navigate with most screen readers."
Most Common Ways People Died or Sufferred Forklift Injuries for Study Period of 2017?
Just to give the reader an idea of the severity, causes, and how these injuries are classified, we took a snapshot from 2017 above. First, primary forklift involved injuries are injuries due to contact directly with the lift truck and the victim. Basically, anything other secondary damages caused by the lift would be deemed a "secondary source." Imagine the forklift knocking over a row of lined up dominos.
All the dominos will fall in that case. So that is the secondary source, such as one the forks knock a pallet off a shelf, and it falls and crushes a store patron or worker. To learn more, check out the Occupational Injury and Illness Classification System ("OIICS") here. You can gather and collate important data here, here, and here.
2017's Primary and Secondary Causes of Forklift Injuries and Deaths.

| Event | Nonfatal | Fatal |
| --- | --- | --- |
| Caught in or compressed by equipment or objects | 7% | 1% |
| Struck by falling object or material–other than a powered vehicle | 6% | 16% |
| Struck by powered vehicle–non-transport | 15% | 18% |
| Falls to a lower level | 6% | 15% |
| Nonroadway incidents involving motorized land vehicles | 23% | 27% |
| Pedestrian, vehicular incidents | 20% | 12% |
(Source).
Loading Docks, Trucks and Forklifts – Two Peas in a Pod?
There many types of loading dock configurations. But no matter how they are designed, they are vital to shipping and receiving. And without forklifts, our entire commerce system and the economy would be gravely harmed. Forklifts have proven their utility as worker bees of commerce. We see them at Home Depot, we see them on farms, and we see them at the seaports.
For example, train Loading Systems, or TLO's, work alongside loading docks in tandem with many variants of forklifts during active load-out operations. Forklift drivers are constantly driving back and forth across train tracks and loading bays, loading pallets on to flatbeds or driving them directly into the back of rear, or sideloaded big-rig trailers from any number of truck ramp configurations. Then off these eighteen-wheelers go to a weigh station, or another loading bay at a train station, or warehouse. So you can see that heavy-lift loaders and trucking docks are like two peas in a pod.
What are the Different Classifications of Forklift Hoists?
There are many classifications of forklifts for many types of jobs, discussed below. OSHA says there are seven forklift classifications. And employers, as well as operators, be familiar with and be certified on each class of forklift they intend to operate.
Class 1: Electric Motor Rider Trucks.
These are the more common forklifts we see at staging areas of small factories and storage facilities. Typically, these have quiet, pneumatic tires for indoor-outdoor use in good weather, or padded tires strictly for use on smooth, indoor floors. The advantages to these vehicles are that they don't throw off-gas fumes, and they are easy on a worker's ears. They are quiet due to industrial batteries fueling electric motors.
These machines rely upon transistor motor controllers to control vehicle and hoist movements as well. These models are widely used on the warehouse loading docks, agricultural grain storage, train, and port facilities. Due to their low impact on the environment, California businesses use these battery-powered machines often.
Class 2: Electric Motor Narrow Aisle Fork Trucks.
This everyday forklift job likely pays around $13.00 per hour. Companies like Home Depot use a standing driver version of these due to the need for narrow aisle operations while customers are still in the store shopping, for example. When I worked there, we used the "Raymond Easi R40TT Electric Reach Narrow Aisle Stand Up Forklift." (Learn More). These vehicles are narrow enough to allow space for people to get by, yet they also offer a safety cage for the driver.
Also, they are easy to store in the back when not in use. These vehicles have unique features that are designed to minimize the space occupied by the truck and to improve speed and efficiency. These are the ones we hear about in the news when a customer is killed by an overhead pallet falling.
In November 1999, Rebecca Hamilton and her 79-year-old mother, Mary Penturff, were shopping at a Home Depot in Los Angeles, when a 19-year-old forklift operator knocked a heavy box from an upper shelf. The box struck and killed Penturff. "I saw this huge pallet falling," Hamilton remembers. (Source).
Usually, these calamities have to do with a driver crashing into a shelve, shifting overhead loads over the side on to the heads of clients. Other times, as the load is being lifted on one side, the loader knocks a load off on to someone standing in another aisle. And there are other cases where the vehicle itself fails and drops its load, where it bursts and fragments on to the people nearby. Death and severe head injuries to others are high when using these machines.
Class 3: Electric Motor Hand or Hand-Rider Trucks.
Here, there is no overhead safety cage, because these machines are designed to move large loads low to the ground for relatively short distances. Again, these battery fueled vehicles are used at places like Lowe's or Home Depot, and in all types of shipping and receiving jobs. Here is a training video to learn about their safe operations. There are many kinds, but Home Depot seems to favor the Raymond 8410 Pallet Jack, Electric Pallet Truck.
In essence, these hand-controlled forklifts allow an operator to ride while standing in the back. Or they can walk in front of the load, depending on the model. With these jacks, the operator controls the truck and lift with a steering tiller. Handriders have been known to crush ankles, toes, feet, and cause other terrible long term disabilities. Workers as well as end-user shoppers have been run over on more than one occasion and had their Achilles heel clipped, for example. Just because it's a little dog, doesn't mean it won't bite.
Class 4: Internal Combustion Engine Trucks—Cushion Tires.
These are the forklifts we tend to see in the back of warehouses near the loading bays. These lifting machines offer a safety cage for the operator and are usually powered by propane or natural gas. Mostly, these units are designed for indoor use on dry floors that are smooth. They are versatile enough to drive to and from trailers at loading docks with heavy, palletized loads. Because their cushioned tires are smaller and lower to the floor, they tend to have a lower center of gravity and can make for tighter turns in a smaller space radius than pneumatic tire equipped versions of forklifts.
Baoli KBE25C forklifts are a popular type of cushioned tire lift. These are the ones we hear about it the news falling in between the big rig's trailer and the loading dock due to the metal dock's bridge plate rattling loose from the vibration and rocking action created by the trailer's suspension as weight shifts inside the trailer. Falling injuries for workers and workers being crushed are common outcomes of these incidents. Because of this, spotters and proper lighting are crucial in identifying safety problems.
Class 5: Internal Combustion Engine Trucks Equipped With Pneumatic Tires.
These trucks seen commonly in the more giant warehouses like those operated by Contemporary Marketing Group of Norcross, GA operate multiple Linde Series 346 forklifts to help them resupply outlets such as Home Depot and Lowe's. They can be used either inside or outside for virtually any type of application. They may have knobby tries for lousy weather or smoother tires for better conditions.
Because of the large capacity range of this series of lift trucks, they can load small single pallet loads directly on to 40-foot containers. Although these vehicles are can be fueled with biodiesel, propane/LPG, regular gasoline remains among the most common fuel source for older lifts. Overhead objects falling are a common issue with these types of lifts. And although the operator is afforded some protection due to a roll cage, bystanders are not so lucky. Most of all, techniques in stowage are key to keeping people safe when operating these handy trucks.
Class 6: Electric and Internal Combustion Engine Tractors.
So now we are getting into the big boys. These vehicles are versatile and can be used for agriculture, forestry, longshoring, train docks, and heavier industries requiring heavy lift capabilities. As in the other classes of tractors, they can be fueled by a variety of methods depending on indoor or outdoor applications. One issue with these types of lifts has to do with the interaction between so many ground workers and the vehicles. Because of this, spotters should always be used when in active operations.
Class 7: Rough Terrain Forklift Trucks.
Just like it sounds, rough terrain forklifts are for use in rough terrain, similar to class 6 vehicles. But these are specialized vehicles equipped with much larger "floatation tires," and they are usually powered by diesel fuel. Noteworthy here is that these versions come in 2 and 4 wheel drive versions for various, rough outdoor use applications. So these are the vehicles seen offloading large loads of wood from flatbed trucks for the initial framing of homes.
But they have also been used for loading and unloading large logs and other extremely heavy cargo outdoors. Vehicle wrecking yards and auto recycling facilities usually have at least one of these vehicles on hand. Mills and lumberyards also have their versions of these steel behemoths. (Source).
Outdoor lifts such as this have been involved in many rollover accidents involving severe crushing injuries and death. It is vital that in addition to experience driving on uneven surfaces, the operator maintain eye contact with a ground spotter. Preferably, a radio will be available for instant communication of any issues.
The most popular forklift types and classifications on the market today are:
Rough Terrain Forklift. We discussed these above under classifications. These are called by other names, like "straight mast forklift." As the name suggests, these are specifically build to achieve heavy outdoor jobs, rough grades, and other unequal surfaces. A noticeable feature is their large off-road pneumatic tires helping them travel over rocky and jagged earthworks and features.
Warehouse Forklift. Used to unload pallets and deliver back to deliver vehicles, etc. Popular warehouse forklift models like the Hyster 36-38T, Komatsu 20 BX50 Hyster, or the Toyota 3-Wheel Electric Forklifts are in year-round operations at loading bays across the world. Some weigh 5,000 pounds or more and heavy-duty versions can vertically elevate 25,000 pounds into the air. The subtypes include (1) Side Loaders; (2) The Counterbalance Lift.
Reach Fork Truck. These forklifts are mainly indoor use warehouse trucks. The main feature that stands out with these machines is their distinct ability to extend their forks deep inside a cubicle for example. In addition, the operator is afforded greater forward vision due to the ergonomics of its cab. Because these are a low center of gravity vehicle, they are probably unsuited for outdoor use.
Walkie Stacker. Walkie stackers have no cab where a driver sits. With these low power material movers, the operator stays on foot in the rear of the stacker using a long sway bar handle to maneuver loads lower to the ground.
Order Picker. Part of the walkie stacker family, these material movers pick and deliver products and goods to and from storage facilities. Of particular concern, order picker lift humans as high as 32 feet into the overheads. That way, the operator can "pick" smaller inventory for customers. These are popular at Home Depots, furniture stores, and large motor car parts stores, for example.
Side Loader.
Telehandler. These are also called telescopic forklifts. Telehandlers come with a boom and extendable arm, similar to a crane and forklift hybrid. These powerful machines can raise loads as high as 19 feet in the air. But there are specialty models, including the JLG 1644, that can elevate loads as high up as 55 feet.
Industrial Forklift. Tradesmen also call these the "large-capacity forklift." Again, this is a hybrid. But this machine combines the benefits of a traditional warehouse forklift with the lift variables of the telehandler. Although it is not as good at angling cargo in and out of tight spots, it can carry heavier payloads, and do so, while they are far higher off the floor than a traditional warehouse forklift.
Pallet Jack. Pallet jacks are designed to lift small items in and out of small spaces. But there is far less power and torque with these models. In other words, it will require more trips to get the same job an industrial lift truck can perform. But the upside is the tight spots it can maneuver, licensing requirements to operate, and the overall economy when weighing the benefits of one purchase over another.
Why is all of this above information so important for a personal injury attorney to understand? Because each classification of lift requires special permission to operate, it would be negligent in allowing the wrong person on the machine. Also, if an accident happened during an operation, the machine was not designed to perform, and someone was hurt that would show negligence.
Or what if a part failed and someone died? That, too, would be negligence. And us lawyers in the PI field need to know every single thing they can learn about all aspects of licensing, safety, and manufacturing to get their clients paid what they deserve. That's why! On the other side of the coin, employers are pushing hard to eliminate costly payrolls and injury claim payouts due to human error, with automation.
Let's Take a Look at the Guts or a Forklift and the Many Ways a Person Can Be Pinched or Crushed.
There are many nooks and crannies that can injure workers or curiosity seekers like a small child. Little fingers, arms, heads, and legs can become trapped, and people can become trapped and crashed in all of the moving parts of a forklift. In particular, when performing repairs and maintenance, workers are at constant risk of a crush, pinch, or fall injury. Let's look at the component parts of forklifts and visualize the many ways a person can be hurt.
Mast. The forklift mast is a mechanical vertical column that raises and lowers loads. For most forklifts, the mast is designed toward the front of a forklift and directly in the forklift operator's line of vision.
Forklift masts come with various sections that elevate or lower the forklift carriage along with the forks.
Types of Masts:
Duplex, or two-mast stages.
Triplex, or three-mast stages
Quad, or four-mast stages in sections.
When a business selects a forklift, it remains imperative for the purchaser to make sure they understand the many options and features, especially safety features. It's also important for a forklift owner to know the name and terms used to describe operations and repairs. Before choosing a forklift, you need to know what will work best for your loading facility's configurations, such as aisle space, container bin space, and height, etc. Knowing your mission goes a long way to preventing future personal injuries.
For example, with respect to the forklift's mast, there are several terms to understand, including:
Lift height.
Free lift height.
Lowered height.
Extended height.
I have included a link dealing with forklift mast types to help a potential forklift purchaser and operator understand more about the special and peculiar types and uses of forklift masts.
Lift Cylinder. Lift cylinders drive the forks or workers up and down the mast like an elevator. Most lifts are hydraulic. It is important to keep hands and fingers away from these parts of the machine when it is running. Even a running machine with no operator aboard can have hydraulic failure and drop an overhead set of forks on to a person's head, seriously killing or wounding someone.
Tilt Cylinder. A tilt cylinder controls movements of the lift during operation. Still, unlike a lift cylinder, the tilt cylinder controls the tilting and leaning movements of the machine's carriage, as well as the angle of the forks themselves, relative to the floor. These are areas where a worker clearing an obstruction or working on a forked pallet can trap their hands and fingers, leading to amputations and degloving injuries.
Forklift Carriage. So like it sounds, the carriage is designed to hold whatever is hoisted by the lift. Once an object is mounted to the carriage, it is controlled by the machine's mast. Sometimes people stand or walk under these carriages, which can be a death sentence. Again, safety and training, along with proper use of spotters, can go a long way to prevent these acts.
Forks. Forks, or "tynes," typically are inserted under an industry specified pallet uniformly built to work in tandem with a forklift. Once the forks are in place, the mast and forklift carriage work the forks to shift the load against the backlift with gravity and lift the load from beneath the pallet. A driver who has obstructed vision, or who is distracted, can easily harpoon, or impale an unsuspecting worker or pedestrian with these pointed tynes of varying sizes and shapes.
Load Backrest. So this is a section of steel mated with the carriage. The backrest gives the operator an additional surface area to snug the cargo against the transport. Its main function is to stop loads from sliding into the cab during active operations. Also, this vital component part shields the forklift mast and movable mast components, so there is no load damage. Again, there are crevices and pinch points where workers can catch a hand or trap an arm or leg. TIP: Never operate a forklift without the backrest. It is a crucial and life-saving part.
Counterweight. A counterweight is exactly what it sounds like. It is a weight added to the rear or sides of the forklift intended to offset the weight being lifted by the forklift. But it is important to check the lift's rating plate because of the possibility of stability, flipping, and tipping problems when unladen. Obviously, a 3,000-pound plus vehicle rolling over can easily kill an adult or child. NOTE: With electric lift trucks, the battery packs are so heavy, they usually act as weight counterbalances.
Power Supply. The power supply the fuel that drives the motor of the forklift. Modernly there are gasoline engines, various types of lead-acid, absorbed glass mat, and possibly even lithium, nickel-metal hydride, or some other type of rechargeable batteries depending on the type of forklift. Besides battery-electric lifts, there are diesel, gas, or propane-powered internal combustion versions. Internal combustion forklifts often mount the engine at the rear of the forklift, underneath the driver's seat. Propane-powered forklifts are in a special category of their own, and they often have exposed external tanks to allow for quick refueling.
Propane Tank Explosions and Forklifts?
Although gasoline and to a lesser degree, diesel motors always are at risk for fire and explosions, propane is in an explosive category all its own. Natural gas or liquid propane gas ("LPG") storage containers hold propane in its liquid form and are available in many different sizes. These containers are engineered and designed for propane containment at high pressures.
At larger factories, there will be a larger exterior holding tank where the smaller propane tanks can be refilled for use on warehouse machines. Propane tanks have been seen in the news as a source to build bomb-making devices for a reason. Propane tanks can explode. And when they do, everyone in the blast zone and beyond risks various types of injuries, including deafness, blindness, and traumatic brain injuries, among other ailments.
Gaps at trailers and loading docks, coupled with a fall and a hot engine, can set off an explosion and fire the kills or maims. Even changing out tanks can set off an explosion and kill a person. Again, proper training and safety can stop these explosions from happening.
Tires. Tires and ride height are crucial in the proper function of each lift. And, as noted above, there are many varieties of tires. Because forklifts can lift heavier loads than other vehicles, they need specially rated tires. There are even three-wheeled forklifts that have their tires made just for them. Regular tire maintenance is vital in avoiding vehicles tipping over, as well as in maintaining level footing, steering, and control of heavy loads. Failure to have proper, well-maintained tires can cause the truck to lose control and crash into a rack, display stand, another vehicle, or a person.
Wheels. Drive Wheels are the larger powered wheels necessary for driving the forklift into motion. Steering wheels are the smaller wheels used to turn and corner the forklift.
Operator Cab. Forklift cabs come in different configurations and can be open or enclosed. It depends on the machine and the job. Basically, it is the cockpit for this precision working machine. From here, the operator controls the steering, braking system, mast controls, acceleration, and deceleration, as well as "inching." Also inside the cab are dials, knobs, levers, and gauges.
Operator Seat. Assuming the vehicle is a sit-down version, a seat will be provided inside of the operator's cab. The key here is that the driver is restrained correctly to avoid being thrown from the vehicle if it tips over or falls. Staying restrained inside during a crash can prevent horrific injuries to a driver. But if there is a vehicle fire and a driver is impaired, he or she could be trapped and burn to death. Again, workplace safety is critical here.
Steering Wheel. Unlike a passenger car, forklift steering wheels controls the movement of the machine's smaller rear "steering" wheels, not to be confused with the steering wheel with the hand knob many rigs employ for faster hand turning of the vehicles. Operators need to make sure that the wheels are properly adjusted and maintained. Failure to properly design or maintain a steering mechanism can result in a product liability and premises claims if someone is hurt as a result.
Levers. Forklifts come with a tilt lever, lift lever, and side shift lever. Multitasking and making sure the right lever gets pulled remains crucial in injury avoidance. And this is another reason why a spotter is essential in keeping people away and closing off aisles.
Rating Plate Or Capacity Plate. The capacity plate is at the front of most forklifts. It tells all the world what there is to know about the characteristics of the particular loading vehicle. In a nutshell, it tells you the model type, lift heights, carrying capacity, backward and forward tilt degrees, tread height and width, as well as tire information, etc. Most of all, this is what the forklift operator needs to understand before firing up this powerful working machine.
Overhead Guard. The overhead guard is part of the cab. It's similar to a roll cage or roll bar on an off-road vehicle. But here, the main idea is to prevent flying or falling objects from coming inside the operator's cabin.
Forklifts are designed to curtail or prevent objects coming loose or falling from loads. And the overhead guard is vital. Sometimes it remains impossible to avoid accidental bumps or improperly seated loads from falling on top of the forklift cab. And there is no guarantee the overhead guard will keep the operator safe from an unsecured load.
So always follow the operator's manual before attempting to operate these machines. Above, we just saw the many component parts and some way they can all cause or contribute to creating a catastrophic injury or death. Below we will look at what companies are doing to eliminate or prevent injuries by eliminating humans from the sending and receiving component of warehousing operations.
The Race to Replace Forklift Drivers With Automated Robots?
As discussed above, the costs of injuries to forklift drivers and bystanders are great. If employers could use a computer instead of a human to safely move the controls and levers the same way every time, lifting devices like forklifts, lift beams, swivel-hooks, elevating platforms, and hoists could be operated far more efficiently. Just the cost of training and employing a fallible employee alone is great.
For example, look up the Standard Occupational Classification, or SOC code# 53-7051.00. As readily seen, a typical forklift driver's mean annual wage in America is $ 34,260.00. So that is about $ 16.00 per hour plus benefits, insurance, severance packages, or perks. Employers invest a lot to make sure they have good operators. Presently, about 542,750 forklift jobs currently exist in the U.S.
Automated Machines Can Do all these Jobs?
A real, trained heavy machine operator or Jitney driver, depending on industry and machine, generally must undergo training and courses in, as well as become proficient in weighing materials or products. The operator must also be able to record weight or other production data present on any labels or tags. Also, drivers need to understand safe operations and tend to automatic stacking, packaging, cutting, and loading machines. Besides that, a lift truck employee has to be able to signal other workers to get debris, discharge, refuse, and other obstructions from the way of the vehicle.
Whether an automated machine will know how to hook tow trucks to trailer hitches, fasten grader attachments, rollers, plows, or winch cables to tractors, with hitch pins, remains to be seen. But lift operators have to know how to do it! A well-trained operator also knows how to operate the gasoline or electric controls to transport loads between loading, processing, storage bins, and dedicated stacks. And this skill is needed in as well as knowing how to position lifting devices beneath, above, or around skids, loaded pallets, or containers.
But this is not all. Operators must be able to properly lockdown material or products and get them to designated areas in an organized, speedy fashion. A good driver will also understand how to open dump chutes, turn valves and spray, or release items from dump cars or storage containers into hoppers. The list goes on more. The point is, routine maintenance on auxiliary machines, like lubricating, washing, recharging fuel cells, pouring in gas, or strapping on a new liquefied-gas tank are all tasks performed by humans.
Can automated machines load or unload materials from cars, skids, pallets, or platforms, with lifting devices as good as a human? And can the automated machine police itself by checking product loads for accuracy. Last, can automated machines safely move material in and out of the storage areas and get it to the end-user on time? (Source). If so, then humans are on their way out. Just the costs of licensing and keeping a decent forklift operator are high.
Let's take a look at the arduous process forklift driver and employers face with respect to operating and licensing prerequisites that could be eliminated with automation.
Must a Forklift Driver or Employer Have Any Special Government Issued Licenses or Certifications?
Although the below list is not conclusive, there are many local, state, and federal regulations regarding the safe and efficient operation of lift trucks.
If you are an individual, you can enroll in a course offered by a training school in California. But you must complete the training course and pass the tests by the standard.
Also, OSHA mandates specific training for a particular type of forklift. (Source). That means a forklift license is prescribed to legally operate all classes, from one through seven of forklifts.
Do You Need a Regular Commercial Vehicle or Car License to Drive a Forklift?
Generally speaking, no. You don't need a typical class A, B, or C road driving license or CDL to drive a forklift in its typical habitat. As discussed above, the forklift license you will need to apply for depends upon the rig you wish to operate.
IMPORTANT – What About Forklift Drivers on Public Roads With No California CDL?
It depends. Under certain circumstances and short distances, a forklift can be legally driven on a public road. But the forklift owner must make sure it is registered with the DMV, has the mandatory liability insurance, and the operator has a proper license. There are many ways a person can be hurt on the roads by a lift truck. One way is when a construction crew has deployed the truck for repair or maintenance, and it crashes into another person's passenger car or motorcycle or runs a pedestrian over.
Whether or not the operator has a California Driver's license, in that case, is probably a moot point. Because this is an authorized construction area, as if it were a warehouse, it is likely governed under rules covering construction zones. Another way is when it is driving along a road designated for agriculture, or some other use allowed by the local licensing authority, for example.
If allowed under the law, you would not need a CDL. Still another way for a forklift to hurt a bystander or motorist is when employers or drivers engage in the illegal operation of these vehicles on the roads to save time, for example. And we can never rule out that forklift driver often leaves their keys in their forklifts. Never rule out a thief, or a crazy person may try and make off with the vehicle and cause a motor vehicle collision. There may be Construction and Use Regulations as well as other rules and traffic regulations, so do your research.
What Does U.S. Law Say About Driving a Forklift on the Road With No Car Driver's License?
OSHA, 29 CFR 1910.178, has no requirement one way or another when it comes to having a CDL to drive a lift truck. But for sure, a commercial driver's license is never required to operate a forklift.
What Are Some Duties of Forklift Employers and Operators?
(1) The employer shall ensure that each powered industrial truck operator is … an employee to operate a powered industrial truck (except for training purposes), the … operator has completed the training required by this section, … (Section 3668, Powered Industrial Truck Operator Training. – California … " True, the operator must complete the training. But the employer is charged with making sure that has taken place. How Do You get a Forklift License in California?
OSHA requires you to undergo training on the specific to the type of forklift you will operate. Only once you pass the assessment, can you get your license and legally start operating. Of particular interest, although California requires most forklift operators to be licensed, the agricultural industry is exempt from these rules. But the governmental rules employers must follow in hiring, training, and supervision of drivers are located below.
Keeping Your Forklift License.
Cal/OSHA's GISO Section 3668 requires a re-evaluation of forklift licenses every three years to assess the skills and competence of veteran operators. What is the Legal Age in California to Get a Forklift Operator's License/Permit?
In order to operate a forklift, the worker must be 18 years or older. (See also Protecting Young Workers: Prohibition Against Young Workers Operating Forklifts, OSHA Safety and Health Information Bulletin (SHIB), (September 30, 2003), 29 CFR 570. Only non-agricultural operations are provided with exemptions. (Source).
Relevant Safety Regulations for California Forklift Operators
Recap – Forklift Accidents: Causes and Prevention.
About one million active forklifts operate in the United States. At least 11% of forklifts get in an accident annually. Because of mishaps like this, OSHA has regulations to make operating these powerful work vehicles remains as safe as possible. But accidents from inattention and bad training remain common, as do deaths and injuries from malfunctioning equipment. An ounce of prevention is a pound of cure.
What Are Some Example of OSHA Forklift Accidents in the News?
At 5:30 a.m. on November 13, 2019, an employee was working for a firm that provided warehousing and storage. He was operating a stand-up forklift. He was moving material on pallets. He was driving the forklift at too high a speed. He struck the mid rail of storage racks that were in the back of him. He was pinned between the forklift and the rail of the rack.
His upper torso was struck against the mid-rail by the forklift. He was killed. (Source). In addition to getting punched in the head by police, Home Depot forklift operators are known to be injured in all types of ways. Below are some recent Forklift accidents and their case numbers. As you can see, getting pinned and crushed are very common ways to die.
| | # | Summary Nr | Event Date | Report ID | Fat | SIC | Event Description |
| --- | --- | --- | --- | --- | --- | --- | --- |
| | 1 | 121634.01 | 11/13/2019 | 0627500 | X | | Employee Is Killed When Pinned Against Rack By Forklift |
| | 2 | 121460.01 | 11/05/2019 | 0213400 | X | | Industrial Truck Operator Is Killed When Crushed Between Box |
| | 3 | 121417.01 | 11/05/2019 | 0213400 | X | | Employee Is Crushed And Killed By Box |
| | 4 | 121419.01 | 11/01/2019 | 0418400 | X | | Employee Is Struck And Killed By Roll Of Coiled Steel Wire |
| | 5 | 121126.01 | 10/19/2019 | 0454510 | X | | Industrial Truck Operator Is Pinned Against Front End Loader |
| | 6 | 120417.01 | 09/30/2019 | 0625400 | X | | Employee Is Killed In Fall From Upper Floor Deck |
| | 7 | 119721.01 | 09/06/2019 | 0215300 | X | | Employee Is Killed When Forklift Overturns |
| | 8 | 118965.01 | 08/13/2019 | 0636900 | X | | Employee Is Killed In Fall From Tugger |
| | 9 | 118739.01 | 08/05/2019 | 0418100 | X | | Employee Is Struck And Killed By Forklift |
| | 10 | 118734.01 | 08/03/2019 | 0521400 | X | | Employee Is Struck And Killed When Material Handler Tips Ove |
| | 11 | 117704.01 | 07/05/2019 | 0627500 | X | | Employee Is Killed When Struck By Pipe |
| | 12 | 117683.01 | 07/04/2019 | 0625500 | X | | Employee Is Killed When Forklift Tips Over |
| | 13 | 117039.01 | 06/10/2019 | 0729700 | X | | Employee Is Electrocuted When Truck Mast Touches Power Lines |
| | 14 | 116733.01 | 06/02/2019 | 0626700 | X | | Employee Is Killed When Caught Between Forklift And Steel Su |
| | 15 | 116670.01 | 05/30/2019 | 0627500 | X | | Forklift Accident Kills Employee |
| | 16 | 116564.01 | 05/22/2019 | 0626300 | X | | Forklift Parked With Raise Forks Kills Employee |
| | 17 | 116669.01 | 05/21/2019 | 0627510 | | | Employee Is Injured By Telehandler |
| | 18 | 116283.01 | 05/14/2019 | 0418100 | X | | Employee Is Killed When Picker Truck Tips Over |
| | 19 | 116113.01 | 05/09/2019 | 0855610 | X | | Employee Is Killed While Loading Pipe |
| | 20 | 116038.01 | 05/07/2019 | 0111400 | X | | Employee Is Killed When Marble Slab Falls |
https://www.osha.gov/pls/imis/AccidentSearch.search?acc_keyword=%22Industrial%20Truck%22&keyword_list=on As seen above, even electrocution is a risk. We included this above list, so you can get an idea of the bizarre ways people get killed using forklifts.
Recap – What Are The Main Causes of Forklift Accidents and Some Fixes?
Seeing forklift drivers speeding around a near-empty warehouse is not an uncommon event. But sometimes operators get too brave and become reckless. Like all vehicles, the faster you drive, the less time you have to react. That means there will be an increased chance you will crash or tip over. OSHA says that forklift operators should drive 5 miles per hour or less. Employers can reinforce this speed limit by hanging signs around the complex. And tailgate safety meetings should spell out safety rules loud and clear.
Driver's education is number one in preventing forklift wrecks. But just going forward and backward and turning is not enough. Drivers need to know about ad deal with changes in elevation and grade, where people are standing, and whether visibility is obscured.
DANGER – Transporting Cargo While in an Elevated Load Position.
Many operators get lazy and don't take steps to keep their load as low to the ground as possible when moving materials from place to place. It presents a blockage to forward visibility when loads are carried too high, and they can tip over easier. The closer to the ground is better. OSHA recommends around 4 inches off the ground.
Forklifts can tip easily, especially when carrying heavy loads. As they navigate turns, their rear ends tend to swing in an outward direction. Because of this, tipping during turning, especially when carrying loads, is very common and very dangerous. And the tighter the turn, the more harrowing the risks of an accident. So go about things slowly when you are negotiating corners and turns. Stay safe in these hazardous areas.
Insufficient warnings and markings
Employers need to create and upkeep forklift zones. That way, people on foot, as well as forklifts, know to stay in their lane, so to speak. Simply put, it makes it easier for people to know of potential danger, and it acts as highway marking to lead the operator on a safer path. Paint, tape, stickers, and decals can be used to mark floors, aisles, walkways, rails, and shelves. Floor tape and floor signs are the most efficient option for marking forklift zones due to ease of application and durability.
Never Let Anyone Ride on The Forklift.
Only use the provided seat and seatbelt if provided. Obviously, letting someone ride on a forklift is stupid and not worthy of further discussion.
Clean Up and Improve Lanes.
As noted above, management should ponder the layout of their buildings and installations when selecting the right forklift. Most of all, it has to fit in all the nicks and crannies of the warehouse and loading bays. Also, aisles and intersections must remain obstruction-free. So take steps to remove debris and clutter from the floors, and obey all posted signs and floor markings. And employers need to make sure operators know about the different bumps, ridges, and elevation changes involving warehouses and loading docks.
Don't Let Loads Block Vision.
If forward vision is obstructed, just drive in reverse. Stay alive and protect others if you can't see past your load.
Don't Allow Unbalanced or Unsecured Cargo.
Tipping is primarily caused by shifting or lack of balance in the loadout. Taking time to lock down loose loads, and pitch the Balance and tighten loads + angle forks up can go a long way to preventing a crush, or another injury.
Spotting Mechanical Failure.
Although these machines are designed to be safe for their loads, they get old and beat up over time. It's up to the team to make sure they see the signs of wear before there is a bad mechanical failure. So inspect these machines often, including before, during, and after the shift. Always document any issues for the safety officer.
Always park your lift out of the way in a designated space when not in use, and remove the key. Always wear personal protective equipment like reflective orange vests, safety harnesses, and headgear if required so that people can spot you.
Imagine a 4 to 10,000-pound lift truck rolling away on an incline. Imagine the damage it could wreak. Because of this, you should always take the step of setting the emergency brakes.
What Types of Injuries Does Ehline Law Firm Help People With After a Forklift Accident?
Above, we discussed many types of injuries that happen with forklifts in various industries. Below are some of the types of injuries we help people with.
Gas Asphyxiation and Lung Disease.
Broken Bones and Fractures.
Lacerations and Cuts.
Wrongful Death.
Electrocutions.
Burn Injuries.
Spine Injuries.
Brain Injuries.
Amputations.
Decapitation.
Deglove.
Of course, this is just a partial list of injury cases we take. When someone gets hurt in an accident, and it wasn't their fault, they may be entitled to worker's compensation insurance payments and other money. If a bystander was hurt, or a worker was hurt due to a poorly designed or manufactured forklift, or one not fit for the use it was sold, these plaintiffs can sue for products liability, and other negligence law claims.
After suing, Ehline's goal is to get the plaintiff as much money as possible, in the form of a damages award. In other words, as your lawyers, we will fight to get you money for past, present and future pain, suffering, medical bills, pain medicine, special equipment like wheelchairs, and even a special van with a hydraulic lift. To recap, forklifts are a tremendous tool, but without proper safety programs, these machines can cause deadly catastrophic accidents.
Safety is paramount to the success of any business, and this guide explained training information, tips, and inspection checklists to ensure forklifts are operating safely. We also covered more about forklifts, like what they do and how they do it. If you or someone you love was hurt or seriously harmed due to a lift truck accident, don't sleep on your legal rights. Call Ehline Law Firm Personal Injury Attorneys, APLC now at (213) 596-9642 and discuss your valuable, fundamental legal rights. The call is free, so don't delay. More
Resources.