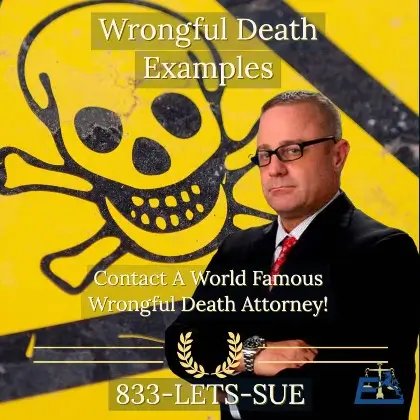 Understanding CA Wrongful Death Damages
Ultimate Guide to Understanding Wrongful Death Damages in California
A California wrongful death claim follows the law relating to claims for the loss resulting from a death that is considered to be caused by someone else. Below, our top Los Angeles Wrongful Death Attorney explains the steps in understanding what damages are and how to get awarded maximum compensation for accidental death or intentional killing of a close loved one.
California's wrongful death statute, which you can find in California Code of Civil Procedure section 337.60, et seq, explains the process. Do you want to file a wrongful death claim? The team at Ehline Law can help.
Do You Have a Wrongful Death Case? Contact Ehline Law
If your loved one's death results from another person's negligence or intentional misconduct, you have the right to file a wrongful death case. The deceased's loved ones may have a valid wrongful death case consequent to traumatic events, including car accidents, slips, trips, and falls that lead to death. We base wrongful death cases on the premise that someone else's carelessness or intentional infliction of physical harm caused the death of another.
Vital Issues to Consider Before Filing a Wrongful Death Claim
When it comes to wrongful death lawsuits, California wrongful death law allows surviving family members or a decedent's estate to sue for economic and non-economic damages when a person dies as the result of someone else's wrongful act, whether the act of killing your beloved family member was negligent, reckless, or intentional.
They can file a wrongful death lawsuit for economic damages and non-economic damages, and even future economic damages. Damages in wrongful death cases can include burial expenses, funeral expenses, lost wages, and compensatory damages for the loss of the deceased's companionship and financial support over their life expectancy.
You can even receive compensation for assistance, protection, affection, society, and more by hiring the right personal injury attorney. Pursuing a wrongful death claim in California may require knowledge and experience in the various issues related to these cases and California civil jury instructions. You need the skills of an expert and aggressive wrongful death lawyer to help you obtain maximum compensation.
Call Our Compassionate Personal Injury Attorney Team
Call us today and set up a free, no-risk consultation with our lawyers. We will explain with compassion and explain your rights, discuss expectations, and tell you how we can help you recover damages.
Let us now establish a common sense, attorney-client relationship to take on your wrongful death action and get you the cash value you deserve. We can also help with defending against or bringing any survival actions.
What Damages are Recoverable in Wrongful Death Lawsuits?
Under California law, a wrongful death lawsuit is "a cause of action for the death of a person caused by the wrongful act or neglect of another." We can generally define the damages in wrongful death cases by two distinct time periods: the first category that permits recovery of damages the deceased experienced from the injury that caused the death to the decedent's death. This category in the code of civil procedure may include medical bills, the decedent's pain and suffering, lost wages, and funeral and burial expenses.
Moreover, the second category covers all losses the decedent's next of kin suffered after the victim's death. This kind of damages will provide support to the decedent's surviving spouse or family for things like in-home nursing care and value of household services, and other companionship, comfort, care, assistance, protection, affection, training, and guidance. There are many losses for injury victims to consider before forming an attorney-client relationship or negotiating with an insurance company.
How Much is a Wrongful Death Lawsuit Worth in California?
Many factors affect the worth of wrongful death; the most critical factor is the type of losses that the victims have suffered and are therefore seeking compensation for.
California statutes allow plaintiffs to seek compensation for both economic and non-economic damages, medical expenses incurred prior to the decedent's death; burial expenses; decedent's lost wages and benefits that would have been earned but for death; loss of financial support; and value of the loss of parental guidance, companionship, and affection suffered by surviving family members.
We will calculate all economic losses based on their actual monetary value. In other words, if funeral expenses cost the decedent's family $10,000, then they can seek $10,000 in damages for these expenses when they apply to wrongful death actions.
Conversely, it is more difficult to calculate the worth of non-economic losses, such as the value of lost companionship in a wrongful death suit.
Who Gets the Money in a Wrongful Death Lawsuit in California?
Typically, the court can award wrongful death damages to the decedent's surviving spouse, the surviving children, and the surviving parents. Depending on the circumstances surrounding the deceased's death, the jury can also award punitive damages to the surviving family members. For example, dog bites or car accidents that were reckless or intentional deserve to be punished and not just compensated as a lump sum.
You can see more articles to learn more about punitive damages authored by our superb personal injury lawyer, Michael Ehline. The court can also award punitive damages where the defendant engaged in a particularly reckless or egregious type of conduct resulting in the deceased person's death from a premises liability claim, for example.
How is wrongful death damage calculated?
You can recover damages for anything the decedent would have contributed while they lived. You can also recover what you lost for intangibles like moral support (general damages) and tangibles financial losses like gifts or benefits you expected to receive, including medical bills.
There is no monetary value that can be accurate when it comes to valuing a person's life. However, on legal grounds, we apply a range of factors to determine the value of a wrongful death claim.
These factors include the decedent's earning capacity, the decedent's age, the decedent's training, and education. Also factored are the circumstances and age of the decedent's dependents, the value of lost benefits, funeral expenses, the decedent's medical bills, and life expectancy.
Courts value damages in a wrongful death case on convincing evidence that we can prove with the services of expert economists, accountants, and other qualified witnesses.
Pain, Anguish, and Loss of Companionship
Another significant factor we consider when calculating damages in wrongful death suits include the value for non-financial losses like pain, anguish, and loss of financial support and companionship (even mental anguish like grief, sorrow, love, companionship, comfort, care, including sexual relations)
As noted above, damages can even be from the loss of gifts expected by the decedent's surviving family. Damages may be hard to prove or value without a great Los Angeles, personal injury lawyer by your side.
What Ehline Law Firm Offers
Our professional attorneys will help calculate the amount that the deceased would have contributed to their loved ones' lives with the services of a certified economist and come up with a figure that the defendant may try to dispute. Still, we are there to support you and claim this financial compensation. The judge or jurors will ultimately be responsible for determining what figure most accurately represents the future income earned by the deceased. We ensure you get a reasonable value in your California wrongful death case.
Contact an Experienced Wrongful Death Attorney for A Free Consultation Today
If you suffered the loss of a loved one due to the negligence of another, you might have the legal right to seek compensation. At Ehline Law Firm, we understand the devastation caused by the untimely and wrongful death of a loved one. Our compassionate and aggressive legal team is ready to provide you with strong advocacy and support during this difficult time. We will give you moral support, among other things. We have won several personal injury cases and wrongful death claims, and our many clients trust us. No matter the degree of the defendant's recklessness or negligence, get free legal advice today if you're a wrongful death victim.
Call us today and set up a free, no-risk consultation with our lawyers. We will explain your rights to recover what the decedent would have provided, what you would have expected, and how we can recover these items and get your lifestyle back together.
Main Los Angeles Location
633 W 5th Street #2890 Los Angeles, CA 90071 (213) 596-9642.