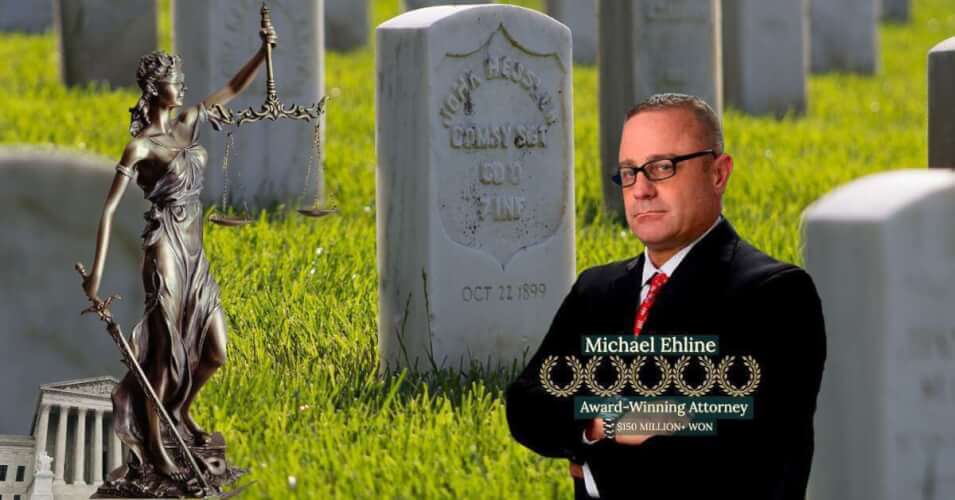 Losing a loved one is a traumatic experience, even more so if their loss results from another person's negligence or wrongful action. While filing a wrongful death lawsuit is no easy task, it is one that is necessary to recover compensation for your damages.
If you are filing a wrongful death lawsuit, you may be wondering whether there is a limit to the amount you can claim. Should you need more information on a wrongful death case, please book a free consultation with Ehline Law Firm to speak to an experienced wrongful death attorney.
What Is a Wrongful Death Claim?
When an individual dies due to the lawful wrongdoing of another individual or third party, this qualifies as wrongful death. Wrongful death suits often include car accidents that occurred because another person was driving negligently or under the influence.
Other examples also include medical malpractice cases and harmful intentional behavior or crime that resulted in death. In a wrongful death suit, the defendant's liability is purely in terms of monetary damages. If the lawsuit is successful, the court orders the accused to pay these damages to the decedent's survivors.
There is a significant distinction between a wrongful death suit and a criminal homicide case, where a conviction results in probation, jail time, and other penalties. Wrongful death suits, on the other hand, only include monetary penalties.
Who May File a Wrongful Death Lawsuit?
A victim's immediate surviving family members may file a wrongful death claim. Immediate family includes a domestic partner or surviving spouse, the decedent's children, or the deceased person's grandchildren if their child has died.
When there are no surviving family members of the deceased, anyone entitled to the deceased's estate by intestate succession may file a wrongful death lawsuit.
This may include siblings or parents, based on who was living at the time of the deceased person's death.
What Losses Can You Claim for in Wrongful Death Lawsuits?
Losses claimed in a lawsuit are often referred to as "damages." These damages may be economic or non-economic.
Economic Damages
These damages refer to the financial losses incurred as a result of a person's death. They include the financial support the victim would have provided if the incident had not happened, including current and future earnings. Other such damages include funeral costs, an inheritance the victim may have received, and any financial gifts they may have received.
Non-economic Damages
Unlike financial damages, these damages may be harder to quantify. They include the loss of the love and support of the family member, the loss of companionship, guidance, and the failure of intimate relations due to another's carelessness or wrongful act.
What Losses Can You Not Claim in a Wrongful Death Lawsuit?
California's wrongful death statute does not allow the family to claim for the deceased's pain and suffering before their demise, the grief and sorrow experienced by the family members due to the victim's demise, or the family's wealth or poverty.
You can claim these losses in a survival action often pursued in conjunction with wrongful death cases. Please speak to one of our wrongful death and personal injury attorneys for legal advice on how to pursue a survival action.
Is There a Cap on the Amount You Can Claim?
Most wrongful death suits often involve insurance companies. If your loved one was the victim of a car accident, the accused's car insurance company deals with the claim. Should the incident occur in someone else's home, homeowner's insurance often pays the claim.
These insurers often include detailed exclusions in their policies, and there is often a limit regarding the amount that family members may claim. To prevent insurance companies from giving you the compensation you rightly deserve, avoid dealing with them directly.
Always allow your attorney to handle these matters, so you can rest assured that you are getting the maximum amount that you and your family rightly deserve for the losses incurred by the victim's death.
As previously mentioned, there is a limitation as to what losses or damages you may claim in your lawsuit. Every California wrongful death claim is different, so talk to one of our wrongful death lawyers to find out precisely what you may claim for according to the wrongful death law.
Need Help with Your California Wrongful Death Lawsuit?
At Ehline Law, we value every attorney-client relationship and pride ourselves on treating every California wrongful death case with respect and care it deserves. Our seasoned attorneys are well-versed in California law and are not afraid to take on the most prominent corporate organizations and manufacturers. We can help you determine what legal action you can take against the responsible party if your loved one has died due to another's wrongful act or negligence.
Contact us today at (213) 596-9642 to book a free consultation and case review. You can also use our online contact form 24/7 to speak with a supremely confident, talented wrongful death lawyer.