Los Angeles Wrongful Death Attorney / Workplace Fatality: Wrongful Death or Workers' Compensation Case? / Wrongful Death Blog / Workplace Fatality:
Wrongful Death or Workers' Compensation Case?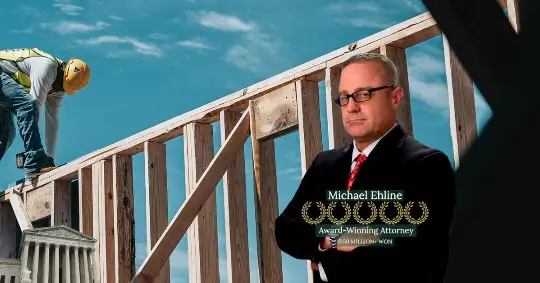 By Los Angeles Personal Injury Attorney, Michael P. Ehline Esq. Find answers to all your questions.
Each day, accidents occur in the office. Construction labor, logging, and mining are just some examples of vocations that are intrinsically riskier than others.
When a dedicated worker loses their life in a fatal accident, it can be tragic. When a staff member dies on the job, the Los Angeles Workers' Compensation system offers death payments to domestic partners or spouses, children, and any eligible alternative dependents or family members.
These benefits can often be a lifeline for surviving family members, particularly if a deceased worker was the family's primary source of income.
What if, on the other hand, a staff member dies on the job due to a third party's negligence? In this instance, may surviving family members pursue a wrongful death claim? What is the difference between a wrongful death lawsuit and death benefits from workers' compensation? We address all of these concerns below.
First and foremost, you should be aware that if your domestic partner or spouse died in a working accident, you may receive workers' compensation death benefits based on the circumstances. You can submit a wrongful death lawsuit in order to obtain even more money based on the circumstances of your loved one's death.
A wrongful death lawyer can assist you in determining what benefits you may obtain and negotiating the best potential settlement. Without a doubt, no sum of money can bring a loved one back, but it can assist you with keeping afloat financially.
After a sad loss, the last thing someone wants is to be struggling to pay burial expenses or their bills.
Let us take a closer look at wrongful death claims and workers' compensation.
Wrongful Death Lawsuit vs. Workers' Comp Death Benefits
Workers' compensation has a design to offer financial death benefits to employees and their dependents who get killed or injured on the job.
Several individuals are unaware that workers' compensation gets designed to prevent businesses from getting sued for injuries or fatalities that occur on the job, also if the boss added to a hazardous workplace death or environment and negligence.
This indicates that even if a boss breached safety regulations imposed by the Occupational Safety and Health Administration (OSHA), Workers' Compensation rules protect them.
If third parties, for example, a general contractor, negligent appliance manufacturer, or subcontractor was responsible for a workplace death, the surviving family members may file a wrongful death claim against the third party rather than the employer.
One exception to this regulation is if the worker's death happened as a result of a co-worker's careless use of a car. As a result, if someone gets killed in a work-related car accident, you should contact a wrongful death lawyer from Ehline Law Firm immediately.
Surviving family members need to show the following in order to file a wrongful death suit:
Someone else's negligence caused a loved one's death (such as a negligent furniture or appliance producer).
The families endured financial losses as a result of a loved one's death, as well as non-physical losses, including lost companionship, lower quality of life, and so on.
Compensation regarding an intangible loss is one of the features that distinguishes a wrongful death claim from a workers' compensation claim; workers' compensation does not cover these expenses.
Let us look at the variations between a wrongful death suit and workers' compensation death benefits.
What Do You Need to Know About Workers' Compensation Benefits?
Workers' compensation in Los Angeles is a zero-fault system, meaning that living family members do not need to show that a loved one died as a result of the employer's negligence. It is usually as simple as submitting a wrongful death claim to collect death benefits. However, to receive death benefits through this system means that victims' families relinquish their ability to sue their loved one's company, and workers' compensation death benefits do not compensate for intangible losses like the lower life quality or the loss of companionship.
How Do You Determine Wrongful Death Benefits?
The amount of death benefits gets determined by the amount of money earned by the dead employee prior to their death. Death benefits are generally equal to two-thirds, or 66.7 percent, of an individual's income, paid weekly to qualifying and other dependents; there is a statutory minimum and maximum compensation rate, and in most cases, they allow a cost of living allowance.
California workers' compensation insurance companies must also cover reasonable burial expenses and all medical expenses incurred prior to the work-related injury or death.
Who May File for Wrongful Death Suits?
Surviving family members previously completely or partially reliant on the deceased worker for financial support during the time of the workplace injury or accident may receive an entitlement for death benefits.
Qualifying relatives – Certain members of the family get automatically classified as total dependents, including youngsters under 18-years old, as well as children who cannot work because of physical or mental disabilities.
Under the California workers' comp system, surviving family members have a year to make death benefits claims. The living spouse receives death benefits until they remarry. Usually, dependents can gain death benefits until they are 18.
Rather than giving weekly benefits, some businesses choose to award survivors a one-time lump payment. It is critical not to hurry into the settlement; instead, speak with an experienced wrongful death attorney who may ensure you are fairly reimbursed by the boss.
Additional Expenses
Workers' comp needs to also compensate surviving and partial dependents for medical expenses, any temporary disabilities, and permanent disability benefits accrued to the deceased person at the time of his or her death.
Everything You Need to Know Regarding Wrongful Death Benefits
Wrongful death lawsuits often provide far more money to a surviving family member than workers' comp. Wrongful death payments can cover things like:
Medical or other expenditures incurred by a deceased loved one and their surviving families from the time of the negligent conduct until their death, as well as death-related expenses
Expenses for the burial and funeral
Wages that the dead individual would have earned from the time of his or her death till retirement (Lost wages)
Loss of the dead person's services, care, help, and other assets
Other losses (including pain and suffering)
The statute of limitations for filing a wrongful death lawsuit as per California law is two years from the day of the worker's death. (It is worth noting that wrongful death claims aren't restricted to cases involving workplace malpractice.)
What Are the Advantages and Disadvantages of a Wrongful Death Claim vs. Death Benefits Regarding Workplace Accidents?
There are both benefits and disadvantages when it comes to filing a claim due to a work-related accident:
Wrongful death lawsuit: The main pro of pursuing a wrongful death lawsuit is the possibility of receiving more damages, which includes benefits for intangible losses; also, lawsuits that contain punitive damages may help deter future wrongdoing, and there are no damage caps. The most significant disadvantage is that these lawsuits might take months or even years to resolve.
Workers' comp: A key benefit of submitting a death benefit claim for dead or injured workers is that you don't have to show that a loved one's negligence added to their death; instead, you just file a claim and collect payments. The biggest downside is that you lose the opportunity to sue the loved one's workplace for damages if you file a claim; there is also no compensation for intangible losses (for example the loss of a life companion or lowered quality of life).
Schedule a Free Consultation With An Experienced Wrongful Death Attorney Today
If a loved one died as a result of a work-related accident or injury, the Ehline Law Firm law offices can assist you in getting the most out of workers' comp and determine if a wrongful death suit is suitable.
If you are unsure where to go for a wrongful death attorney, the possible components of the wrongful death complaint are, or how much wrongful death legal fees cost, our friendly and charismatic professionals can assist you.
Employers have a responsibility to provide employees with appropriate working equipment, training, and facilities. They are also accountable for giving proper workers' comp to the victim's surviving dependents if they cannot respect these commitments and an employee or worker gets fatally harmed.
Ehline Law Firm has the objective of assisting surviving family members in receiving proper damages and justice. Our team values the attorney-client relationship we offer; therefore, when you obtain legal advice from our professional attorneys, you know that they act in your best interests.
Call us at (213) 596-9642 if you or a loved one suffered on-the-job injuries and want to seek fair compensation regarding a personal injury. Accidents happen at the workplace all the time; when an employee dies it is tragic.
Our legal team is here to offer you legal representation and fight for your legal rights regarding work-related injuries and deaths.