If we don't win, you don't pay.
Speak to the Attorney.
Born to serve.
633 W 5th Street #2890
Los Angeles, CA 90071
(213) 596-9642.
2323 S. Voss Rd, Suite 244
Houston, TX 77057
(832) 592-1260.
Date Modified: June 18, 2023
Ultimate Guide to Compensation for Tuolumne County Personal Injuries.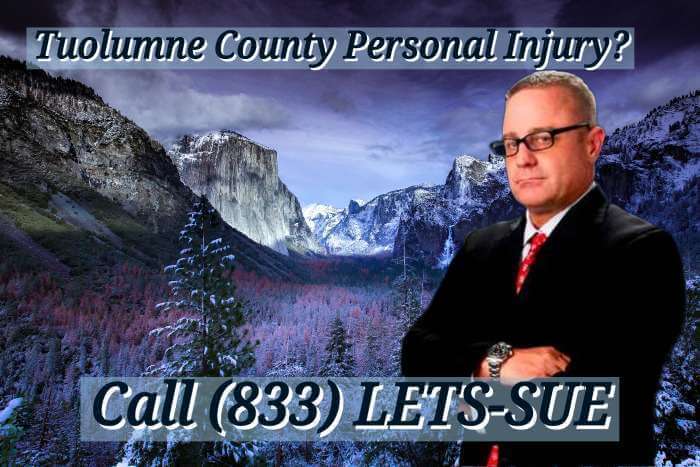 Tuolumne County Personal Injury?
Was your wife, husband, or your kids injured in an accident? (Car crash, school playground mishap, etc.?)
Do you have questions about who to sue or what to do? Your search is over. We have the answers; we're just a phone call away to hear your story in detail.
Our personal injury lawyers are professionals. We provide legal representation to plaintiffs injured in accidents caused by recklessness or negligent behavior of another business or individual. They practice injury law under a broader area of Tort Law practice areas.
Personal Injury Law
Personal injury law concerns plaintiffs who have suffered physical and psychological damages from personal injury sustained from accidents caused by someone's negligent behavior.
Our legal experts can provide legal advice and representation when a plaintiff requires legal services. They don't stop there; they also gather facts and information for the case and seek medical reports once the two parties have established an attorney-client relationship. In short, they place your burden on their shoulders and accept the challenge of winning your case.
Money Damages Compensation
Therefore, plaintiffs seeking to get paid money compensation for damages in Tuolumne County must hire reputable personal injury lawyers at our office after a free consultation to increase their chances of winning a particular personal injury case. A claimant must hire a personal injury lawyer specializing in a practice area they need assistance with and can learn more during a free consultation.
Contact Ehline Law firm at (833) LETS-SUE to get personal injury lawyers serving Tuolumne County in California. They'll help the plaintiff and their family secure the justice they rightfully deserve in these challenging legal matters.
Why Else Do Clients Choose Us?
Over 150 Million In Verdicts and Settlements Won
Top AVVO 5-Star Rating
Thousands of Satisfied Clients
Inactive U.S. Marine Law Firm
Come to You Concierge Services.
Types of Personal Injury Cases We Handle
These legal professionals specialize in various practice areas under a broader umbrella of Tort Law. Usually, accidents caused by negligent acts of another person can lead to injuries like neck injuries.
Some of these cases include:
Motor vehicle accidents basically entail all automotive accidents in Tuolumne County in California. They include motorcycle, truck, and bicycle accidents, among others.
Premise liability: The injury lawyer can also handle cases where properties from San Joaquin County to Stanislaus County in California are neglected by the owner, which causes an accident. They include slip and fall accidents, negligent security, dog bites, and attacks.
Wrongful death: An injury attorney in Central Valley, Tuolumne County, handles cases involving wrongful death accidents that have caused death due to negligence.
Medical malpractice: We will never take a med mal case since California destroyed the ability of plaintiffs to get justice. But in free states, a legal representative can also handle cases involving nursing home abuse, which holds medical practitioners liable for negligent behavior.
What Do Personal Injury Lawyers Do?
The type of services a reputable injury attorney serving California offers depends on the practice area, type of case, and how far the case process has come. Here are some services an injury attorney offers clients in Main St Sutter Creek, Jackson County, and how they benefit them.
Investigating Claims
An attorney takes great care when it comes to the business of screening potential clients. They have the resources when it comes to evaluating a case's viability. A personal injury lawyer serving various Counties in California, including San Francisco Bay Area, Angels Camp City, and Stanislaus County, will never take a case it's not viable.
Gathering Evidence
The experts at our law office will help clients collect facts and information to support a claim. It involves getting police reports, tracking down witnesses in California, and acquiring pictures of the crime or accident scene. It also involved retaining evidence of a case like a video camera footage, among other things.
This is a complex task difficult to navigate without someone helping with experience who has handled these matters previously.
Moreover, experts with law firms in California serving Los Angeles, Stockton, and even Sonora, CA, will use the evidence. These are amazing to establish who was at fault on behalf of the plaintiff or their injured family members. They may attain other evidence that shows the extent to which the plaintiff suffered injuries.
This includes medical reports documenting pain and suffering, employment documents, medical expenses, property damage reports, medical bills, and other fees.
Negotiations with the Defendant's Insurance Company
A reputable lawyer has excellent negotiation skills; they'll help the claimant to get a fair settlement. Most legal representatives with a law office in California work on contingency fees, meaning a plaintiff will only pay a lawyer if they win the case. Therefore, they'll strive hard to ensure plaintiffs get the maximum monetary award.
Sending Demand Letters
The injury lawyer will send demand letters to the defendant's insurance claims, describing the value of a plaintiff's claim and showing all the accident's facts.
Preparing for Trial
If the insurance company rejects the demands of a plaintiff, the attorney will prepare for trial. The expert will file a complaint, initiate the discovery process, and finally represent the plaintiff in court.
Determining the At-fault Party in Accidents with a Personal Injury Lawyer
The principle of negligence governs personal injury cases. An individual is negligent when they behave carelessly or recklessly such that their actions cause accidents that inflict injuries to other people. Everyone in California must exercise the duty of care to others. The law holds water in Sonora, CA, or Los Angeles.
When a person is not reasonably careful and injures others, he's legally liable to the injured victim. Under California's state law, the injured party has a right to seek compensation for damages incurred due to the accident. A caring personal injury lawyer is knowledgeable in the tort law business and will help their clients secure a helpful, fair settlement.
Therefore, an injury victim must schedule a free consultation with a reputable personal injury lawyer serving Tuolumne County and the greater California area to have a high chance of winning their case. Claimants must contact Ehline Law Firm at (833) LETS-SUE to talk to an excellent lawyer and determine their next steps and the variety of solutions available.
Can a Personal Injury Lawyer Assist in Proving Negligence After Accidents?
A personal injury attorney representing a claimant must prove four elements of negligence to secure compensation for their clients.
The attorney must show the following:
Under California law, the defendant is required to uphold a duty of reasonable care to others. This duty is supposed to be upheld by all people. When it's not, courts will intervene and apply the rules anywhere in California, whether in Sonora, CA, Amador County, San Andreas, or Tuolumne County.
The defendant breached his care of duty. Here, the personal injury attorney must prove that the defendant was not careful by comparing his behavior to that of a reasonable person.
A personal injury attorney in Tuolumne County must also show that the defendant's actions caused injuries or wrongful death.
Finally, personal injury attorneys must prove that their clients suffered losses due to the injuries incurred through medical expenses, future medical bills, and lost wages. In wrongful death cases that occurred due to accidents, attorneys need to show the family of the deceased lost companionship and incurred funeral costs for the families of victims that would otherwise not happen if the deceased was alive.
Therefore, claimants with these legal issues must schedule a free consultation with attorneys from reputable law firms to increase the probability of winning their case. Plaintiffs must contact Ehline Law Firm to get reputable attorneys to determine their legal options and get their life back on track.
Defenses for Personal Injury Accidents
While pursuing legal actions, the defense lawyer will try to counter the lawsuit to ensure the plaintiffs get a lesser settlement. Most defense lawsuits try to blame the accident on the plaintiff or show they're partly to blame. In some states, if this claim is proven accurate, it reduces the amount of compensation a plaintiff is likely to get.
However, hiring a reputable attorney from Ehline Law Firm is the best option as the expert has been practicing personal injury law for a while now. The said attorney has garnered enough experience, skills, and knowledge to beat the defendant at their own game. Talk to them today through a free consultation before hiring them to determine whether or not they're suitable for you.
Filing Personal Injury Claims with Reputable Lawyers from Ehline Law Firm
Hiring the services of a reputable lawyer when an individual has some legal issues increases their odds of winning the case. The defendant's side will ensure they do everything possible not to pay the settlement. An attorney understanding civil law will do so much for your case. A licensed, dedicated lawyer can expedite the case, give the moron insurance adjuster an education, and ensure the claim process is done swiftly.
The filing process usually follows the following stages:
Initiate Discovery Process
Our professional lawyer will hire an investigator to attain evidence for the case. Usually, the expert will conduct further investigation to get more evidence. They'll then initiate a discovery process where the professional seeks certain information from the defendant. He'll also dispose of witnesses and experts. The legal representative will ensure the plaintiff is in the loop about the process in all cities and counties in California. We have the resources and skills to win any case.
Filing the Lawsuit and Arguing Your Case
Once all documentation is set in order, a lawyer and his client can officially file a lawsuit in court. It's filing and setting a date for trial. Don't neglect the statute of limitations; you will waive your right to pursue damages forever. There is no right of appeal in that situation.
Notifying the Defendant
After the case is filed in a court of law, the lawyer would notify the defendant side of the upcoming case and give them ample time to prepare for it. It's usually through a letter that can act as evidence if a defendant says they didn't receive any notification of the case. A reputed lawyer at Ehline Law has a client's best interest at heart, and they'll do everything they can to ensure the clients get what they rightfully deserve.
Trial or Settlement
Most cases can be settled outside court or go to trial. More often than not, such cases are settled outside court. A lawyer with excellent negotiation skills can help the injured person get a fair settlement. When potential clients meet at our law office, they will learn how our team will fight the at-fault defendant's insurance company. If not, we go to trial. It's that simple. It's wise for the claimant to schedule a free consultation with an attorney from Ehline Law Firm.
Our honest, trustworthy lawyers are in the business of winning injury claims. Were you hurt or lost a loved one to wrongful death? A lot is at stake. And failing to hire a good lawyer to deal with everything who understands all practice areas of tort law. That's our job. Usually, it's a stressful time, as a claimant tries to juggle different tasks while suffering and recovering. A reputed lawyer from an established law office and their paralegals can relieve some of these burdens and let the plaintiff focus on a full recovery.
Contact a Reputed Personal Injury Lawyer from Ehline Law in California for Free Case Evaluation
A claimant should speak to a compassionate, aggressive lawyer as soon as possible to get the proper service they need. We will provide a confidential, risk-free setting. Would you like a confidential consultation to discuss your personal injury accident? Ehline Law Firm offers quality services from Los Angeles to San Diego to Sacramento due to years of experience and knowledge in tort law.
Call reputable lawyers from Ehline Law in California at (833) LETS-SUE to start your legal journey today! You can also use our online contact us form for a prompt return call to learn more about how the insurance company has to compensate you.
Michael Ehline is an inactive U.S. Marine and world-famous legal historian. Michael helped draft the Cruise Ship Safety Act and has won some of U.S. history's largest motorcycle accident settlements. Together with his legal team, Michael and the Ehline Law Firm collect damages on behalf of clients.
We pride ourselves on being available to answer your most pressing and difficult questions 24/7. We are proud sponsors of the Paul Ehline Memorial Motorcycle Ride and a Service Disabled Veteran Operated Business. (SDVOB.) We are ready to fight.