Why Is Getting Expert Help the Best Move?
Hiring a lawyer from a specialized law firm means you get a legal expert that is committed to passionately defending your case. Even though attorneys don't necessarily have to respond to your text messages, they still thoroughly and recurrently communicate with you while they're assessing you. These professionals can aggressively defend you regardless of whether you are in Red Bluff or any other part of Tehama County, California.
What Can Personal Injury Lawyers Help You with?
Attorneys specializing in personal injury law offer a free consultation and help you with numerous issues you might be going through.
If you were in an accident and lost a loved one due to someone else's negligence, for example, lawyers can do the following:
Help you file a wrongful death claim
An attorney could assist you if you suffered injuries as a result of a similar crash
They can help if you lost wages because you needed time for your physical recovery
Whenever you need to go to court, attorneys can help you
Lawyers will defend you during the trial, and they can also prepare you so that you understand all the different procedures you might go through.
Do You Always Get a Free Consultation?
Most attorneys offer a free consultation, but this doesn't necessarily occur in all law firms. If you find an office that seems correct for you, find out if it offers clients this alternative.
What Happens if You Don't Like the Personal Injury Lawyers You Hired?
Your relationship with your lawyer is essential. You can't prove to a judge that you deserve compensation for damages if you don't work together with your attorney to gather evidence and get the best outcomes possible. Therefore, clients must always make sure that the attorney they hire is someone they can trust. Even though there are many lawyers in the city where you live, each of them has a specific style, and you must decide who would be the best one for your case.
Can You Switch Lawyers without Having Legal Issues?
You can switch lawyers sometimes, but you must make sure that you're not breaking any terms of the agreements you previously signed. If you have any questions, contact the attorney and ask them.
Are There Many Law Offices Available in Tehama County?
Like any other county in California, there are numerous attorney offices in Tehama. However, some lawyers specialize in DUI pursuit while others help clients with their business compensation.
Why Going Through Different Law Firms Is Essential
Since there are so many attorneys and firms, and many of them offer a free consultation, taking advantage of this to evaluate different alternatives before deciding is a very convenient option. In other words, instead of hiring the first lawyer, you meet at your free consultation and get to know different attorneys. Then, compare the pros and cons of each one, and then decide who might be the best person to represent you legally.
What Can a Lawyer Do for You?
A lawyer can help you with numerous things when you need to navigate the challenging waters of the law. On the one hand, if they offer a free consultation, they might answer many of your questions during that meeting. At the same time, attorneys can help you understand the law and guarantee that you're not breaking any guidelines if you want to make a specific choice.
Hiring an attorney also means getting a legal expert by your side who passionately and aggressively defends you in case you need to go to court. Attorneys are also the ideal professionals to hire if you want to file a claim and get fair compensation for damages. Overall, a lawyer has many tasks, but their primary goal is to help you through the legal process and guarantee that you get the outcomes you want.
How Long Does a Wrongful Death Case Last?
It depends on the case. Unfortunately, there is no specific time. However, during your free consultation, you can ask your to-be lawyer.
Can You Avoid Legal Issues if You Hire a Lawyer?
You can avoid many legal issues if you hire a lawyer to help you with your process. It doesn't matter if you are in Red Bluff or any other part of Tehama – you are still at risk of making a mistake if you don't understand every aspect of the law. Thus, get an attorney to help you and ensure that your process is smooth.
Should You Always Get Legal Assistance if You Have a Wrongful Death Case?
You should always get a lawyer if you have one of these cases, and overall whenever you're in an accident as a result of someone else's negligence. Even though many people don't want to expose themselves to going through legal procedures, the negligent party must pay for what they did to you. Since a lawyer can help you guarantee that they do, you should get the best one and work with them to get favorable results.
Are There Many Personal Injury Cases in California?
There are thousands of these cases each year, which is why every client who needs expert help should contact a legal office, get a free consultation, and get the dedicated, award-winning lawyer they want for their future.
Your life might completely change after someone else's negligent actions lead you to be in a crash or to lose your family. Wills, trusts, and businesses might also be challenging to handle, particularly if you don't know the legal aspects of managing a property. However, a legal expert can help you with all this and even recommend the best course of action depending on your desired benefits.
What Happens if You Don't Get a Personal Injury Lawyer?
If you don't get an expert, you have fewer chances of getting favorable results just because you might not know how to handle the situation. Remember that each service that an attorney offers intends to help you get the best outcomes possible. When you deal with a legal professional, they guarantee that their services will be at your disposal as a client.
People in Red Bluff are often shocked if they are in an accident that destroys their business or changes their life. Unfortunately, this happens more often than you might think.
However, this is where the best lawyers can come in. If they regularly practice law, they probably have enough experience to offer top-notch services and guide you through your process, which is what you need when you browse around for legal professionals with integrity and financial resources.
Ehline Law Firm – Specialized Professionals to Help You with Your Case
Regardless of whether you're in Los Angeles, Red Bluff, or any other part of Tehama, you deserve to live the life you want. Nonetheless, this might not be possible if you're suffering the consequences of someone else's actions. Ehline Law Firm is a specialized office with ethical, empathetic, and knowledgeable professionals.
We can assist you, your children, your parent, or your spouse with confidential advice and superior expertise in legal representation. If you're looking for top experts who practice law, our associates are the team for you 24 hours per day, seven days per week! Your search is ended, and we will take steps to win big. So call our number at (833) LETS-SUE, or use our convenient online website contact us form today!
---
Michael Ehline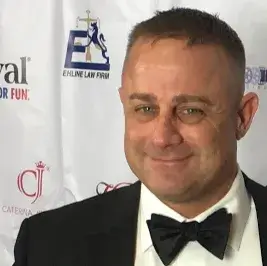 Michael is a managing partner at the nationwide Ehline Law Firm, Personal Injury Attorneys, APLC. He's an inactive Marine and became a lawyer in the California State Bar Law Office Study Program, later receiving his J.D. from UWLA School of Law. Michael has won some of the world's largest motorcycle accident settlements.
---
Recent Personal Injury News
Check out our most recent auto defects, accidents in Fremont and more, including the famous, infamous and everyday people wounded by at fault parties around the world.