If we don't win, you don't pay.
Speak to the Attorney.
Born to serve.
633 W 5th Street #2890
Los Angeles, CA 90071
(213) 596-9642.
Date Modified: June 19, 2023
Former U.S. Marine Trial Lawyer and California Personal Injury Firm. We Fight For Uber Accident Victims In Woodland Hills, California.
6200 Canoga Ave, Suite 202-b
Woodland Hills, CA 91367
(747) 330-1783
woodlandhills@ehlinelaw.com
With convenience comes a chance of risks. Ridesharing services like Uber and Lyft can be convenient. But risks for drivers, riders, or individuals on foot reach beyond any road accident. Laws favoring Lyft and Uber could subject you to receiving less than the life compensation you deserve.
If you or a loved one was seriously injured by an Uber or Lyft driver or another ridesharing accident, Ehline Law Firm could help any party obtain financial results. Our award-winning personal injury law firm fights with a sense of duty and elan appreciated by discerning clients.
Call us at (747) 330-1783. Or you can email an Uber accident lawyer today. Our proven expert offer rideshare drivers and others a free case consultation. Our local Uber accident lawyer is available 24 hours a day, seven days per week, to discuss the details.
We do our part to protect the rights of Southern California residents or out-of-state individuals, even if you're an Uber driver.
Why Should People Hire An Uber Accident Lawyer?
In fact, a ridesharing car accident will involve numerous parties and auto accident laws. Like our roads, Uber driver laws change all the time. After your Woodland Hills Uber accident, a consultation with an injury attorney can focus your attention on caring for your suffering. Our law group's job is to handle the legal decisions as you try to recover from your medical situation. Guidance from the right Uber accident lawyer can help determine how much you or someone in your family will recover.
During legal representation, primary concerns, including fault and loss mitigation questions, are discussed. Everything you do now will encourage fairer settlements later.
The right attorneys can get the evidence victims need to recover fair money losses and attorney's fees. (Ex: millions or a defense verdict).
For example, Uber monitors drivers and their driving habits by logging the driver's travel speed, brutal braking behavior, or manner of sharp turns taken during the ride.
They note and store destination track maps showing driver action. Anyone can see this same traffic map during the ride. The rideshare company will refuse calls from wounded passengers to view this information without a court order requested by an Uber or Lyft lawyer.
If you were injured in an Uber or Lyft accident, your legal rights and path to maximum compensation could be navigated. Uber drivers are no less immune from being victims of collisions than anyone else under similar circumstances. Compensation can be had with superior Woodland Hills Uber accident attorney representation.
Why Choose Our Award-Winning Woodland Hills Uber Accident Lawyer?
The Ehline Law Group is a personal injury law firm in the Woodland Hills area, with offices throughout Southern California.
Our legal team has successfully represented thousands of clients in personal injury cases against the Uber rideshare company and others.
We've fought large, well-funded insurance companies and ridesharing services for over 15 years.
We fight on behalf of crash victims for car insurance compensation.
Michael Ehline was featured in Newsweek's Personal Injury Litigators 2015.
The National Trial Lawyers Association was recognized as one of the Top 100 National Trial Lawyers in his field defending personal injury cases.
We've helped many victims receive a total and fair compensation amount in ridesharing services-related accidents.
We have achieved proven case results with over $150 million recovered in verdicts and settlements for others.
Call (747) 330-1783 for an accessible rideshare accident consultation. Our policy is to contact you within 24 hours to schedule an appointment at no cost. It's not recent news. Our message is clear; ridesharing accident victims deserve maximum compensation. Whether a passenger, Uber, or Lyft driver, you deserve the best Woodland Hills personal injury attorney.
*Member – Consumer Attorneys Association
Parties Involved in Woodland Hills Wrongful Death Accidents Can Schedule An Appointment Today For A Free Consultation. Provide the information below about any types of accidental death cases. Comments. Please message us from anywhere in the State of California. Describe your case with detailed information about any negligent parties involved. * All Fields Required. Please include your first and last names, email addresses, and phone numbers. This field is for validation purposes and should be left unchanged. Compatible with internet explorer, Firefox, and Google Chrome. No attorney-client relationship exists until the lawyer says so.
What is Uber?
Uber is an app that lets a rider request a ride from people nearby for hire. If the driver accepts your pickup location, you will be shown an estimated arrival time in increments of minutes and seconds.
How Common Are Uber Accidents?
In 2019, Uber released a safety report revealing 49 fatalities in 2017. Numbers increased to 58 deaths in 2018, making it 107 between both years. Most accident victims and casualties were linked to car collisions (65%): 31% involved pedestrians or bicyclists and Uber drivers colliding with vehicles. No Lyft driver or Lyft accident safety report has been released today.
Ordinary Cars In Uber Wrecks
The type of vehicle in an Uber accident is broad. It ranges from car models (Toyota Prius, Nissan Sentra, Chevrolet Tahoe) to other market-accommodating vehicles such as small cars (Hyundai i40, Chevrolet Spark) or large trucks and SUVs (Ford Explorer).
Common Injuries In An Uber Accident?
Injured in an accident? Most accident victims /passengers we help suffer:
Common Causes of Uber Crashes?
Driving recklessly, falling asleep, and not being alert for other vehicles and pedestrians remain the most common violations sparking a Woodland Hills, CA, insurance claim.
With differing levels of driving experience, Uber accidents often injure passengers, uninsured drivers, and pedestrians. You need a Lyft accident lawyer to protect your interests. This firm can identify other types of motorist coverage.
Rideshare Law In California?
The Ridesharing concept is a one-way road transport service arguably operated by independent contractors.
AB5?
California now enforces AB5, which classifies former independent contract workers as employees. But there's a difference. Usually, everything is covered by the at-fault employees' parent company. (wrongdoing could be vicariously imputed from servant to master).
How AB5 Hurts Your Accident Case?
Common Carrier – What Is It?
"A common carrier under U.S. law is a private or public entity in the business of transporting goods or people from one place to another for hire."
How Much Is My Case Worth?
Determining case value remains a two-step process with many pitfalls. You must prove fault and then damages in your matter.
Proving Liability In Your Matter (Determining Fault)
To confirm your burden of fault, you must show the Uber driver breached a duty owed and that you suffered damages.
To get the proper event insurance coverage, you must answer the questions. Was the driver using another rideshare app along the accident route?
Was it third-party work?
Freelancing? If the driver is offline, they would only be covered by personal insurance policies. Uber says their office will not provide higher commercial insurance coverage for an off-app incident.
There could be more than one vehicle or liability coverage issue. Other insurance policies may exist. The city or state could be partially liable as a group. This presents statutes of limitations and problems for us. Even experienced Woodland Hills personal injury lawyers can overlook something.
Damages In An Uber /Lyft Accident
After the liability investigation, you must still prove all reasonable damages to insurers. Damages can be categorized as general and special. A jury or court will examine jury instructions to determine all injury claims compensation payout amounts.
Case results won against a type of defendant (Uber driver, etc.) require us to prove each element. Below our staff will detail damages against the taxis or someone else's insurance provider.
General damages include:
Special damages include:
Past, present, and future income loss (diminished wages and lost contracts).
Medical expenses, including ambulance, surgery costs, medical bills, and healthcare expenditures
Costs of rehabilitation/healing/recovery process
Loss of enjoyment of life
Property damage
Life-care support.
Pure Comparative Negligence
You won't just get all the compensation you deserve on your terms. You must force all liable parties to pay their fault obligation. If you sue the wrong people, the case recovery could be reduced based on the percentage of fault held by the empty witness chair.
An expert witness may be called to prove you didn't cause your own property damage or injuries. This is called "pure comparative negligence." (Learn more here).
How The Uber Insurance Policy "Period" Limits Your Recovery
Uber and Lyft are Woodland Hills, California's two largest rideshare businesses. Each ridesharing driver must purchase uninsured motorist protection. (Rideshare app uses responsibility). There is no way for us to be a ridesharing driver for Uber or Lyft otherwise. And life insurance is never a mandatory purchase.
Uber and Lyft can help you with a car and insurance policy if you can't pay your own insurance fees or car money. Some taxi companies also have apps and provide similar rides. Cab companies charge higher fares due to a lack of funding and their own operating expenses. Consequently, cabs are more expensive than rideshare companies such as Uber in typical rides.
California requires Transportation Network Company (TNC) drivers to carry rideshare insurance when using apps provided by ridesharing companies. The minimum auto insurance requirements vary according to which "period" you are in. If you are not a bona fide passenger, you'll be limited to the liability policy in place.
Here are the answers determining whether standard-level limits or a more significant amount will result in your case.
Requirements for California Rideshare Drivers
Period 0: California's minimum auto insurance requirements come into play when the rideshare services app is turned off. Even if you win your lawsuit, you could still lose.
The victim will have no other insurance rights except the ability to collect:
$15,000 of bodily injury coverage per person injured in an accident
$30,000 of bodily injury coverage per accident
$5,000 of property damage coverage per accident
Period 1: If no passenger is riding, but your rideshare app is running, you must carry the following:
$50,000 of bodily injury liability coverage per person injured in an accident.
$100,000 worth of bodily injury insurance coverage per accident.
$25,000 worth of property damage liability coverage per accident.
Getting rideshare insurance is California law. Your personal policy may cover you, but the TNC can verify various coverage fields.
For example, drivers who are not using their own rideshare policy can purchase insurance from Uber. Your TNC must also have at least $200,000 of excess coverage for unexpected accidents.
Periods 2 and 3: While matched with a customer or group, you are required to carry $1 million liability insurance to operate during periods 2 and 3 legally.
Uber provides contractors $1 million in uninsured and underinsured motorist bodily injury amounts. Comprehensive and collision protection comes with a $1,000 deductible. But the driver must purchase collision coverage through their personal auto insurance policy first.
Lyft provides similar California risk protections with a $2500 deductible.
TIP: Purchase an individual rideshare policy to cover specific items, including comprehensive, collision, and medical payments—during period 1. If not, your insurer has no duty to provide something during that time.
Caveat: Uber Black and limousine drivers have their own insurance number requirements.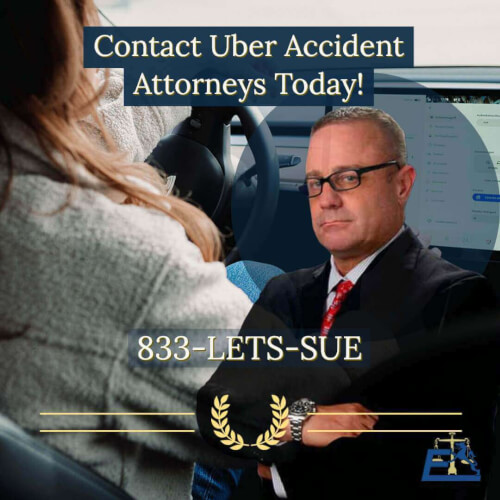 What Should Victims Of Rideshare Accidents Do?
Remember these steps if you are a passenger injured in an Uber or other person involved in an accident with a rideshare vehicle.
Find Safe Haven: Your sense of safety should be your priority.
Identify And Show Proof of Financial Responsibility: Exchange your phone number/email address and proof of insurance if you're a driver.
Think: Try and remember anything about how the Woodland Hills Uber accident happened. Make a note on your smartphone as the record of things becomes clear.
Call Police: File a police report.
Snap Photo Images: As with any motor vehicle accident, when safe, collect evidence of the scene, like photographs. Your auto accident lawyer will use this against the Uber driver. Detailed information about accidents helps counsel hold rideshare companies liable.
Get an Ambulance: If it was just some "fender bender," seek immediate medical attention—document visible trauma and memory issues.
Rule out internal injuries: Let a doctor identify your mental capacity, pain level, or another thing. Start treatment options or surgeries immediately. When the insurer investigates the association between the ridesharing companies and your harm/injuries, case outcomes become more vital for your side.
Remain Silent: Avoid any level of communication with the liability insurance company. Admit nothing to defendants either verbally or in a recorded statement. Inadvertent false claims to car insurance companies can result in criminal fraud charges instead of settlement offers. (Ex: making fake documents regarding pre-existing injuries/illnesses, lost work, etc.)
Stay off Social Media: Don't post photos of your injuries from a car accident online.
Contact A Rideshare Accident Lawyer: Even if you haven't been injured, but are considering filing a ridesharing accident claim with your car insurance company, make sure to first speak with an attorney. Even if it appears the driver was at fault for causing your losses, contact an accident lawyer in Woodland Hills before agreeing on anything (especially compensation).
Passengers with a question about regulations, recourse, or rules? Call us for a free case evaluation before filing a personal injury claim with Uber or your uninsured motorist coverage. Learn about your potential chances of receiving a fair settlement compensation deal first.
Do I Have To File A Rideshare Accident Lawsuit?
Car accidents usually do not go to court because both parties can come to an agreement before litigation. This is important for injured clients unable to attend due to a disability. Victims might get frustrated by time-consuming negotiations.
Tell Me The Statute Of Limitations Deadline For My Uber Accident Claim.
Your Uber accident attorney generally has only two years to file a claim against Uber in California. A government vehicle or agency involved in an accident means less time (six months to file a claim).
PRESTIGIOUS LAWYERS
In most cases, medical bills are mounting after an accident. Parties in a serious collision will need rehabilitation costs for their chronic pain symptoms, neck injuries, etc. We'll pursue alternative payments, including lien doctors to cover you. Our national trial lawyers won't let any detail slip by.
CUSTOMER FOCUSED
We'll pursue the maximum settlement amount using our vast resources. Our Southern California lawyers believe that being of service to others is the highest calling. We approach everything with empathy, professionalism, and tenacity because we know each person has a well-being worth restoring.
EMERGENCY RESPONSE
Promptly engaging with counsel is essential to your claim. Don't delay getting legal representation, especially if you are in a medical facility. We're available 24/7 to discuss your matter expeditiously. That's our history of taking care of clients in the aftermath of a complicated case similar to yours.
STELLAR REVIEWS
Take the next steps today. Just pick up your phone to take advantage of our resources. When you need help, Ehline Law is the right firm for your needs. We have earned a five-star rating with an impeccable record handling claims and tremendous goodwill throughout California.
How Do I Get A Free Consultation With A Woodland Hills Uber Car Accident Attorney?
Unfortunately, the number of people injured in Uber and Lyft car accidents is increasing in California. Plaintiffs may be able to file a claim or lawsuit against both Uber and Lyft for personal injuries.
If you are an Uber / Lyft passenger or pedestrian hurt in a crash, contact our accident lawyers at Ehline Law Firm today. We'll help you get the compensation you deserve. Call (747) 330-1783. We have meeting places in Northern, Central, and Southern California.
Michael Ehline is an inactive U.S. Marine and world-famous legal historian. Michael helped draft the Cruise Ship Safety Act and has won some of U.S. history's largest motorcycle accident settlements. Together with his legal team, Michael and the Ehline Law Firm collect damages on behalf of clients.
We pride ourselves on being available to answer your most pressing and difficult questions 24/7. We are proud sponsors of the Paul Ehline Memorial Motorcycle Ride and a Service Disabled Veteran Operated Business. (SDVOB.) We are ready to fight.