Punitive damages
Property damages.
Personal injury lawyers specialize in civil litigation for catastrophic injuries resulting from someone else's negligence. The goal of the lawyer is to get fair financial compensation for their clients and prevent others from committing a similar offense.
However, personal injury attorneys can also specialize in a specific area, such as motor vehicle accidents, defective products, wrongful death, domestic violence, etc. That's why you should get a free consultation with your desired attorney to determine the best Trinity County lawyer for you.
Basics of Personal Injury Law
A personal injury lawyer is supposed to provide several services to their clients. You must ask about them during your free consultation to ensure you receive the best possible experience. Some of the basic services your attorney must provide are the following.
Explain Your Rights
During your free consultation, your Trinity County personal injury lawyer must explain all legal procedures you will go through and the rights you're entitled to. This will change depending on the nature of the case, especially regarding its statute of limitations, which is the time frame in which the injured party, their family, or their attorney must file the claim to obtain financial compensation.
Provide Advice
The best thing a professional lawyer can do for their clients is to help them better understand their case and interpret complicated legal jargon used during the procedures. This is especially helpful when filling out all the estate planning paperwork that must be filed in personal injury cases, as an attorney can ensure everything is correct.
One of the best bits of advice a personal injury lawyer can give during a free consultation is to not talk to the other party's attorney or provide a statement without first discussing it with your attorney. Insurance companies tend to push victims to admit liability so they don't have to repay anything for their injuries. Your lawyer could also recommend you seek medical treatment right after the accident and keep the reports as evidence for your case.
Represent in Court
Although most personal injury cases are settled before the injured party files a lawsuit, your Trinity County attorney must be ready to go to court if needed. This is sometimes the only way to achieve a fair settlement. The litigation process is usually very complex, so your lawyer must know all the rules and how to manage themselves in the courtroom. During your free consultation, you can ask your attorney whether they've had vast litigation experience or not.
Complete a Professional Investigation
Trinity County attorneys typically have private investigators to gather as much evidence as possible and create theories on how the accident developed. This is a crucial aspect of any personal injury case, as it will allow the attorneys to build a solid case against the other party. In some cases, the law firm will also need to hire additional experts and lawyers to assist in the case, treat the plaintiff's injuries, and help with their estate planning documents. Some of these experts are the following.
Investigators
Economists
Accountants
Others, depending on the case.
Connect with Medical Providers
Most Trinity County lawyers will establish business relationships with medical professionals who can provide you with medical services specialized in your type of injury and other relevant practice areas. This is also useful for your lawyer to collect medical data and reports to use in your case.
Assess Damages
In most Trinity County personal injury or wrongful death cases, you won't see the real impact of the damages caused by the accident until you've arranged a free consultation with an attorney who can check them for you. The initial impact of having to pay for medical expenses, fixing your vehicle, etc., will probably distract you from the real long-term impact this accident can have.
Once you hire a Trinity County, personal injury attorney, you will learn to see the real damages you suffered, determining how much money you will get. Some of the damages the injured party needs to consider are lost wages, loss of earning capacity, and any possible impact on your family. Sometimes, hiring an economist or another lawyer is a good idea so that they can help you see the real-life impact of the accident.
Work Through a Variety of Legal Processes
A Trinity County personal injury attorney is meant to guide you through various legal processes and assist you when needed. These lawyers can negotiate with the other party to get a fair settlement for you and litigate a case in court. Your lawyer can help you manage your estate planning documents, practice what you say in your statement, and help you calculate how much money you should get for the injuries you suffered.
Top 5 Questions to Ask Personal Injury Lawyers
Before hiring a Trinity County law firm, you should meet with one of their wrongful death lawyers for a free consultation to figure out whether a lawyer can manage your case. During this free consultation, you should ask several questions that will help you learn more about the experience of the attorney. Some of the most common are the following:
Ask questions to determine whether the attorney has the needed experience to handle cases like yours. This is especially useful for complicated domestic violence and wrongful death cases, as not many attorneys have the required experience to represent your case.
You should also find out about the lawyer's success rate, as you should only hire attorneys who can prove they've won several cases.
Figure out how much time you'll need to wait until you get a settlement, as professional attorneys can estimate the length of the process.
During the free consultation with the lawyer, you should ask about the cost of their fees and services. In the best-case scenario, the lawyer will work on a contingent fees basis.
Determine how many cases the lawyer has taken to trial and whether they've won or lost the litigation.
Finally, you can ask your lawyer about their past clients and whether they would be able to meet them or not. This is the best way of finding out if your attorney is reliable.
Choosing the Best Lawyer for You
The best way to find out whether an attorney is good for you is to get a free consultation with them and discuss your case. Some of the things you should give to your attorney during this free consultation are copies of all important estate planning documents and evidence you've gathered. Remember, this is a free consultation, so if the attorney wants to charge you for simply discussing the case and reviewing your estate planning documents, you should consider hiring another attorney.
General Experience
Once you've explained the entirety of your case to your attorney during your free consultation, you should figure out more about the attorney's experience and whether they've handled cases within this practice area. Sometimes, you will find a law firm that meets with you and gives a chance to another one of their attorneys, especially if they need a lawyer specialized in a particular practice area, such as domestic violence.
Settlement Goal
During the free consultation, the client will also want to get an estimate of their settlement goal. Personal injury attorneys with enough experience in their practice areas will know how to calculate the case's worth and get the insurance company to pay for it.
Friends and Acquaintances
Suppose you have friends or family members in Trinity County who have dealt with personal injury cases; in that case, you can ask them about their experience with their attorneys or with a specific law firm and whether they would recommend their services or not. Then, you can arrange a free consultation with the attorney they recommended to you and generate your own opinion.
Contact Ehline Law's Trinity County Personal Injury Lawyers
Here at Ehline Law, we know how difficult it is to face legal procedures without a lawyer who can give you timely advice and review your estate planning documents. You don't have to worry about that anymore, as we have the best attorneys in Trinity County who specialize in several practice areas and are ready to defend their clients no matter what.
If you want to become one of our prestigious clients and get a free consultation from one of our excellent Trinity County lawyers, call us at (833) LETS-SUE.
---
Michael Ehline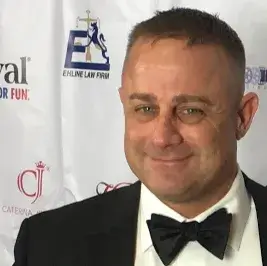 Michael is a managing partner at the nationwide Ehline Law Firm, Personal Injury Attorneys, APLC. He's an inactive Marine and became a lawyer in the California State Bar Law Office Study Program, later receiving his J.D. from UWLA School of Law. Michael has won some of the world's largest motorcycle accident settlements.
---
Recent Personal Injury News
Check out our most recent auto defects, accidents in Fremont and more, including the famous, infamous and everyday people wounded by at fault parties around the world.