If we don't win, you don't pay.
Speak to the Attorney.
Born to serve.
633 W 5th Street #2890
Los Angeles, CA 90071
(213) 596-9642.
Date Modified: June 19, 2023
Discover the Ehline Difference! Wrongful Death Lawyer In Woodland Hills. Veteran Run Law Firm Fights For Wrongful Death Claim Survivors. Legal Support for Bereaving Victims Across Woodland Hills.
6200 Canoga Ave, Suite 202-b
Woodland Hills, CA 91367
(747) 330-1783
woodlandhills@ehlinelaw.com
When someone you love dies, it may seem like your life is over, right? Are you suffering and running out of income after losing your loved one or other relatives at the hands of a negligent person in the Woodland Hills area?
Attorney Michael Ehline created this page with his crack team of paralegals and experts. Michael is an experienced wrongful death attorney in Woodland Hills, California.
Are burial and funeral expenses piling up as you grieve, unemployed and having lost your loved one to a horrific Woodland Hills wrongful death? If you must make a wrongful death claim, you have come to the right place. An intelligent person would go for your specific case.
Ehline Law Firm has won millions of dollars for thousands of clients, including those bereaving a death during a wrongful death claim. Below we will discuss accidental death arising from a wrongful death claim and how to get compensation while you recover emotionally—first, a word from our founder.
"The wrongful death of a loved one is the most difficult time mortified surviving family members will experience. Victims with no attorney are grieving, impaired with clouded judgment; so how can they receive maximum compensation for a wrongful death claim when dazed and confused like this from a fatal accident? Somehow the survivor must hire the best Woodland Hills wrongful death attorneys, or risk losing more than a loved one's familial bonds. Our very best wrongful death lawyer can help you with any wrongful death claim, or file any wrongful death lawsuit. Thanks for coming to our website first!" – Michael Ehline, Esq.
At the end of this article, Michael will go over some bonus information and cover some ways you can protect your case under the California wrongful death statute as you settle the decedent's estate and damages from someone else's negligence. We'll also discuss filing a wrongful death lawsuit and alternatives to suing for wrongful death.
Negligence refers to how a reasonable person would have acted under the same circumstances as the person causing an injury or death worked. A wrongful death injury lawyer is a person who helps you get compensation when someone acts unreasonably. If you feel you have a wrongful death claim, speak with a lawyer promptly.
You May Be Entitled To Significant Financial Compensation For Accidental Death?
True. The domestic partner or other loved one that the decedent left behind during this sad occasion may be unaware of their significant legal rights to compensation, called a "wrongful death claim." So these severely impacted survivors of personal psychological injuries now face burdensome, ominous financial losses in a concise amount of time.
To survive wrongful death's financial and emotional consequences, all your family members living in Woodland Hills, CA, and you or your loved ones must gather new details, which are used in support of your wrongful death claim.
When negligence caused or contributed to a loved one's permanent cessation of biological functions, survivors seeking information have many comments and questions. Call us for free to start the legal process of the Woodland Hills, California, wrongful death claim!
After your free consultation and forming an attorney-client relationship, it's up to your death attorney's experience and skills. Your no-win, no contingency fee injury attorney seeks insurance settlement compensation options while you grieve and heal.
After signing you up, they'll instigate an insurance settlement demand procedure. Here, your lawyer sends a fax, email, or mail a wrongful death claim before filing any wrongful death lawsuit.
The responsible party/organization cannot raise your loved one from their grave. But a reasonable insurance claim settlement provides some justice in order to dampen your lifestyle, and lost wages stress expenses.
We Make It Happen For You!
Ehline Law Firm's experienced Woodland Hills wrongful death lawyers help guide you through all type=wrongful death cases. The legal process to pursue maximum compensation for a Woodland Hills wrongful death remains a challenge. We have peer and client recognition and apply our talent to handle these claims professionally.
Common Causes Of Wrongful Death Claims in Woodland Hills, CA?
A careless person's neglect or intent to cause death justifies pursuing a wrongful death claim with few exceptions. Our Woodland Hills wrongful death lawyers have seen all manner of these cases.
Automobile collisions are the leading cause of wrongful death, with people thirty-five or fewer. Medical malpractice is the number two cause of wrongful death, particularly among senior citizens. Other causes include slips, trips and falls, car accidents, bicycle motorcycle accidents, truck wrecks, and workplace and industrial mishaps.
Other cases include swimming pool drowning, cruise ship accidents, train rashes, chemical exposure (asbestos), and product manufacturing defects.
Here are some common causes of Woodland Hills wrongful death:
Auto accidents include car accidents, trucks, Uber Eats delivery vehicles, bicycles, buses, pedestrians, or motorcycle accidents.
Work accidents leading to the death of a loved one include fire, explosion, toxic chemicals, knives, power tools, harvesting machines, farm equipment, heavy machinery, or fatal physical overexertion.
Defective products accident – include faulty, failing, malfunctioning accelerators, burned-out disc brakes, or airbags that explode.
Other Fatal Injuries Causing A Wrongful Death Claim
Accidents causing death include malnutrition, asphyxia, disease, suicide, homicide, drowning, severe burns, intense heat or cold, drug intoxication, electrocution, starvation, dehydration, radiation toxicity, workplace accidents, and bombing from domestic warfare. Wrongful death lawyers at our firm offer a risk-free consultation. It won't hurt to learn about your potential wrongful death claims.
Contact Us Today
Parties Involved in Woodland Hills Wrongful Death Accidents Can Request An Appointment Today For A Free Consultation. Provide identifying personal information below about any types of wrongful death claims or accidental death cases.
Comments. Please enter a message to us from anywhere in the State of California. Describe your case with detailed information about any negligent parties involved in harming your lost loved one. * All Fields Required. Please include your first and last names, email addresses, and phone numbers. This field is for validation purposes and should be left unchanged. Compatible with internet explorer, Firefox, and Google Chrome. No attorney-client relationship exists until the lawyer says he is interested in pursuing damages via written contract.
What Is The Legal Process To File A Wrongful Death Claim In California?
The elements of your claim must meet the statutory definition. If the insurance companies with the ability to pay for recovery play games, the aggressive partners at our office can resolve contested issues by seeking a jury verdict.
Our venerable Woodland Hills Super Lawyers will explain this in detail. Then, we use your free consultation or multiple "consultations" to hear your voice and grief.
In a nutshell, state or federal laws will generally decide questions on how, when, where, or what specific family members can seek losses against the responsible party or another person.
Statutes and laws
Wrongful death rules include the California Code of Civil Procedure, California Civil Code, CACI, and Gov Code.
Where To Sue:
Usually, the city where the liable person(s) resides or works, including where their misconduct caused your loved one's death.
CAVEAT: when suing others for deaths on a cruise line or under specific insurance policies, a contract may decide the forum state and even Los Angeles County. This will be the legal forum where a survivor can name at-fault defendants and file wrongful claims for the death of a loved one.
Deadline Time To Sue:
California's wrongful death statute of limitations generally provides a limited time for survivors to sue or take legal action after a victim's death. There is a two-year period to file a wrongful death lawsuit from the day of the decedent's death against most private parties. Two years isn't always the maximum or minimum to bring a personal injury case. Other factors shortening or lengthening the deadline may trigger.
The discovery rule carves out an exception to the statute when a plaintiff fails to discover their injuries until a date later than the incident passes itself. In that case, the plaintiff has until the date of discovery before the clock begins ticking.
But shortened times mandated by a straightforward contract or another statute can change this. So you may have a longer or shorter period to bring an action depending on your unique case. Even if you don't retain a lawyer, it won't hurt to ask a lawyer before giving up on the legal system. One or more parties may have coverage.
Generally, surviving spouses, heirs, and issue claiming against a government actor must lodge claims, filed within 6 months after someone was killed. A shorter period also applies in medical malpractice claims. (Under California Code of Civil Procedure §340.5, a party has three years from the date of harm, or "one year after the plaintiff discovers, or through the use of reasonable diligence should have discovered, the injury, whichever occurs first.")
Survivors receiving helpful legal advice and assistance from the best injury lawyer in Woodland Hills with resources will generally recover compensation for the maximum damages available under California law.
It's not easy to know what to do after a deceased person's death without legal assistance during all the emotional trauma. The insurance industry has compared families with no lawyer following catastrophic events of an unexpected death.
The success record shows our attorneys get people paid more in verdicts and settlements for negligent and intentional misconduct. We serve wrongful death victims with compassion as we navigate their claims. We understand sadness and demonstrate this with our actions, giving you closure as you explore and maximize your new life.
Who Can You Sue?
These are the ones who caused your loved one's death and personal injury case. Any survivor eligible to receive the decedent's estate during intestate succession may also use their personal representative attorney to file a California wrongful death case action in civil court.
Who Are Wrongful Death Plaintiffs?
Anyone injured at the hand of another, even the family of someone who suffered a fall and died. The decedent's family members, including the estate's representative, can pursue damages against all those with liability. A list of parties entitled to sue for wrongful death includes the decedent's surviving spouse (homemaker, domestic partner, putative spouse, blood child, stepchildren, grandchildren, mother, or father.
The decedent's adopted children or enumerated people identified by testamentary documents may seek a Woodland Hills wrongful death action recovery. Generally, if the right people lost household services and love, they may be a plaintiff we can represent. If you miss someone you were dependent on, you may have legal rights.
When you prove no one listed as a survivor exists, the deceased's parents and siblings (brother, sister) may have death claims as the next statutorily authorized to sue. Your wrongful death lawyer will explain the circumstances to the decedent's living heirs.
We have recovered millions for people just like you. Would you like to receive the compensation you deserve and move forward with your life? Call us now at (747) 330-1783.
---
How A "Death Attorney Woodland Hills" Can Sue "Responsible Parties"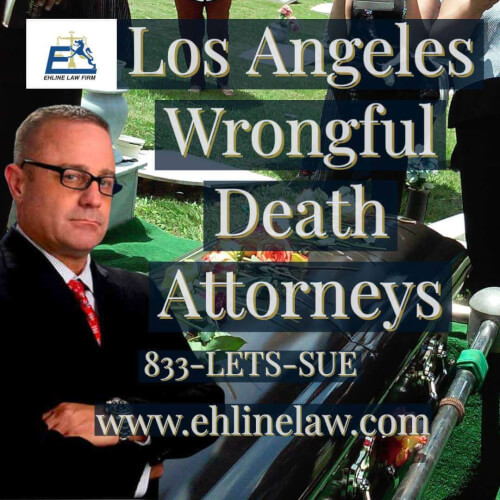 Breach Of Duty?
Acting wrongly or failing to act gives rise to legal liability. For you to receive just wrongful death lawsuit compensation amounts, a preponderance of admissible evidence must prove the plaintiff's burden that the accused person's manner breached their duty of reasonable care to the decedent.
Those liable can be doctors, car drivers, local agencies, private companies, business partners, or many others. But, again, our attorneys have the training and intangible factors, especially in wrongful death lawsuits.
Causation
Your Woodland Hills wrongful death attorney will not allow those liable to avoid taking responsibility for the killing. We take steps to prove the spouse of a deceased person or children's life expectancy. The wrongdoer who killed the dead person, including your loved one, must cause the decedent's death.
California Damages
This discussion is vital during your initial free consultation about your relationship with the deceased person. For validation purposes, the court needs your trial lawyer to prove you or the decedent's issue relied upon the dead person to survive and for love. Who will pay the funeral home costs and other burial expenses?
These individual plaintiffs must show, but for the defendant, you'd still have the same form of companionship, household services, and financial wherewithal to fix property damage, etc., the deceased person used to handle.
Your lost income from the decedent's passing means you can't cover health insurance deductibles to your healthcare provider. All lost future gifts, comfort, affection, and sexual relations have value with no limit.
Suppose you file a wrongful death claim without proof of loss, including economic damages. In that case, your wrongful death suit based upon what the breadwinner brought to the table might be worthless, even though they died due to someone else's negligence.
What Is The Wrongful Death Evidence-Gathering Process?
Once their client retains them, an experienced wrongful death attorney will immediately deal with the evidence-gathering process.
Our law firm begins an accident investigation to receive substance testimony/evidence. Then, our legal experts will explain the fatality grounds under these fields of law, developing a picture telling your story. Finally, we'll start with people liable to pay wrongful death compensation amounts.
Our Woodland Hills wrongful death attorney and staff will interview witnesses. We will obtain statements, fetch police reports, secure video recordings, and retrieve medical documents explaining your circumstances.
Our case investigators seek vital evidence against companies with manufacturing defects causing death. As we begin case law investigations and receive testimony about the fatality's substance, and violence, our legal experts develop a picture, starting with all parties liable to pay the total value.
Our helpful staff of secretaries and paralegals have one purpose. We want to get you a windfall outcome. So our rising stars will prosecute or try the case as clients mourn the deceased individual.
Our proven results getting more is indisputable with courts and insurance companies in a wrongful death action.
Compensation For Civil Law Death Of A Close Family Member
Unlike a criminal acts (murder) prosecution, harm to society caused by the convicted offender's crime or other misconduct isn't factored in for the damages available. Courts cannot sentence a defendant to jail in a civil wrongful death case. In a criminal charge, a person convicted may have to pay restitution for death, but it's not comprehensive like a significant civil jury award would have resulted in.
In contrast, in a wrongful death case, the emphasis addresses the impact of damaged families losing a loved one in their search for happiness. There is no charge, just a civil complaint for damages.
Here, the survivors may file claims for economic and non-economic damages, including loss of parental guidance and certain circumstances requiring a guardian, such as a child with a parent who dies.
This is not bargained compensation for the death of a loved one under a life insurance policy. Not just anyone can sue, but if an immediate survivor doesn't exist, any other party entitled to receive the deceased's property through California's intestate succession laws can sue to recover damages for losses suffered.
The goal is obtaining financial stability through monetary damages for those left behind after a wrongful death or survival action. Numerous fatal personal injury damages exist in a Woodland Hills, California, wrongful death claim.
However, our law firm handles these practice areas with competent compassion and a sense of justice and determination until the final resolution. You may be able to win compensation too. And this is what the deceased would want you to investigate.
Wrongful death fatalities damage calculation amounts owed are figured on a case-by-case basis, with the facts of each claim guiding the division of any verdicts or settlements among the plaintiffs. Unless physically injured, the decedent's surviving family members, including minor children, may only receive compensation based on the fair amount owed. So they may only be able to sue for direct sorrow, pain, and torment suffered due to the wrongful death claims surrounding their loved one's financial support (if they were working), dealing with emotional support, and guidance (non-economic losses). Those with legal standing receive more financial compensation from the at-fault parties for lost lives. You can use it for any income the deceased person could reasonably have been expected to earn in the future if their death hadn't occurred. Our law firm discovers those responsible for causing your pain and suffering tragedy. Our law firm helps grief victims build their cases to receive related fees and damages in all devastating wrongful deaths.
A survivor's action may be filed to compensate the deceased's estate, including the deceased's property. The administrator will sue to recover the decedent's costs associated with the dead's loss of biological function and the significant trauma. If someone caused the deceased person a personal injury or illness leading to organ failure, or predation, the client's matter is negligence-related. The estate's selection of the right California representative is paramount in determining what a mediator or arbitrator will recommend to make up a global settlement number. This person bringing the wrongful death action seeks to recover compensation for the decedent's medical expenses, funeral and burial expenses, memorial charges, related fees, funeral expenses, suffering, mental anguish, contract losses, care owed, and more.
Helping clients bring a wrongful death claim and proving how it occurred is what our experienced lawyers do. Further to this policy, we offer free consultations and even a free evaluation, so you can get to know us simultaneously.
Sometimes taking legal action isn't necessary, and we can negotiate a wrongful death settlement with the guilty party on your behalf as you suffer in silence.
Negligent Infliction of Emotional Distress Damages
In wrongful death lawsuits, sometimes the survivor sees or perceives actions or wrongdoing or recklessness while they occur (Ex: a parent hears or sees a car and proceeds to run over a child).
Establishing a negligent killing this way, the plaintiffs are entitled to seek additional emotional damages awarded for negligent infliction of emotional pain. A medical professional (expert witness) can substantiate the dollar amount of losses on behalf of the plaintiff. The court will require a jury to look at everything and determine who, if anyone, pays and calculate how much.
Direct reimbursement damages for surviving family members include:
Plaintiff's medical bills, psychological/physiological care, and counseling costs from the negligent killing
Lost Financial Support – Economic losses, including burial expenses, loss of anticipated past, present, and future earnings, the breadwinner's prospective income parents or a dead spouse would have provided the plaintiff's household
Household or homemaker contribution costs associated with losing a significant other caring for your children, yard, honey-do lists, emergency repairs, nursing care, or direct support benefit lost after a fatal injury
Non-economic damages – Loss of consortium, love, companionship, emotional support, and guidance
Lost prospect of a better education
Lost future inheritance
Punitive Damages – Designed to make a public example of the killer.
How much compensation you receive depends on many factors. Our compassionate, charismatic personal injury attorneys are ready to offer you solace and superior legal representation. We can help solve problems while you or your domestic partners heal from your inconceivable suffering. Clients depend on us when a drunk driver or wrongdoer kills a loved one.
About Our Attorney Awards, Reviews, and Accolades
All the negligent parties must be liable for causing your damages, and our attorneys use their many years of experience to ensure that occurs. Hiring the right personal injury attorney or law firm is so important.
You want to choose the right legal team that is well-versed and experienced in plaintiff's matters. Continue reading. One or more parties may be liable.
You want to engage with a caring, understanding. This aware firm genuinely believes in your best interest and will fight like hell to hold the responsible parties accountable until the maximum compensation is received for your wrongful death lawsuit.
Past clients refer their friends to us for a reason. Our wrongful death attorney is interested in solving your problem!
The Superlawyers Rising Star Award selected and featured Michael Ehline multiple times from 2006-2015.
Newsweek Magazine awarded its "Premier Personal Injury Attorneys" award to Ehline Law Firm's attorneys in 2015.
CNN interviewed Michael Ehline about cruise ship law; he was a guest on NBC discussing limousine law practice areas. Michael was also interviewed by Nancy Grace on CBS, discussing his expertise in California dog bite law.
*Member – Consumer Attorneys Association
Fatal Accident Insurance Settlement Negotiations Process
Shady insurance companies have a reputation for turning the tragic loss of a loved one into a substantial gain for their shareholders. Insurance adjusters are notorious for underpaying fatal accident claims, especially unrepresented clients.
The insurance company negotiators sweet talk you following the fatality. (Ex: con you to sleep on your legal rights). But, if they achieve their pernicious goal, your chances of hiring a top-notch Woodland Hills wrongful death lawyer for a fatal accident case diminish.
Since they hobbled your case, they present a lowball settlement offer. Your intense emotions, suffering, and weak vulnerabilities may leave you incapacitated and tempted to accept the unfair offer.
You must receive immediate personal injury attorney help near you or risk receiving less than your negligent fatality claim's total value. We'll negotiate with the insurance company as your legal representative and shield you, communicating our settlement demands and allowing you to focus on personal growth.
The Insurance Company Isn't Your Friend.
The incomprehensible torment, loss, and suffering of bereaving a close family member can lead to health problems, bankruptcy, and poverty, even for those who have obtained relative success.
But, unfortunately, seeking money justice from the insurance company representing the at-fault party won't raise anybody from the dead. Settlements without trial can help achieve the decedent's long-term goal of financially protecting their surviving loved ones from bankruptcy-type situations and life stress.
Schedule Your Crucial Free Consultation From Woodland Hills Wrongful Attorneys Today
Your superior, recognized, award-winning wrongful death attorney Woodland Hills team assists you and your family every step of the way. During this delicate period of personal depletion and self-reflection, our law group's top-notch lead counsel and caring staff pursue and secure comprehensive compensation for all losses arising from wrongful deaths. We can also make survival claims for the deceased person's estate.
Our office promises to provide the best legal representation for a close family member's death seeking maximum financial compensation. Our personal injury law firm helps personal injury plaintiffs in Woodland Hills, servicing all of Southern California.
We have handled all wrongful death lawsuits and are prepared to succeed. We can help victims file wrongful death lawsuits for fatal accidents within the time allowed by statute.
Call us and speak with a Woodland Hills wrongful death lawyer at our law offices 24/7 for a free consultation and case review and discuss your legal options. No matter your situation or that of the victim's family, we hope to be of assistance. Our local phone number is (747) 330-1783, or use our handy online contact form and tell us these things are cost-free (protection benefits to deciphering wrongful death claims for nothing).
Michael Ehline is an inactive U.S. Marine and world-famous legal historian. Michael helped draft the Cruise Ship Safety Act and has won some of U.S. history's largest motorcycle accident settlements. Together with his legal team, Michael and the Ehline Law Firm collect damages on behalf of clients.
We pride ourselves on being available to answer your most pressing and difficult questions 24/7. We are proud sponsors of the Paul Ehline Memorial Motorcycle Ride and a Service Disabled Veteran Operated Business. (SDVOB.) We are ready to fight.