When you get an injury, making a personal injury lawsuit could help you recover from all the money accidents can cost you a lot financially, as well as emotional pain and suffering.
What Is a Personal Injury?
Personal injuries in Santa Barbara are any emotional, physical, or economic damage a victim may have suffered due to the liable party's negligence or wrongdoing. Most of our clients were injured in car accidents, but an auto accident isn't the only wayto suffer a wrongful death or catastrophic loss in San Bernardio, CA.
It's common for personal injury cases to take place in accidents such as car crashes, pedestrian accidents, dog bites, or work accidents, or even drown at the beach, or a private swimming pool. But anything that happens to you after another party's negligence is enough to be a personal injury legal matter for the injured party seeking financial compensation.
As we mentioned before, personal injuries are not only physical injuries, so you can file a claim against anyone who caused you emotional distress or economic damage after an accident, including the County of San Bernardino itself. Nonetheless, all those things often happen at the same time after an accident.
The reason you want to make a claim is they help you get compensation after what happened to you. But getting a fair settlement is almost impossible without forming an attorney-client relationship with a top-rated Santa Barbara personal injury attorney.
You may also have damaged property, like a laptop computer that was ruined during the accident. Personal injury victims lose a lot of money due to the negligence of other people in Santa Barbara, CA since they have to worry about medical bills and property damage.
If you, for example, get in a car accident and get physical injuries, you don't only need to pay for your medical bills since you still need to take your car to an auto repair shop.
Apart from that, you may still suffer from emotional distress and other mental conditions after the accident, and that's something that can cost you money in a different way.
Personal injury compensation in Santa Barbara, CA is meant to cover all those expenses and lost wages to help you recover from the accident.
Wrongful death cases also count as personal injuries when filing a lawsuit against the liable party, and the financial compensation goes to the victim's family if they win the case.
The funds they get for this are often used to cover burial expenses and emotional distress.
How Can a Personal Injury Attorney Help Me in Santa Barbara, CA?
Personal injury lawyers can help you in many ways, and one of them is getting the funds you may lose after a wrongful death case or paying for the medical treatment you need.
Firstly, these lawyers can tell you what you should and shouldn't do to win the case.
Their advice can help you a lot throughout the process since it's not uncommon for liable parties to deny what they did and do what they can to avoid paying for the compensation you deserve.
Negligent parties may also hire a criminal defense lawyer to protect them from your claim, and you need to be ready for that.
Legal processes can be complex for someone who doesn't know that much about Santa Barbara, CA injury law, but lawyers can explain every part of the process to you whenever you need them. They will also take care of all the paperwork needed for the case.
Gathering evidence for the case is a fundamental part of the process if it gets to a trial, and a lawyer coming from a reliable law firm such as Ehline Law can help you collect evidence to prove you suffered from the negligence of the other party. Police reports and witnesses are excellent examples of useful evidence.
Not all Santa Barbara injury claims get to a trial since you can also get to an agreement with the other party.
Negotiating with the liable party is easier for everyone since you don't have to go through the whole trial, but you may get less compensation than what you would get if you won the case after a trial.
If you decide to get to a settlement after negotiating with the other party, you need to have a lawyer with you.
Things worsen when insurance companies get involved since they often do what they can to pay the least they can for the accident. Lawyers in Santa Barbara, CA, know how to protect you from those things, so you can trust them to guide you through the negotiations.
Understanding Personal Injury Law in Santa Barbara, CA
Although lawyers at the Ehline Law Firm can tell you everything you need to know for the case, it's never a bad thing to understand how the law works in Santa Barbara, CA. This helps you make the whole process less overwhelming since you understand what happens at all times.
The first thing you need to know is California is an at-fault state, which means the liable party for an accident must pay compensation for any mild or catastrophic injuries and property damage they may have caused to the victims of the accident.
Not all states in the U.S are at-fault states, and that means compensation can be different for them.
Filing a lawsuit after getting an injury is also not that complex, and any of our legal assistants could help you with that. The first step is to establish legal standing since you need it before filing a claim against someone in Santa Barbara, CA.
After that, you need to determine the venue for your lawsuit, which means where you are going to claim it.
The venue for the accident, in this case, would be Santa Barbara, CA since it's the place where the injury happened or where the parties live. If it's not Santa Barbara, it needs to be in a county that meets any of those criteria, too.
Some cases have some regulations on how you can file your claim, and Santa Barbara, CA, is not an exception for that, so you need to ask your lawyer what the regulations are in your country to avoid making any mistakes throughout the process.
When your lawyer files a complaint against another party, the court notifies them they are being sued, and the defendant has some time to reply to your claim. Your lawyer also needs to file a complaint, which includes the details of how you were injured and the defendant's liability for the accident.
What Cases Can a Personal Injury Lawyer Take?
As we mentioned before, there are different types of personal injuries you can get, and the one you get also determines how much compensation you can get and how the process goes. The same applies to how the injured happened since it could turn the whole case around depending on the situation.
If a wrongful death case, for example, ends up being a hit and run, the liable party is also going to face hit and run charges, which helps the victim build a stronger case to prove to the court how much they suffered from the accident.
When you hire a personal injury law firm, you are hiring attorneys who can take any kind of this legal matter. Naturally, some focus on different types of cases, but all of them are qualified to take any case involving personal injuries in Santa Barbara, CA.
Here are the main cases you can hire personal injury law firms to help you with:
Wrongful death
Car accident injuries
Medical malpractice
Motorcycle accident
Workers' compensation
The injuries you get after the accident are also important for the case, so read some of them to be mindful of how dangerous car and motorcycle accidents are:
Traumatic brain injuries
Spinal cord injuries
Permanent, semi-permanent, or sustained injuries
Pain and suffering
Where to Find a Personal Injury Attorney in Santa Barbara
Clients need a lawyer who can give them a free consultation of their case and get them the compensation they need to cover medical expenses and other economic damage after a car accident.
Cases such as wrongful death claims and accidents that cause a traumatic brain injury are difficult to address. You need a legal counsel who understands our legal system and is supportive of your loss or injuries.
If you are looking for aggressive legal representation that offers you all that in Santa Barbara, the Ehline Law Firm is here to help.
All the personal injuries suffered by someone else's negligence are unfair to the victim, and we deliver top-notch legal practice to get you the justice you deserve.
Bottom Line – Do You Need a Settlement After a Car Accident in Santa Barbara? We Are Here for You!
It's often overwhelming for the victim getting in personal injury matters to find a decent Santa Barbara, California, attorney. Regardless, you can trust us to help you win the case and get compensation for any serious injury you may have after an accident in Santa Barbara.
We are more than qualified to prove the negligent party's liability to the insurance company and court, so call us to get a free consultation and legal representation as soon as you can!
---
Michael Ehline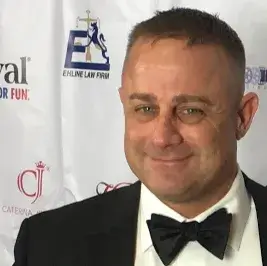 Michael is a managing partner at the nationwide Ehline Law Firm, Personal Injury Attorneys, APLC. He's an inactive Marine and became a lawyer in the California State Bar Law Office Study Program, later receiving his J.D. from UWLA School of Law. Michael has won some of the world's largest motorcycle accident settlements.
---
Recent Personal Injury News
Check out our most recent auto defects, accidents in Santa Barbara County, and more, including the famous, infamous and everyday people wounded by at fault parties around the world.