If we don't win, you don't pay.
Speak to the Attorney.
Born to serve.
633 W 5th Street #2890
Los Angeles, CA 90071
(213) 596-9642.
Date Modified: July 2, 2023
Any incident that causes injuries can be a stressful and scary experience for the victims and their families.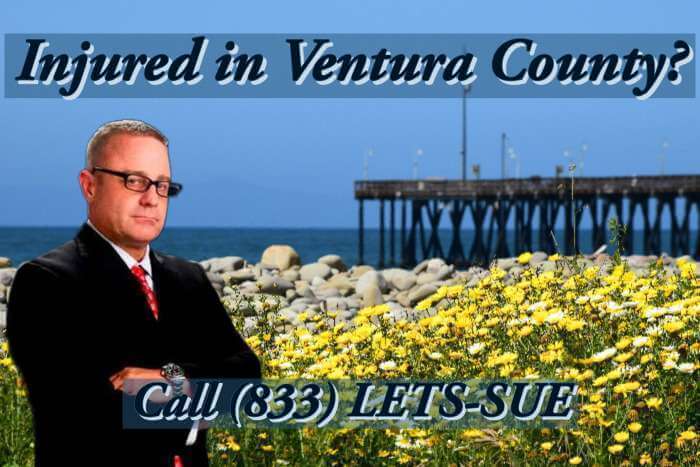 We Help Victims Win on a Contingency Basis
Top Rated, Local Injury Lawyer for You! However, hiring the right attorney for your case is essential when dealing with a personal injury case.
In fact, most result in excruciating pain, overwhelming medical bills, emotional trauma, damaged earning capacity, and even an inability to work.
Therefore, if you or your loved one suffered from the actions of others, you should find a personal injury lawyer in Ventura, CA. Do you want to know more about what we can do for you or your family? Keep reading!
What Is the Role of a Personal Injury Attorney?
Personal injury lawyers provide legal advice and representation to people who have suffered physical injuries, emotional distress, and financial loss related to an accident.
These attorneys work in the personal injury field and pursue compensation for those affected by negligent or intentional acts by a person or organization.
Understanding Personal Injury Law
In order to understand what an expert does in this field, it's essential to know the law that rules personal injuries.
What Is the Personal Injury Law?
Also known as tort law allows people to file a civil suit against individuals or businesses whose careless or negligent actions have injured them or their family members. This system intends to enable victims to obtain financial compensation after being harmed by others' conduct. In other words, you can build a case and fight in court to get a legal remedy for all material and emotional losses resulting from the incident.
Although regulations often vary in most states, this law remains the same whether you are in Ventura County, surrounding communities, or any other part of southern California.
What Are Personal Injury Cases?
Personal injury cases are legal processes focused on negligent or intentional acts causing harm, including incidents that result in personal injuries with life-altering consequences. These rules apply in different situations, such as accidents, medical malpractice, defamation, defective products, and intentional acts.
Types of Accidents a Personal Injury Lawyer in Ventura, CA, Can Handle
A Ventura personal lawyer can work on a variety of cases, mostly based on negligence, including:
Automotive incidents, such as motorcycle and truck accidents
Rideshare vehicle accidents
Public, tour, or other bus accidents
Bike accidents
Boating injuries
Other transportation incidents, such as aviation or pedestrian accidents
Premises liability
Scooter injuries
Slip and fall
Animal attacks like dog bite
Negligent security
Construction accidents
Medical malpractice
Turo accidents
Severe burn injuries
Traumatic brain injuries
Spinal cord injuries
Other catastrophic injuries
Wrongful death.
What Can a Ventura Personal Injury Lawyer Do for You?
Do you plan to file a personal injury claim in Ventura, California, or want to settle out of court? A specialized lawyer can provide the legal assistance and guidance you need.
A personal injury lawyer intervenes on your behalf and performs several tasks, including:
Helps You Understand Your Rights
If you or your loved one has been injured in an accident, an experienced personal injury attorney can advise you on your legal rights to protect your interests.
Investigates Your Personal Injury Case
Attorneys also work as investigators. They collect evidence, pick up police or medical documents, obtain footage of the scene, and track down or interview witnesses to build a strong case.
Your lawyer also reviews all the evidence to determine fault and support the arguments if you must appear before the jury. However, most cases are settled before reaching court.
Discusses Your Claim with the Insurance Companies
Whether you were injured in a car accident or suffered a negligent fall at work, an insurance company will ask for information and all the recorded statements.
However, lawyers go to great lengths to protect their clients from insurance companies and the legal system. Therefore, they can refute their requests to control information, supervise your statement, and advise you on what you should say or not to avoid undermining your claim.
Negotiates with Insurers
In these cases, personal injury attorneys work hard to prevent insurers from lowering the amount you should obtain as compensation and establish a bridge between both parties to reach a fair agreement.
Collects Medical Bills and Medical Records
Were you taken to the hospital after the accident and received expensive treatment? Lawyers will also review your accumulated bills and ask for the ones they have not received to calculate the damages and estimate a fair cost for compensation.
Files Personal Injury Claims
If you decide to file a lawsuit, the attorney-client relationship scales to a new level of representation. At this point, your attorney must formalize the damage information, legal theories, and allegations since some control is relinquished to a jury.
After a suit is filed, experts prepare to defend a case that goes to litigation, knowing that the judge will push for a settlement. They must also stand up to all parties, including insurance companies, who incur legal costs and fees.
Represents You in Court
A personal injury attorney can also represent you in court if the parties involved fail to reach an agreement, and you must defend your case before a jury.
A personal injury expert typically has the same responsibilities as a litigator, which include gathering evidence, documenting injuries, and calculating damages.
Did your case escalate and make it to court? A personal injury attorney can also represent you through trial, draft pleading, and motions and advise you at every step if you file a personal injury claim.
Better Assesses Damages
If you've been in an accident, your first concern will be your finances.
However, a professional attorney can come up with a more accurate estimate to help you based on your injuries' long-term effects and help you get all the benefits you deserve.
Build Cases for Defendants
Some lawyers and law offices also work with the accused party. In these cases, a legal counsel collects evidence to prove the claimant's fault, if applicable, and attempts to reach a fair settlement out of court.
Damages That May Be Related to a Personal Injury Claim
Each personal injury claim is unique, as no two accidents are the same; for that reason, a Ventura personal injury attorney takes each case personally and considers each client's legal needs in order to reach the best possible outcome.
Law firms that follow a customized approach in personal injury cases have a better chance of achieving the compensation its client deserves.
Expected Costs Included in a Personal Injury Compensation
Equitable compensation should include all accident-related costs, such as:
Emergency costs
Expenses for medical treatment
Lost income or missing wages
Rehabilitation fees
Property Damage
Lessened damage
Pain and suffering
What Costs Could Influence the Settlement or Compensation Calculations?
Suppose a Ventura personal injury lawyer works on a wrongful death case. In that case, the plaintiff may obtain compensation for funeral and burial expenses, loss of consortium, and income that the decedent could have earned in their lifetime.
Is There a Formula to Calculate Settlements?
There is no single formula for calculating settlements or compensation amounts for personal injury claims, as each case differs.
However, our Ventura personal injury experts will go the extra mile to get you everything you deserve.
Most law offices focus on traditional methods to calculate certain types of damages. Your personal injury lawyer will likely use one after conducting a thorough investigation to ensure that the settlement or compensation includes all recoverable losses.
Serious Injuries and Future Impact
Generally, out-of-court settlements and compensation amounts may be affected by the medical care costs for your injuries. The settlement estimate may be higher if you continually need to go to the doctor because of a permanent injury or condition related to the accident.
Some serious or permanent injuries could also result in higher medical costs. In this scenario, your attorney may seek compensation for pain, suffering, or impact on your future life.
Lost Wages
If you lost income during recovery, your attorney may increase the settlement amount or demand fairer compensation, including missing wages.
Miscellaneous Expenses
Some settlements also include miscellaneous expenses if the plaintiff had to modify their property or vehicle or invest in alternative transportation and child care during their recovery.
What If It Was My Fault?
For example, if you were injured through your own negligence or percentage at fault in a car accident in Ventura, CA, your compensation could be reduced.
However, whether you agree to a contingency fee basis or not, a personal injury lawyer will do everything in their power to get the highest amount for you.
Do You Need a Ventura Personal Injury Attorney? Get a free consultation here!
At Ehline Law, we have a group of professional attorneys with experience in personal injury claims and wrongful death who will work hard and fight to help you get the benefits you deserve.
When Do You Need Help From Our Lawyers?
Whether you were injured in an accident or need advice through your litigation experience, our firm's outstanding lawyers can give you a hand! Our multi-million-dollar advocates do everything they can to get the best settlement and compensation for all our clients. We will follow a completely personalized, individual case so that you get results tailored to your needs.
Ehline Law's Lawyers Can Give You a Hand if:
Do you want to file a claim
There's a suit against you
Several parties may be involved
Your claim is denied
Your case is going to court
A settlement was offered
You want to seek compensation
What Can Ehline Law's Ventura Personal Injury Attorneys Do for You?
We will investigate your case and collect all the necessary evidence to build strong claims for our clients. Whether you are injured in an accident or by a defective product, one of our specialists protects your rights and handles all legal issues while you recover.
Do you need personalized help? Our law office has a team of specialists trained in several practice areas, whether you are facing a lawsuit or want to fight for fair compensation. We also offer a free consultation to give you a legal perspective on your case without spending a dime when you retain us!
Contact Ehline Law Firm for a Free Consultation
Our experienced personal injury lawyers are here for you! If you need legal assistance in a personal injury or wrongful death case, call (833) LETS-SUE and get a free consultation today!
Ventura County Practice Areas By Location
Camarillo
Fillmore
Moorpark
Ojai
Oxnard
Port Hueneme
Santa Paula
Simi Valley
Thousand Oaks
San Buenaventura.
We also serve badly injured victims in Santa Barbara and San Luis Obispo counties.
Michael Ehline is an inactive U.S. Marine and world-famous legal historian. Michael helped draft the Cruise Ship Safety Act and has won some of U.S. history's largest motorcycle accident settlements. Together with his legal team, Michael and the Ehline Law Firm collect damages on behalf of clients.
We pride ourselves on being available to answer your most pressing and difficult questions 24/7. We are proud sponsors of the Paul Ehline Memorial Motorcycle Ride and a Service Disabled Veteran Operated Business. (SDVOB.) We are ready to fight.