If we don't win, you don't pay.
Speak to the Attorney.
Born to serve.
633 W 5th Street #2890
Los Angeles, CA 90071
(213) 596-9642.
Date Modified: July 2, 2023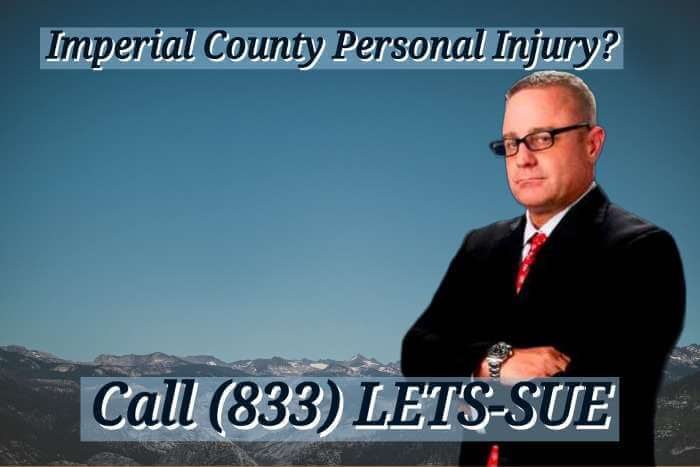 Imperial County Personal Injury?
Residents of Imperial County should be aware that the Ehline Law Firm has a personal injury lawyer on their side who can assist them with personal injury and worker's compensation claims.
You're in the ideal spot to get assistance and merit from Ehline Law Firm if you need a personal injury attorney.
What Services Do We Offer?
Our firm provides a variety of services, so you can obtain the best personal injury attorney you need. We can assist you in Imperial County with instances involving:
Motorcycle accidents
Semi-trailer accidents
Auto accidents
Dog attacks
Slips and falls
Negligence
Drug injuries
Premises liability
Wrongful deaths
Defective products
Worker's compensation claims
Social Security disability claims.
What Makes the Ehline Law Firm Better?
The choice to get a personal injury lawyer should never be made quickly. You may need legal representation in court or assistance with settlement negotiations. The personal injury lawyer you choose to carry out that duty may significantly impact your future and the compensation you receive.
Essentially, you will be in capable hands where you can feel comfortable and at ease if you choose to engage with a personal injury lawyer at Ehline Law Firm. Our highly trained personal injury lawyers will do their best to assist you in obtaining a resolution to your case that is appropriate for your personal injury situation and just.
We will address the issue on your behalf with forceful strategies and a direct demeanor. The Ehline Law Firm is devoted to pursuing a favorable result in your case, and in each case, we take in Imperial County, CA. Our personal injury lawyers put our clients first and take the utmost care with each worker's compensation or personal injury case.
Common Injuries Faced in Imperial County
Imperial County is a metropolitan area that is expanding quickly, per the 2010 U.S. Census.
The area is prone to a wide range of incidents because it has a population of more than 180,000 people and a vast network of routes. Some of these mishaps may include:
Truck accidents
Bicycle accidents
Rideshare and taxi accidents
Pedestrian accidents
Boating accidents
Public transportation accidents
Tour or party bus accidents
Catastrophic injury cases
Traumatic brain injury
Premises liability
Spinal cord injury
Train accidents
Slip, trip, and fall accidents
Following an Accident, Compensation May Be Available
It may be possible to obtain compensation if you or someone you know has been hurt. When another person, business, or organization's negligence contributed to the accident, the victim may be entitled to compensation by hiring a personal injury lawyer and bringing a case to Imperial County, CA. However, submitting a personal injury claim might be a complex process.
Nevertheless, compensation can be attainable in Imperial County, CA, if a good personal injury claim is made with the assistance of a knowledgeable personal injury law firm.
Factors that Could Strengthen a Personal Injury Claim
Many accident victims encounter denials from the party that caused the accident in the following days and weeks. You must consider getting prepped for these scenarios if you are a victim in Imperial County, CA. Unfortunately, a disagreement can destroy your case, even if you have proof of the other party's wrongdoing. Moreover, many insurance firms will work against you and often pursue aggressive tactics to avoid paying you what is due.
To be awarded compensation, a personal injury claim must be well-founded. The steps listed below can assist you in supporting your personal injury claim in San Diego County:
Obtain an Immediate Medical Evaluation
First and foremost, even if your damage seems minor, you should seek medical attention following the event. To be eligible for full compensation, you must immediately obtain an evaluation. It won't be possible to link your catastrophic injuries to the accident without a sufficient medical record.
Preserve Necessary Evidence
Taking pictures of the site and writing a thorough narrative of the accident are two more ways to protect evidence. If you slip and fall in a private parking lot due to inadequate lighting, documenting the scene will support your description of what happened.
To prevent further harm to others, the responsible party will often take quick action to fix the hazard, but this will impact your case. Do your share to preserve crucial information that will help you support your claim when at all possible.
Avoid Speaking to Insurance Companies
Since they are for-profit organizations, insurance companies strive to give claimants the bare minimum compensation they deserve. An insurance claims adjuster may occasionally take your comments out of context to dispute your claims. Insurance adjusters have a reputation for asking questions designed to elicit answers used to undervalue claims. Thus, you should hire a personal injury lawyer to handle this for you.
Typical Damages
Most personal injury damages are categorized as "compensatory," meaning they are meant to make up for the losses incurred by the injured plaintiff as a result of the car accident or personal injury. Insofar as practicable, compensating damages are intended to restore the aggrieved plaintiff to "wholeness" financially.
This is trying to place a price tag on all the effects of an accident. Some compensatory damages, such as financial compensation for property damage and medical expenses, are quite simple to assess. However, it is more difficult to put a dollar amount on "pain and suffering" or the inability to engage in hobbies due to physical restrictions brought on by persistent accident-related injuries.
The many types of compensatory damages that are usually awarded in personal injury claims are listed below:
Medical treatment. The cost of medical care related to the personal injury accident is typically covered by a personal injury damages award, including compensation for any already-received care and compensation for the anticipated future cost of your care due to the accident.
Income. Suppose the personal injury accident had not happened. In that case, you might be entitled to compensation for its effect on your salary and wages, including both the money you have already lost and the money you would have been able to make in the future.
A damages award based on future income is sometimes described in legalese about personal injuries as compensation for the "loss of earning capacity" of an accident victim.
Property loss. You might be entitled to reimbursement for repairs or compensation for the fair market value of any lost property if any vehicles, clothing, or other items were harmed due to the personal injury accident.
Punitive Damages in Personal Injury Cases
A personal injury plaintiff may also be given punitive and compensatory damages if the defendant's actions are extremely egregious or reckless. When compared to compensatory damages, which aim to "make someone whole," punitive damages have a very different justification.
Although the aggrieved plaintiff receives punitive damages, their true purpose is to punish the offending party for their actions — to "strike them in the pocketbook," so to speak — and to serve as a deterrent. Most states have imposed some cap on punitive damage awards in personal injury cases because it is not uncommon for them to exceed tens of millions of dollars.
Statute of Limitations for Personal Injury
A civil case for "damage to, or for the death of, an individual caused by the negligent act or negligence of another" must be filed within two years of the underlying accident or incident date, according to the California Code of Civil Procedure section 335.1. Since the majority of personal injury claims are governed by the liability concept of "negligence" (a term that is interchangeable with "neglect" as it is used in section 335.1), that includes practically all conceivable sorts of personal injury lawsuits.
How Much Does a Los Angeles Personal Injury Lawyer in Imperial County Cost?
The particulars of your case and the length of your personal injury lawsuit will determine your cost. Our personal injury attorneys take cases on a contingency basis. This means that we are not paid unless you are. However, we do provide a free consultation.
Your personal injury lawyers will agree with you on a particular portion of your settlement that will go to them before they begin working on your case. Following the completion of your settlement, the insurance company will pay us a check; your personal injury lawyer will deduct the agreed-upon percentage before sending the remaining funds to you.
Should I Get an Imperial County Personal Injury Attorney for a Minor Accident?
The personal injury victims in Imperial County often decide to represent themselves in court without obtaining legal counsel. This is particularly common when the claim is for a small sum and the parties responsible for the car accident have insurance. However, it is impossible to tell the extent of your injuries at the time of an accident. What first seems to be pretty minor injuries may end up being much, much worse.
Minor wounds can develop into problems with significant immediate and long-term costs. Even if the damage seems small, speak with personal injury lawyers from Los Angeles County who focus on injury cases since one with experience will be aware of all the factors that might have led to the car accident and all the potential short- and long-term effects.
How to Find Good Personal Injury Lawyers in Imperial County, CA
Working with a personal injury lawyer ensures you can get the compensation you deserve. You may receive the appropriate medical care with the assurance that you won't rack up crippling medical debt.
Call an Imperial County, CA, Personal Injury Lawyer Today!
You and your family may be able to fight for just compensation from a careless or negligent third party in Imperial County, CA, with the help of a personal injury lawyer at Ehline Law Firm. We have defended accident victims in wrongful death and personal injury lawsuits for many years.
At our Imperial County, CA office, speak with a knowledgeable personal injury lawyer for a free consultation to learn what your case might be worth. To talk with a lead personal injury attorney immediately, call (213) 596-9642 or send us an email using our online contact form today.
Michael Ehline is an inactive U.S. Marine and world-famous legal historian. Michael helped draft the Cruise Ship Safety Act and has won some of U.S. history's largest motorcycle accident settlements. Together with his legal team, Michael and the Ehline Law Firm collect damages on behalf of clients.
We pride ourselves on being available to answer your most pressing and difficult questions 24/7. We are proud sponsors of the Paul Ehline Memorial Motorcycle Ride and a Service Disabled Veteran Operated Business. (SDVOB.) We are ready to fight.