Common Bicycle Accident Injuries
Bicyclists can sustain severe and potentially fatal injuries in collisions because they are much more vulnerable than drivers on the road. Even at modest speeds, bike accidents can result in serious physical harm. Some of the injuries suffered in cycling accidents are listed below:
How Dana Point Personal Injury Lawyers Can Help Your Case in Orange County, CA
Are you a bicycle accident victim? The last thing you should do is postpone your legal consultation. Anything you say or do prior to the resolution of your case could result in a disagreement over liability or damages since it is possible that the defendant and insurance company would use every tactic at their disposal to limit their exposure. By guiding you and your family through the legal process, the Dana Point personal injury lawyers at Ehline Law Firm will level the playing field.
During your free initial consultation at one of our Orange County law offices, we'll discuss some of the following matters to help your case:
Evidence
It's easy to gather some evidence by yourself; however, a lot of the information that could be used to support your claim may be difficult to access. The accident lawyers at Ehline Law Firm will analyze your case during a free case evaluation to determine the kinds of evidence that must be used to support your claim.
Calculating Damages
The calculations for medical treatment, non-economic damages, future medical bills, lost wages, and other damages are extremely complicated. It is crucial that you have the right proof to show the worth of your economic and non-economic losses because you can anticipate the defendant disputing the amount of your damages. If you want to seek exemplary damages, you must provide strong proof that the defendant acted dishonestly, maliciously, or oppressively. Our Dana Point accident attorneys in the Orange County area are familiar with the kinds of evidence required to establish damages and are skilled in settlement negotiations.
Helping You Avoid Mistakes
The defendant and insurance company will look far and wide for justifications to contest your claim. Any errors you make throughout the process could be very detrimental to your case. Our accident lawyers will manage all correspondence with the defendants and assist you in avoiding critical errors that could jeopardize the case.
Arranging Expert Witness Testimony
The evidence of an expert witness can often mean the difference between winning fair recompense and going away empty-handed. Resolution of culpability and damages disputes can be greatly aided by the testimony of expert witnesses in Orange County.
Hire an Experienced Attorney in Dana Point, CA, Today!
After a cycling accident, the last thing you need is to deal with a pile of medical expenses and tiresome conversations with insurance companies that don't have your best interests in mind. The experienced legal team at Ehline Law Firm knows what you're going through and are ready to go the extra mile to get you the compensation you need to resume your normal life.
Our attorneys have the knowledge and tools to increase your compensation because we have successfully recovered millions for clients. If you're an injured cyclist in California and want to learn about your legal options, contact one of our law firms today for a free consultation!
---
Michael Ehline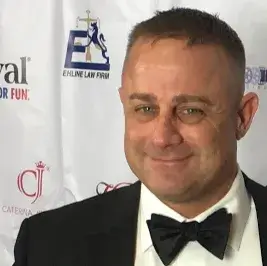 Michael is a managing partner at the nationwide Ehline Law Firm, Personal Injury Attorneys, APLC. He's an inactive Marine and became a lawyer in the California State Bar Law Office Study Program, later receiving his J.D. from UWLA School of Law. Michael has won some of the world's largest motorcycle accident settlements.
---
Recent Personal Injury News
Check out our most recent bike accident news blog posts about the famous, infamous and everyday people wounded by at fault parties around the world.