If we don't win, you don't pay.
Speak to the Attorney.
Born to serve.
633 W 5th Street #2890
Los Angeles, CA 90071
(213) 596-9642.
Date Modified: July 2, 2023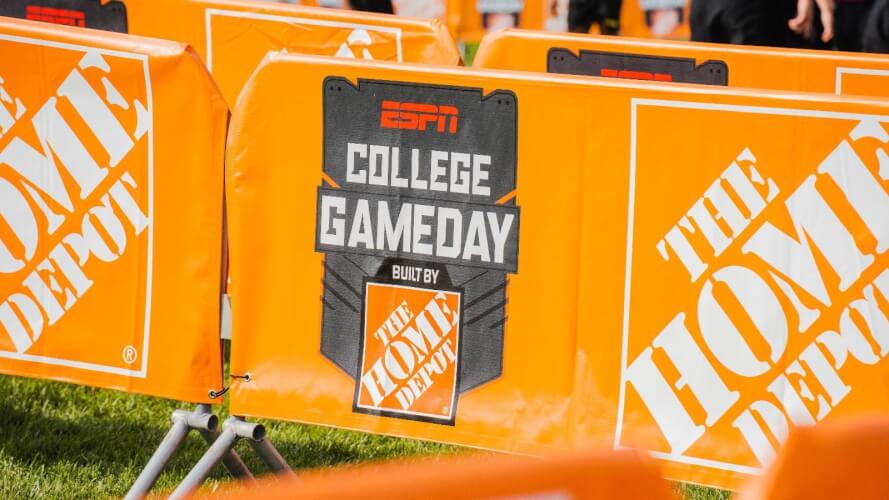 Slip and fall accidents don't discriminate. Whether at a grocery shop or a large Home Depot store, you can fall victim to a slip-and-fall accident if there are hazards.
Even a minor slip and fall accident at a Home Depot can result in devastating knee, write, ankle, and head and shoulder injuries, requiring immediate medical treatment and, in extreme cases, rehabilitation.
If you can rehabilitate without permanent disabilities, you will likely suffer lost wages and have out-of-pocket costs from one or more healthcare provider. Ehline Law and our slip and fall accident lawyers have more than 15 years of experience protecting the rights of injured victims and fighting aggressively for the compensation they deserve. Our top injury lawyer specializes in Home Depot injury cases in California and Texas as premises liability claim experts. Michael Ehline, Esq., is a former employee of Home Depot and handles slip and fall cases at the store premises regularly.
Duty to Maintain Safe Premises
Home Depot often fails to take steps to prevent wet floors, which can lead to customer injuries or even death. If you suffered injuries in a Home Depot slip and fall accident, contact our Home Depot slip and fall injury attorneys to learn more about your rights as an injured victim against the retail property owners or for someone else's negligence.
About Our Attorney Awards, Reviews, and Accolades
The Superlawyers Rising Star Award was awarded multiple times to Michael Ehline from 2006-2015.
Newsweek Magazine awarded its "Premier Personal Injury Attorneys" award to Ehline Law Firm's attorneys in 2015.
CNN interviewed Michael Ehline about cruise ship law, and he was a guest on NBC discussing limousine law practice areas. Michael was also interviewed by Nancy Grace on CBS, discussing his expertise in California dog bite law.
When there is an unknown substance on a slippery floor, and you are hurt needing medical care, you may need to take legal action.
<
Free Consultation To Discuss Legal Representation
Even if your claim was denied by the home improvement store or another law firm, call us today for a free second opinion at (213) 596-9642.
Injured customers can discuss what happened confidentially, and there is no risk. If we decide to form an attorney-client relationship, our best Los Angeles lawyer won't stop fighting until we achieve a fair settlement.
Most of all, our caring legal team will make sure you and your loved ones receive fair treatment instead of the pain of a demeaning claim denial. We win these cases and have done so for over a decade for thousands of victims.
How Can Slip and Fall Accidents Happen at Home Depot?
A typical Home Depot store averages 105,000 square feet of indoor retail space, making it challenging for employees to keep track of all the aisles. Because of this, fall cases are not always in an accident report, and not everyone gets paid money, either.
Our slip and fall lawyer team knows there are quite a few based on the sheer number of victims who sue Home Depot for personal injuries and lost wages in a fall case.
Any hazardous situation left unchecked in the aisles can lead to a slip-and-fall accident, causing catastrophic injuries to the unsuspecting customer at this large home improvement center. These large corporations must seek out and prevent unsafe conditions inside and outside the warehouse business location, including shopping aisles and parking lots.
There are several ways a slip and fall accident can occur at Home Depot to your family or other customers, including the following potential hazards. Our Los Angeles attorney can discuss your chances at winning your Home Depot lawsuit or settlement with a free legal consultation at (213) 596-9642.
Fallen Merchandise
Employees negligently stocking items on the shelves may increase the risk of merchandise falling, creating a serious tripping hazard for the patrons. Besides negligent employees, hundreds of customers walk through a Home Depot store, some of who do not pick up after themselves.
Careless customers may drop the merchandise on the floor without picking it up, increasing the risk of a life-threatening slip and fall accident. The property owner should be aware of this future threat, and their failure to inspect and clean up can land a person in the hospital or worse. They must take essential steps to make a regular investigation to pinpoint safety hazards leading to slips. If not, the retailer is likely to blame for the paralysis or other injuries to the innocent plaintiff.
Lack of Warning Signs
When an employee washes, waxes, or mops the floor at Home Depot, they may forget to place a warning sign to warn patrons of slippery surfaces. Such negligence can result in a serious Home Depot slip and fall accident, especially if the customer is holding items that may fall on them as they hit the floor, like heavy construction equipment.
Uneven Flooring and a Cracked Parking Lot
Design faults or wear and tear can lead to uneven flooring, a severe tripping hazard for patrons traversing Home Depot. Lack of inspection can lead to oversight and increase the risk of slip and fall accidents.
There is a possibility of slip and fall accidents inside the stores and outside, especially in the parking lot. Rain and other harsh weather conditions can cause pavements and parking lots to crack over time, becoming a tripping hazard. Slip and fall accidents on rough surfaces can also cause lacerations and abrasions, and if not treated immediately, it could lead to an infection.
Leaks and Spills
Whether consumers spill beverages inside a Home Depot store or a negligent store manager fails to fix a leak in one of the pipes, slippery surfaces are a severe hazard to unsuspecting patrons. The store employees must follow inspection schedules to identify leaks or spills and take immediate corrective action.
Icy Surfaces
Ice can be a real problem with the already slippery surfaces at Home Depot. Snow can accumulate on the sidewalks and parking lot during winter, while entrances can suffer from icy surfaces. Such conditions make it easy for patrons to slip and hurt themselves. Do you have a slip and fall case that led to the loss of enjoyment of life? The key thing right now is to hire an alert lawyer in a position to pounce on the evidence, steeled with a sense of justice. We think this is what you are entitled to against the Herculean retailer, period!
Common Injuries from Slip and Fall Accidents
The following are some of the common types of injuries sustained after a slip and fall accident on store grounds:
Concussions and bruising
Traumatic brain injuries
Head and neck injuries
Spinal injuries
Soft tissue injuries
Hand and wrist injuries
Broken bones and fractures.
Other injuries, including anxiety and other emotional bruises, may occur after an accident at Home Depot. It is crucial to seek medical assistance immediately after suffering injuries to start medical treatment.
Prolonging medical treatment can lead to complications and jeopardize your chances of recovering compensation. In some cases, injuries may take time to manifest, so you must monitor your health and any symptoms you experience after your accident. After experiencing symptoms, consult with a medical professional. Don't argue. Please get to the doctor so they can address any injury caused by your fall claim against Home Depot. The faster you act, the larger the settlements, for many reasons we can discuss privately.
Who Is Responsible for a Slip and Fall Accident at Home Depot?
Under premises liability law, store owners, managers, and occupiers owe invitees (customers) a high duty of care. They must ensure they take steps to maintain their property reasonably safe.
The store owner or property occupier's responsibility includes addressing (removing the hazard or warning patrons about it) present hazards, conducting routine inspections to identify potential risks, and taking corrective action.
Failing to maintain Home Depot in a reasonably safe condition for days or many years can lead to liability in case of a slip and fall accident. Accident victims who suffer injuries due to the negligence of the store owner, employee, or manager can pursue personal injury claims to recover compensation for the damages.
Statute of Limitations for Slip and Fall Accidents at Home Depot Stores
After suffering injuries in an accident, filing a personal injury claim may not be on your mind. However, it is crucial to understand that you do not have much time to bring a civil action and fight against the negligent party, who will undoubtedly try and paint you as the liable party.
The statute of limitations varies from state to state, so accident victims must contact experienced personal injury lawyers immediately to know their legal options and start the claim process. In California, accident victims have two years following the date of their injuries to pursue a slip and fall claims against Home Depot. If you suffered injuries more than two years ago, you might still have the opportunity to bring a slip and fall claim against Home Depot, as certain exceptions pause or hold the statute of limitations.
Two years may seem like a long time, but your attorney requires sufficient time to investigate the incident and gather strong evidence to build a trial-ready case. It is best to contact an experienced personal injury lawyer as soon as possible after your accident.
Steps to Take after Your Home Depot Slip and Fall Accident
What you choose to do following your slip and fall accident at Home Depot will help determine the outcome of your case.
There are some critical steps you can take to protect your case, including the following:
Call out to a nearby employee for help. Calling for help lets the store manager know that a serious incident occurred on their premises. If you require emergency medical assistance, contact 911 or ask someone to call 911 and let the first responders take you to a nearby hospital for medical treatment. If not, you can continue the steps below to protect your case.
Take pictures and video from your smartphone of the hazard that resulted in your accident. Document the accident scene and surroundings, as evidence captured during the incident can strengthen your case when we send a demand letter.
Ask the store manager to file a Home Depot incident report and request a copy so you can show it to a lawyer later.
Talk to any witnesses and ask for their contact details. Witness statements can help bolster your slip and fall injury claim. Eyewitness testimony may prove crucial in an injury case like this.
Head to a hospital for medical evaluation. Even if you don't have apparent injuries, getting a medical evaluation is best to help identify internal damage. Maintain all medical records and receipts for medical expenses in a physical folder, as you will need these when filing unsafe condition claims.
Call an experienced personal injury attorney before you speak to an insurance company. Skilled slip and fall lawyers can help accident victims get fair and reasonable Home Depot injury settlements following their injuries in a specific case.
Injured customers who don't have legal representation are usually seen as easy targets for a claim denial or lowball offers that sound like a lot but don't come close to covering the long-term cost of a full recovery.
Even though they failed to keep the premises safe, they will try and escape paying for their negligent actions unless you prove your case with help from a top-notch personal injury attorney acting in your best interests. Call us anytime, and we will answer all your questions about fault; who is liable to pay for falls if you slip? Once we have all the information, we will see whether you need our services or can settle the incident alone.
Schedule a Free Consultation with a Top-Rated Slip-and-Fall Lawsuit Lawyer for Home Depot
Whether clients' slip and fall injuries occurred due to a wet floor or any other hazard at Home Depot, our law firm has protected the rights of over 3,000 injured victims and recovered more than $150 million in compensation. Whether by settlement or verdict, we are relentlessly fighting and winning cases for people who fell and suffered harm.
Our attorneys will investigate your accident, gather evidence, sue Home Depot, handle the insurance company, and negotiate fair compensation for your loss or disability. We can also communicate with text messages when we are in court if necessary. If you suffered injuries in a Home Depot slip and fall accident, contact us at (833) LETS-SUE for a free consultation, as you may be eligible for monetary damages. We are here for clients 24/7 to assist in claiming Home Depot and, if necessary, filing a lawsuit.
Michael Ehline is an inactive U.S. Marine and world-famous legal historian. Michael helped draft the Cruise Ship Safety Act and has won some of U.S. history's largest motorcycle accident settlements. Together with his legal team, Michael and the Ehline Law Firm collect damages on behalf of clients.
We pride ourselves on being available to answer your most pressing and difficult questions 24/7. We are proud sponsors of the Paul Ehline Memorial Motorcycle Ride and a Service Disabled Veteran Operated Business. (SDVOB.) We are ready to fight.