But there is where the similarities end.
When a wheelchair accident occurs at an airport, the laws governing liability differ from those that may apply to an auto accident.

People in a wheelchair often have other medical conditions that lead them to live restricted lives. Such people may be more vulnerable than others, even in a minor accident, and suffer a serious injury.
Car Accident Lawyer?
A car accident lawyer may have the expertise to deal with an auto accident but not a wheelchair accident. A personal injury attorney with experience in handling wheelchair accidents can easily navigate the challenges that may arise in a wheelchair accident claim. This is why receiving a free consultation to learn about the entire process is so important early on for potential clients. A reasonable degree of certainty from lawyers can lower your blood pressure and put you at ease.
Knowing your lawyer can assist you with the business of insurance company negotiations or even a trial means your job is a journey of rest, healing and physical therapy. We can do the fighting on your behalf till you receive the payment you deserve as expectations for your struggles.
Who Is Responsible for Your Wheelchair Accident at the Ontario International Airport?
After an accident occurs, it is crucial to determine the liable party to pursue a personal injury claim and recover monetary damages. The following are some of the parties that may be responsible for your wheelchair accident.
The Airline May Be Responsible for the Accident
When passengers request wheelchairs, they often do it during ticketing, where the airline staff then forwards the request to contractors such as ABM or PrimeFlight. 
The problem arises that these contractors do not have rigid training standards, leading to negligent or careless employees assisting wheelchair users.
Airlines are responsible for ensuring the safety of the passengers during flight and when embarking and disembarking the plane, even on jet bridges. The airline must also conduct proper background checks before outsourcing wheelchair facilities to third-party companies.
When injuries occur due to wheelchair accidents, holding third-party companies responsible is challenging as they often have high employee turnover rates. The employee who causes the accident may not be part of the company anymore when the investigation into the accident begins.
However, accident victims can hold airlines responsible since they outsource their wheelchair facilities to third-party companies.
A key thing to remember is that state or international laws may apply to airlines depending on the circumstances of the wheelchair accident.
For example, a passenger who suffers injuries in a wheelchair accident on an international flight may be able to bring a claim under the Montreal Convention, which does not require the injured victim to prove negligence. However, in case of injuries on a domestic flight, the injured victim must prove negligence to recover compensation.
The Airport May Be Responsible for Your Injuries
An airline is not always responsible for a wheelchair accident. It could be possible that your wheelchair accident happened due to a negligent airport employee.
A faulty lift, uneven surfaces, or any other hazards on the airport premises could cause a serious accident resulting in injuries to the wheelchair user. In such situations, the injured passenger can pursue a personal injury claim against the airport for negligence.
A wheelchair accident at an airport is not always a straightforward case. Injured victims need to reach out to a reputable personal injury law firm to discuss their case and learn more about the available legal options they can pursue.
Recovering Damages in a Wheelchair Accident Claim
The type of damages one can recover in an accident claim, regardless of whether a motorcycle accident or a wheelchair incident, depends on the severity of the injuries sustained, among other factors.
Generally, accident victims can recover the following compensatory damages after their injuries:
Medical expenses

Lost wages

Property damage

Pain and suffering

Mental anguish

Emotional distress

Reduced quality of life.
Suppose a worker suffers injuries in a wheelchair accident (falling wheelchair due to another employee's negligence). In that case, they can only recover medical bills and some lost income when pursuing workers' compensation claims.
Why You Need Ehline Law Personal Injury Attorney for Your Wheelchair Accident Case?
It can be tempting to pursue a personal injury claim without legal representation, but it is crucial to understand that you have one opportunity to recover damages following an accident. If you mess up your claim, you are stuck with bearing the financial burden of an accident that wasn't even your fault.
Letting our experienced personal injury lawyer handle your claim has many benefits, including the following.
We Know the State, Federal, and International Laws
When you're filing a personal injury claim without legal representation, don't expect the court or the judge to guide you or show you leniency. They will hold you to the same standards as they hold attorneys.
State, federal, or international laws may apply to your claim depending on the circumstances of your case. 
Our experienced personal injury lawyer has deep knowledge of such laws and can use it to build a strong suit, increasing your chances of recovering compensation.
We Can Investigate Your Accident
Before pursuing a personal injury claim, you must identify the party responsible for your accident. Filing against the wrong party would lead to dismissal, and leaving a party out of a case involving multiple defendants would result in missing out on money damages.
Like how an attorney investigates a motorcycle accident, our skilled personal injury attorney can help investigate your wheelchair accident at the Ontario Airport to determine the liable parties and hold them responsible for your loss.
We Can Gather Evidence to Strengthen Your Case
If Montreal Convention applies to your case, you do not have to prove negligence, but if you're on a domestic route and suffer injuries, you must establish the critical elements of a negligence claim. The same is true for wheelchair accidents on airport premises.
Ehline Law's skilled attorneys can help gather the relevant evidence to establish the elements of a negligence claim and prove liability.
Our Personal Injury Law Firm Can Pursue a Personal Injury Claim
An accident victim may face hurdles when pursuing a personal injury claim against the negligent party's insurance company. From following the legal process of filing a lawsuit to handling the insurance company, there are several challenges that an accident victim must overcome.
Our reputable personal injury attorney can guide the injured victim on the process and handle the claim on their behalf.
We Can Protect Your Rights in Personal Injury Claims
Handling the insurance company is the biggest challenge one can face after filing an injury claim. These corporations don't care about injured victims and, indeed, don't care about paying them fair compensation, which hurts their profitability. They assign a claims adjuster whose only role is to avoid or reduce payouts.
After filing a claim, you may be stressed out when dealing with the claims adjuster. You should focus on your recovery and let our experienced personal injury attorney deal with the insurance claim.
We Can Negotiate a Fair Settlement
Without legal representation, a claim adjuster will give you a low settlement offer and keep telling you that that's the best they can do. But, in most cases, whatever they tell you is a lie. They're not looking out for your best interests and won't offer you a fair settlement if you go in without the help of an experienced personal injury lawyer.
Ehline Law's skilled attorney is also a great negotiator. They can bring the insurance company to the table and negotiate a fair settlement on your behalf.
Can You Pursue Compensation If You Lost a Loved One in a Wheelchair Accident at Ontario Airport?
Under personal injury law, there may be a wrongful death case if someone loses their loved one. However, it is essential to note that not everyone is eligible to pursue compensation in a wrongful death claim.
Under California law, surviving family members have the first right to obtain monetary damages if they lose a loved one in an accident due to another's negligence.
Schedule a Free Consultation with a Top Wheelchair Accident Lawyer at Ontario International Airport
Suppose you were involved in a vehicle collision or other accident involving a wheelchair at Ontario International Airport. Perhaps you are severely injured and want a free case consultation. In that case, we could help you receive justice through maximum financial compensation. We've recovered millions for literally thousands of families and can help you make heads or tails of your complex case at any of our many nearby office locations.
Depending on the circumstances around your case, you may not have enough time, so you should speak to our dedicated, experienced personal injury attorney immediately. You may be eligible to seek compensation, the compensation you deserve for your death or disability. If you wait, you may be unable to recover anything, so schedule an appointment with a committed law firm today.
If you suffered injuries or the death of a loved one in a wheelchair accident at Ontario Airport, contact us by phone at (833) LETS-SUE for a free consultation or use our convenient contact form to communicate via email. Call us for answers today and to learn about the difficult situation you face.
---
Michael Ehline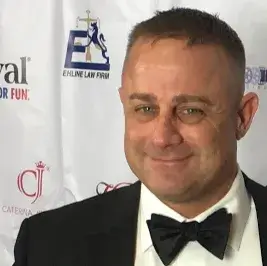 Michael is a managing partner at the nationwide Ehline Law Firm, Personal Injury Attorneys, APLC. He's an inactive Marine and became a lawyer in the California State Bar Law Office Study Program, later receiving his J.D. from UWLA School of Law. Michael has won some of the world's largest motorcycle accident settlements.
---
Recent Personal Injury News
Check out our most recent premises accidents in California and more, including the famous, infamous and everyday people wounded by at fault parties around the world.