Work-related Accidents
Besides slip and fall and auto accidents, there are chances of work-related accidents at an airport. Employees may hurt themselves on the job if they're not given proper safety gear or are handling hazardous chemicals or dangerous defective equipment.
It is essential for employers to provide employees with a safe working environment which includes safety gear, implementing best practices, and following regulatory guidelines.
Medical bills after an accident can financially burden an injury victim, which is why it is crucial that they must discuss their case with an experienced personal injury lawyer to learn more about their rights.
Understanding Montreal Convention
The Montreal Convention establishes airline liability in the event of injuries or wrongful death to travelers. It is an international law that protects the right of passengers and sets rules on how an airline handles cargo.
Under the Montreal Convention, the airlines are responsible for ensuring their passengers' safety, especially during embarking or disembarking operations. If travel is entirely domestic, then the Montreal Convention does not apply.
Understanding Personal Injury Law
Besides Montreal Convention, personal injury law protects the rights of injured passengers at an airport if they suffered injuries due to negligence. 
Whether it is a car accident due to another driver's negligence or a slip and fall accident due to a negligent employee, injured victims can pursue a personal injury claim against the at-fault party and recover compensation for their loss.
Who Is Liable for Injuries at an Airport in Ontario, CA?
Although it is easy to blame the airport and its management for injuries sustained, they may not always be responsible for an accident on their premises. 
Let's look at some of the parties that could be liable for the injuries sustained at the Ontario International Airport.
The Airport
In accidents at the airport in areas that fall under the airport's management, injured victims may be able to pursue a personal injury claim.
The airport is responsible for maintaining the property and ensuring a safe environment for all passengers, including identifying and removing hazards. Failure to do so can lead to airport liability, for which an injured victim can pursue a personal injury lawsuit.
The airport is also responsible for car accidents due to cracks and bumps or inadequate lighting in the parking lot. Car accident victims can pursue a car accident claim against the airport for their injuries.
Restaurant or Other Franchise
Not all regions in the airport fall under airport management, such as the shops, restaurants, and other franchises.
The restaurants and other eateries at the Orlando Airport have the responsibility to prepare food while following hygiene protocols to avoid bacteria contamination.
Failure to prepare food in a hygienic environment can lead to an extreme case of food poisoning, for which victims can hold the establishment responsible.
Another Driver
Passengers in a hurry often forget about yielding the right of way or following the rules of the road, which is why there is a chance of a car accident in the parking lot or on the roads outside the airport. 
An injured victim may be able to pursue a personal injury claim against the negligent driver for the damages suffered following their car accident.
Third-party Company
When an airport outsources some of its facilities or services to a third-party company, inspections or maintenance may not fall under its management. 
A negligent third-party company operating on airport premises can increase the risk of an accident.
Damages You Can Recover Following Your Airport Accident in Ontario, CA
Injured victims can recover compensatory damages (economic and non-economic damages) depending on the circumstances of their accident.
Some examples of recoverable compensatory damages include the following:
Medical expenses
Lost wages
Property damage
Pain and suffering
Mental anguish
Reduced quality of life.
Do You Need an Experienced Personal Injury Attorney after Your Accident in Ontario, CA?
You may want to consider pursuing a claim without legal representation but doing so may jeopardize your only chance of recovering compensation. 
Here are a few reasons why a personal injury lawyer can be beneficial to your case.
Identify the Liable Parties
Some accidents are complex, and it may be challenging to identify the right party.
For example, depending on the circumstances of your car accident at the airport, the airport management or another driver may be responsible for the injuries. If that is the case, you need an experienced car accident lawyer to fight your case.
In some cases, there may be multiple parties involved, and leaving one out of your lawsuit means leaving money damages on the table. An experienced personal injury lawyer can help investigate the accident and determine the liable parties.
Gather Evidence
Different types of evidence can help strengthen your case.
For instance, a skilled motor vehicle accident lawyer can retrieve CCTV footage to prove your innocence, while a slip and fall accident attorney may access inspection records to determine negligence.
Not all evidence is good evidence, and some can even jeopardize your case. Let a reputable personal injury law firm handle the case and gather the evidence needed to bolster your case.
Negotiate with the Insurance Company
Whether you're seeking an experienced Ontario car accident lawyer to fight your case or a skilled premises liability attorney to establish the critical elements of premises liability, you need legal representation to ensure a smooth claims process.
Suppose you've suffered injuries in a car accident in the airport's parking lot. In that case, an experienced car accident attorney can help pursue a personal injury claim, handle the insurance company, and negotiate a fair settlement on your behalf.
Should You Contact an Ontario Car Accident Lawyer or a Personal Injury Lawyer for Your Airport Accident Injuries?
Personal injury law is a broad field that encompasses car accidents, medical negligence, dog bites, cruise ship accidents, and many other types of accidents.
You need an experienced auto accident lawyer if you've suffered injuries in the airport's car park, but you must contact a skilled personal injury lawyer who has experience in handling airport accident claims if you suffered injuries in an airport accident due to another's negligence.
Although a car accident lawyer can handle a car accident case, they may not be the best option for you if your case involves premises liability.
Schedule a Free Consultation with An Ehline Law Ontario Airport Accident Lawyer
Ehline Law is a premier personal injury law firm with over 15 law offices across California, serving areas such as Los Angeles, San Diego, Ontario, and more. Whether it is a car accident, food poisoning, or any other accident, our reputable law firm has expertise in handling all sorts of personal injury cases.
If you suffered injuries in an Ontario airport accident due to no fault of your own, contact us at (833) LETS-SUE for a free consultation, as you may be able to pursue compensation.
---
Michael Ehline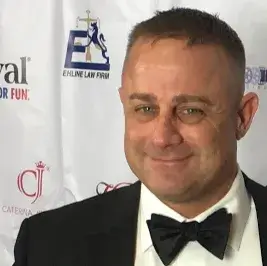 Michael is a managing partner at the nationwide Ehline Law Firm, Personal Injury Attorneys, APLC. He's an inactive Marine and became a lawyer in the California State Bar Law Office Study Program, later receiving his J.D. from UWLA School of Law. Michael has won some of the world's largest motorcycle accident settlements.
---
Recent Personal Injury News
Check out our most recent premises accidents in California and more, including the famous, infamous and everyday people wounded by at fault parties around the world.