Why Choose Ehline Law Firm to Represent You?
Our investigation into the aircraft accident which resulted in your injuries or the loss of your loved one could involve traveling across the country to safeguard your legal rights and ensure that your case is successful.
To obtain the necessary proof and information, we could even need to fly abroad. This is why it's essential to engage a legal representative with the resources to handle a case of this kind against the responsible parties.
Experience in Lawsuit Advocacy
At Ehline Law Firm, we are passionate about what we do and are dedicated to getting the justice you deserve for lost wages, medical bills, and stress. You can count on us to do whatever it takes to get a favorable result in most personal injury cases involving air travel gone wrong.  Having successfully litigated numerous cases, we assist our clients in overcoming the difficulties in airplane accident cases.
This includes coordinating civil suits with ongoing National Transportation Safety Board investigations, investigating the actions of the air traffic controller, and evaluating the technical aspects, such as flight procedures, equipment failure, and more.
The Legal Challenges You May Encounter in Your Airplane Accident Case
Aviation accidents are often complex, which makes it challenging to obtain a settlement. Finding evidence that establishes clear liability is one of the biggest hurdles in a plane crash case.
The accident could be the result of the following:
Pilot error
Faulty equipment
Poor maintenance.
To secure a positive outcome, we will have to analyze several federal regulations, navigate complicated contracts and insurance policies, and conduct a thorough investigation into the cause of the plane crash.
Who Can Be Held Liable for Your Damages in Aviation Accidents?
To complicate matters further, multiple parties may have contributed to the incident and could be held liable for plane crashes.
This includes:
Air traffic control
Airlines
Maintenance staff
Pilots
The Federal Aviation Administration.
Our attorneys are well-versed in California law and can help you assign liability to obtain the maximum compensation for mechanical failure, human error, and even against negligent government agencies and air traffic controllers. We have a proven track record of winning negotiations and court cases with significant corporate entities. Call us today to discuss your legal options at (213) 596-9642.
Accidents Involving Private Aircraft
Private aviation experiences mishaps more frequently than commercial airlines do. Because privately owned aircraft lack the same safety regulations and technology that commercial airlines utilize to reduce hazards to passenger safety, there are more small airplane accidents.
The following aircraft are often private:
Helicopters
Chartered business airplanes
Agricultural aircraft
Planes used for sightseeing
Private jets.
If you or someone you love was the victim of a private plane crash, contact Ehline Law Firm to file a claim and hold the at-fault party liable for their negligence.
Common Injuries Sustained in Airplane Accidents
The truth is that aviation accidents often result in serious injuries. This includes:
Traumatic brain injuries
Spinal cord injuries
Burn wounds
Broken bones
Internal organ injuries
Back injuries.
Medical bills can start to accumulate following aviation accidents. The good news is that victims of plane crashes can find relief by filing aviation lawsuits with help from our aviation experts and knowledgeable attorneys. Speak to us 24/7 at (213) 596-9642.
Where Do We Look for Evidence?
As we've mentioned before, gathering evidence is crucial to the success of aviation accident lawsuits. Whether the plane crash resulted from pilot error or the air controller's failure to direct the aircraft correctly, you will need to present evidence to support the value of your difficult claim.
The following can be used as proof to support your personal injury case: 
Government inspection documentation
Airplane maintenance logs
Records from the airport
The pilot's medical records
Employment records.
While the accident site and the airplane's data capture system will provide vital information about the accident's consequences and causes, it's likely that the most compelling legal proof of negligence or a flawed design existed long before the jet even took off.
Our highly skilled Southern California accident attorneys can devote the resources required to establish your case as extensively and convincingly as possible because of our success in previous tough cases.
Passengers and families know they can trust us when they are involved in aviation accidents. You can put our extensive experience to work for you and find answers to questions you need by calling our highly technical aviation accident attorneys.
Learn more about how to recover compensation money for lost wages, bills, and pain and suffering. Make that important call to discuss the issues and your chances of winning in confidence. Receive that free consultation before you blow your chance of getting windfall-like results by sleeping on your rights.
Contact Our San Diego Aviation Accident Experts
Whether you need help with personal injury or wrongful death claims litigation, you can count on our team to aggressively pursue compensation and benefits! Call Ehline Law to discuss your case with a San Diego aviation accident lawyer. Over the years, our distinguished, award-winning firm has secured over $150 million for our clients in settlements.
Allow our committed, compassionate team to use our expertise and track record of success in your case. Call us at (833) LETS-SUE or fill out the contact form below to discuss your options at a free consultation with a San Diego airplane accident lawyer! The best personal injury attorneys in San Diego are ready to prove your injury case in or out of trial! Let's focus on winning your case too!
---
Michael Ehline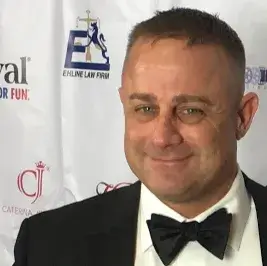 Michael is a managing partner at the nationwide Ehline Law Firm, Personal Injury Attorneys, APLC. He's an inactive Marine and became a lawyer in the California State Bar Law Office Study Program, later receiving his J.D. from UWLA School of Law. Michael has won some of the world's largest motorcycle accident settlements.
---
Recent Personal Injury News
Check out our most recent premises accidents in California and more, including the famous, infamous and everyday people wounded by at fault parties around the world.