Fortunately, injured customers can pursue Best Buy personal injury claims for the damages incurred due to another's negligence.
Common Injuries from a Slip and Fall Accident at Best Buy
Slip and fall injuries may vary depending on the impact of the fall and the location of the impact. Reasonable care in getting treatment can help mitigate the overall severity of the harm caused.
The following are some of the common slip and fall injuries victims may sustain following their accident:
Traumatic brain injuries

Spinal cord injuries and back injuries

Head injuries

Neck injuries

Broken bones and fractures

Mental anguish.
It is essential for Southern California accident victims to seek medical treatment immediately after their personal injuries. At times, a slip and fall injury may not be so apparent, but a thorough medical evaluation can identify internal damage early on and prevent any medical complications with injured people.
If you don't interview witnesses, at least you can prove you were taken from the accident scene to the hospital with these records. There should also be a documented store report and you have to act fast as a customer to obtain it, or you will lose out. Speak with us before you blow your case.
What Damages Can You Recover in a Personal Injury Lawsuit Against Best Buy?
Injuries sustained after an accident can leave you physically and mentally tired, but they can also cause financial stress as medical bills, and other out-of-pocket expenses start to stack up. Thing about the cost of a doctor, or hospital visit. Even with insurance, you get stuck with deductibles and some treatment you need won't be covered at all! Good luck getting on a waiting list for an MRI.
You may have to go out of pocket to rule out bad problems or get treated further. Obviously, you can't repair fatalities, so if you lost someone, you may have also lost your only form of income for such incidents.
Under personal injury law, an accident victim can pursue a personal injury claim against Best Buy after their accident to recover compensatory damages (economic and non-economic damages), some of which include the following:
Medical expenses (rehabilitation, surgery, prescription medication, and other medical bills)

Lost wages

Pain and suffering

Reduced quality of life

Emotional distress.
Every personal injury case is unique, and the damages vary from one case to another, which is why accident victim needs to discuss their case with an experienced personal injury attorney.
An attorney can help assess and calculate the compensatory damages you are eligible for and ensure you receive fair compensation for your loss. Our business hours are 24/7 so, please reach out to protect your future loss early! Our legal experts are available in Orange County, and other cities to tale telephone calls or respond to emails to get you on the right track.
How Can a Personal Injury Lawyer Help with Your Best Buy Accident Case?
It can be challenging to pursue personal injury claims against large corporations like Best Buy and their insurance company. They have resources and the legal team to bully victims and coerce them into accepting a lower settlement offer.
An experienced personal injury attorney can help in many different ways, including the following:
Investigate the incident and gather evidence to build a strong case
File a personal injury claim or lawsuit with the relevant court
Handle the insurance company and negotiate a fair settlement.
How Long Do You Have to File a Personal Injury Claim?
It is crucial to reach out to an experienced personal injury attorney as soon as possible, as injured victims do not have much time to pursue an injury claim. 
In California, accident victims have two years following their injuries to bring a civil action against Best Buy to recover damages.
Schedule a Free Consultation with A Superior Best Buy Accident Lawyers in LA and San Diego Counties
If you suffered serious injuries in a slip and fall accident at Best Buy, contact us at (833) LETS-SUE for a free consultation with our personal injury attorneys, as you may be eligible for compensation for the negligent acts that led to your potentially millions in damages.
---
Michael Ehline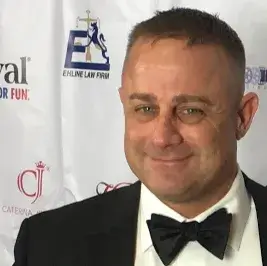 Michael is a managing partner at the nationwide Ehline Law Firm, Personal Injury Attorneys, APLC. He's an inactive Marine and became a lawyer in the California State Bar Law Office Study Program, later receiving his J.D. from UWLA School of Law. Michael has won some of the world's largest motorcycle accident settlements.
---
Recent Personal Injury News
Check out our most recent premises accidents in California and more, including the famous, infamous and everyday people wounded by at fault parties around the world.