If we don't win, you don't pay.
Speak to the Attorney.
Born to serve.
633 W 5th Street #2890
Los Angeles, CA 90071
(213) 596-9642.
Date Modified: July 2, 2023
Filing a personal injury claim can be incredibly stressful, especially for those still recovering from their injuries.
Suffer an Alameda County Personal Injury?
A fantastic way to take this weight off their shoulders is by hiring a personal injury lawyer with a winning education at the superior Ehline Law Firm. Sadly, there are hundreds of unreliable personal injury lawyers in Alameda, CA, and it can be difficult to trust one of them to handle your personal injuries.
Luckily, Ehline Law is a personal injury law firm that's always ready to help victims and bring justice to their cases, whether they are in Oakland, CA, San Francisco, CA, or Alameda, CA. If necessary, we will take your case to the U.S. Supreme Court. All you have to do is give us a call to receive a free consultation for your case. After that, you can hire our law offices to receive experienced personal injury representation and professionalism.
What Is a Personal Injury Lawsuit?
Personal injury claims are filed when someone suffers physical harm due to an accident or incident caused by someone else who must be held accountable for all the expenses caused by the injury.
The most common injuries the victims get reimbursed for are:
Medical bills
Pain and suffering
Lost wages.
Still, the victim must deal with the other party's insurance company and attorneys in these cases. Therefore, hiring a personal injury lawyer for legal assistance is always a good idea, especially when dealing with a wrongful death case or catastrophic injuries.
There are two main ways of starting the civil litigation legal process in personal injury cases, and you can ask which one is the best for you during your free consultation.
Formal Lawsuit
The government commonly initiates criminal cases. But personal injury cases are civil lawsuits that the plaintiff must initiate against the other party. (Example. In car accidents, brain injury victims sue for money damages, not jail time.) Legal fees to the lawyer will be paid on a no-win no, fee basis. In general, a criminal prosecutor gets paid out of your paycheck.
So they don't have the same motivation to win. These political animals can eat even if they suck wind in a sexual abuse or nursing home abuse case. An alliance with the right news agency can blame the injured party, and the prosecutor can run for assembly in the Bay Area and end up as a U.S. president.
But your consumer attorneys must prove the defendant acted negligently in a car accident case you suffered. Typically, this action is done by filing a formal lawsuit as a last resort.
Informal Settlement
Informal settlements are the easiest and most common ways of resolving personal injury cases. It only consists of a simple negotiation between both parties in which they agree to a fair compensation amount the defendant must pay to the victim.
This is commonly done to avoid all the hassle of filing lawsuits.
What Is a Statute of Limitations?
All crimes in America have a statute of limitations, which is the time available for the plaintiff to take legal action against the defendant.
During this time, the victim must find an experienced personal injury attorney who can manage the case. Statutes of limitations vary depending on the type of injury and state, but it usually ranges from two to five years in Alameda, CA, and San Francisco.
What Does an Alameda, CA, Personal Injury Lawyer Do?
Personal injury victims must focus on their recovery, especially if they must undergo several medical interventions and treatments after the accident.
Therefore, having an experienced personal injury attorney who can protect their legal rights is crucial to maintaining their peace of mind.
Hiring an Alameda, CA, or San Francisco personal injury lawyer and getting a free consultation from them also has the following benefits.
Discussing the Accident with You and Advising You of Your Rights
Once you get in an accident where you get injured, your lawyer can explain all the steps you need to take to be financially compensated, especially if you're dealing with an insurance company, as the negotiation process tends to be overwhelming for the victim.
Case Investigation and Discovery
One of the most crucial parts of filing a case is appropriately investigating the accident. Your personal injury lawyer can interview all witnesses, obtain pictures and videos of the scene, collect police data and medical records, etc.
This will help prove the following elements of negligence.
A legal duty between the defendant and the plaintiffs
The breach of the duty
Damages directly caused by the breach of duty.
Discussing Your Claim with the Insurance Companies
Once you get in an accident, you must talk to your insurance company and the other party's insurer. Hiring an Alameda, CA, personal injury lawyer is excellent for dealing with these situations, as they can advise you on what to say during these conversations and supervise the whole process.
Placing Parties on Notice
Sometimes, the other party will try to contact you. Still, an experienced personal injury lawyer will notify everyone that all contacts must come through his office to keep track of all communications and gather the information needed for the case.
Sending Formal Letters of Representation as a Personal Injury Attorney
For all parties to be aware of who to contact regarding the accident, your personal injury attorney will send a formal letter of representation to everyone involved, such as insurance companies and manufacturers.
Requesting and Reviewing Applicable Insurance Policies
Your Alameda, CA, personal injury attorney must receive a copy of your insurance policy so that he can review it and explain everything to you to eliminate all doubts and concerns you may have about its coverage.
Reviewing and Documenting Your Insurance Companies' Subrogation Rights
Another critical element your personal injury attorney must consider is any subrogation rights in your policy, which will include your insurance company as a party to all future lawsuits. This means that your attorney must also protect your insurance company's interests.
Picking Up a Defective Product
If a defective product causes an accident, it is crucial to keep it safely stored. Therefore, your Alameda, CA, personal injury attorney must get an investigator to pick up the product and store it in a safe and controlled environment.
Arranging for Non-Destructive Testing
Once the defective product is in a safe and controlled environment, the lawyer must find an expert to conduct non-destructive testing. Keeping the product as intact as possible is crucial to use as evidence for the case.
Researching Product Defects
If the expert proves the defective product caused the injury, the lawyer must conduct thorough research to find similar cases confirming the incident.
Requesting Product Testing Reports
Another crucial aspect of testing the defective product is obtaining a detailed report that displays everything the expert found out about the product.
Analyzing Potential Legal Issues
Once the research has ended and all evidence has been gathered, your attorney must conduct a liability analysis. They must use their personal injury law knowledge to create a valid rationale to file insurance claims against the liable parties.
Accumulating Medical Bills and Hospital Records
A personal injury case will need medical assistance, translating into bills you will accumulate, especially if you're dealing with a wrongful death case. The lawyer must collect these bills and records to calculate fair compensation for your case.
Requesting Medical Reports
If the victim reaches maximum recovery, the Alameda, CA, attorney must request all medical reports describing the severity of the injuries and the treatment process.
Requesting Lost Income Information
Once the premium personal injury lawyer has gathered all medical expenses and information, they must talk to the victim's employer in Alameda, CA, to confirm any lost wages caused by the injuries.
Locating Medical Experts
If the accident caused severe injuries to the victim, the chances are that they will need complex treatment and may end up with life-long disabilities. In these cases, a premium personal injury lawyer must hire medical experts to confirm these diagnoses through a medical report.
Requesting Economic Projections
Our Alameda personal injury lawyers can also hire an economist or an accountant to learn more about the economic projections the victims will suffer from the accidents. Some of the things that need to be considered are the following.
Medical expenses
Lost wages
Loss of earning potential
Disabilities
Ongoing therapy
Fixing damaged goods
Property damage.
Requesting Medical Expert Evaluation
Another common practice among Alameda County personal injury lawyers, is to discuss the severity of the victim's physical injuries with medical experts to get a second opinion and strengthen the case.
Confirming PIP Tort Exceptions
Sometimes, the victim won't have the right to file a claim after a car accident. These cases are called PIP tort exceptions and vary depending on whether you're placed in San Francisco, CA, Oakland, CA, or Alameda, CA. Therefore, your law firm must verify whether you can file a claim against the other driver.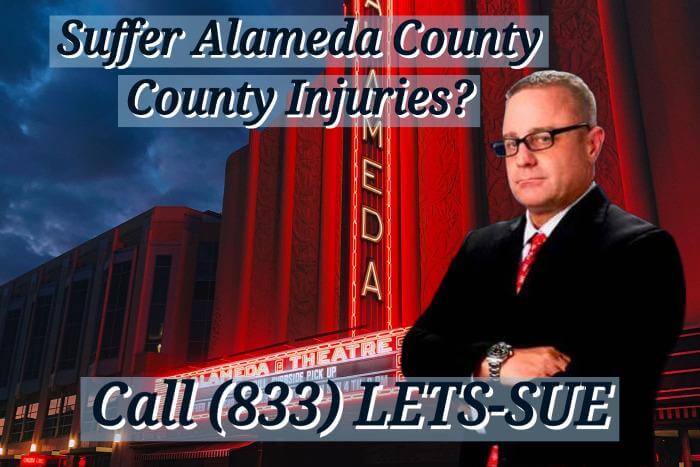 Filing a Lawsuit
Some cases, such as medical malpractice or construction accidents, may become too complicated to settle outside the courtroom. Therefore, your lawyer must be ready to file a lawsuit against the other party and defend your case before a jury in Oakland, CA.
Participating in Alternative Dispute Resolution
More than 95% of the lawsuits filed in Oakland, CA, get settled, which is why the court encourages mediation and settlement conferences.
Preparing for Trial
Preparing for trial is one of the last steps of the case, as most of it is done during the investigation phase.
It is also crucial to consider that trials can last anywhere from a few hours to several months in Oakland, CA, so all parties must be ready to face all its implications.
How Much Does a Personal Injury Lawyer Cost?
Many people refrain from hiring an Oakland, CA, law firm because they're scared the price will be too high to afford, especially after a car accident and dealing with traumatic injuries.
In these cases, there's nothing better than asking for a free consultation so that you know how much the law firm can charge you for your case.
Before asking for this free consultation, you must know that most San Francisco, CA, law firms work for contingent fees, which means the lawyer will only get paid a percentage of the attained compensation.
They won't receive anything if they don't win the case.
Contact Ehline Law's Alameda County Personal Injury Lawyers
Whether you're in Oakland, CA, Alameda, CA, or San Francisco, CA, you deserve the best possible personal injury representation, which is why here at Ehline Law, we offer a free consultation for all cases in Alameda County.
All you have to do for a free consultation is call us at (833) LETS-SUE and ask about our fantastic services in San Francisco, Oakland, CA, or anywhere in the Los Angeles area.
Michael Ehline is an inactive U.S. Marine and world-famous legal historian. Michael helped draft the Cruise Ship Safety Act and has won some of U.S. history's largest motorcycle accident settlements. Together with his legal team, Michael and the Ehline Law Firm collect damages on behalf of clients.
We pride ourselves on being available to answer your most pressing and difficult questions 24/7. We are proud sponsors of the Paul Ehline Memorial Motorcycle Ride and a Service Disabled Veteran Operated Business. (SDVOB.) We are ready to fight.