If we don't win, you don't pay.
Speak to the Attorney.
Born to serve.
633 W 5th Street #2890
Los Angeles, CA 90071
(213) 596-9642.
2323 S. Voss Rd, Suite 244
Houston, TX 77057
(832) 592-1260.
Date Modified: June 10, 2023
Public transportation is a cheap and convenient way of commuting in and out of the city. However, it can also lead to accidents causing injuries and even death. Fortunately, injured victims can file claims to recover financial compensation for their loss.
Under the common carrier law, bus and train operators are held to a high standard of care to keep passengers safe. When accidents or a collision happens, you need the best lawyers to get you the best results in court or an insurance settlement.
Ehline Law and our North County Transit District accident attorneys have successfully represented over 3,000 injured victims across California, recovering more than $150 million in compensation. Injured motorists may qualify for compensation in such a transport case. Contact us now for free formal legal advice on dealing with your case and your health issues.
About North County Transit District
North County Transit District (NCTD) is an agency that manages public transportation in San Diego County, including the two rails (COASTER and SPRINTER), the BREEZE transit bus service, LIFT paratransit service, and FLEX.
Let's look at the routes and the areas the NCTD covers for the typical San Diego communities.
About Coaster Commuter Rail Service
The COASTER commuter trains offer surreal coastal scenery as it runs from Oceanside to San Diego. The two routes, Northbound and Southbound, serve eight stations which include Oceanside, Carlsbad Village, Carlsbad Poinsettia, Encinitas, Solana Beach, Sorrento Valley, and San Diego Old Town, and San Diego-SF Depot.
About SPRINTER Light Rail Service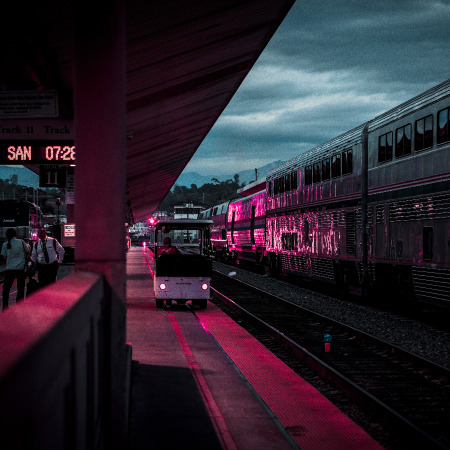 Running every 30 minutes, the SPRINTER spans 22 miles Eastbound and Westbound, from Oceanside to Escondido. The rail line covers 15 stations, which include Oceanside Transit Center, Coast Highway, Crouch Street, El Camino Real, Rancho Del Oro, College Boulevard, Melrose Drive, Vista Transit Center, Civic Center-Vista, Buena Creek, Palomar College, San Marcos Civic Center, Cal State San Marcos, Nordahl Road, and Escondido Transit Center.
About BREEZE Transit Bus
The BREEZE transit bus has two routes, Route 100 and Route 200.
Route 100 runs between Santa Maria Transit Center and Lompoc Transit Center, stopping at the following stations:
Broadway/Stowell
County Government Center
McCoy/Broadway
McCoy/Skyway
Santa Maria Airport
Foster
Clark Park & Ride
VAFB Main Gate
Vandenberg Village
Denmat Lompoc
Mission Plaza Lompoc.
Route 200 runs between Santa Maria Transit Center and Solvang Park, making stops at College/Park, Los Alamos Ferrini Park, and Buellton Albertson's Center. The BREEZE transit bus service is perfect for residents commuting to work or looking for a weekday getaway.
About LIFT Paratransit Service
The NCTD provides LIFT Paratransit Service for all those individuals who cannot board or ride train and bus services due to their disabilities. However, those who qualify for the service must apply online and submit a completed healthcare provider form.
About FLEX
The NCTD also offers FLEX, an on-demand and point deviation service, picking up people from any location within the FLEX zones and dropping them off at their desired location or a nearby transit connection point. To use FLEX, individuals must make a reservation before 5:00 PM, a day before they wish to travel. In 2021, the NCTD, across all its transit services, recorded over 5 million trips. Transit services are a cheap way to commute across the cities, but, unfortunately, it is also where many accidents occur.
Recent North County Transit District Accidents
Here are two recent NCTD accidents causing victims injuries and even death. On June 2nd, 2022, the San Diego County Sheriff's Transit Enforcement Unit received a call about a transit accident. The Sheriff's office dispatched a unit to the accident scene, only to discover an injured person next to the intersection of Cassidy Street and S. Meyers Street, suggesting that the COASTER train had hit the pedestrian.
The law enforcement authorities immediately transported the injured man to the Scripps La Jolla Hospital to treat his injuries. The incident has now sparked an investigation.
Another recent incident involves the SPRINTER train. On June 9th, 2022, the NCTD SPRINTER hit a pedestrian at Main Street and South Santa Fe Avenue intersection, leaving the pedestrian dead.
Deputy Tyler Eikermann arrived at the accident scene and removed the dead pedestrian from the intersection. The Deputy called for an immediate investigation with the San Diego County Medical Examiner's Office involved in determining whether the pedestrian was drunk before the accident. So far, the identity of the dead pedestrian is not available.
Types of Transit Accidents and Its Causes
All sorts of accidents can occur to you or a family member when using trains, public buses, school buses, and other forms of public transportation besides the ones listed above. Victims can even be killed depending on the circumstances.
Here are some common types of transit accidents:
Train derailment from speeding and disrepaired tracks
Train crashes in other vehicles, and trains
Unprotected railroad crossing accidents
Railroad crossing car accident with a motorist
Train collisions with railway debris
Train explosions or malfunction
Bus accident involving another bus, car, motorcycle, and pedestrians
School bus accidents
School district bus accidents
Mechanical failure in school buses
A fatigued school bus driver
Slip and fall accidents at platforms
Falling objects at bus or train stations, and more.
All sorts of train, school bus, and transit bus accidents can occur while using transit services.
Some of the common causes of train and bus accidents include:
Negligent bus drivers, train drivers, bus companies, railroad companies, public transportation agencies, government, or injured victims
Human error
Reckless pedestrians or drivers
Engine or mechanical failure
Overspeeding
Defective roads or tracks
Suicides.
Whether it is a commuter, school bus, or train accident, accident victims may be able to recover compensation for their injuries. Contact our transit accident lawyers to find out if you have a valid claim.
Transit Accident Liability: Can You Recover Compensation?
Like any other personal injury accident, accident victims can recover compensation for their transit accident. However, proving transit accident liability is challenging as one or many parties could be liable for your accident.
Train Accident Liability
If you're suffering from injuries sustained in a train accident, contacting our experienced train accident lawyer is best. Your train accident could be due to a negligent train driver, the inattentive officer signaling control, the negligent contractors for their incomplete repairs, the government for the lack of maintenance at the train stations, or any other party.
Our train accident lawyer will help investigate your transit accident, determine the liable parties, and help you pursue personal injury litigation to recover the compensation you deserve.
Bus Accident Liability
Did your bus carry seat belts? Maybe they are not required under law, but perhaps they should have been installed anyways? A bus accident can leave you with a severe injury, resulting in medical bills, lost wages, and other damages. Our bus accident lawyers investigate bus crashes to determine fault and hold the responsible parties accountable for their actions.
Your bus accident could be due to the negligent bus driver or a bus company, poorly maintained roads, or lack of maintenance by the bus company. Our attorneys are ready to investigate your accident and help you recover damages, such as medical expenses, pain and suffering, lost wages, and more. Contact our experienced attorneys to discuss forming an attorney-client relationship to pursue these common carriers in a civil court under state or federal law. Call us today at (833) LETS-SUE and speak to a top accident attorney for sound advice and personal attention. We provide legal help 24/7 in San Diego, CA to recover full compensation for people hurt by buses.
Schedule a Free Consultation with Ehline Law North County Transit District Accident Lawyers
If you suffered injuries from a transit accident that was not your fault, you might be entitled to money to pay medical providers and all the compensation you can obtain under the law. We have recovered millions for clients seeking legal representation. Whether your accident is due to a negligent bus driver, the bus company, a train driver, or a government agency, our accident attorneys have the experience to go against big government and private corporations and handle your injury claim with their insurance company.
At Ehline Law, we understand the complexities of transit accidents and special laws. Our North County Transit District accident attorneys are well-versed in handling this notoriously difficult area of personal injury law. Let us stand by your side and hold those responsible for your injuries. Justice is just a call or contact form message away. Contact us at (833) LETS-SUE for a free consultation on your personal injury case.
Michael Ehline is an inactive U.S. Marine and world-famous legal historian. Michael helped draft the Cruise Ship Safety Act and has won some of U.S. history's largest motorcycle accident settlements. Together with his legal team, Michael and the Ehline Law Firm collect damages on behalf of clients.
We pride ourselves on being available to answer your most pressing and difficult questions 24/7. We are proud sponsors of the Paul Ehline Memorial Motorcycle Ride and a Service Disabled Veteran Operated Business. (SDVOB.) We are ready to fight.