Los Angeles Injury Attorneys / Practice / Chick Fil A Injury Lawyers
Likely Hazards at Chick Fil A Restaurant
The Centers for Disease Control and Prevention (CDC) states: "Over 800,000 patients a year are hospitalized because of a fall injury."
The CDC further declared that:
"One out of five falls causes a serious injury such as broken bones or a head injury." Fall prevention at Chick-Fil-A is an important part of safeguarding consumer safety. But a place like Chick-Fil-A presents many safety hazards as does any fast-food restaurant.
There is a ton of traffic that goes out and in of Chick Fil A, meaning it has many hazardous circumstances that you may encounter, including but not limited to:
Grease getting on the floor without being properly cleaned up

Poor lighting can create slip and fall hazards on things like carpets

Urine or water that hasn't been cleaned up in the bathroom

Freshly mopped/cleaned floor that has no caution signs about slippery surfaces and is wet

Spilled drinks that have not been cleaned with a reasonable amount of time
The above are some of the most common slip and fall hazards on the Chick Fil A restaurant floor. Please read our other recent blog posts to learn more about injury cases where you can claim lost wages if you fell and went to the doctor.
Potential Injuries
There is a vast range of injuries that a slip and fall accident can cause. The severity of these damages can vary from minor to more severe and debilitating with loss of pay, in the worst case.
These are the most common injuries caused by hazardous conditions at Chick Fil A; this list includes but is not limited to:
Traumatic brain injuries

Back or neck injuries

Head injuries

Spinal cord injuries

Broken bones

Soft tissue injuries
Was There Carelessness Involved?
You need to prove that the company's negligence was what caused your slip and fall accident if you want to get awarded for your personal injury case against the business. That means people need evidence that it did not take reasonable measures to fix any hazards or did something to create hazardous conditions.
It's possible that someone could have slipped on spilled drinks, but this isn't always caused by carelessness. There must be actual proof of negligence on Chick Fil A's behalf.
Say, for example, if the manager were aware of the spilled drink being there for a while and didn't clean it up, that would count as negligence. However, if the mess had just been created, it would not be reasonable that the manager would have picked it up at that exact second.
After being notified, the restaurant needs to clean hazards within a reasonable time. It would be negligence if the soda were still on the flooring over an hour later.
To prove negligence, you need to compile a bunch of evidence for your claim to be valid. One way to do this is by getting surveillance footage from a camera in the store. This can be challenging to obtain on your own, but if you have a slip and fall accident lawyer at this point, they will help you get the footage you require.
Witnesses can also be used as evidence in a court of law. The more witnesses a person has, the better their case against Chick Fil A will be. It can also be an excellent idea to take pictures of your injuries and hazardous condition. A lawyer will assist you should you require additional evidence to prove your case.
Injury Lawyer and Freshness
You should contact a slip and fall accident attorney at Ehline Law Firm as soon as possible to get started on your case. This will allow us to look at your point and tell if you have an eligible claim. A passionate lawyer can begin collecting evidence while it is still fresh.
One best practice is to get witness testimonies when it is still fresh in the mind of the people who saw the slip and fall accident.
Allow an injury lawyer to begin compiling the evidence for your case; this information will include but is not limited to:
Proof of any current and future lost wages

Any estimated medical bills (medications, physical rehab, additional surgeries, etc.)

Your medical record (diagnosis, testing, etc.)

Any medical bills, including medical expenses, medical care, doctor's fees, etc
Lawyers can consult with experts who can evaluate and assist in determining any expenses for the future; these attorneys can also argue the justifications to cover those numbers.
Details About Your Slip and Fall Accident
You can get a serious injury if you slip and fall at any Chick Fil A store in the nation. The first thing you might miss after the fall is not accurately tracking the slip and fall accident details.
People are normally thinking about what just happened and how much it hurt. Noting the floor conditions, circumstances, location, date, and time that lead to fall accidents is not likely to be on the top of someone's mind after they've fallen.
However, in personal injury slip and fall cases, it is imperative to note all the details concerning your fall. Detailing all the items around your fall shortly after or at the time of your accident is vital.
Proving Liability
Say, for example, the primary questions will be – "What caused the fall? Was it a wet spot? Did the floor have a slick waxy finish that caused the slip and fall? Was a picture of the fall taken after the event?" These are all questions that the court would want answers to, so be sure to have this information on hand.
With the above evidence, you can have a strong case to present months or possibly a year later when you finally have a hearing about your claim. If fall injuries occur due to dangerous conditions at a Chick Fil A restaurant, we recommend you connect with a lawyer for slip and fall accidents. Ehline Law Firm can offer you a free case evaluation on your personal injury claim against Chick Fil A.
Don't Sleep on Your Rights!
Time is of the essence after a slip and fall accident for our team to help you gather evidence from the location and learn about any possible corroborating eyewitness who can help verify your story; contact us to be your potential independent attorneys!
After a Slip and Fall Accident
You must establish liability after a slip and fall accident; the store's insurance company will want to know how your Chick Fil A slip and fall accident occurred, what caused it, and more. Taking care of all the details mentioned above will help deal with insurance companies.
An insurance company is both the store's and your own insurer. That means it will try to speak to you at length about the accident to determine if any additional factors could have led to you falling.
The company may request that you detail everything that happened in a formal letter about your Chick Fil A slip and fall accident. A good rule of thumb is not to give any information to an insurer directly after an accident, especially if you suffer injuries.
You never know if a hip, arm, or leg could flare up several weeks or months after an accident, so make sure you trace it back to the slip and fall.
Get Proper Medical Care
Another excellent piece of advice after slip and fall accidents is getting a medical diagnosis of your condition. The above may have already happened if you ended up at a medical center or hospital following your slip and fall when all you wanted was some chicken sandwiches.
Getting a medical diagnosis will help establish the link between the accident and your visible injuries, especially if you just went home after the accident.
Contact Ehline Law Firm for Fall Accidents Help Today
Ehline Law Firm offers victims of a Chick Fil A slip and fall serious injury a free case evaluation with an independent attorney. Were you a customer who slipped on wet floors in a fast-food restaurant in the dining area? Did one Chick Fil A employees fail to clean up a spill, leading to multiple slip and fall accidents? If so, you may have medical costs for a brain injury and fees for legal services.
One of our personal injury lawyers can help bring the claim on your behalf in court for the best possible outcome for a back injury and other problems in parking lots or caused in the drive-through line by other customers or some other party, etc.
Schedule a Free Consultation With a Chick Fil A Accident Lawyer
After an injury, it is crucial to get medical attention immediately, especially if the damages are severe. Remember to keep all your medical records and medical treatment expenses regarding your Chick Fil A case, as it will help you claim and recover the full and fair compensation you deserve.
If you need legal options or additional resources, contact us for a free legal consultation. We can help you get the footage for the security cameras and open a premises liability claim against Chick Fil A fast food restaurants. What are you waiting for? Proving negligence using the details surrounding your case is our top priority.
Contact us to find out your legal rights with a free consultation to discuss your drive-through line accident report details, burn injury, or fall case. Learn how to sue Chick Fil A for financial compensation over your emotional and physical injuries. And it's not just about a slippery floor hazard caused by the fast food chain.
Even if it's a car accident in the parking lot or drive-thru line, our fast food restaurant expert will provide the legal support you need to file a claim and get you the settlement you deserve.
---
Michael Ehline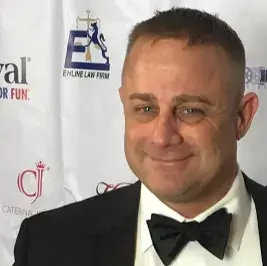 Michael is a managing partner at the nationwide Ehline Law Firm, Personal Injury Attorneys, APLC. He's an inactive Marine and became a lawyer on the California State Bar Law Office Study Program, later receiving his J.D. from UWLA School of Law. Michael has won some of the world's largest motorcycle accident settlements.
---
Recent Personal Injury News
Check out our most recent premises liability blog posts from celebrities crashing cars to everyday people getting run over in parking lots, rear ended or otherwise colliding in a drive thru.