If we don't win, you don't pay.
Speak to the Attorney.
Born to serve.
633 W 5th Street #2890
Los Angeles, CA 90071
(213) 596-9642.
Date Modified: April 6, 2023
Former U.S. Marine Motorcycle Lawyer and So. Cal. Personal Injury Attorney Partners. We Fight For Fallen Riders In LA.
Are you seeking Santa Monica motorcycle accident attorneys after a bad crash? A motorcyclist accident might result in catastrophic injuries and cost families a fortune.
Common motorcycle accident injuries include anxiety, fatal motorcycle accidents, traumatic brain injuries, a spinal cord injury, painful road rash, broken bones, mental health decline, and life-long physical/emotional pain.
In terms of real dollars, lost wages, expensive surgeries, repair bills, and unpaid medical expenses can bankrupt victims and families after a tragic motor vehicle accident. Since 2005, Ehline Law Firm has professionally helped injured clients with automobiles as a motorcycle accident law expert with thousands of motorcycle accident claims. Call us to discover your rights right away.
Below our best personal injury attorney will discuss how our top motorcycle accident attorney in Santa Monica will custom-tailor legal representation for each motorcycle rider.
We'll also cover how you can secure compensation benefits from the at-fault driver. Call our Santa Monica personal injury law office at (833) LETS-SUE to speak with one of our attentive team members today.
Common Injuries Our Motorcycle Accident Attorneys Firm Take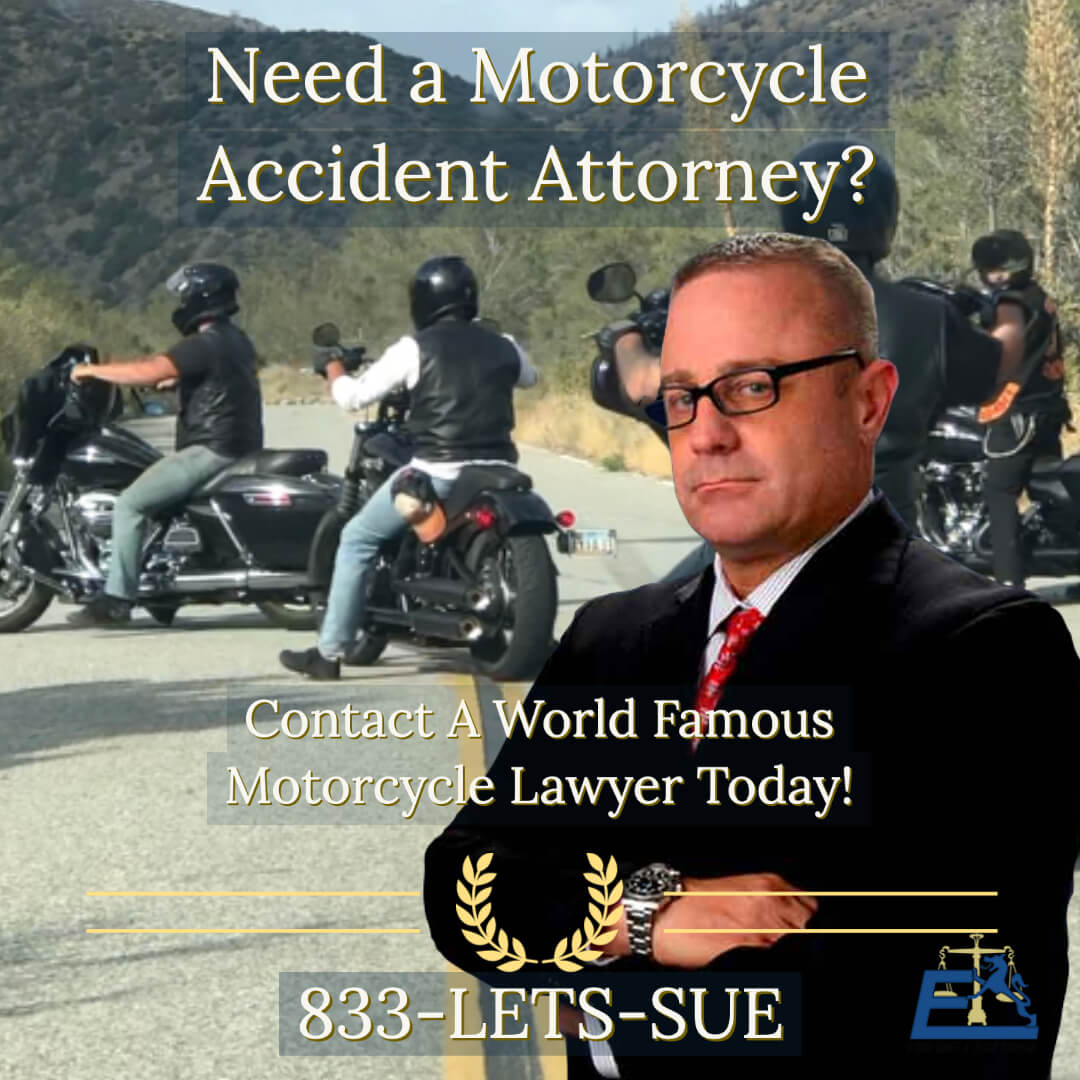 Motorcycling social activities like joining a motorcycle club and attending motorcycle rallies help teach road hazard injury avoidance. But you can't prevent all wrecks. But no one can predict a motorbike collision's severity, with its few safety features, offering zero roll cage protection.
The Santa Monica motorcycle crash lawyers at Ehline Law accept clients suffering all types of permanent, severe, catastrophic personal injuries:
Traumatic brain injury (TBI) and mild traumatic brain injury (MTBI), including CTE Brain injuries
Broken bones/fractures (a broken leg, hands, fingers, toes, ankles, etc.)
Spinal cord injuries, including tetraplegia/paralysis
Bruising, scarring, disfigurement
Abrasions, cuts/lacerations
Lower extremity damage
Road rash/friction burns
Internal organ damage
Wrongful death claim
Limb amputation
Fractured skulls
Rib fractures
Avulsions.
Survivors of serious accident motorcyclist wrecks may lose their careers since they can't work. Survivors ensure long-term physical and psychological injuries as a consequence of crashing. Did you crash, suffer severe brain damage, post-traumatic stress disorder, coma, etc.?
Have you experienced a motorcycle wreck that involved a Santa Monica-area motorist? Working with a local Santa Monica motorcycle accident lawyer from Ehline gets you an expert. During the complicated claims process, we pressure the defendant to pay more for the victim's injuries. Our compassionate legal advocates help victims recover compensation, including money for physical pain and lost future earnings over the victim's life.
California Helmet Law, Head Trauma, and Your Santa Monica, CA Motorcycle Accident Case
Perhaps the most important safety feature for your well-being is wearing reinforced headgear. California law requires motorcycle passenger, including all motorcyclists, to be snugly helmeted while motorcycle riding.
Experts say wearing a federal DOT-approved helmet in compliance with California's universal helmet law decreases motorcycle fatalities as well as serious injuries. Your other limited security features include motorcyclist riding gear. Wearing heavy clothing, leather, and heavy boots helps protect your limbs/lower extremities.
Consequences Of Failing To Wear Your Helmet
Criminal-Counts/Infractions
If you refuse to wear your motorcycle helmet riding in California, you are breaking traffic laws. You potentially face a traffic fine, notice to appear citation, vehicle seizure, and licensure suspension.
Helmet laws won't automatically bar a victim from receiving intangible losses compensation. Just because you broke the law by leaving your head unprotected during a motorcycle wreck, other body parts get impacted, too.
A defendant may argue California's pure comparative negligence law to shift your motorcycle accident claim blame. They'll use this technique to offset payments for eye, face, and teeth and head injuries.
Pure Comparative Negligence – Failure to Wear A Helmet Defense
The other side's medical expert testimony must show your wound would have been reduced/avoided but for your illegal failure to wear a helmet.
The court will instruct the jury to determine the motorcycle accident victim's percentage of fault for inflating their injuries. If someone failed to wear head protection, causing 50% of their harm, they would recapture 50% less compensation. Your motorcycle accident lawyer at Ehline Law Firm fights to counter these defenses.
Speak With A Motorcycle Accident Lawyer in Santa Monica About Your Case
Speak immediately with a lawyer for a motorcycle accident in Santa Monica from Ehline's conveniently located offices about your unique accident claim problems today for help. Victims of devastating motorcycle accidents in Santa Monica, CA, can request a free case review and free consultation with our law offices; call us 24 hours per day.
In addition, choosing our legal services means we will collect no payment unless we win your California contingency case. A listening, trustworthy advocate awaits your essential phone call at (310) 237-6218.
Any injured motorcycle rider can use our online intake form for faster turnaround times. The answers you need for questions about all types of motorcycle wrecks are a phone call away.
Michael Ehline is an inactive U.S. Marine and world-famous legal historian. Michael helped draft the Cruise Ship Safety Act and has won some of U.S. history's largest motorcycle accident settlements. Together with his legal team, Michael and the Ehline Law Firm collect damages on behalf of clients.
We pride ourselves on being available to answer your most pressing and difficult questions 24/7. We are proud sponsors of the Paul Ehline Memorial Motorcycle Ride and a Service Disabled Veteran Operated Business. (SDVOB.) We are ready to fight.