If we don't win, you don't pay.
Speak to the Attorney.
Born to serve.
633 W 5th Street #2890
Los Angeles, CA 90071
(213) 596-9642.
2323 S. Voss Rd, Suite 244
Houston, TX 77057
(832) 592-1260.
Date Modified: June 13, 2023
Are you looking for Santa Monica personal injury attorneys and want someone you can trust?
The personal injury claims we've won for thousands of injured clients in the Santa Monica, California, area add up.
Cases our best Santa Monica personal injury lawyer helps victims with include product defects, dog bites, motorcycle accidents, and slip and fall claims that cause a brain, or spinal cord injury or wrongful death.
Serious bodily injuries can cause prolonged recovery and physical suffering, resulting in a bankruptcy claim.
We've won clients over $150 million to date.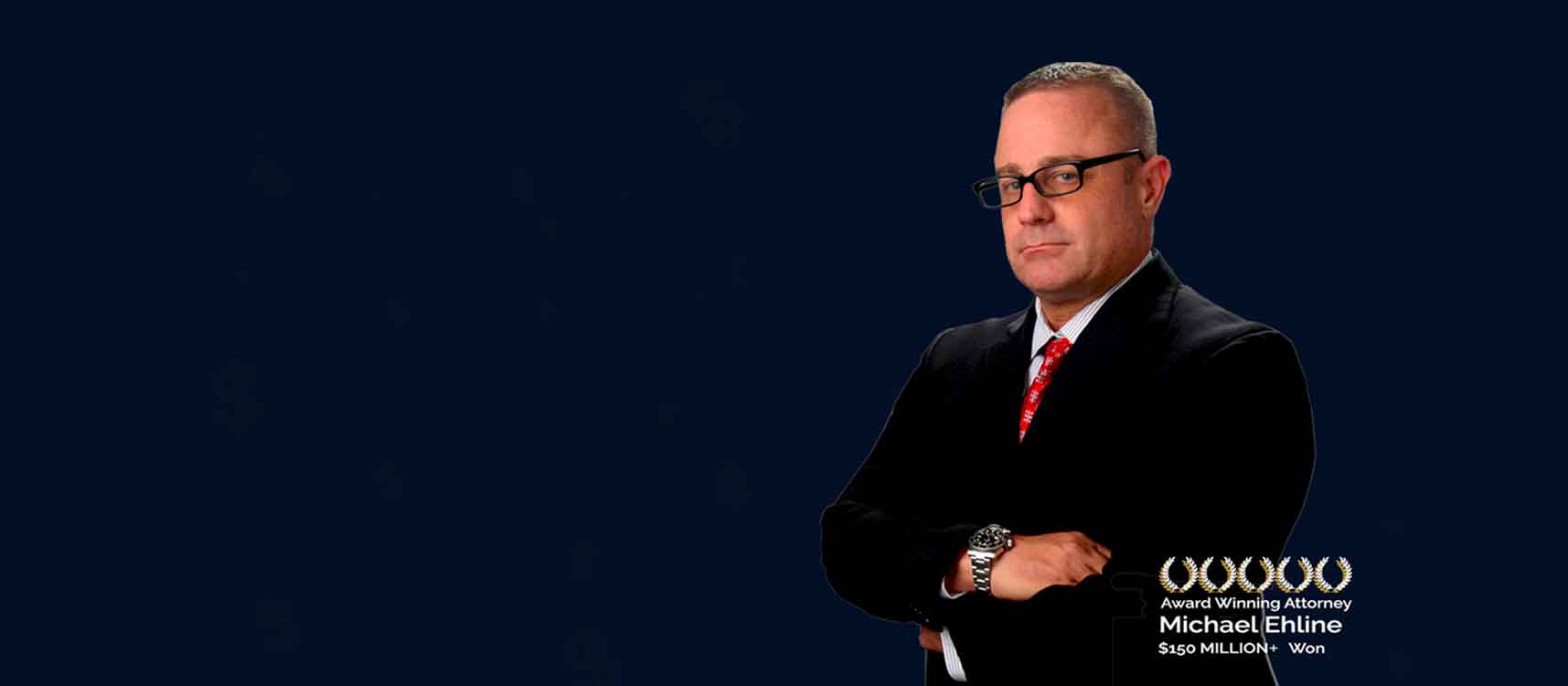 Families can lose everything without experienced Santa Monica personal injury lawyer case representation, especially in wrongful death cases. Our serious personal injury law firm has helped injured and suffering victims normalize their lives, earning millions in the process for car, truck, and even Big Blue Bus Accidents.
Our team is in the business of giving free legal advice and winning personal injury cases when you call our phone number. We built our name and claimed fame, helping clients on a contingency basis term. Our local Santa Monica, CA, law offices have recovered significant financial results for thousands of injured clients. Our lawyers in Santa Monica get the best possible settlement, or we go to trial.
Call our compassionate staff today. Learn more about our proven track record, office, and options. Call our phone number at (310) 237-6218 or email santamonica@ehlinelaw.com.
Why Choose Ehline's Experienced Santa Monica Personal Injury Attorney?
If anything, statistics prove clients get more money with legal representation using experienced personal injury attorneys. At least, that's the idea. But hiring the right personal injury attorney in a bustling place like Santa Monica can be a mind-numbing, health-altering process.
With scorched earth insurers and mediocre attorneys, no guarantee exists anyone will achieve success or great case results following an accident. Anyone hiring our great trial attorneys will have more respect from parties and courts. Our philosophy and characteristics remain committed to your best interests.
A personal injury lawyer will travel to your home, hospital, or offices
We can Uber you to our nearby location
Build compelling compensation
Our law firm will negotiate settlement negotiations with insurance companies, insurance adjusters, or another responsible defendant.
Fact, we get clients maximum financial recovery for their pain, suffering, and economic loss claims. We do so in or out of the courtroom with professionalism and elan.
Our superb reputation as one of California's top-quality personal injury law firms was earned by helping each person we represent receive a maximum compensation outcome.
What Do Our Past Clients Say About Our Santa Monica Personal Injury Attorney?
It's simple to browse our personal injury attorney listings in your immediate location. You could search for a particular lawyer if a friend referred you or learn more by exploring the attorney profiles section in our navigation menu.
"The brilliant Ehline Law Firm team returned all calls and got us a great result from both insurance companies. Our serious accident was seamless, and they were the most responsive firm we dealt with. Michael proved to me he is the friendliest, smartest injury lawyer… Would I hire him again if I got injured? Absolutely!" – Abrams Tankersly
We include each lawyer's contact information, legal background, email, phone, and biographical data to assist you. Some profiles link to other relevant information or recommendations. You're not required by law to hire an injury attorney to represent your Santa Monica personal injury claim. Engaging our lawyer to file your personal injury lawsuit can sometimes be more expensive than your settlement with more minor injuries.
The insurance company adjuster will tender an unreasonable offer for your claim. Your lawyer may suggest self-representation in small claims court to receive maximum compensation and avoid litigation.
In that injury case, you can file all the court paperwork and make the appearances yourself. But if you're in pain and need medical care, you dial our phone number to discuss your rights.
How Do Our Personal Injury Attorneys Evaluate Cases?
Your injury firm will request and review applicable policies and request copies of your policy from your insurance agent. Your side must evaluate/develop quality evidence for damages evaluation and validation purposes. This is one way our firm can rule out any concerns over available coverage types or something like med-pay benefits. Were you injured in a place of business or a public place?
Your personal injury attorney in Santa Monica will request copies of other policies, including a review of PIP, Uninsured Motorist, Underinsured Motorist, or comp and collision payments covering injuries in auto accidents in personal injury claims.
Your lawyer will request witness examinations to help prove your type of damages.
We will request and review applicable reports and request copies of CHP or metro police reports, Caltrans traffic safety studies, etc.
Our law firm will make an initial demand for the insurer to accept legal liability for your damages from the accident and seek coverage on a case-by-case basis.
How Do Personal Injury Lawyers In Santa Monica, CA Get Paid Their Contingency Fee?
Due to our large size and clout, our personal injury lawyers handle all PI cases on a contingency fee basis. We never charge any fees unless we secure compensation on your behalf – there are never out-of-pocket fees with us. Once we win, we charge our contracted percentage of your recovery for our legal services. We obtain compensation from your final settlement or jury verdict per our agreed-to fee-sharing agreement.
Most contingency fee agreements will pay your attorney fees based on a gross percentage recovery, between 33% and 40% of a settlement. But in case of a trial, the better trial lawyers will receive a fee of between 40% or even 50%. We resolve most cases for a 33% fee of your gross award.
Example: What is a third of $100,000? 1/3 is .3333333, which is also 1/3, or here, $100,000 translates into a commission of $33,333.33.Also, no law prevents you from negotiating a reduced percentage or another form of trade or fee payment.
TIP: If your minor child is hurt, their legal caretaker stands as their "guardian ad litem." (GAL) We typically reduce our attorneys' fees to protect the incompetent child's interests.
Statute of Limitations In Different Santa Monica Personal Injury Cases
Injured victims must file their case or lawsuit within the statutory or contractually agreed time frame (deadline) from their injury date. The California statute of limitations can differ according to your type of injury claim to avoid hearing ancient disputes and avoid injustice along the way. The general time limit to sue is a two-year deadline in most PI claims. But some Santa Monica, CA cruise lines and government entities have additional claims filing procedures that shorten the plaintiff's time to sue outside the statute.
Evidence of incompetency, imprisonment, or being offshore can also extend the expected time to sue. Only experienced attorneys know all the secrets.
Get A Free Consultation From an Excellent Personal Injury Lawyer in Santa Monica Today
Most people put off hiring a California lawyer due to expense. We offer free consultations, even if someone is just looking for basic information about California's laws. Don't make the mistake of seeking justice without attention from a trained professional at our firm. Our job is to answer any type of question you may have. We can help resolve legal issues and protect your rights in the event of a bad accident. If you suffered moderate to severe injuries during an accident, Ehline Law Firm is the one you call. We're considered one of the top law offices in the country.
After you call us, a Santa Monica personal injury lawyer at the Ehline Law group team will promptly review your claims. We'll take steps to explain all areas of the law and procedure at no cost.
Seeking an attorney in Santa Monica? Our top-quality firm is ready to help defend your rights today with extreme professionalism. Schedule a free consultation. Call us at our phone number today at (310) 237-6218 or use our convenient online contact form.
Our Santa Monica personal injury firm's job is to protect the rights and success of accident victims and their family members.
Santa Monica personal injury lawyers proudly serve the following Santa Monica zip codes: 90401 / 90402 / 90403 / 90404 / 90405 / 90406 / 90407 / 90408 / 90409 / 90410 / 90411
Michael Ehline is an inactive U.S. Marine and world-famous legal historian. Michael helped draft the Cruise Ship Safety Act and has won some of U.S. history's largest motorcycle accident settlements. Together with his legal team, Michael and the Ehline Law Firm collect damages on behalf of clients.
We pride ourselves on being available to answer your most pressing and difficult questions 24/7. We are proud sponsors of the Paul Ehline Memorial Motorcycle Ride and a Service Disabled Veteran Operated Business. (SDVOB.) We are ready to fight.