Types of Silicosis and Symptoms
There are three main types of silicosis, and they are:
Acute silicosis: This occurs when there is exposure to large amounts of silica over a short period. The lungs experience severe inflammation making it difficult to breathe, and causing shortness of breath. Since there is low oxygen intake, it results in low blood oxygen levels. The patient may also experience tiredness, weight loss, and even start to have a cough.

Chronic silicosis: This occurs when there is exposure to silica over a long period, often 20 years or more. The silica dust builds up in the lungs causing swelling in the lungs and chest lymph nodes. It is the most common type of silicosis among workers working in an environment exposed to silica dust. Symptoms start mild but slowly start to become worse. People with chronic silicosis start to develop dyspnea during exertion, which transitions to dyspnea during rest. In addition, the patient may have a productive cough and advanced conditions such as chronic obstructive pulmonary disease and respiratory failure.
Accelerated silicosis: Workers exposed to large amounts of silica over 10 years develop accelerated silicosis, which is often present in workers directly handling silica or engineered stone. It is difficult to diagnose early on and symptoms include severe shortness of breath, fatigue, and weight loss.
Diagnosing Silicosis
Several medical tests allow medical professionals to diagnose silicosis, and these include:
Chest x-ray: An x-ray helps medical professionals look for scars or spots on the lungs.
Bronchoscopy: A doctor may run a thin tube with a small camera at the end of it down the throat and into the patient's lungs to identify the signs and extent of internal damage.
Biopsy: A lung tissue biopsy involves a medical professional inserting a needle into the patient's chest and collecting a sample of the nodule from their lungs. That is then run under a microscope and checked for signs of silicosis.
Sputum test: Since there is a chance of other types of infections arising from silicosis, the sputum tests help identify those infections, including tuberculosis.

Treatment of Silicosis

Depending on the severity of the silicosis, the treatments may vary, and some of these include:
Staying away from further silica exposure.
Symptomatic treatment.
Oral corticosteroids.
Lung transplant (in extreme cases).
Patients suffering from blocked airways that cause shortness of breath may receive corticosteroids, an effective anti-inflammatory steroid hormone. Medical professionals will also treat any secondary condition arising from silicosis to prevent complications and life-threatening situations.
Prevention of Silicosis
Preventing silicosis should start at the industrial level, at workplaces where employees are more exposed to silica than others. Employers must provide their employees with the necessary gear to prevent inhalation of silica dust, such as respiratory masks. Employers must also ensure that the workplace has enough ventilation to reduce the amount of silica inhaled by employees while working.
Workplaces should also focus on employee surveillance, where they frequently question employees about their health conditions and require them to get chest x-rays done. The quicker employees know of their health condition, the faster they can start medical treatment.
Employees exposed to silica can also develop tuberculosis or non-tuberculosis mycobacterial infections, which is why it is important to create awareness about the condition to educate the employees on the risk of inhaling silica dust.
Silica dust can also accumulate on the worker's clothes, which is why wearing disposable or washable work clothes is also recommended. Before leaving the work site, workers must vacuum their clothes to remove any silica dust.
Liability for Silicosis from Extended Exposure
Anyone exposed to silica dust may be eligible to file a lawsuit. Depending on the situation, there may be multiple parties involved in your medical condition.
Individuals may pursue legal action against one or more of the following:
Manufacturers
Individuals suffering from silicosis due to faulty products or safety gear may be able to hold the manufacturer of the product or tool responsible for their illness. They may sue the manufacturer for negligence, defective product design, or even breach of warranty.
Negligent Employers
If an employer forces an employee to work in unsafe working conditions without providing adequate safety gear and protection, they may be responsible for the injuries the employee suffers after exposure to silica. The employee may have grounds to recover compensation from their employer.
It is important to speak to our Los Angeles personal injury attorney to determine whether there is a liability and hold the responsible parties accountable for your loss. Besides compensatory damages, plaintiffs can also file a lawsuit to punish the negligent parties and recover punitive damages.
Statute of Limitations for Silica Exposure Cases
The statute of limitations allows personal injury victims 2 years to pursue claims against negligent parties following the date of the accident. However, a toxic exposure case is much different than a personal injury case as injuries from silica exposure can manifest over a long period, which is why the statute of limitations does not apply.
According to the Code of Civil Procedure 340.8, California residents must file a lawsuit against the negligent party within 2 years of the injury or after they identify that the injury caused was due to another's negligence.
Schedule a Free Consultation with Ehline Law Silica Exposure Injury Attorneys
Exposure to silica can have a devastating impact on the victim and their family's lives, especially if the injured victim is the sole breadwinner. If you suffered silica injuries due to another's negligence, contact us at + (833) LETS-SUE for a free consultation with our personal injury lawyers for legal advice. Use our convenient online contact us form for email communications.
---
Michael Ehline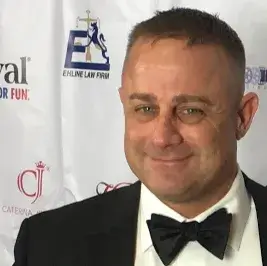 Michael is a managing partner at the nationwide Ehline Law Firm, Personal Injury Attorneys, APLC. He's an inactive Marine and became a lawyer in the California State Bar Law Office Study Program, later receiving his J.D. from UWLA School of Law. Michael has won some of the world's largest motorcycle accident settlements.
---
Recent Personal Injury News
Check out our most recent construction accidents in California and more, including the famous, infamous and everyday people wounded by at fault parties around the world.