If we don't win, you don't pay.
Speak to the Attorney.
Born to serve.
633 W 5th Street #2890
Los Angeles, CA 90071
(213) 596-9642.
2323 S. Voss Rd, Suite 244
Houston, TX 77057
(832) 592-1260.
Date Modified: March 21, 2023
Are you looking for a T-Bone accident lawyer in Los Angeles County, CA? Among the most common intersection accidents is the T-bone collision, or "broadside." These are collisions involving a vehicle's front end that hits another vehicle's side, center mass, or "broadside."
T-Bone Accident Defined For Consumers
Ultimate Guide to Compensation for T-Bone Death Accidents and More
Upon impact, the crash configuration resembles the shape of a T. Hence, the name: "T-Bone" accident. Get it? Common injuries from a broadside impact like this are those to the head, neck, and shoulders. But more severe bodily injuries occur during higher vehicle speeds in a T-Bone accident.
Below, our top Los Angeles personal injury attorney discusses the basics and getting maximum compensation after suffering injuries in a T-Bone accident case in the Los Angeles locale.
Our law offices and top Los Angeles T-Bone accident lawyer receive potential new case inquiries when one vehicle driver lawfully crosses an intersection on a green light and gets broadsided because another motorist ran a yellow light that had just phased from yellow to red. So most cases, we help involve the "gray area" defense of failure to yield the right of way or allow other vehicles access to the roadway.
Failure to Yield at Intersections Causes Many Vehicle Broadsides
Yes, failure to yield the right of way does lead to T-Bones. Statistically, a T-bone collision is most common at busy intersections, such as those in Los Angeles County cities like Beverly Hills, near Rodeo Drive, or Torrance, California, near Del Amo Mall, for example.
Our Los Angeles T-Bone accident lawyers thrive in these cases when going up against the at-fault party's insurance company for monetary damages compensation.
More Significant the T-Boner Vehicle, the Bigger the Injury?
Common sense indicates that a more prominent, broadsiding vehicle, like a limousine or a large truck, can do terrific damage to other users of the streets and highway systems. When heavier vehicles like big rigs, city buses, and tour buses fail to yield the right-of-way to the operators of smaller, lighter compact cars, and motorcycles, the results are more statistically likely to lead to permanent injuries and death.
But even T-Bone accidents striking lighter vehicles at low speeds see all occupants and bystanders suffer severe to moderate injuries after a crash. For example, low-speed T-Bone collisions can cause light whiplash cases, mild emotional shock, and severe physical trauma, such as a closed head injury.
Also, big trucks can't stop and go in the fashion smaller-sized vehicles can. For example, they are heavy and usually diesel-powered. Because of this, many smaller autos tend to "cut" in front of oncoming trucks close to intersections. But since trucks can't stop very fast, this move can lead to a T-bone truck accident. In that case, the trucker's defense attorneys will place the fault on you for cutting them off.
Hence, since you triggered the accident, the liability insurance companies will argue that the fault lies with you and you alone. But these disputed liability cases are hard to win because sometimes the driver of the other automobile will claim they were already in the correct lane or that they were crossing the intersection on a green light.
In any event, determining fault in side-impact crashes typically hinges on witness testimony and other evidence showing who had the legal right to access the intersection.
Why Choose Ehline Law Firm For Your T-Bone Collision Case?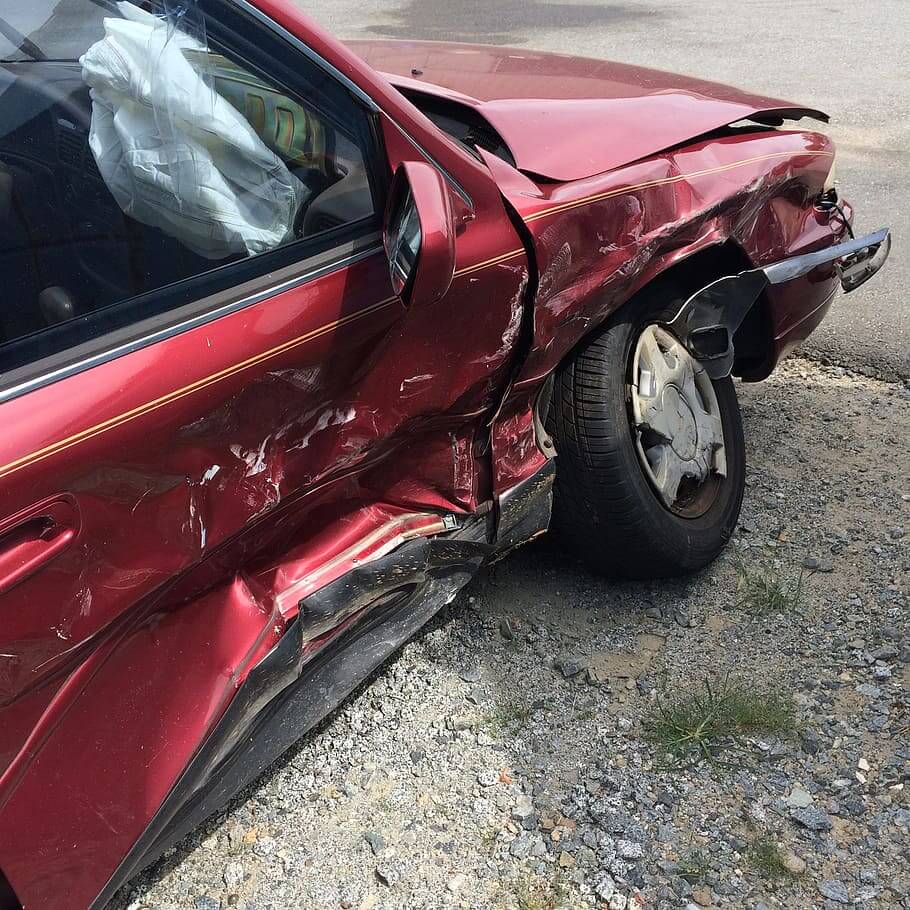 Ehline Law Firm is among the highest-rated car accident law firms serving clients in Los Angeles and other counties. We regularly help customers with disputed liability T-Bone accident claims. And our time-tested, proven track record has yielded significant, high-dollar verdicts and settlements for customers like you. We invite you to call us to discover more about the Ehline difference.
Failure To Pay Attention At Intersections As A Major Cause of Broadsides.
Could you make no mistake about it? The most lethal weapon on the road is an inattentive motorist. (Michael Ehline). Driver inattentiveness is one of the main causes of broadside accidents. So it goes without saying that distractions like smartphones often prevent one or several drivers from stopping at posted signs or phased traffic lights.
What are Some Important Nationwide T-Bone Accident Statistics?
Modernly, all newly sold motor cars in California and the United States must meet minimum side-impact safety standards. But there are issues with these rules, and they're old. Some forward-looking carmakers have gone beyond the law to secure vehicle occupants with side-impact airbags and other countermeasures. Even with all this special protection, older cars may not meet these standards.
Also, high-speed T-bone accidents can kill someone in vehicles with safety standards that exceed government regulations. According to the National Highway Traffic Security Administration (NHTSA), around 8,000 people die nationally annually in T-bone accidents. Besides that, thousands upon thousands of more people are badly hurt.
The below statistics and crash analysis research demonstrate:
T-bone accidents represented 13% of all automobile accidents in the United States during the test period.
18% of all fatal nationwide vehicle accidents were broadside accidents.
Side-impact collisions are especially harmful to child passengers.
Deaths of kids from side-impact collisions have steadily increased from 20% to 31% to 51% in the last twenty years due to speeding and SUVs being used as a primary method of child transport for families.
To recap, many of these particular traffic accidents arise from distracted driving. But who knows the real numbers since few people report themselves or accept personal responsibility once they have lawyered up.
What Are Some Important City of Los Angeles T-Bone Accident Statistics?
Los Angeles City is made up of many child cities. For example, you'll see the City of Los Angeles police cruisers patrolling Venice Beach and even the eastern parts of Marina del Rey.
So L.A. has a fascinating conglomeration of cities buttressed against unincorporated and other Los Angeles County municipalities, CA. Most of the below traffic datasets come from reports handed over to the CHP. Not every reported intersection accident is available unless via public records requests to the local agencies themselves.
However, the statistical data we have compiled below should be helpful to researchers and safety analysts.
SWITRS City of Los Angeles Intersection Accident With Injuries Data from 2017-2019 shows:
A total of 2,593 broadside accidents involving motor vehicles were reportedly caused at Los Angeles City intersections.
0.58% = Fatal Broadside Accidents – During the above period, there were 17 fatalities.
2.34% = Serious Bodily Injury – A total of 69 threatening injuries reportedly resulted in being "serious" from 2017-2019 in the City of L.A. (Usually, serious injuries include amputations, brain injuries, and lacerations. Severe injuries are classified as such because the broadside accident victim is in a coma or unresponsive to medical stabilization).
25.74% = Visible Injury – So, 760 injuries were reported by the police as being visible. So this could include things like bleeding and bruising that remain visible to the human eye.
71.35% = Injuries with Complaints of Pain – 2,107 complaints of pain or injury comprised most cases during the above statistical period.
As seen in the below table, of these Los Angeles City T-Bone collisions, 50% were due to failure to yield the right of way, 25% were due to speeding, and the next 25% were due to unsafe right or left-ha d turn. Left-hand turns, in particular, are dangerous.
These commonly occur when a vehicle making a left turn in front of another car fails to account for speed and d stance. A driver turning left at an intersection must yield to all oncoming traffic to avoid creating a hazard.
A driver and any other party triggering such a crash generally remain legally liable for the harm it caused to others and anyone transported in the car. The law clarifies that the path must be clear before turning.
Any oncoming vehicles, such as a yellow-red light, need to yield and allow the car to turn. And suppose the other driver, with time to yield, did not all the other vehicle sufficient time to complete its left turn and crashes into the car making a left. In that case, a jury can find the vehicle failing to yield accountable to pay for injuries and harm that arose from the collision.
Do I Have A T-Bone Accident Case?
As discussed above, most of these cases involve contested liability, so you need more than he said, s e said. You need tangible, unbiased evidence to win. And you had better be prepared because there are many ways you can get into a broadside collision in LA.
Whether you have a case or not will likely be due to the special investigations conducted by your injury lawyers and their leg l team. Do you think you have a case?
What Are Some Other Common Examples of T-Bone Accidents in Los Angeles?
Examples of common T-bone accidents in Los Angeles include four-way stop collisions. By far, the most common reasons the accidents happen are from the other driver failing to obey traffic signals. Traffic "signals" include the use of crossing guards with a "stop" sign, fixed stop signs, or other electronically phased traffic devices.
Who Is Potentially Liable for Your T-Boner?
As noted above, either vehicle operator can be at fault in a T-bone collision. Also, theories of legal liability such as respondeat superior or negligent entrustment may come into play. Besides this, more than one driver's negligence may have played a role in your T-Bone crash.
What About the Government and Its Agents, Are They Potential T-Bone Accident Defendants?
T-Bone collisions, such as Stein v. Los Angeles, can be triggered by road construction that may have severed electrical cables controlling the stop-and-go traffic signals' phasing. Other times, deteriorating or improperly maintained infrastructure can lead to downed powerlines, electrical, and other mechanical failures that fail to warn drivers of peril while approaching traffic controls at intersections.
When red lights and traffic signals are not functional at intersections due to power outages, poor upkeep, or lack of warning signs, a rise in the number of broadsides is a natural consequence. In such cases, State, County, and City officials are supposed to set up hasty safety arrangements.
For example, in a faulty traffic light, parking enforcement officers and traffic cops will work hand in hand to cordon off the area and clear the traffic lanes of obstructions. Police will undoubtedly direct the traffic until the glitches are finally repaired or there is a temporary way to flow traffic.
Yes, California and most municipal corporations mandate drivers to act reasonably when traffic lights are out of service at an intersection. So, in that case, vehicle operators approaching the intersection need to come to a complete stop and only proceed when it is safe.
Sometimes, the signals malfunction, and they direct all lanes of traffic with a green light, for example. So, now, all four lanes of traffic cross paths as they continue into the controlled crossing. And even if the other driver was aware of the dangers, a substantial portion of motorists will ignore the traffic signal failure and blow through the intersection, often at high-speed rates. So, in that case, the City of L.A. could be liable for failure to repair and warn of traffic signal problems.
Also, the other drivers may be partially responsible for failing to be careful. Either way, you'll need a lawyer to ensure you comply with all the special rules for multiple-party claims and governmental/municipal defendants.
How Can a Lawyer Help Prove Liability in Los Angeles T-Bone Accidents?
In a typical T-Bone crash, proving which driver had the right of way into the lane of travel first is the key. All sides know their case hinges on who had access and whether another driver had a chance to reduce or mitigate the collision risks. In other words, the party deemed to have acted reasonably in the given situation is at a distinct advantage as a defense or a tool for proving fault. As discussed above, an intensive physical examination of the accident scene is often necessary. For example, percipient witnesses working in nearby offices may have seen the accident or may even have surveillance videos or records of complaints to the City of Los Angeles.
Forensics could reveal debris fields and show the direction of the vehicle's travel at impact. Also, gouges, yaw marks, and impact marks on curbs, power poles, guardrails, or other structures can show evidence of evasive action and attentiveness. Our experienced and knowledgeable T-bone car accident firm has significant experience helping victims of T-bone wrecks. Don't count on the police to find the right person liable for the accident. True, sometimes the other motorist is obviously at fault for your crash. But most of the time, the person who caused the collision will assert that they had the signal or the right of way in their favor.
So even calling the cops to the scene won't prove much, and it can sometimes hurt you if you say the wrong thing to the investigating officer or fire department.
TIP: Attempt to obtain contact info from any percipient or eyewitnesses. Use your smartphone to snap photographic images of the accident scene and damage to the vehicles and people involved. And never say it was your fault!
To recap, the risks of death or severe injuries in T-bone side-impact accidents are statistically more significant than in other roadway accidents. For example, when someone gets hit in their rear bumper, the vehicle occupants have a cushion of steel and crumple zones like a trunk.
And if you have a rear-engined vehicle, you also have that additional barrier to provide protection against a personal injury. However, you don't have all that protection from a personal injury accident in a broadside impact. All you have is a metal door and windows in that case.
Schedule a Free Consultation With A Side Impact Car Crash Lawyer In Los Angeles Today
So don't hesitate to contact us for a free case consultation any time of day or night, 24-7, and discover your rights from a top-rated Los Angeles T-Bone accident lawyer at (213) 596-9642. Feel free to use our website contact form for online service today. An aggressive personal injury attorney is waiting to assist you in understanding your rights, duties, and obligations after all Los Angeles, California T-Bone crashes.
Michael Ehline is an inactive U.S. Marine and world-famous legal historian. Michael helped draft the Cruise Ship Safety Act and has won some of U.S. history's largest motorcycle accident settlements. Together with his legal team, Michael and the Ehline Law Firm collect damages on behalf of clients.
We pride ourselves on being available to answer your most pressing and difficult questions 24/7. We are proud sponsors of the Paul Ehline Memorial Motorcycle Ride and a Service Disabled Veteran Operated Business. (SDVOB.) We are ready to fight.