If we don't win, you don't pay.
Speak to the Attorney.
Born to serve.
633 W 5th Street #2890
Los Angeles, CA 90071
(213) 596-9642.
2323 S. Voss Rd, Suite 244
Houston, TX 77057
(832) 592-1260.
Date Modified: March 19, 2023
GET A FREE-ANGLE ACCIDENT CONSULTATION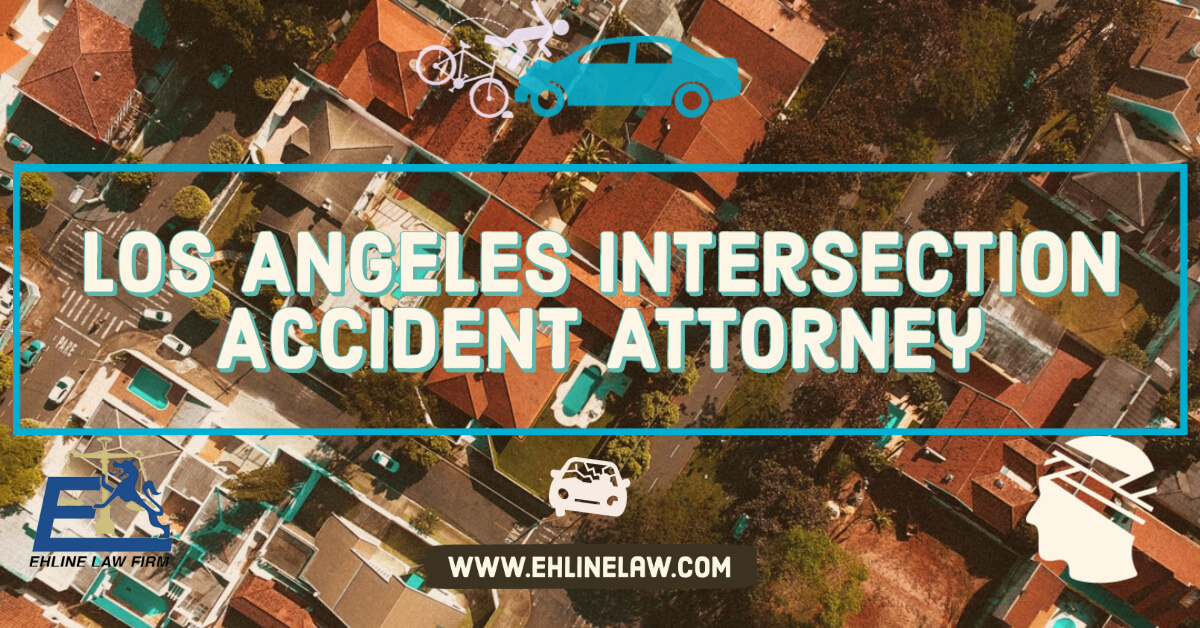 Have you or your loved ones suffered a severe injury during a Los Angeles car accident at a red light, stop sign, or green or yellow light? Did your primary wage earner suffer a wrongful death during an intersection accident? If so, these seriously injured survivors may be entitled to seek personal injury compensation.
Our Los Angeles auto accident attorneys help seriously injured victims win all sorts of intersection accident court and insurance claims. Intersections are the at-grade junctions where most traffic accidents occur. Los Angeles has some of the most dangerous roads and intersections in the United States.
Modernly, these types of roadway collisions compose almost 40% of U.S. annual vehicle accidents. Typically, another vehicle will collide with the front or rear quarter panel or your vehicle's front or rear doors. Most of our accident claims will involve collisions occurring at yellow signals phasing to a red light. If you have driven in L.A., you also know that many aggressive motorists running behind think they can speed through a traffic intersection to beat a yellow light and avoid an auto accident. Also, many children get run over at stop signs in school zone crosswalks by speeders, drunks, and inattentive drivers.
Adding to your commuting frustration, for example, not all four-way stops and traffic intersections are controlled by a traffic signal phasing from yellow to red to green. You may have noticed signal phasing problems giving other oncoming drivers the green light. Also, some stop signs might be poorly lit, missing, or faded.
What you do the first 24 hours of crashing your car at an intersection will be decisive.
You or your loved one could obtain an award similar to a windfall or collect zero damages award at all for your auto accident.
We understand the devastating effects of a car accident.
Our Los Angeles personal injury attorney offers victims a free consultation. After we attentively listen to your problems. Once you hire our winning team of paralegals and attorneys, you will have experts helping you. We have the know-how to deal with these situations and other personal injury claims.
Why Should I Hire Los Angeles Intersection Accident, Lawyers?
Victims seriously injured in an intersection auto collision must seek legal advice before assuming the other side will be responsible for covering severe injury and wrongful death consequences. However, most of the time, you will battle tooth and nail just to get adequate property damage coverage, let alone money for your medical expenses and time off work.
---
Our Unmatched Reputation As Intersection Accident Lawyers
We are known and respected by courts and insurance companies for honesty, promptness, and fair dealing.
We have assisted thousands of individuals seeking legal advice in civil negligence cases.
We have a proven track record of success as one of the best personal injury attorneys in Los Angeles.
We are recognized as consumer rights lawyers in LA Times, Newsweek Magazine, and CNN.
We have a tradition of giving back, lobbying both congress houses, and drafting legislation pro bono as a charitable contribution.
Our charismatic listening team has over 15 years of legal experience.
We have won happy clients $150 million in insurance settlements and verdicts.
We have over 15 convenient, local California offices from San Diego, Orange County, San Bernardino, Riverside, Fresno, San Francisco, and Sacramento.
---
Here is What Great Car Accident Lawyers Know!
You must meet your "preponderance of the evidence" burden of proof. You must establish a 51% or more likely that your version or recollection or that of your expert witness is correct. Since you are not a trained trial attorney, you don't know the evidence and procedure rules. Your lack of legal experts will make it extremely difficult to convince an adjuster or jury to follow instructions.
Unless you (or your personal injury attorney) takes the necessary steps to build your accident case, you could lose out on total compensation. Our experienced Los Angeles intersection accident attorneys have insider, winning knowledge. We make it happen for you!
---
A Well Trained Car Accident Lawyer Knows You Must Seek Out Evidence Because:
The insurance company is not your friend: Contrary to what an insurance adjuster may tell you, to prevail, you must show it's more likely than not that the other car ran through the intersection unlawfully. To do that, you'll need some evidence establishing the plaintiff's obligatory burden of proof.
The Other Driver Will Probably Lie: After the other driver speaks to their insurance agent, they will typically finger you as the at-fault party, even if they previously admitted fault.
The Insurance Company Will Probably Refuse Liability Acceptance: Because the other driver now has amnesia or a false version of events, their insurance company will refuse to accept compensation responsibility until you establish legal liability.
The Cops May Blame YOU: If no witnesses perceived or saw the accident occur, and both drivers say the yellow or green light favored them, the LAPD or CHP might place both parties at fault! Because of this, the law-abiding driver will become hard-pressed to convince a well-trained insurance adjuster they should pay your bodily injury claim.
So how do you deal with a liar or someone who "misremembered?" How, for example, does a motorcycle accident attorney win a case when biased police officers wrongly placed them at fault for the traffic wreck? How can a lawyer help this victim receive monetary damages? Our job is to convince the insurance company that a jury will believe it's more likely than not the other party caused the accident.
---
Our Superior Intersection Accident Lawyers Will:
Michael Ehline is an inactive U.S. Marine and world-famous legal historian. Michael helped draft the Cruise Ship Safety Act and has won some of U.S. history's largest motorcycle accident settlements. Together with his legal team, Michael and the Ehline Law Firm collect damages on behalf of clients.
We pride ourselves on being available to answer your most pressing and difficult questions 24/7. We are proud sponsors of the Paul Ehline Memorial Motorcycle Ride and a Service Disabled Veteran Operated Business. (SDVOB.) We are ready to fight.