If we don't win, you don't pay.
Speak to the Attorney.
Born to serve.
633 W 5th Street #2890
Los Angeles, CA 90071
(213) 596-9642.
2323 S. Voss Rd, Suite 244
Houston, TX 77057
(832) 592-1260.
Date Modified: August 18, 2023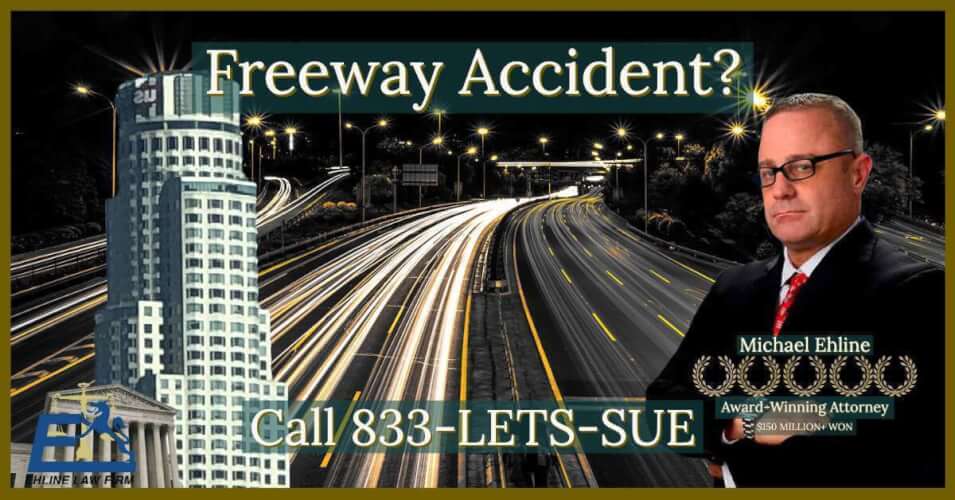 Also known as the Topanga Canyon Boulevard, the SR-27 in California starts at the SR-1 near Pacific Palisades and travels up north, passing through the Topanga State Park. After crossing the state park, the SR-1 provides routes to Fernwood, Glenview, and a couple more locations. The route travels through the San Fernando Valley before entering Woodland Hills and ending at Chatsworth.
You Don't Have to Fight the Insurance Company After Car Accidents
According to the California Department of Transportation, part of the route that goes through Topanga State Park is officially a designated scenic highway.
The SR-27 not only provides access to tourist destinations for tourists but is also the main route that allows commuters to travel to Santa Monica or join the interstate-10. As a result, the nearly 20 miles of SR-27 are heavily traveled, posing a challenge to commuters and drivers on the route.
Los Angeles Car accidents on the SR-27
Multi-vehicle Crash in Chatsworth
On January 3, 2019, a deadly multi-vehicle crash happened on Topanga Canyon Boulevard at 10:50 AM. The motor vehicle accident left one person injured, and one died at the scene of the accident.
The Los Angeles Police Department was quick to respond to the emergency calls and immediately took control of the disrupted traffic in the area. The injured got sent to a nearby hospital while the vehicles were removed to allow a free traffic flow.
Heinous Hit-and-Run
On March 3, 2021, a female pedestrian was run over by a speeding vehicle along Topanga Canyon Boulevard in a hit-and-run car accident, leaving her dead. Initially, not much information was available about the accident since it occurred on a dark stretch of SR-27.
However, upon further investigation, the suspect vehicle was discovered just south of Woodland Hills one week after the incident. The California Highway Patrol led the investigation and asked the local community to help in the effort to identify the negligent driver.
Crash in Canoga Park
On July 1, 2021, a traffic collision occurred on North Topanga Canyon Boulevard, leaving one of the victims dead in Canoga Park. The surviving driver of the collision was immediately rushed to a nearby medical center to treat his non-threatening injuries.
A Pursuit Turned Standoff
On February 4, 2021, a police pursuit began to chase and capture an assaulted driver with a deadly weapon. The black sedan was speeding down Topanga Canyon Boulevard, driving recklessly, crossing from one lane to the other, causing considerable property damage and risk to others around him.
The police vehicles followed closely behind. The pursuit ended when the dangerous driver decided to go off-road and through a fence along Ventura Boulevard in Woodland Hills. However, the black sedan ended up getting stuck in soft dirt.
The driver remained in the vehicle and started a stand-off, communicating with the Los Angeles Police Department through a phone. After a while, the driver got out of the sedan and started running up the hill, but it was too late as the police K-9 unit took control of the situation.
Initial investigations suggested that the driver could be on narcotics, impairing his decision-making and leading to chaos.
Car Accident Injuries on the SR-27
Many types of auto accidents can occur on the SR-27, causing various types of injuries to victims. Major injuries require immediate medical attention to avoid any further complications. Treating serious injuries from a car accident can take a financial toll on the car accident victim, and having our qualified auto accident attorneys on your side can ensure a smooth car accident claims process.
Here are some of the most common car accident injuries that can happen on a state highway like the SR-27:
Shoulder and arm injuries
Getting treatment for your injuries can be stressful, and having the insurance company call you constantly can further add to the stress. Hiring an experienced lawyer can help with your car accident case while you take time to recover.
Can a Car Accident Lawyer Help File Your Claims?
Many people have this misconception that you need a lawyer to file claims. That is not correct, as you can file claims without the assistance of a lawyer; however, you may not receive the desired outcome. In the majority of the cases we have seen, insurers reject claims without a proper reason or use delay tactics to buy time. Having a strong law firm like Ehline Law behind your back can decrease the chances of rejection and expedite the claims process.
A lawyer with experience in taking cases to trial can work to your advantage. Insurance companies do not like to attract bad publicity and would rather settle a case than go to trial. Having an experienced lawyer can add a lot of weight to personal injury cases. With medical bills stacking up, it is best not to take the chance of filing claims yourself and let our personal injury law firm handle it.
How Can an Auto Accident Attorney Help with Your Personal Injury Case?
Our auto accident lawyers can help investigate the accident site, gather evidence, file claims, and negotiate with insurance companies. Insurers will most likely give you a low settlement offer, and it may seem tempting to accept any amount at this stage, but victims often regret that decision. Once a car accident victim accepts any offer from the insurance company, they let go of their right to file any further action and demand more money at a later stage.
Our attorneys are experts in determining the value of your claims by taking into consideration medical bills, lost income, and other damages. Our car accident lawyer can negotiate with the insurers on your behalf to get you the compensation you need to pay for your loss. We have helped more than 3,000 injured victims get financial compensation for their damages, so let us help protect your rights too.
Contact Our Car Accident Attorneys Today!
If you got into a car crash that was not your fault, contact us at (213) 596-9642 and get a free consultation with our car accident attorneys today. You can even visit our 15 law locations across California for a quick case evaluation. Contact us now for more information and learn from a supremely talented and experienced freeway accident expert about your rights to public justice.
Other California Freeway and Interstate Accidents
Michael Ehline is an inactive U.S. Marine and world-famous legal historian. Michael helped draft the Cruise Ship Safety Act and has won some of U.S. history's largest motorcycle accident settlements. Together with his legal team, Michael and the Ehline Law Firm collect damages on behalf of clients.
We pride ourselves on being available to answer your most pressing and difficult questions 24/7. We are proud sponsors of the Paul Ehline Memorial Motorcycle Ride and a Service Disabled Veteran Operated Business. (SDVOB.) We are ready to fight.