If we don't win, you don't pay.
Speak to the Attorney.
Born to serve.
633 W 5th Street #2890
Los Angeles, CA 90071
(213) 596-9642.
2323 S. Voss Rd, Suite 244
Houston, TX 77057
(832) 592-1260.
Date Modified: March 21, 2023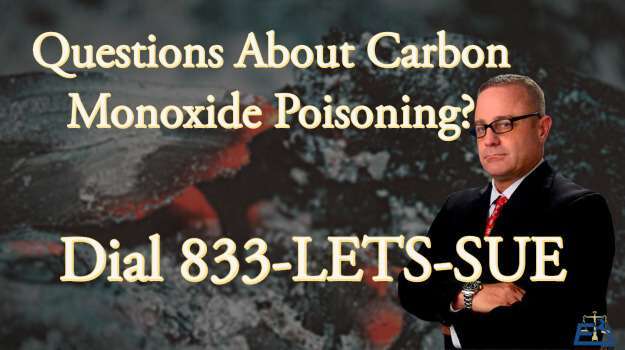 The American Council on Science and Health reported carbon monoxide poisoning as the 4th leading cause of death in the United States. Accidental carbon monoxide poisoning sends more than 50,000 citizens to the emergency room, requiring immediate medical treatment, and around 430 people lose their lives.
The tragedy lies in the fact that such poisoning is easily avoidable by adopting the best practices in the industry and maintaining high safety standards, such as installing carbon monoxide detectors. Our highly successful, caring Los Angeles burn injury attorneys wrote this article to help people like you bring a successful carbon monoxide poisoning lawsuit.
Common Causes of Carbon Monoxide Poisoning
Each individual case differs. Inhaling carbon monoxide fumes in areas without proper ventilation can put one's life in danger. It is highly poisonous, toxic, and has properties that make it hard for individuals to ascertain whether it is carbon monoxide. Carbon monoxide is tasteless and does not have a smell or color. When they occur, an accident will create a hazardous situation making it difficult to take a breath, flu symptoms, serious injuries, or immediate loss of consciousness / wrongful death.
Failure to Install or Maintain a Carbon Monoxide Detector
Without a doubt, our Los Angeles personal injury attorneys know that failing to install carbon monoxide detectors is likely the most significant reason people get hurt. Below, our legal team will look at other ways CO can harm a body or kill a person injured in odorless poison accidents.
Here are some of the following circumstances that can lead a suffering person to develop carbon monoxide poisoning:
Fire and organically burned material, including wood, coal, charcoal, or kerosene campfire fuels
Smoking tobacco
Vehicle exhaust from gasoline-powered internal combustion engines, including idling automobiles, Boat engines, boat engines, portable generators, power mowers, leaf blowers, and waterpower washers.
Malfunctioning heating furnaces, fireplaces, and home appliances
Wildfire
Car Accident
Natural gas leaks or another fuel leak incident at a vulnerable home, hotel, condominium, apartment, motel, or a Los Angeles business
And more.
Carbon Monoxide Poisoning Symptoms
Since carbon monoxide is a tasteless, odorless, colorless gas no taste, poisoned individuals may find it difficult to understand that they're inhaling fumes until it is too late. This is why many miners used a canary to look out for carbon monoxide poisoning symptoms during mining operations. The bird is small, so it dies first, giving workers a chance to escape. They do this to make sure they can get themselves to the hospital for treatment as soon as possible.
Some of the symptoms of carbon monoxide poisoning include headache, chest pain, confusion, dizziness, depression, vomiting, seizures, cognitive problems, blurriness, strange sleeping patterns, and many others. We help the survivors recover compensation.
Can You Get Any Injuries from Carbon Monoxide Poisoning?
Carbon monoxide poisoning is highly deadly to humans in copious amounts. Since one can not visually detect carbon monoxide leaks, inhaling carbon monoxide fumes can damage the brain and tissue. This exposure can lead to long-term memory issues, cognitive function disability, and other brain-related problems.
Since carbon monoxide poisoning is a slow death, homeowners and others who are not careful of the symptoms end up dying, never knowing they suffered carbon monoxide poisoning.
How to Treat Carbon Monoxide Poisoning?
The CDC, or Center for Disease Control, reports more than 2 million calls from concerned residents, in many cases, inquiring about poisoning and carbon monoxide poisoning. Although the United States records more than 50,000 carbon monoxide poisoning cases each year, this number does not consider all who choose to get treated at home rather than go to a hospital.
Can a victim treat carbon monoxide poisoning at home? Victims can receive treatment at home, but it all depends on the severity of the poisoning. In mild cases, victims can stay outside the property in the open air and continue to breathe in fresh air for a while. The fresh air adds more oxygen to the bloodstream diluting any carbon monoxide and minimizing its harmful effects.
Hospitals put victims in oxygen tanks with high oxygen concentrations to treat severe carbon monoxide poisoning to bring blood levels back to normal. People with oxygen tanks at their homes can technically conduct treatments there instead of the hospital. However, self-treatment remains dangerous. Hence, professional physicians advise victims to seek medical attention immediately in more severe poisoning cases. This is because you may require different treatments if exposure to monoxide or carbon monoxide poisoning turns complicated.
How to Prevent Carbon Monoxide Poisoning?
Since many carbon monoxide poisoning incidents can result from malfunctioning heating appliances in homes, industries, and offices, reports suggest that it is the month of January when the carbon monoxide poisoning cases reach their all-time high due to severe cold.
Here are a few tips our law firm says you can follow to prevent carbon monoxide poisoning:
Maintain your heating appliances, from heaters to boilers, by hiring qualified professional technicians to ensure no leaks or defects with the equipment.
Carbon monoxide is impossible to detect by a human nose, so install a carbon monoxide detector on every floor or in rooms where there is a high risk for carbon monoxide leaks.
When using a generator, wooden stove, or any other outdoor equipment, keep it away from any open windows and keep it outside your home premises.
Do not let your car idle in the garage during the winter months, even if you keep the garage door open.
Carbon Monoxide Detectors Are Compulsory in California
The California Legislature passed the Carbon Monoxide Poisoning Prevention Act in 2010 to prevent exposure to carbon monoxide and even death. The Act requires property owners to install carbon monoxide detectors (in homes, apartments, offices, hotels, and more). Having a carbon monoxide detector installed can help people avoid carbon monoxide exposure.
As of 2011, California state law requires that any multiple-unit building, including single dwelling units and single-family homes with wood heaters, water heaters, attached garages, and heating appliances, be fitted with carbon monoxide alarms to avoid any injuries.
Should You Pursue Legal Action Against Property Owners for CO Poisoning?
CO poisoning is highly dangerous, and even deadly, to pregnant women, children, and workers exposed to such environments. These are the largest groups of people contributing to the annual carbon monoxide cases in the United States.
Carbon monoxide can affect one's way of life, from high medical bills to long-term disabilities or breathing issues, and the victim should pursue legal action against the negligent party. We recommend holding responsible parties accountable for their negligence as you shouldn't be the one to shoulder the financial and social burden of this type of poisoning.
Can You File a Lawsuit for CO Poisoning?
Have you suffered injuries from someone else's negligence at lodging houses, duplexes, or a single-family dwelling related to carbon monoxide? Since the Carbon Monoxide Poisoning Prevention Act 2010 has been in place, victims of CO poisoning can hold the responsible owners of the property liable if the CO detectors malfunctioned, no detectors were operable or installed at the time of the personal injury.
Call our Los Angeles office today at (213) 596-9642. You might be eligible to file claims against a landlord for a tenant's injuries for CO poisoning. You may even have a defective product case if a CO detector fails in your case. Potential compensation may include your medical treatment costs and, in some instances, even more than that. Individuals can also pursue compensation for punitive damages in severe cases.
They can also recover damages for emotional trauma, loss of life, lost income, and many other financial and non-financial damages. Potential new clients must seek legal advice from our Los Angeles law office to determine if they have a genuine case and determine the value of compensation and who can be held liable to pay compensation for the dangers the injured victims had to face.
Who Should You File a Lawsuit Against?
Suppose you've gotten CO poisoning from a malfunctioned heater unit or any other home appliance. In that case, you can file a lawsuit against the manufacturer as long as you qualify under the product liability law. For that, you need an excellent CO poisoning lawyer to help read the equipment's terms and conditions and see if you are eligible for it.
If you've gotten CO poisoning due to the lack of CO detectors or no detectors at all, you can file a lawsuit against the negligent party. However, filing lawsuits are never easy, and if you're going after any party, don't forget that they also might bring their lawyers into the mix, which can further complicate things if you're on your own.
Should You Get a Top California Carbon Monoxide Lawyer for Claims?
To file claims and seek compensation following carbon monoxide exposure, here are the most important things that you should take note of:
Duty of care
Breach of duty of care
Causation and damages
To file a lawsuit or claim, one must prove that there was a duty of care towards the plaintiff by the defendant. Once that is established, the plaintiff must prove that the defendant breached that duty of care either by pure negligence or specific actions. A plaintiff must also show that the breach of duty of care led to the plaintiff incurring damages, which can be from medical reports, loss of income, and other documents/evidence.
Benefits of a Carbon Monoxide Lawyer
You do not need a lawyer to file claims, but doing it yourself in most cases results in dismissing a claim. The insurer needs the smallest of reasons to deny claims, including overstated claims value, missing documents, errors on a claims form, and so on.
Having our Los Angeles carbon monoxide poisoning lawyer look into your claims is a great way to ensure that you comply with the insurer's terms and conditions, avoiding any chances of claims dismissal.
The lawyers at our law firm will help investigate your case, establish a breach of duty of care, collect evidence and documents, and pursue the case until you get the compensation you deserve, including lost wages, etc. We will also protect the statute of limitations on your behalf to sue whoever caused or created your problem. We hope you enjoyed this article. So what's next on your road to justice?
Contact A Carbon Monoxide Attorney in Los Angeles For A Free Consultation!
Are you out of breath making calls, trying to obtain legal assistance by forming an attorney-client relationship? Schedule a free case review. Obtain a free case evaluation from our carbon monoxide poisoning lawyers today! We take the attorney-client relationship very seriously. Your free consultation can help everyone involved sue Los Angeles landlords and anyone else responsible. We can even sue a negligent employer for failing to keep you safe from fires, fumes, etc.
Our law firm understands nothing will undo the damages, but we can help you pursue and win the financial compensation you're entitled to. We'll provide you with objective guidance. Our experienced lawyers can force the property owner and insurance companies to help pay the bills. We can help resolve minor injuries or even a wrongful death lawsuit against all at-fault defendants.
Need to speak with us for more information? Our offices are based in more than 15 locations across California for your free case review! Our knowledgeable team can represent employees and fight for anyone who inhaled deadly toxins. If you or your loved one has suffered irreversible brain damage or severe injuries due to fossil fuel negligence, or a manufacturing defect in appliances, contact us at (213) 596-9642 or use our website form to obtain that free consultation today.
Citations:
Michael Ehline is an inactive U.S. Marine and world-famous legal historian. Michael helped draft the Cruise Ship Safety Act and has won some of U.S. history's largest motorcycle accident settlements. Together with his legal team, Michael and the Ehline Law Firm collect damages on behalf of clients.
We pride ourselves on being available to answer your most pressing and difficult questions 24/7. We are proud sponsors of the Paul Ehline Memorial Motorcycle Ride and a Service Disabled Veteran Operated Business. (SDVOB.) We are ready to fight.