If we don't win, you don't pay.
Speak to the Attorney.
Born to serve.
633 W 5th Street #2890
Los Angeles, CA 90071
(213) 596-9642.
Date Modified: November 2, 2022
Rollover accidents can be lethal. Those who survive these accidents are often left with serious injuries that can change their lives forever.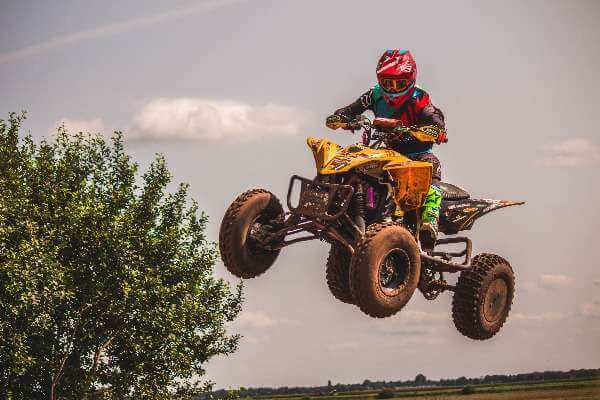 Yamaha ATV riders who have been involved in rollover crashes can hold the company liable for their damages by filing a personal injury claim.
Suppose you were involved in an ATV rollover accident in Los Angeles.
In that case, you should contact Ehline Law Firm to pursue compensation to cover your medical bills, lost wages, and pain and suffering.
At Ehline Law Firm in Los Angeles, we treat every client with the respect they deserve and pride ourselves on maintaining an excellent attorney-client relationship with every client who walks through our doors.
Contact Ehline Law Firm today to book your free consultation and learn how to receive compensation for the damages you suffered as a result of Yamaha's manufacturing defects.
Yamaha Rhino Manufacturing Defects
The Yamaha Rhino 450 and Rhino 660 ATVs were found to have manufacturing flaws that make them prone to rollover accidents.
The tires on both Yamaha Rhino ATV models are far too small for these top-heavy motor vehicles. As a result, both ATV vehicles are prone to rolling over at fair, moderate speeds.
Insufficient Leg Protection
With rollover incidents, the Yamaha Rhino does not have proper leg protection for the safety of motorists. Therefore, when these vehicles are involved in accidents, the results are often crushed ankles, legs, and feet. In some cases, these accidents have even resulted in fatalities.
The Consumer Product Safety Commission (CPSC) has investigated over 50 accidents that resulted in fatalities, including 46 passenger and driver deaths.
Yamaha Has Done Little to Solve the Problem
While Yamaha has taken measures to alert customers about the dangers they have identified, the information supplied to vehicle owners and the improvements Yamaha has supplied do not solve the fundamental design defects that have resulted in these injuries.
A Car Accident or ATV Accident Attorney Can Help
Suppose you have been involved in an ATV accident involving a Yamaha 450 or 660 Rhino. In that case, you should contact Ehline Law Firm in Los Angeles for a free consultation to determine how to pursue legal action against the vehicle manufacturer.
Because of the nature of these personal injury cases, they are more likely to be settled in court. Fortunately, our team of expert trial lawyers in Los Angeles can fight for accident victims in court for a favorable outcome.
What Is a Rollover Car Accident, and How Does It Compare to an ATV Accident?
A rollover accident occurs when a car tips over onto its side or rolls entirely over until it is upside down. In some circumstances, the vehicle could roll over several times before coming to a stop.
Rollover incidents are uncommon, according to the National Highway Traffic Safety Administration (NHTSA), contributing to approximately 2% of all car accidents in the United States.
They are a particularly lethal form of collision, accounting for roughly 35% of all traffic-related deaths. Rollover incidents can include one vehicle or many vehicles, and they claim the lives of more than 7,000 people every year.
ATV Rollovers
However, drivers of the Yamaha Rhino ATV 450 or 660 models are far more likely to be injured in a rollover accident because of their manufacturing defects. Additionally, unlike cars, ATVs provide little protection from impact, so more serious injuries will likely occur following a rollover accident.
Common Injuries Associated with Los Angeles ATV Accidents
Rollover accidents can lead to serious injuries, as the body can be crushed or flung around as the vehicle tips over to its side or onto its roof.
Below are some of the injuries that are common with ATV accidents.
Spinal cord injuries
Broken bones
Crushed legs
Amputations
Concussions
Head injuries
Internal organ damage
Permanent disability
Brain damage.
What Damages Can Accident Victims Claim?
Our ATV accident and trial lawyers in Los Angeles are familiar with the catastrophic effects of an ATV accident on a victim's life. The team works relentlessly to ensure that you receive the recompense you require to recover financially from the catastrophe.
We can help you negotiate a fair settlement with an insurance company and are not afraid to take on major corporations like Yamaha to hold them liable for your losses.
Although we are unable to help victims recover from an all-terrain vehicle accident, we can assist them in recovering the following losses (both past and future):
Lost wages
Medical expenses
Pain and suffering
Mental anguish
Job loss
Rehabilitation and physical therapy.
If you are suffering from these expenses and financial pressures, you can receive compensatory damages by filing a personal injury lawsuit.
In rare cases, victims may claim punitive damages. Law firms can advise you on how to claim these expenses if you were involved in a car accident or ATV accident that was not your fault.
Holding Yamaha Liable
When it became clear that individuals were being wounded and dying in rollover incidents involving their ATVs, Yamaha might have voluntarily recalled its Rhino ATVs.
After Yamaha's internal testing indicated the degree to which its ATVs were prone to rollovers, they could have made design changes. Sadly, the manufacturing giant made the decision to do neither.
There's also the question of whether Yamaha had access to data that would have enabled them to predict the associated risks of rollover incidents. Judging by their company documents and the opinion of some experts, they probably did. All manufacturers have a duty of care to their consumers.
This involves ensuring that their product does not cause harm or injury to them. Sadly, failing to take the appropriate measures indicates that Yamaha breached this duty of care and can be held accountable should someone be hurt as a result.
While recovering damages may not help you recover from your physical injuries, it can help to relieve the financial damages that a victim may have suffered because of the accident.
Safety Precautions You Can Take to Prevent ATV Rollover Accidents
When compared to expert drivers, young drivers have a substantially higher chance of personal injury or death while driving an ATV. Training courses are provided to assist in acquiring the skills necessary to operate these all-terrain vehicles successfully.
Drinking while intoxicated, traveling at night, riding on paved streets, and speeding increase the danger of serious injury or fatality for ATV riders.
However, knowing the appropriate measures to prevent an ATV rollover is key to successfully operating this vehicle.
Here are some of the precautions you can take to stay safe while riding an ATV:
Familiarize yourself with the vehicle
Receive training on how to operate the ATV
Inspect the all-terrain vehicle before you drive it
Do not allow passengers to get on with you.
Why You Should Choose Ehline Law Firm in Los Angeles
Choosing a law firm to represent you on a high-profile case can be difficult. If you are wondering why you should trust us with your Los Angeles ATV case, here are a few reasons to choose us:
• Ehline Law Firm has proudly accepted several awards and accolades. Among these are the Southern California Super Lawyers Rising Stars award and the Premier Personal Injury Attorneys award from Newsweek Magazine
We offer a 24/7 service line, so you can speak to an attorney whenever the need arises.
You can expect to receive personal attention.
Ehline Law attorneys work on a contingency fee basis, so they are only paid when they achieve a settlement award on your behalf.
Our team works with vehicle safety experts who are ready to help with your legal matter.
We have attained millions of dollars in settlements for clients over the years.
Lawyers at Ehline Law have some of the best lawyers in the country who work in many practice areas.
You can find some of the best lawyers near you. Our offices are situated around Los Angeles, so you never have to travel far to seek legal counsel.
Looking for Trial Lawyers to Take on Your Catastrophic ATV Case? Contact Us!
One of the most important steps is contacting a law firm whether you have been in a car or an ATV accident. At Ehline Law Firm, we provide legal representation for victims who were injured due to another person or entity's negligence.
We can help you gather all the relevant evidence to support your claim, including witness statements, police reports, medical reports, and vehicle safety reports. Our team can walk you through the claims process and support you in and out of court.
Contact us today to book your free consultation by calling (213) 596-9642 or completing the online form. We look forward to representing you!
Michael Ehline is an inactive U.S. Marine and world-famous legal historian. Michael helped draft the Cruise Ship Safety Act and has won some of U.S. history's largest motorcycle accident settlements. Together with his legal team, Michael and the Ehline Law Firm collect damages on behalf of clients.
We pride ourselves on being available to answer your most pressing and difficult questions 24/7. We are proud sponsors of the Paul Ehline Memorial Motorcycle Ride and a Service Disabled Veteran Operated Business. (SDVOB.) We are ready to fight.