If we don't win, you don't pay.
Speak to the Attorney.
Born to serve.
633 W 5th Street #2890
Los Angeles, CA 90071
(213) 596-9642.
Date Modified: March 24, 2023
Terrible Ankle Injury
The ankle can be one of the most sensitive parts of the body. Often, ankle injuries can be among the most numerous. When dealing with such a situation, you want to make sure that you have all of the resources you can at your disposal and continue with the standard functions of your life.
Below, personal injury lawyer Michael Ehline covers what injury victims need to know to get paid for injuries caused by another person or persons.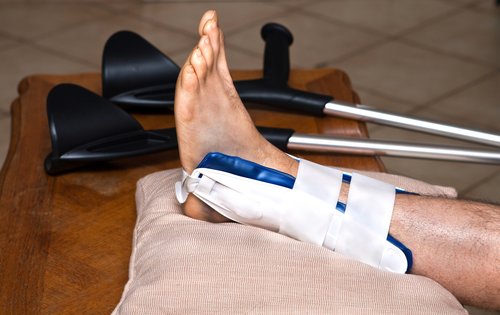 Causes are often less than spectacular. One of the lesser-known but still not uncommon causes of such injuries can be the type of footwear a person wears. In some cases, the ankle could have been severely hurt by negligence.
---
These include events such as:
The liquid left on floors
Slippery surfaces
Uneven pavement
Low lighting
Other cases exist, such as wrestling or non-consented to physical contact. These are all issues that could cause severe leg and foot injuries, including soft tissue and joints.
An ankle injury can be among the most debilitating of these avoidable injuries and can take place in many ways:
It could be a result of second or third parties and a consequence of a motor vehicle or motorcycle accident or even a pedestrian accident.
What About Ankle Compound Fractures?
An ankle compound fracture could completely disrupt your daily life. It could leave you unable to get to and from work, visit the family or carry out day-to-day activities.
In some cases, a severe enough injury can leave you permanently disabled. These go beyond only the physical wounds, as well.
Not traveling may lead to severe emotional trauma and even depression. Even if your ankle heals superficially, you could be facing years of physical therapy or arthritis.
Why is Ehline So Good At Ankle Injury Cases?
Our lead attorney, Michael Ehline, has the empathy and experience to ensure you have the best legal representation in Los Angeles. Ehline is a severe ankle injury victim and is a disabled veteran.
He has had to face the devastation of such a difficult time:
Mounting hospital bills
Collection agencies
Credit problems could compound such a situation.
We know that you were struggling.
Also, we are experts in dealing with ankle and amputation issues and want to be your partner. If you would like a free consultation, call us at (213) 596-9642. Let us help you as we have done for many of our clients.
The experienced broken foot injury lawyers at Ehline Law Firm will be there every step of the way for you. Their personal, hands-on approach applies no matter what the situation. Whether you face a broken foot, rolled ankle, sprained ankle, or fracture, we can help.
Also, our track record shows our clients have become justly compensated. Our aggressive efforts have gotten our partners millions in payouts, and we want to offer you the same.
How Can Ehline Law Firm Help With Specialized Equipment Injuries?
In some cases, users of specialized equipment can face injury. Sometimes these apparatuses are not adequately maintained. So that alone may lead to errors.
Exercise equipment, work, or workout shoes have all been cited as the cause of:
Multiple ankle fractures
Related ligament and tendon tears and rips.
Even specialized shoes, such as Sketchers toning shoes, can cause issues. These specially designed shoes were meant to be used for running and walking. But because these shoes create an uneven surface due to the design of the bottom of the sole, problems have been reported.
Soles are typically round and curving up at the heel and the toe. This makes it harder to walk. And this remains especially true when doing something strenuous like climbing a flight of stairs.
Reports are circulating that this has resulted in:
Torn ligaments
Ruptured tendons,
Head injuries of people that have fallen after catastrophic ankle injuries.
What About Loss Of Mobility Claims?
Losing your ability to get around can be one of the most challenging things to deal with. You live your life to be ambulatory, and any error that causes you to lose that can be devastating. The average person walks between 900 to 1,000 miles per year.
An injury to the feet or:
Astragalus
Talus, or
Tarsus
It can irreparably harm and adversely affect a person's life. Even injuries that are not as noticeable can have their toll. Injuries such as broken toes and strained muscles can cause severe damage to mobility.
A rolled ankle can become:
So this remains a serious issue. In other words, if you are due compensation, make sure that you have only the most trusted partner in your fight. As always, injury victims deserve justice.
What are Various Types of Ankle Fractures?
When an ankle breaks, it is possible for the bones to break in one or more parts. Ankle joints connect the two bones where your calf muscles and the top of your foot join the lower portion of the thigh and leg areas. This area is called the tibia and fibular.
What Ankle Parts Become Harmed When You Snap or Sprain Your Ankle?
The medial malleolus (or end of the tibia)
The lateral malleolus (the very tip of the fibula)
The distal posterior aspect of the tibia is all affected negatively.
Types of fractures include:
The bimalleolar fracture (also known as a "Pott's fracture"). This fracture type is a break at the lateral and medial malleolus. Bimalleolar fractures are at the lower end of the tragic scale since they are less likely to strike a victim with painful arthritis discomfort.
Bursitis or arthritis in the affected joint is a possible outcome of trimalleolar fractures. This type of fracture (also known as a Cotton fracture) embodies a break of all three ankle bones. Surgery and physical therapy often follow this kind of wound.
What Are Some Symptoms of Ankle Injuries?
Perhaps you feel something in your ankle or lower leg that feels like a bruise. Sometimes the injured area hurts to the touch or turns black and blue and swells. Standing or balancing on the injured area may be impossible, severely impacting your mobility.
Walking without a mobile assisting device, like a cane or walker, can be severely inhibited. As you visit a doctor to find out what might be wrong, the answer may be shocking. It could be a tear or a bad sprain. Sprains can get somber. They could put people out of work. Your body could be coping with "reactionary pain."
If your pain does not disappear, it may not just be a minor injury. It could be something that carries with you for a long time. If the pain does not go away, and you still face being unable to walk or balance, you need to know your options. It could require significant and potentially expensive medical care.
How Do You Recover From a Severe Broken Ankle Injury?
Recovery from such an event can be a lengthy and challenging process.
Once injured, you get stabilized and go to the ER. Afterward, you are released.
Then you will attend follow-up meetings with your doctor. So that way, you can have MRIs, X-Rays, CT Scans, and other relevant documentation.
After diagnosis by a doctor, prescriptions for different therapies are administered. But this depends on the circumstances.
The bone separation patterns and overall condition of the broken and damaged area will be very informative to a doctor who needs to determine a medically necessary course of action.
The images of your ankle may be calling out for surgery. If you need an operation, it is typical to align bones. So titanium screws align bones together.
After surgery:
Patients remain wheelchair-bound in a body cast, a dangling bed cast, a splint, crutches, or other medical devices.
Recovery periods can be lengthy and not consistently entirely successful.
This should not mean that you are entirely out of commission.
Patients may become addicted to painkillers, gain weight, and suffer from depression.
Sometimes, surgery and infections can kill a loved one as they were in the recovery process. If that happened to you, our top Los Angeles wrongful death attorney is standing by to take your important call! Or fill out our contact form today.
What About Elderly Folks and Broken Ankles?
In seniors, a broken ankle can mean an early end to simple walks in the park and permanent disability. Most of all, this is a severe injury. As such, it requires effective legal advocates who understand the difficulty of a lifelong disability.
Why Not Contact Us Now for Your Broken Ankle Compensation?
Let us help you collect medical expenses, money for surgery, rehab, prescription meds, and sessions with your doctor. Also, getting lost wages is part of what we do. So this means we go after past, present, or future, pain and suffering.
Also, we seek out money for other related harm. We have the experience and determination to collect from whoever caused this situation.
Contact us today for a free legal consultation from a broken ankle and foot injury attorney at (213) 596-9642. Ehline Law Firm Los Angeles personal injury attorneys are waiting for your call.
Other Catastrophic Injuries We Litigate and Settle?
Brain injuries
Spine Injuries
Smoke Inhalation
Bedsores
Drowning injuries
Wrongful death
Dog bite
Michael Ehline is an inactive U.S. Marine and world-famous legal historian. Michael helped draft the Cruise Ship Safety Act and has won some of U.S. history's largest motorcycle accident settlements. Together with his legal team, Michael and the Ehline Law Firm collect damages on behalf of clients.
We pride ourselves on being available to answer your most pressing and difficult questions 24/7. We are proud sponsors of the Paul Ehline Memorial Motorcycle Ride and a Service Disabled Veteran Operated Business. (SDVOB.) We are ready to fight.