If we don't win, you don't pay.
Speak to the Attorney.
Born to serve.
633 W 5th Street #2890
Los Angeles, CA 90071
(213) 596-9642.
2323 S. Voss Rd, Suite 244
Houston, TX 77057
(832) 592-1260.
Date Modified: October 17, 2023
Premises liability claims can happen in places we least expect. In-N-Out Burger is among California's most loved fast-food restaurants and is most likely busy during business hours. Its secret menu, including the option to order a burger "protein style" (lettuce leaves and no bun), isn't a secret, but Los Angeles personal injury lawyer Michael Ehline, Esq., says it helps with his fitness in keeping carbs down while training weights to stay lean. Even top chefs like Gordon Ramsay (who also lifts weights), David Chang, and Thomas Keller love the secret menu.
This fast food company offers what many describe as a simple menu with options like a fresh Double Double that everyone loves. Getting an In-N-Out Burger is a treat for some, while others call it routinely. Like any other fast-food restaurant, guests who enter the premises for good food can quickly find themselves injured in an accident in the parking lot, drive-thru line, or on a slippery floor inside the diner. In-N-Out Burgers is also one of those fast-food restaurants characterized by its lengthy and congested drive-thru line.
Were you or a member of your family injured in a slip-and-fall accident on the premises of an In-N-Out Restaurant location? If so, you might have grounds to file an injury claim against the restaurant. If you are interested in learning more about your right to file a lawsuit, do not hesitate to contact the experts at our law firm as soon as possible. Whether you are waiting in the drive-thru for your order or parking on site and walking into the restaurant, you could potentially be at risk of suffering harm – explicitly in a car or pedestrian accident.
You may be eligible to pursue legal action if you or a family member have experienced harm while at In-N-Out Burgers. To gain insight into your legal rights and available options, we encourage you to seek legal guidance from our seasoned professionals promptly.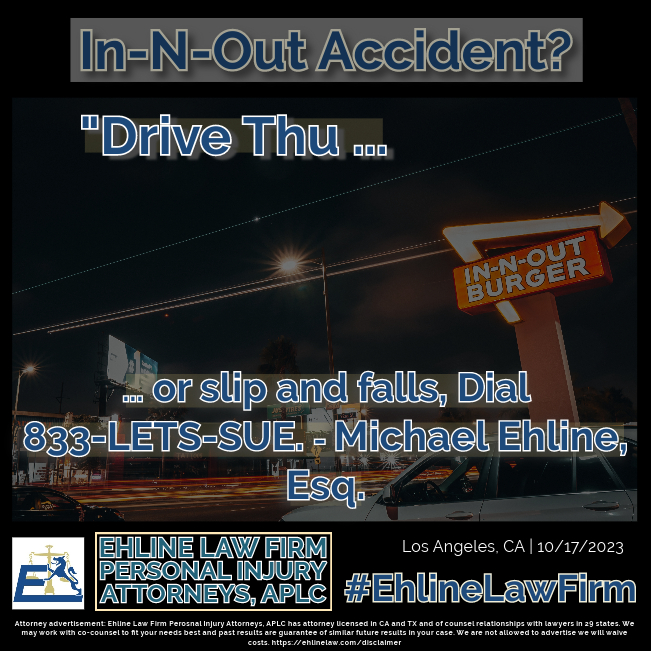 At Ehline Law Firm, our experts have decades of experience handling diverse personal injury claims. Our expertise comes in handy when advocating for the interests of victims and their families. Whether related to car accidents or pedestrian incidents, we stand prepared to confront entities like In-N-Out Burger to safeguard our clients' rights. We are experts at pursuing legal claims against Southern California quick-services chains.
If you are prepared to engage with our legal team, we invite you to contact us today for a free consultation at (213) 596-9642.
Causes of Car Accidents at In-N-Out Burger Parking Lots and Drive-Thrus
Car accidents frequently occur in In-N-Out Burger parking lots and drive-thrus for various reasons.
These include:
Distracted Driving: Prolonged wait times in the drive-thru can lead to distracted driving, as drivers use devices or engage in other vehicle activities.
Tailgating and Abrupt Stops: Following vehicles too closely or making sudden stops in the drive-thru lane can result in collisions.
Speeding in Parking Lots: Some drivers may exceed safe speeds to secure a parking spot, increasing the risk of accidents.
Aggressive Driving: Aggressive driving behaviors in parking lots, such as rapid maneuvers, can lead to accidents.
Failure to Yield: Accidents may occur when drivers fail to yield the right of way in parking lots and the drive-thru.
Causes of Pedestrian Accidents in Parking Lots and Drive-Thrus
Whether individuals are arriving at the restaurant on foot or parking their cars and walking to the establishment, they often need to navigate near vehicles.
Pedestrian accidents can result from factors including:
Speeding Drivers: Vehicles moving at excessive speeds within the parking area pose risks to pedestrians.
Distracted Drivers: Drivers preoccupied with distractions may not be attentive to pedestrians.
Failure to Yield: Accidents can occur when drivers neglect to yield to pedestrians.
Distracted Pedestrians: Pedestrians engaged in distractions may not be fully aware of their surroundings.
So, for example, if evidence exists that In-N-Out was on notice customers regularly made illegal turns around a raised median at the drive-thru, their failure to place warning signs against such a maneuver could fall under negligence if there is an accident. Does that make sense? Imagine the damage a motorcyclist could suffer in such a case.
Here's another example. Imagine a location in a high crime area with prior hit-and-run accidents in the parking lot. What if a person slams their car into an occupied restaurant? Sure, the autoist would charged with attempted murder. But what about the failure to install safety pylons after being on notice of the dangers of cars running a crowd of people over, both inside and outside? This may be partially the fault of responsible In-N-Out management.
Ehline Law Firm is a seasoned personal injury law firm with extensive experience handling various injury claims, including those stemming from incidents at fast-food restaurant premises. Our legal team is well-prepared to assist you in pursuing legal action against In-N-Out for any harm resulting from a slip and fall accident. If you are prepared to explore your right to file a lawsuit, we encourage you to contact our expert attorneys today. Our president, Michael Ehline, is ready to help you preserve and build the value of your injury claims throughout America.
Common Causes of Slip and Fall Incidents at In-N-Out Burger Restaurants
Slip and fall accidents represent one of the most prevalent forms of personal injury incidents. The likelihood of such accidents is influenced by factors including the presence of wet surfaces, uneven ground, appropriate signage, and maintenance practices. Remarkably, the prospect of a personal injury claim at this fast-food establishment is as probable as encountering a slip and fall incident in a shopping mall or hotel, if not more so. New restaurants are growing fast, especially in Baldwin Park and Las Vegas, Nevada.
These accidents can manifest whenever slip-related risks exist across the premises.
Some of the most frequent slip hazards contributing to slip and fall accidents encompass:
Wet floors from dropped, greasy french fries and spills near the soda dispenser
Recently cleaned or waxed floors
Absent or incorrectly positioned caution signs
Misplaced or absent weather mats
Spills of condiments, beverages, liquids, and more
Leaks from refrigeration units, air conditioners, ice machines, and the like
Littered floors.
Anything as innocuous as a melting ice fragment or a fallen tomato slice can swiftly lead to a slip-and-fall accident, often resulting in severe injuries for the affected parties.
Common Injuries Resulting from Slip and Fall Accident/Drive Up Incident
Victims on In-N-Out premises may experience significant injuries, including but not limited to:
Burn Injuries (they have served hot coffee and hot chocolate since 2018)
Head Injuries
Traumatic Brain Injuries
Neck Injuries
Back Injuries
Spinal Cord Injuries
Knee Injuries
Hip Injuries
Fractures
Nerve Damage
Ligament Damage
Sprains and Strains
Scrapes and Bruises
Road Rash.
Despite some of these injuries appearing minor, some may carry the potential for severe consequences, including fatality. Irrespective of the harm you or a family member sustained, you might have legal grounds to pursue a lawsuit, seeking potential monetary compensation.
Understanding Your Legal Right to Take Action Against Fast Food Restaurants
Is initiating legal proceedings against In-N-Out Burger for injuries you or a family member sustained on their premises possible? Yes, you may have the opportunity to bring a lawsuit against In-N-Out Burger for a slip and fall accident, parking lot incident, etc.
This right is grounded in the principle of premises liability. This legal concept asserts that property owners must exercise reasonable care toward visitors. Property owners must maintain a safe environment for guests and even trespassers. This means they must seek out and identify potential hazards to try and prevent accidents. When property owners breach their obligation of care, this can expose their guests to potential harm, and it often does.
When a guest suffers an injury due to a breach of this duty, the property can be held accountable under tort law. So, for example, let's say a customer spilled some Coke near the soda dispensers. The plaintiff walks over to refill their cup and slips, blowing out a vertebrae or a disc. That is more your classic slip-and-fall accident. If not but for the failure of In-N-Out to inspect, mop up, or use no-slip mats, the plaintiff would not have slipped.
If your injury was due to a clear breach of the duty of care or the negligent conduct of the property owner, they can be held liable as a negligent party. In practical terms, if you sustained an injury on In-N-Out Burger's premises, you can seek compensation against In-N-Out Burger to get reimbursed for emotional distress, medical treatment, etc. We encourage you to hire counsel swiftly for comprehensive insights into your right to pursue legal action in Southern California. The legal guidance from the seasoned professionals at Ehline Law Firm is considered second to none by many experts.
We offer a free consultation to assist victims in dealing with mental anguish and trying to get back on their feet. After our talk, customers will understand your legal options under California negligence law. After so many years in practice, we know we can win any case with the right facts and the right client. We stand ready to fight on your behalf and engage in advanced case development using cutting edge technology to maximize your future verdict or settlement.
Recovering Compensation From In-N-Out Burger
Depending on the particulars of your case, you may have the opportunity to obtain financial compensation for the injuries you or a family member suffered. In fact, with the guidance of an In-N-Out Burger accident attorney, you may be able to secure substantial compensation for the harm stemming from the incident that occurred on In-N-Out Burger premises. What forms of compensation could you potentially recover?
These may encompass various categories, such as:
Medical Expenses
Lost Income
Pain and Suffering
Loss of Consortium
Funeral and Burial Expenses
Property Damages
Punitive Damages
Legal Costs.
The specific nature and extent of compensation you may be entitled to will always be contingent on your claim's circumstances. Therefore, your best course of action is to seek legal counsel to gain further insights into the potential recovery related to your In-N-Out Burger accident lawsuit. When you hire the experts at our firm, you will have confidence that our attorneys will make secure the highest possible settlement on your behalf.
A Quick Review of In-N-Out Burger Insurance Policy
Most large fast-food chains carry significant insurance policies covering any incidents on their premises. In-N-Out Burger has an "all-risk" policy with Zurich Insurance, which covers "not only more commonly known risks like fire but also entirely unknown and novel risks that may arise which were not previously considered by the company, Zurich, or the public at large." The policy is capped at $250 million and covers loss of gross earnings if an "order of civil or military authority prohibits access to the location." (Source, Nation's Restaurant News.)
This coverage could apply to an injured employee and a guest or trespasser. Assuming you suffer $250 million in damages, you could seek such a sum for your car accident or pedestrian accident. Although it is a high-value policy, Zurich will fight tooth and nail to avoid paying out unless your lawyer knows how to put pressure. The fact that it is not a low policy limits plan means the defense bar needs to send a message that it will not roll over. Only with top representation can employees and third parties get the full value of their claims. If you want to learn more about the next steps to dealing with Zurich, do not hesitate to call Michael Ehline, Esq. today!
Tips for After an Accident at In-N-Out
If you or a family member have experienced injuries in a pedestrian or auto accident at In-N-Out Burger, whether in the parking lot or drive-thru line, several crucial steps should be taken to prepare for potential legal action against the fast-food restaurant.
Please consider the following recommendations:
Document the Accident Scene: Capture photographs of the entire accident scene.
Document Injuries: Photograph all injuries resulting from the incident.
Report the Accident: File an accident report with the manager and property owner.
Seek Medical Care: Obtain medical attention for the injuries sustained.
Speak to Witnesses: Engage with witnesses to the accident and gather their contact information.
Collect Medical Records: Assemble all relevant medical records related to the injuries from the incident.
Gather Income Loss Records: Collect documentation of lost income.
Document Property Damage: Document any property damage resulting from the incident.
Seek Legal Assistance: Consult with legal professionals.
For comprehensive guidance on the specific actions you should take after experiencing harm at In-N-Out Burger's premises, we encourage you to promptly contact our expert legal team for more information.
Timely Filing of Your Injury Claim
All personal injury claims, including car accidents or pedestrian incidents, are governed by a statute of limitations. This legal framework dictates the maximum period for claimants to initiate their injury claims. Failing to file within this stipulated timeframe can result in a waiver. This is a forfeiture of the right to pursue legal action in court.
So, what is the time limit for filing your claim? In California, a two-year statute of limitations generally applies to personal injury claims, affording claimants a two-year window to file their lawsuits. To learn more about initiating your injury claim against In-N-Out Burger, we strongly encourage you to secure legal guidance from our expert legal team promptly.
Contact Seasoned In-N-Out Burger Accident Attorneys Today
At Ehline Law Group, our seasoned (no pun intended) personal injury attorneys are prepared to assess your circumstances. We can assist you in filing your accident lawsuit against In-N-Out Burger. With decades of experience handling diverse injury claims, we are unwavering in our commitment to safeguarding the rights of victims and their families. Contact our experts if you are ready to discuss your fall injuries or car crashes.
Our lawyers take pride in offering complimentary legal services to those seeking representation following an incident on In-N-Out Burger premises. Our free legal services, including free second opinions, enable our attorneys to comprehensively address your questions and concerns. During these consultations, our experts will equip you with the necessary information to initiate or advance your injury claim against In-N-Out Burger. Contact us today for a no-risk consultation to leverage our free legal services.
Our Zero-Fee guarantee assures that clients will not be burdened with upfront legal expenses for any of our services. Furthermore, our fee structure operates on a contingency basis, meaning clients only pay us if we win. Do not hesitate to contact a superior personal injury attorney today; we are fully prepared to assist you at (213) 596-9642.
Citations:
Michael Ehline is an inactive U.S. Marine and world-famous legal historian. Michael helped draft the Cruise Ship Safety Act and has won some of U.S. history's largest motorcycle accident settlements. Together with his legal team, Michael and the Ehline Law Firm collect damages on behalf of clients.
We pride ourselves on being available to answer your most pressing and difficult questions 24/7. We are proud sponsors of the Paul Ehline Memorial Motorcycle Ride and a Service Disabled Veteran Operated Business. (SDVOB.) We are ready to fight.