If we don't win, you don't pay.
Speak to the Attorney.
Born to serve.
633 W 5th Street #2890
Los Angeles, CA 90071
(213) 596-9642.
Date Modified: June 6, 2023
A tree grate is a commonly used iron covering placed around trees in urban settings, particularly on city sidewalks. It allows pedestrian traffic to pass over the tree area while providing room for the tree to grow. The tree grate essentially becomes an extension of the sidewalk. Founded in 2005, the honored and respected Ehline Law Firm will provide valuable insights into these plaintiff's premises liability cases. Our positive five-star reviews and testimonials from both clients and peers don't lie. We have obtained over $150 million in verdicts and are experts in the settlement of difficult injury claims in Los Angeles County, CA.
We understand that in Los Angeles, various shapes and sizes of tree grates can be found throughout the city. As part of the sidewalk and adjoining areas, certain enumerated parties have a general duty to maintain the tree grate reasonably safe for pedestrians. When a tree grate is loose, uneven with the sidewalk, or broken, it poses a significant tripping hazard to pedestrians.
When someone else's negligence causes the tripping or falling hazard, personal injury attorneys [law firm] can provide insulation between the involved parties. We can help the plaintiff pursue compensation for the damaged property as well as non-economic damages. Our team will work tirelessly on these sorts of extreme personal injury claims. We will help ensure that you and your close loved ones obtain the justice you deserve. You never have to feel like you're alone. You can lean on Michael Ehline and his team to handle your case with personal attention.
Common Injuries Caused By Open or Empty Tree Grates?
Open or empty tree grates can pose a variety of hazards to pedestrians, leading to various injuries.
Some common injuries we handle from open or empty tree grates include:
Trips and Falls
The most common type of injury resulting from open or empty tree grates is tripping and falling. Pedestrians can easily catch their foot or shoe in the gap or uneven surface of the grate, leading to trips and falls. This can result in injuries such as sprains, strains, fractures, and contusions.
Cuts and Abrasions
If a tree grate is broken or has sharp edges, it can cause cuts, abrasions, and horrific puncture wounds to individuals who come into contact with it. These injuries can range from minor cuts and scrapes to more severe lacerations requiring medical attention.
Twisted Ankles
Uneven or broken tree grates can cause individuals to lose their balance and twist their ankles when stepping on or near them. Twisted ankles can lead to sprains or even more serious ligament or tendon injuries.
Back and Spinal Injuries
In more severe cases, a fall caused by an open or empty tree grate can result in back injuries, including sprains, strains, or even spinal cord injuries. These types of injuries can have long-lasting effects and may require extensive medical treatment and rehabilitation.
Head and Facial Injuries
When a person falls and strikes their head or face on a tree grate or neighboring cement, it can result in head injuries, concussions, facial fractures, disfigurement, or dental injuries (knock your teeth out.)
It is important to seek immediate medical attention if you sustain injuries from an open or empty tree grate. Communicating and documenting your injuries is key. Seeking prompt medical treatment can ensure a proper record and stabilize your medical condition. In essence, you request badly needed care, communicate all your wounds, and simultaneously create important evidence for any legal claims you may pursue. Consulting with a serious injury attorney can help you understand your rights and options for seeking compensation for your injuries caused by a slippery, broken, or open tree grate. Stop struggling and get a professional opinion from a lawyer famous for helping plaintiffs get properly compensated.
Who is Liable for an Injury Caused by an Open/Defective Tree Grate in Los Angeles, CA?
In Los Angeles, the liability for an injury caused by an open tree grate can vary depending on the specific circumstances. Generally, the responsibility for maintaining and repairing tree grates falls upon the entity or individual who owns or controls the property where the tree grate is located. In Los Angeles, liability for open tree grate injuries and fatalities can fall on different parties, called defendants, depending on the specific facts and circumstances.
The following parties may potentially be held liable for a personal injury or wrongful death:
Property Owners
Property owners, including commercial and residential property owners (landlords), may be held legally responsible for maintaining and repairing the tree grates in front of their homes and sidewalks. Suppose a property owner fails to address a hazardous condition or neglects to fix a broken or defective tree grate. In that case, they may be held liable for a personal injury or fatality that occurs as a result.
Property Managers
Where the property is managed by a separate entity or property management company, they may also share responsibility for maintaining and ensuring the safety of tree grates under the vicarious liability theory. These private or quasi-public defendants could be held liable if their negligence or failure to address hazards properly contributes to an injury. A personal injury law firm representative is available 24/7 to discuss your potential personal injury case and hear your side today. Just pick up the phone and call (213) 596-9642.
Contractors or Maintenance Companies
Suppose a contractor or maintenance company is hired to install or repair tree grates, and their workmanship is found to be negligent or substandard. In that case, they may bear liability for resulting injuries. It could be found that Caltrans had some control or duty but perhaps delegated it to a private party. You need top-rated Southern California personal injury lawyers at our firm to review your case with no upfront fees confidentially.
City of Los Angeles
In some instances, the City of Los Angeles may be held responsible for tree grate injuries, particularly if they retain the obligation for maintaining and repairing the tree grates. However, as mentioned earlier, legal requirements, such as the prior written notice law, must be met to hold the city liable for any related personal injury claim, including the death of your loved one, for example. For example, what if a broken tree grate allowed a tree to uproot and fall into the street? In that case, the City could be on the hook for an auto accident, like a motorcycle accident, where the rider is thrown onto the asphalt or sidewalk and killed.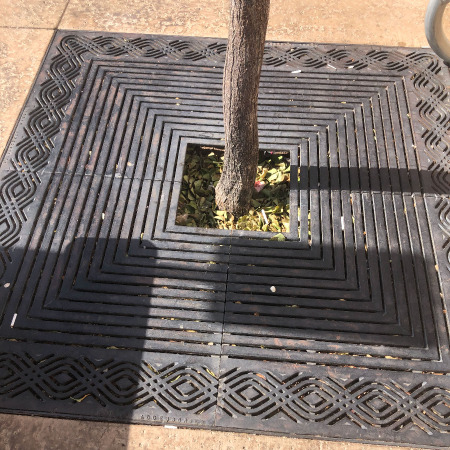 Example 2: In a real case, years ago, a large tree fell into the parking lot of LA's Greek Theater, damaging 30 cars and injuring a 35-year-old woman. You can see how there could be many potential defendants, including the maintenance people, assuming they are private laborers.
And, of course, if they get hurt repairing the tree grate for their employer, they would have a potential employment law claim or for worker's compensation.
Of course, the average tree grate case won't involve a car accident, but it could easily land you in the hospital, paying out of pocket for medical expenses and living off your savings. Usually, a pedestrian, like someone riding a bicycle or walking their dog, falls into an empty, unmarked, or roped-off tree grate and twists or breaks an ankle or toe. Sometimes people can twist and snap their thigh bones too. Either way, the economic losses can be unsustainable for many victims.
As noted, at other times, severe injuries, including head, neck, or spine injuries, accompany these traumatic knee and lower leg injuries. The bottom line here is that you could be severely injured and get stuck paying medical bills out of pocket, and even the victim's funeral expenses, depending on the severity of the case. Keep in mind, if proven defective, the plaintiff can also file a cross-claim against the manufacturer of the defective or poorly labeled product under product liability theory.
Types of Damages Paid In an Open or Broken Tree Gate Accident Injury?
Damages are designed to compensate the plaintiff for the losses and harm suffered as alleged in the plaintiff's personal injury claim.
Here are some common types of damages that may be paid in such cases:
Medical Expenses: This includes the cost of medical treatment, hospitalization, surgeries, medication, rehabilitation, therapy, and any other related expenses. It covers both the immediate and future medical needs resulting from the injury.
Pain and Suffering: These damages compensate for the physical and emotional pain, suffering, and distress caused by the accident and resulting injuries. This includes both the past and future pain and suffering endured by the injured party.
Lost Wages: If the injury causes the victim to miss work or reduces earning capacity, they may be entitled to compensation for lost wages. This covers the income lost during the recovery period and any future loss of earning capacity.
Property Damage: If personal property was damaged or destroyed in the accident, such as clothing or personal belongings, the injured party may be compensated for the repair or replacement costs. We can help you gather receipts, estimates, and evidence as you heal.
Disability and Impairment: In a personal injury case involving a permanent disability or impairment, this could affect the victim's ability to work. It will also inhibit the plaintiff's ability to enjoy life as they were able to before suffering their personal injury. In that case, damages may be awarded to account for the long-term impact on their quality of life, loss of earnings, and earning potential. It can also mean being compensated for lost contracts and other damages. Your doctor may be called to testify later, so you must also hire the right doctor.
Emotional Distress: A personal injury can cause significant emotional trauma, including anxiety, depression, post-traumatic stress disorder (PTSD), and other psychological effects. Hence, compensation may be awarded by the court, government-paid attorney, other defendant's insurer, or other attorneys to address the emotional distress experienced by the injured party.
Loss of Consortium: If the personal injury creates a negative impact on the injured party's relationship with their spouse or family members, damages may be awarded to compensate for the loss of companionship, support, and intimacy. This is the normal measure of damages awarded in a wrongful death lawsuit.
Punitive Damages: In some personal injuries involving extreme negligence or intentional misconduct, punitive damages may be awarded. These are intended to punish the responsible party and deter similar behavior in the future.
Other law firms, less experienced in these personal injury cases, may not understand how to make a case like this happen. Each case is nuanced; the damages amounts can vary significantly based on the specific facts of the case, local laws, and the determination of a jury or the court. Without a lawyer, the average plaintiff will be hard-pressed to obtain the fullest recovery possible.
Getting Paid Fair Compensation
Don't assume you will automatically get paid fair compensation for your personal injuries, either. Hiring counsel with compassion and a record of trust built up over decades is vital to the effort in winning back your costs, including damages for pain and suffering, etc.
Without the right personal injury attorneys to guide and support you, this can be a truly harrowing experience as you get treated for your injuries. But with over a decade in the legal profession, our powerful, award-winning legal team has the experience, knowledge, and skills confused clients need most. We have won past clients' multi-million dollar verdicts and want to help the victim recover the justice and financial compensation they or their families deserve.
We are ready to go to trial all the way to the verdict once we sign the retainer and secure your trust as a client. After that, our assistance will move your case close to ultimate success. Stop drowning in uncertainty, and let us address your concerns and discuss our services some more. Schedule a meeting, make this a priority, and stop procrastinating. Our Los Angeles personal injury attorneys are ready to win and collect damages from the other party on your behalf, do or die.
How Do I Prove Liability in an Open or Empty Tree Grate Case?
Determining liability in open tree grate injury cases can be complex, and it often requires a thorough investigation of the circumstances and applicable laws. Proving liability without coverage to pay can be a fool's errand, so keep that in mind before you waste too much effort barking up the wrong tree. Investigations of the harm and how it occurred are vital in order to prove legal liability and obtain the best possible outcome—getting what you deserve means hiring the best lawyers.
To prove liability in an open or empty tree grate case, you would typically need to establish the following elements:
Duty of Care: You must show that the party you are holding liable owed you a duty of care. For example, a property owner must maintain their premises reasonably safe for visitors; this is their duty. The idea is to avoid causing someone trauma or emotionally harming a person.
Breach of Duty: You show the jury that the responsible party breached their duty of reasonable care. In the case of an open, broken, or empty tree grate, this could involve showing that they failed to properly maintain or repair the tree grate, resulting in a hazardous condition, causing you to slip, fall, or otherwise lose your footing.
Causation: You must establish a causal connection between the negligent act (breach of duty) and your injuries. You must demonstrate that the dangerous condition created by the open or empty tree grate directly caused your accident and subsequent injuries.
Damages: You and your legal advocates need to provide evidence of the damages suffered as a result of the incident. This may include medical records, bills, photographs of injuries, and documentation of any other losses, such as lost wages or pain and suffering. Ambulance bills also help substantiate the date, time, and scene of the injury and are often mentioned in the police report as well. These are amazing pieces of evidence of damages.
To strengthen your case and prove liability, it is essential to gather evidence such as:
Photographs or videos of the open or empty tree grate that caused the injury.
Witness statements from individuals who saw the hazardous condition or the accident.
Maintenance records or reports showing a history of neglect or lack of repair.
Expert opinions from professionals in the field who can attest to the negligent maintenance or design of the tree grate.
Consulting with a knowledgeable personal injury attorney in Los Angeles is crucial to assess the specific details of your case, identify potentially liable parties, and navigate the legal process to seek compensation for your injuries.
Free Consultation – Compassion, Service, Results.
We offer a free case evaluation to all new clients, so it's no skin off your teeth to speak with us today at (213) 596-9642. We can also come to you if you lack transportation, are languishing at home, or are wounded in the hospital and seeking health guidance and legal advice. Let us help you manage your case and secure statements from witnesses, photos, and other evidence, like police reports. We will stand by your side with strength and confidence until you and your family are financially made whole in your future life. Speaking with a committed pro is just a phone call or email away.
Who Is Potentially Liable for My Tree Grate Injury Claim?
Private Property Owner Defendant
In some cases, if the property where the tree grate is located is privately owned, such as a commercial establishment or residential property, the responsibility for maintaining the tree grate may rest with the property owner. They have an obligation to keep the premises reasonably safe for pedestrians and visitors.
Government-Owned or Maintained Property?
On the other hand, if the property where the tree grate is located is owned by a governmental entity, such as the City of Los Angeles, the responsibility for maintaining the tree grate may fall upon the municipality. However, pursuing a claim against a government entity often involves specific legal procedures and deadlines that must be followed. Factors such as ownership, control, maintenance agreements, and other relevant details need to be considered to determine liability in a particular case.
It's important to note that a tree grate or tree is not always considered part of the sidewalk for the purposes of the Los Angeles Municipal Code. This can lead to complexities and legal challenges for trip and fall accidents on Los Angeles sidewalks, including notice of claim requirements and prior written notice laws.
Determining the responsible party for maintaining a specific tree grate can be unclear for those unfamiliar with the legal nuances. In Los Angeles, property owners who are required to maintain the city sidewalk under the Los Angeles Administrative Code are not obligated to maintain a tree gate or tree well. The responsibility for tree grates ultimately lies with the City of Los Angeles.
So to recap, in situations where the City of Los Angeles retains the obligation for tree grates or trees in general, the courts have determined that the City of Los Angeles or another government agency may be held responsible for injuries caused by broken or defective tree grates. However, it is important to note that the courts have also established certain legal requirements that must be met to hold the city liable.
Government Claim Personal Injury Law Requirements
One such requirement before you can sue the government for a personal injury is providing prior written notice to the proper agency or department, on and in the proper form.
Timely Notice of Claim?
As with car accidents, including a truck accident involving the City of Los Angeles, or another agency, you must file a claim for damages within six months of your personal injuries unless an exception applies. Under this government claims notice law, the injured party must provide the City of Los Angeles or other agencies with written notice of the tree grate's open, broken, or defective condition and the location, date, time, place, etc.
You will want to mention any medical treatment, property damage (did you drop your computer or phone and break it, etc.?), or wrongful death and how it happened. This notice is designed to serve as a notification to the city of the hazard and gives them an opportunity to address the issue. Usually, they have no insurance company to negotiate with, so the City Attorney or private firm will typically wait and see if you sue before their legal team reaches out to settle or litigate your Los Angeles personal injury.
Holding the City of Los Angeles responsible for injuries caused by tree grates may be challenging without complying with the prior written notice requirement. Therefore, it is crucial to consult with a knowledgeable, aware, and experienced attorney in Los Angeles who can guide you through the legal process and help you understand the specific requirements.
How To Win These Government Personal Injury Cases
You need legal representation from a law firm that understands the procedures involved in pursuing a personal injury lawsuit against the city. Our associates and paralegals can assist you in gathering evidence, filing the necessary paperwork, and advocating for your rights to seek compensation for your injuries in the trials ahead.
Contrast Personal Injuries Caused By Private Landowners?
There are instances where a commercial property owner installs decorative sidewalks, including shade trees and tree grates. Sometimes private residents are liable for maintaining and repairing tree grates due to some grant or easement. In such cases, the property owner assumes the duty to maintain the tree grate and the associated liability for any failures to do so.
Statute of Limitations to Sue a Private Party for an Open Tree Grate Injury?
California's personal injury laws generally govern the statute of limitations to sue a private party for an open tree grate injury in Los Angeles, CA. The statute of limitations sets a specific time limit within which a lawsuit must be filed. The injured party may lose their right to pursue legal action if the lawsuit is not filed within this time frame.
In California, the statute of limitations for personal injury claims, including those related to injuries caused by open tree grates, is typically two years from the date of the injury. This means that the injured individual has two years from the date of the incident to file a lawsuit against the responsible private party.
It is important to note that statutes of limitations can be subject to certain exceptions and variations based on specific circumstances, such as the injured person's age or the injury's discovery. Nothing relieves the City of Los Angeles from its obligation to maintain trees, tree grates, and even tree wells or voltage boxes near commercial premises. It provides protection under the prior written notice law. Therefore, actual written notice would be required to hold the City of Los Angeles responsible for a broken or defective tree grate.
Why Hire Ehline's Personal Injury Attorneys?
If you have been injured in a trip and fall accident in Los Angeles due to a broken or defective tree grate, having an experienced personal injury lawyer and a crack team of investigators is crucial. At our law offices, we possess in-depth knowledge of the law and know how to protect your rights and pursue your claim for damages. We will identify all the responsible parties for your trip and fall accident and seek maximum compensation for your pain and suffering, medical expenses, lost wages, and other damages. Let us represent you, and you, too, will discover the Ehline difference. Call us morning, noon, or night at (213) 596-9642.
Experienced Enough for Any Personal Injury Claim
Our extensive experience is solely dedicated to assisting individuals who have suffered injuries in accidents. This means we have the necessary skills to effectively fight against large insurance companies and their lawyers who may try to undermine your claim. Our track record of successfully securing millions in favorable, big-money settlements and awards for our injured clients speaks for itself.
Free Consultation With Broken Tree Grate Attorney in Los Angeles
Do you need an experienced personal injury attorney for a serious injury caused by a broken or empty tree grate hole? Are you afraid and running low on dedication? Our team of compassionate, dedicated personal injury attorneys can provide much-needed insight to cheer you up and give you hope. We can help you pursue a case against the City of Los Angeles or some other party's insurance company under California premises liability law.
Personal injury law is our sole focus, and we deliver results! You know you will be protected by our remarkable team to handle even the tiniest aspects of your case. Our resources and experience handling tough cases will be at your disposal on a no-recovery no, fee basis, even when someone passes away. Our philosophy is do or die, and we are prepared to go down with the ship on a contingency fee basis if you have grounds to file. Contact us today at (213) 596-9642 so we can start investigating the potential at-fault parties involved and refer any crimes (negligent homicide, etc.) to the proper legal authorities at the court when the accident is not your fault.
Michael Ehline is an inactive U.S. Marine and world-famous legal historian. Michael helped draft the Cruise Ship Safety Act and has won some of U.S. history's largest motorcycle accident settlements. Together with his legal team, Michael and the Ehline Law Firm collect damages on behalf of clients.
We pride ourselves on being available to answer your most pressing and difficult questions 24/7. We are proud sponsors of the Paul Ehline Memorial Motorcycle Ride and a Service Disabled Veteran Operated Business. (SDVOB.) We are ready to fight.