Even though a knowledgeable attorney will almost probably assist you in adhering to these rules, it is nonetheless beneficial to comprehend the fundamental steps involved in bringing a lawsuit.
Take Note of the Statute of Limitations
To begin with, the statute of limitations must be followed in every personal injury claim. According to Ranchos Palos Verdes (Gov. Code Sec. 911.2.), victims have six months in which to file a personal injury claim. The aggrieved party will probably have their lawsuit dismissed if they don't meet this deadline.
Establish Liability
Establishing liability is another important aspect when suing Trump National Golf Club for a golfing mishap. You need to be able to show that management or employees were accountable for the damage that was done.
Premises Liability Cases
According to premises liability law, building owners and their workers are obligated to provide their customers with a safe environment. The victim has every right to file a lawsuit for compensation if this standard of safety is disregarded. However, it's crucial to remember that not all accidents are the fault of property owners.
Gather Evidence
When establishing liability, it's essential to gather enough evidence to support your claim. The Trump National Golf Club surveillance footage, pictures of the damage, and hospital records outlining your injuries can all serve as proof.
It's Important to Notify the Club
You must notify management as soon as you can about your golf accident. They will be less likely to be able to refute your allegations if you inform them about the accident promptly.
Seek Legal Counsel
It is in your best interests to acquire legal assistance from a lawyer skilled in handling golf club injury claims if you intend to sue Trump National Golf Club. Choosing the right legal representative is the difference between getting fair recompense for your losses and getting your case dismissed.
Past Legal Cases Filed Against a Trump Golf Club
Donald Trump and the Trump Organization were the subjects of numerous lawsuits. Here are two prominent cases in New Jersey and New York:
$400,000 Fine for Serving Alcohol to a Patron That Later Caused a Vehicular Homicide in New Jersey
In 2021, one of the Trump Organization's golf clubs agreed to pay a $400,000 fine to the state of New Jersey for providing a patron with too many alcoholic beverages. The man later caused a fatal car crash that killed Gary Halder, the driver's father.
As part of the agreement, Colts Neck, New Jersey's Trump National Golf Club, entered a plea of not guilty to allegations that the state's Division of Alcoholic Beverage Control filed in October of 2019.
The Trump National Golf Club Colts Neck was accused of serving Andrew Halder while he was clearly intoxicated and of selling alcohol from carts on its golf courses. State officials sought to revoke the club's liquor license but later agreed to impose a fine instead when it learned that an inability to sell alcohol would cost the country club considerably.
Donald Trump Engaged in Illegal Activities to Inflate His Net Worth
Fraud allegations asserted that Donald Trump was also involved in illegal practices that included Trump Golf. Links between new members and waived fees, as well as activities that ensured favorable interest rates and tax, were identified.
Take Legal Action Against Trump National Golf Club for Negligence
If you or a loved one was injured in an accident at the Trump golf club in Ranchos Palos Verdes, you'll be happy to know that we have a law practice conveniently situated in Torrance, just 20 minutes away.
We are ready to take on challenging personal injury cases because we have the experience and resources to prove liability, so you can count on us to secure a favorable verdict.
To schedule your free consultation with one of our Trump golf course accident attorneys, give us a call today at (833) LETS-SUE or complete the contact form for a callback.
---
Michael Ehline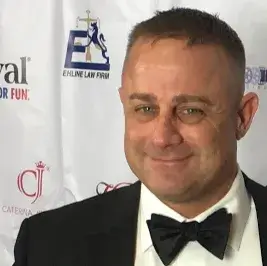 Michael is a managing partner at the nationwide Ehline Law Firm, Personal Injury Attorneys, APLC. He's an inactive Marine and became a lawyer in the California State Bar Law Office Study Program, later receiving his J.D. from UWLA School of Law. Michael has won some of the world's largest motorcycle accident settlements.
---
Recent Personal Injury News
Check out our most recent product defects, accidents in California and more, including the famous, infamous and everyday people wounded by at fault parties around the world.