If we don't win, you don't pay.
Speak to the Attorney.
Born to serve.
633 W 5th Street #2890
Los Angeles, CA 90071
(213) 596-9642.
2323 S. Voss Rd, Suite 244
Houston, TX 77057
(832) 592-1260.
Date Modified: July 25, 2023
Welcome to our Ultimate Guide to Compensation for Distracted Trucking in Los Angeles. Strap in and get ready to learn from a top-rated truck accident attorney about recovering compensation for tragic highway accidents.
Let's Sue Negligent Drivers
Truck drivers are essential to our economy, but when they choose to be negligent and reckless, they become a menace on the road.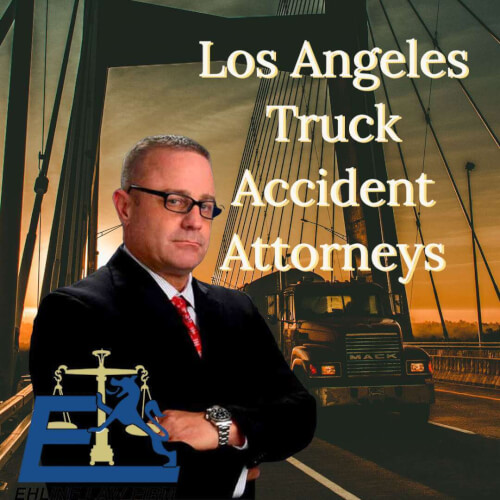 An accident involving a truck can result in some of the most catastrophic injuries you will ever encounter. One of the frustrating things about most truck accidents is that usually, the victims suffer the most, through no fault of their own. The trucking company will continue their normal business while the unfortunate truck accident victims have to shoulder the burden of medical bills.
However, Ehline Law Firm is committed to standing up for the truck accident victim. Our team of truck accident lawyers is ready to help you receive the compensation you deserve. If you or your loved one was hurt in a truck accident due to the actions of other negligent parties, then it's time you hired an experienced truck accident attorney. Call our offices now at (833) LETS-SUE.
How Can a Los Angeles Truck Accident Lawyer Help?
Unlike a regular car accident, truck accidents can be very complicated if you are unfamiliar with California trucking laws, especially when facing a determined trucking company. This is why you need a good truck crash lawyer to help with the following:
When a big rig accident occurs, the accident scene can be left strewn with destroyed vehicles and injured victims.
This can serve to add complications to truck accident cases, especially when the insurance company tries to use it to avoid liability in a truck accident injury claim. A good truck accident lawyer can help clear things up for you.
The most important step in every trucking accident case is to determine fault. Only after the at-fault party has been identified can you start talking about compensation.
If the case goes to trial, you will need a Los Angeles truck accident lawyer. Usually, trucking companies will do all they can to avoid losing a truck accident lawsuit, so if you choose to handle the case on your own, the odds will be stacked against you.
Calculate Fair Compensation
During your free consultation, a truck accident attorney can help you estimate how much compensation you are entitled to based on the nature of your injuries, how much you have spent, and other factors unique to your specific truck accident case.
We have handled truck accident claims where victims have walked away with huge sums of money as part of their medical benefits and other damages. You need a Los Angeles truck accident attorney who is familiar with California Law to stand any chance of winning.
Common Truck Accident Injuries
Collisions with commercial trucks, semi trucks, as well as other large truck accidents can result in severe injuries (even fatal injuries) that are much worse than you would find in regular car accidents, such as:
Neck injuries
Spinal cord injuries
Broken bones
Burns
Traumatic brain injury
Internal injuries
Minor injuries, such as cuts and bruises
Other obvious injuries
Wrongful death.
Common Causes of Truck Accidents
There are many different reasons why commercial trucking accidents occur on our highways, and you need to be familiar with some of them because they can help you prevent your passenger vehicle from becoming another statistic.
Common causes include:
Distracted driving
Truck driver fatigue, which results in falling asleep at the wheel
Drunk driving
Truck driver's negligence
Ignoring safety regulations on busy highways
Tire blowout
Driver error
Faulty equipment, such as a loose cargo loader
Unrealistic delivery deadlines set by trucking companies
Poor weather.
How a Personal Injury Lawyer Can Help After Your Truck Accident
California law can be a bit complicated even before considering the multi-car pileups usually caused by truck accidents and safety and training protocol violations. This is why you need the assistance of a dedicated team of Los Angeles truck accident lawyers. Special laws usually apply to the trucking industry, which makes these cases and the parties to sue different from regular car accidents.
In the event of a trucking accident, personal injury attorneys at our law firm can assist with the following:
Evaluating Your Truck Accident Case
Not all large truck collisions are the same, and a truck accident lawyer needs to evaluate the individual circumstances surrounding your case. This can be done during a free consultation to determine the merits of your lawsuit and estimate what maximum compensation you can expect from the liable parties and their employees who had a duty to keep you safe and from being killed.
Establishing Liability By Truck Drivers
Proving liability on the part of the trucking company or showing that truck driver negligence was to blame when the accident occurred is not always easy. It can be tough when faced with a stubborn insurance company trying to avoid litigation and get you covered. This is why you need an experienced truck accident lawyer by your side with skills who understand Los Angeles, CA law.
It would help if you had someone to pursue liability under truck driver negligence, federal regulations, and FMCSA regulations. Find a contingency fee attorney like us, willing to shoulder the financial consequences of a poor outcome and do the job right.
Stellar Legal Team
If the case goes to court, you can be sure it will be a fight between your lawyers and those representing the trucking companies and their insurers. We have recovered millions on behalf of critical injury victims in Southern California. Your chances of winning your transportation accident case depend heavily on your responsible choice of truck accident lawyers.
Receiving Fair Compensation for Truck Accident Victims
The aim of most truck accident claims is to allow the victim to recover the money they lost due to expenses directly linked to the truck accident and be compensated for their pain and suffering.
Los Angeles, CA law entitles victims to receive whatever the court deems fair compensation from the at-fault trucking company or its neophyte truckers. However, if plaintiffs handle the case independently, these victims risk not getting the total amount they deserve.
The Most Common Causes of Truck Accidents
As responsible personal injury attorneys who have served the people of Los Angeles for many years, we have encountered many probationer accidents involving large trucks.
The following are the most common causes of truck accidents:
Distracted driving car accident claims (playing with a phone, filling in work logs, looking at maps, playing with the equipment, etc.)
Drowsy driving or fatigued driving causes reduced concentration, leading to road collisions.
Driver error or trucker carelessness
Collision while speeding
Equipment failure, such as malfunctioning braking systems (poor maintenance and repairs of brakes that fail, etc.)
Drunk driving and being high or under the influence of drugs and alcohol can result in delayed reaction times and impaired vision.
Truckers driving recklessly
Unsecured tractor-trailer
Poor road conditions
Manufacturer defects that result in loose cargo
Not paying attention to other vehicles in blind spots
Negligent hiring of impaired drivers with a history of driver errors and records to boot.
How Important Is Truck Driver Experience in Preventing Serious Accidents
A trucking company must do everything possible to prevent severe injuries from happening to innocent people and occupants, such as in a semi-truck accident on the freeway. In this regard, proper driver training is essential to avoid crashes.
The experience of a truck driver plays a significant role in the event of a vehicle accident because it usually determines how well they will react in emergencies as an amateur. Personal injury lawyers will always look closely at the driving experience and investigate the at-fault parties' driving records and equipment repair/maintenance logs.
In a trucking accident, fledgling drivers have just a few seconds to prevent catastrophic injuries from occurring due to commercial trucks crashing into smaller vehicles.
Looking at previous accidents, stringent delivery deadlines, poor maintenance, and illegal use of drugs, it is clear what a vast role driver experience plays in making the highways safer.
Injuries Suffered by Truck Accident Victims
The following are the common injuries suffered by victims in accidents involving large vehicles:
Neck, shoulder, and back injuries
Spinal cord injuries
Traumatic brain injury
Internal bleeding
Broken bones
Minor injuries, such as lacerations and bruises
Wrongful death.
Statute of Limitations in Truck Accident Cases
In Los Angeles, California, the statute of limitations states that victims (the plaintiff(s)) have two years from the accident to file a lawsuit against the tenderfoot, negligent party.
Considering the work your truck accident attorney needs, there is no time to waste. Call our law office today and schedule an appointment if you were involved in a motoring accident with an amateur trucker.
What To Do After a Commercial Truck Accident in Los Angeles?
The steps you take in the immediate aftermath of a truck accident may significantly impact leveling the playing field when you go against the amateur, at-fault truck driver or their insurance company.
Remember the following essential tips:
Seek medical attention even if you think you weren't injured
In such claims, photos play a significant role, so take pictures and photographs of the accident scene
Obtain witness statements from other vehicle drivers and passengers so the insurer can't minimize complex issues
Make sure you ask for copies of the police reports for later use by trained investigators
Get a medical report and receipts of medical bills from your doctor and the hospital
Do not admit fault under the stress and excitement of a fresh crash claim
Approach qualified truck accident attorneys to obtain compensation potentially after dealing with the insurance adjuster or an at-fault business.
You Are Entitled To Money Damages to Compensate the Wrong
At Ehline Law, we have a proven track record of helping our clients walk away with huge settlements after investigating and helping them prove the negligence of the inexperienced truck driver held liable for the accident.
You, too, can recover damages for:
Medical expenses (including future medical expenses)
Lost wages
life-altering disabilities
Property damage
Pain and suffering
Loss of earning capacity
Punitive damages.
To receive a reasonable settlement offer for you, our team will employ any means necessary, including obtaining expert witnesses, launching an extensive investigation into the legal matter through an independent contractor, and finally, allowing our fees to be paid on a contingency basis as determined by the retainer contract.
Schedule a Free Legal Consultation With Inexperienced Trucker Accident Lawyers in Los Angeles County, CA Today
At Ehline Law, our reputation for having an excellent attorney-client relationship while at the same time building a solid case for proving negligence in truck accidents is what makes us one of the top firms in Los Angeles, California. We are dedicated to ensuring the greenhorn, the at-fault party, is held accountable for all your expenses, including any future pain you or other drivers might suffer from the accident.
Do not risk being held liable when you can easily prove negligence by ensuring proper legal service is obtained immediately after injury in a novice-caused accident. Call us today to schedule a free consultation if you or your family member has been involved in an accident. Additionally, you can use our online contact us form to speak about achieving justice on behalf of you or your loved one considering suing for reckless misconduct. We are available 24/7 to discuss your inexperienced or careless truck driver's claim at (213) 596-9642.
Michael Ehline is an inactive U.S. Marine and world-famous legal historian. Michael helped draft the Cruise Ship Safety Act and has won some of U.S. history's largest motorcycle accident settlements. Together with his legal team, Michael and the Ehline Law Firm collect damages on behalf of clients.
We pride ourselves on being available to answer your most pressing and difficult questions 24/7. We are proud sponsors of the Paul Ehline Memorial Motorcycle Ride and a Service Disabled Veteran Operated Business. (SDVOB.) We are ready to fight.