If we don't win, you don't pay.
Speak to the Attorney.
Born to serve.
633 W 5th Street #2890
Los Angeles, CA 90071
(213) 596-9642.
Date Modified: June 10, 2023
Sports offer a beautiful way for children to learn leadership and test their physical and emotional barriers, building confidence into adulthood. Sometimes, children athletes are groomed by teachers who realize they can brainwash children away from their parents.
Sports Injury Claim
The Centers for Disease Control suggests that, in the United States, more than 30 million children and teenagers engage in organized sports, with an estimated 3.5 million ending up with injuries that sometimes lead to fatalities. Many of these victims are located right here in Los Angeles, CA. Many sports-related injuries to children require long-term recovery and ongoing medical treatment for rehabilitation. Many sports injuries may be accidental, while others happen due to someone else's negligence, like a bad coach leading the team. Even cases of child abuse and rape cases are not unheard of in youth sports.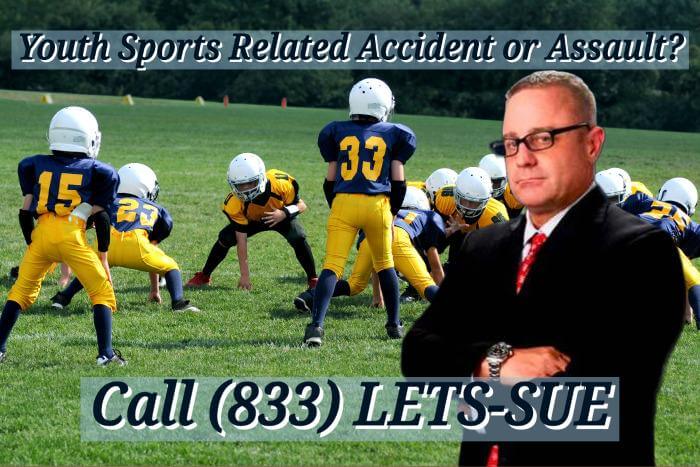 Experienced lawyers from Ehline Law Firm in Los Angeles have represented youth athletes playing sports who have suffered serious sports injuries. These injury attorneys understand that most sporting injuries can result from coaches, sports leagues, and school district negligence involving a child or many children.
With combined legal experience, Los Angeles youth sports injury attorneys offer free consultation to injury victims to provide legal advice and determine a case's viability.
The attorney can help the claimant find out if they have a case. If so, our legal professionals will draft a fee agreement document for both parties in charge of the child or children to sign. This will make the attorney-client relationship seeking compensation benefits between the two parties active. Sports lawyers from Ehline Law Firm understand that sports injuries have a lifelong impact on the child's future and can be expected to take a toll financially on the child's parents due to medical treatment.
Therefore, lawyers can fight to ensure maximum compensation for your case. Call them today at (833) LETS SUE, and start your legal journey when you request a free consultation.
What Are Youth Sports Injuries?
These are serious injuries experienced by youth in sports leagues and teams. The injuries a child will suffer are unique depending on the age and experience of the athlete involved in the sports accident. These athletes are usually children and teens below 18 years who are connected to teams from public school districts or city-sponsored organizations.
Group sports like Hockey, Soccer, Baseball, Lacross, and tackle Football present more risks to athletes due to their interactions with other players. Even wearing a helmet will not prevent a CTE, for example.
Individual sports can also pose challenging risks to athletes participating, presenting a unique danger leading to hazardous incidents among many Los Angeles, CA families.
Common Types of Youth Sports Injuries
Traumatic brain injuries (personality changes)
Chronic traumatic encephalopathy
Abrasions and cut wounds
Muscle strain and sprained joints
Head injury or concussions
Vaginal and anal tearing from rape
Emotional injuries from sexual assault
Spinal injuries and paralysis.
Sports-Related Traumatic Brain Injuries Concussions
Concussions and traumatic brain injuries are the most common types of youth injuries. They can occur in any sport and are quite dangerous because brain injuries aren't always symptoms recognized instantly. Contrary to popular opinion, concussions or traumatic brain injuries can occur without an athlete losing consciousness.
If the said athlete continues to play without seeking medical attention for brain injuries, it could cause further permanent damage. While fatality is quite rare, it can occur if the brain injury is not treated as soon as possible.
How to Prevent Youth Sport Injuries
Accidents happen at times, but most of them can be preventable.
There are ways coaches and school leagues can protect their athletes, including:
Ensuring all athletes wear protective gear like helmets to limit undue pressure of the game.
Coaches and schools must ensure all sports facilities and equipment are properly maintained and not left unchanged.
Ensure proper supervision and safety training.
Medical personnel should always be around at any sporting activity.
Sports Injury Claims
This type of case involves financial compensation for the claimant for damages sustained due to severe injuries. Normally, this happens when the plaintiffs prove that the child's injuries occurred due to someone's negligence. While calculating damages, the child's physical development and future impacts are considered.
A good example is when an accident occurs, leaving the injured child with a traumatic brain injury that limits him from obtaining a sports scholarship. This all requires an investigation by a law firm with the respect and integrity of peers and other defense lawyers. It's, therefore, wise for plaintiffs to speak to and hire Los Angeles sports injury attorneys from a reputable, dedicated law firm like ours. It's imperative to let family members know their legal options for protecting young athletes injured by a sports organization or coach and demonstrate their success chances. Any questions? You can consult with us 24/7 throughout California and anywhere in America.
What Compensation Can a Claimant Receive from Negligent Sports Injury Claims?
It's quite hard to specify the exact amount a claimant can receive because each case differs from the other.
However, while calculating damages, they usually factor out some elements, which include:
The extent of pain and suffering involved when the accident occurred.
Did the child's injuries sustain life-threatening, permanent disfigurement, and long-term injuries?
The claimant incurred financial losses due to the injury sustained (Cost of a doctor, hospital, ambulance expenses, physical therapy, emotional counseling for depression, etc.)
An excellent lawyer can be able to estimate the compensation a victim-plaintiff is likely to get after reviewing their claims. Therefore, plaintiffs must seek the services of reputable lawyers to determine their legal options against the negligent parties with fault/responsibility. They can provide legal advice in circumstances like wrongful death due to a sporting injury. Contact Ehline Law today at (213) 596 9642 when your child has suffered a sports injury due to another person's negligence. They have an undeniable experience that'll help increase your chances of winning the case.
When Can Claimants Sue for Damages?
One of the most significant barriers to getting compensation is the assumption of risk. While youth athletes are trying to play a particular sporting event, the school ensures their parents sign a consent form, highlighting that the parent and the child understand the various risks associated with youth sports.
Being sexually groomed by a public school coach is never something a child can assume or deserve, for example. Just because a parent or claimant signed the waiver, it doesn't mean these clients don't have a case.
An experienced lawyer from Ehline Law Firm will analyze a claimant's claim and determine if the waiver can limit their quest for compensation. Schedule a free consultation for a free case evaluation to learn your next steps to becoming one of our clients.
A school league can be held accountable for players' gross negligence and non-standard actions in practice and the actual game. Moreover, coaches are held accountable for various youth sporting injuries when they foster inappropriate coaching.
Some of them include:
Failing to remove a player with a head injury from the game.
Allowing conduct, that's outside the rule of the game.
Using faulty equipment that causes head injuries or failure to issue safety equipment at all.
Pushing the athletes beyond reasonable limits in practice and in the game.
Physically assaulting young athletes or raping them.
Failing to provide adequate medical care these semi-professional athletes and novices deserve.
When a child is severely injured with traumatic brain injury due to a coach's act of negligence, one can file a sole or class action lawsuit after being hurt. Call a personal injury attorney from Ehline Law Firm in Los Angeles County at (833) LETS-SUE to speak to a youth sports lawyer who'll give a free evaluation of your case and let you participate.
Premises Liability for Sports Injuries
Every state has premises liability laws; many schools have a legal obligation to keep their property safe. When a child's injuries didn't happen due to sports but occurred due to unsafe conditions on the field, the school can be held liable for the injuries.
Injuries Caused by Defective Product Equipment
Many sports require protective gear like helmets, face masks, and pads, among other things. It can be disastrous when the right gears are not put in place, leading to various accidents and causing traumatic brain injury. Sports gears are not limited to protective gears but also the equipment they use in the game. Design or manufacturer defects can result in catastrophic injuries, leading to wrongful death.
With a proficient personal injury attorney in Los Angeles on board, injury victims can recover compensation from the manufacturing company. Call them today at (833) LETS-SUE, and schedule a free consultation to start your legal journey.
Unreasonable and Malicious Behavior
Multiple parties get worked up in sports teams, even in pee-wee leagues. Sports offer a chance for players to play harder to win while other athletes and spectators cheer on harder. Usually, such behavior ends with parents and coaches brawling. The situation can quickly escalate, leaving a parent and child physically assaulted. These victims have a right to sue the person responsible.
Reputable personal injury lawyers in Los Angeles can help you put your documents in order and represent you in court. Law firms like ours can bring many skills, experience, and knowledge into the case. Call Ehline Law Firm at (213) 596 9642 today to schedule a free consultation.
Do Claimants Need Personal Injury Lawyers for a Sporting Injury Lawsuit?
Playing sports is a high-risk activity that can cause serious injuries to a child if certain measures aren't implemented to protect students. When a child suffers serious injuries due to another party's negligence, the best way to seek compensation is through a lawsuit. The only way plaintiffs can increase their chances of winning and getting a fair settlement is by seeking services from lawyers serving Southern California and greater California.
They understand the litigation laws of Los Angeles, have the right resources to collect evidence for a particular case, plus know how to deal with the defendant. Personal injury lawyers are well-equipped with tort law and can represent you in court. This gives the claimant enough time to focus on their child's recovery.
Moreover, during a near-death experience with a loved one, you may be traumatized and unable to make informed decisions. Personal injury lawyers from Ehline Law Firm in Los Angeles bring objectivity and knowledge to your case. They'll be able to help you determine if your sports injury claim is viable. Additionally, they work on a contingency fee basis, meaning one will only pay them when they win. Call them today at (213) 596 9642 to schedule a free consultation.
Contact Reputable Child Sports Injury Lawyers in Los Angeles, Southern California, for a Free Case Review
Our lawyers want to put their high standards to work for you. Playing hockey, Basketball, and Football, among other sports, is energetic and fun, but if played disregarding the rules, it can cause an accident, leaving a young athlete with a serious injury. While accidents are prone to happen during sports, others can be prevented.
If a sports athlete is injured due to someone's negligence, personal injury lawyers at Ehline Law can help. Call them at (833) LETS-SUE to schedule a free case review.
Michael Ehline is an inactive U.S. Marine and world-famous legal historian. Michael helped draft the Cruise Ship Safety Act and has won some of U.S. history's largest motorcycle accident settlements. Together with his legal team, Michael and the Ehline Law Firm collect damages on behalf of clients.
We pride ourselves on being available to answer your most pressing and difficult questions 24/7. We are proud sponsors of the Paul Ehline Memorial Motorcycle Ride and a Service Disabled Veteran Operated Business. (SDVOB.) We are ready to fight.