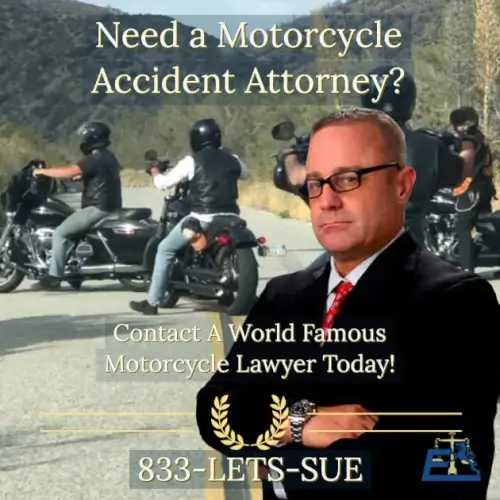 Riding Safe With Ehline Law
Ultimate Guide to Understanding Motorcycle License Requirements
Just like how you need a valid driver's license to drive your car legally, it is mandatory to have a motorcycle license or special motorcycle endorsement to ride legally. What about younger riders and learner's permits? It starts with making an appointment, but which license class do you need? Do you need to get a permit before operating? Is there a test, or is it online? Do I give a photo? Where do I make payment, and how much will it cost?
Every state has its procedure for getting a license. In most cases, you'll need to give a written test, pass a road test, and complete the US Department of Motor Vehicles (DMV) paperwork. Ehline Law and our personal injury attorneys understand the complications that may arise if you're riding a motorcycle without a license.
Here, we will go over the three steps to getting your motorcycle license and some supervision tips to avoid a motorcycle accident.
How to Get a Motorcycle License in 3 Easy Steps
Identify the Type of License You Want
Depending on your state, there may be different types of motorcycle licenses based on the type of motorcycle you wish to ride. For scooters (under 50cc), you may need a restricted motorcycle license, and it's smart to take a motorcycle safety training course.
In most states, riders under 18 must get a motorcycle permit before applying for a motorcycle driver's license. If you're 15.5 years of age, you can apply for a motorcycle learner's permit and testing in many states.
Take an Approved Motorcycle Safety Course
Did you complete an approved safety course? Depending on the state you're residing in, you may have to take a motorcycle training course. These courses are great for newbie riders as they offer in-depth knowledge about traffic rules and help them practice riding.
These courses also teach riders defensive riding, allowing them to focus, remain visually alert, and safely navigate busy streets, roads, and highways. Remember, knowing traffic rules can save you from fines and serious motorcycle accidents.
Make sure you enroll in an approved safety course and apply for your motorcycle license where you plan to operate your bike. Motorcycle Safety Foundation is the most common motorcycle organization with accreditation in most states, including California, Texas, and Philadelphia. If you live in New York State, don't get a certificate of completion from California, for example.
Motorcycle Permit Test?
Getting a motorcycle permit or license should be done in your state of residence. Some states may offer a waiver and give you a license without going through hoops scheduling compliance and safety courses, etc. You can apply to get a license in those states in the mail!
The Basic Rider Course includes 10 hours of riding practice and 8 hours of in-class training. Passing the course means you don't have to give a motorcycle road test at the DMV.
Complete DMV Requirements
Once you complete the training course, all you're left with is applying to your local DMV and fulfilling their requirements, which may vary from state to state. Most states require you to bring a copy of your birth certificate if you really think you deserve a learner's permit as a valid class license to ride a motorcycle.
Warning – Registration Type: Don't overlook registration issues. The process will differ from registering a dirt bike or other off-road vehicle. And you can't ride many dirt bikes on public roads.
Military Considerations: Each state will be different. For example, in New York State, servicemembers can utilize the MSF Basic Rider Course (BRC), receive a road test waiver, and obtain a motorcycle driver license. (Source: website of the New York State Motorcycle Safety Program, 1-518-384-0045, Translation Services.)
Written Exam?
Typically, you will have to pass a written exam before giving a road skills test (you may need to schedule the road test). In addition, you need to fill out the necessary forms, provide the required documents, and pay the license fee.
The written test is mandatory in most states; you could be exempt. Many state DMVs waive the riding test if you have completed your rider training course or motorcycle course. However, if you're in Kentucky, the state does not offer any exemptions to get a riding permit.
The written test contains questions dealing with basic motorcycle terminology, safe riding techniques, and basic riding laws.
Each state is different, so you may be able to take the written portion online or at the local DMV. Before you begin your test, take some time to study the state resources and ask for help from licensed riders by inquiring with a local riding club or M/C. You can also visit their websites as well as any local DMV information online.
If the local DMV waives off these tests, you may still need to show them proof of completing your training course, a training course completion card. If there are no waivers, you will have to give both tests and might even have to go through a vision test to complete your DMV's requirements in most cases.
What About Minors Under 18 Years Old?
In most of the several states, children under 18, require the approval of a parent or guardian. Approval can usually be obtained by having the adult sign extra forms to give minors permission to operate a motorcycle and for the minor alone to accept liability for your behavior on the road.
Upon successful completion, you can now get your motorcycle license, but you must obtain motorcycle insurance before you can legally ride and operate on two wheels. Also, you may receive a restricted or temporary license before you get a permanent license.
Bring Proof of Experience to DMV?
Receiving your license does not mean you're the king of the road, and you still lack the experience needed to navigate through the roads packed with all sorts of obstacles, hazards, cars, trucks, vans, and other motorcycles. Ask the DMV to provide you with a practice handbook, and make sure to read it and follow instructions. Don't forget your pre-ride inspection. Kick those tires and make sure the DMV knows you did it at your own pace with proof.
Tip: Don't forget about safety gear, including eye protection, before motorcyclists legally operate these or even motorized bicycles. There is no rollcage or official instruction on the best gear, just minimal requirements. Be safe and reach out to the experts to determine the best way to stay injury free. Learning how to ride a motorcycle is crucial, but even more important is to wear protective gear during operation.
Practicing and Reading the DMV Handbook
The handbook is a precious resource that can help you perfect your riding skills in pursuit of the permit application and regular licensing.
Anything can happen on the roads, even with all the riding experience in the world. The Insurance Institute for Highway Safety recorded 5,579 motorcycle accidents resulting in death in the United States in 2020. According to California Highway Patrol, 88% of motorcycle crashes in California result in injuries or death.
Tip: Review the weather reports, and never ride in the rain! You can lose control, especially during a fresh downpour, as grease rises to the surface, causing hydroplaning. Obviously, you never want to carry passengers in the rain, either. Taking an approved course could very well save your life in this situation.
What To Do When Injured?
We have hands-on practice in winning millions of dollars on behalf of motorcycle accident victims. Fortunately, state negligence laws allow motorcycle accident victims to recover financial compensation for their losses when they take the road and are injured. If you suffered injuries or lost someone you love in a motorcycle accident that was not their fault, contact us at (833) LETS-SUE for a helpful, free consultation on your personal injury case or other driving matter.
Citations:
Main Los Angeles Location
633 W 5th Street #2890 Los Angeles, CA 90071 (213) 596-9642.