Since 1997, motorcycle accidents have more than doubled. Attorney Michael Ehline has five things to help stop this tragedy.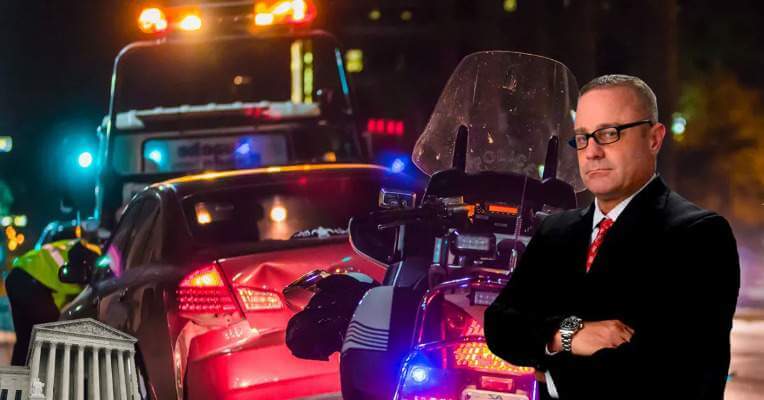 Recent studies suggest motorcycle riders are 28 times more likely to die due to accidents than motor vehicle drivers.
California has some of the worst road infrastructures in the country. There are many confusing intersections. Motorcycle collisions with motor vehicles and other objects are more common than you think. To add to the misery of a motorcyclist accident, there is a general bias against riders. Police and others often consider motorcyclists reckless and, in most cases, negligent.
Such bias against motorcyclists results in claim denials or limits on claims. It's very challenging to sue the at-fault party in a motorcycle accident in Los Angeles.
However, we don't expect victims to know the possible obstacles they could face and how to move forward. Our experienced Los Angeles motorcycle accident lawyers have compiled a guide to shed light on the most commonly misunderstood things.
We also cover how to combat them to receive maximum compensation for your damages. Take some time to read about the five things only a Los Angeles motorcycle accident lawyer can tell you today.
An Increased Risk of Motorcycle Crashes
Also commonly known as the "sunny state," California offers fantastic weather and serene scenic beauty for motorcycle riders. The state attracts an influx of motorcyclists yearly, while its residents also invest their savings in purchasing a motorcycle. As the number of motorcycle owners increases across the state, so does the number of fatal motorcycle accidents.
California is the number one state in the country with the highest number of motorcycles. Every year, the state of California registers record-breaking motorcycle sales. Currently, there are more than 800,000 motorcycles in California. Only a Los Angeles motorcycle accident lawyer can tell you that you are at an increased risk of motorcycle injuries in the state than anywhere else in the country.
With such a large number of motorcycles on the road, many motorcycle accident cases annually require the legal assistance of a motorcycle accident attorney.
Never Decline Medical Attention
We've gone over the grim statistics of how motorcyclists are more likely to die from a motorcycle accident than motor vehicle drivers. This is because motorcycles are smaller than vehicles, are open vehicles, and do not have sufficient safety features like a car.
As a motorcyclist, you are more prone to life-threatening accidents and must seek medical attention immediately. Prolonging medical care or help can lead to complications, further affecting your medical and financial situation. It would help if you headed to a medical center where your injuries are officially evaluated, documented, and treated. You must keep a record of all the medical bills you incur after the accident, as proper records increase the chances of fair compensation.
You may find that there are no apparent or visible injuries after an accident. However, some symptoms can take time to manifest, and if you admit at the scene of the accident that you don't have any injuries, you lose the chance to fight for financial recovery. This is because insurance companies are not liable to pay out if the incident does not injure the party.
Bias Against Motorcyclists
Insurance companies have this serious bias against motorcyclists because they think these groups of people are reckless drivers, thus increasing the chances of an accident. Even if you are not at fault and face injuries from an accident caused by a negligent driver, the chances are that the insurance company will try to blame you, the motorcyclist, for causing the accident.
There are three different biases against motorcyclists that can result in an immediate motorcycle accident claim denial. These three biases include:
Since motorcycles are small vehicles compared to cars, they are hard to see, especially if they are in blind spots.
Because motorcycles can accelerate and maneuver at high speeds, an insurance company will assume that the motorcyclist was driving fast. This is usually not the case, as motorcyclists understand the risks of reckless driving and try to avoid it, unlike car drivers.
Since insurance for motorcycles is cheaper and there are lax laws regarding driving a motorcycle, it is assumed that motorcyclists are either young, careless individuals or part of a gang.
Although there are these biases against motorcyclists, this is not true. As individuals, when we see a motorcycle accident, we focus on the reckless driving of that one individual and forget about all the careful motorcyclists. Because of this bias, we associate negative emotions with anger whenever we see a motorcyclist.
Since the bias has existed for a long time, an experienced motorcycle accident lawyer must overcome the jury and witnesses in a motorcycle accident case. To overcome such a bias (that motorcycles are too small to see or identify), an experienced attorney must provide photographs, measurements, and other evidence to protect the motorcyclists' rights.
Let's look at another bias: motorcycle riders drive fast. That's not the case, as a loud motorcycle is often confused with a fast-speeding motorcycle. A Los Angeles motorcycle attorney can use pictures of skid marks, witness testimony, and some math to refute the argument that the motorcycle was going fast.
Your Injuries Will Require More Insurance Coverage
This is something that you might not hear before an accident even occurs. Still, a Los Angeles motorcycle accident attorney can tell you that you will need higher insurance coverage if you're driving a motorcycle.
Most drivers in California have minimum insurance coverage, which means that the insurer will not pay out more than the coverage limits in the case of motorcycle accident claims. An injured motorcycle rider can incur significant medical bills depending on the severity of the injury. Brain or spinal injuries can cost millions of dollars over an injured person's lifetime.
Most likely, a motorcyclist will suffer serious injuries for which medical bills can quickly go over the insurance coverage of the defendant or at-fault driver. A Los Angeles attorney will be better able to guide you on whether your health insurance will be enough to cover the medical costs even after your personal injury claim gets approved.
Having an experienced motorcycle crash attorney on your side can help you sue the negligent party for financial compensation if the proposed motorcycle accident injury claim is not enough to cover your medical expenses.
Going to Trial
Generally, many attorneys will avoid taking the case to trial since it is time-consuming and expensive to go to trial. Any insurance claim case is often settled outside the courts through a fair settlement where both the plaintiff and the insurance company agree on the payout. However, you may sometimes not receive fair compensation, so having a knowledgeable attorney with trial experience can work to your advantage.
Remember, you and your attorney don't have to go to trial. If an insurance company understands the evidence against the defendant, it will avoid trial at all costs. Not only are trials expensive for insurance companies, but they can also cost them their image. Insurers will most likely settle bad publicity that is always unwelcome at insurance headquarters.
What Is the Motorcycle Accident Statute of Limitations in California?
Whether you're driving a motor car when you have an accident or a motorcycle, the statute of limitations in California dictates that the victim has two years following the accident to file a lawsuit. Failure to take legal action against the negligent party within the stipulated time can result in zero recoveries, except under special circumstances.
Many accident victims believe two years is more than enough time to file a lawsuit against the negligent party. We advise you not to wait. After an accident, your priority should be receiving medical care before approaching a Los Angeles motorcycle accident lawyer.
Collecting evidence and information while it is still fresh will strengthen your case. Secondly, you don't want to approach an attorney at the last minute since they require time to plan your case, collect evidence, and negotiate with the insurer on your behalf.
What Should You Do after a Los Angeles Motorcycle Accident?
The steps you take after an accident will determine the outcome of your motorcycle accident claim. It is important to remember that the defendant or the negligent party's insurer will try their best to reduce your claim or reject it. You must take certain steps to protect your rights, and partnering up with an attorney at the earliest will work in your favor.
Our attorneys advise some steps to ensure the best chance of recovering fair compensation.
Ensure Your Safety
An accident can have enough impact to throw the motorcyclists off their motorcycles and onto the asphalt road. If you're on the road with oncoming traffic, try to move yourself and your motorcycle to a safe location. Do not leave the accident scene, as you'll risk losing your personal injury claim.
Call 911
According to the law, you must inform the local authorities of major accidents (property damage worth more than $1,000) and the California DMV of minor accidents. Check for any apparent injuries and notify them of any incurred injuries. If you're not hurt or do not have any visible injuries, do not admit it to them. Delayed injuries are common, and you may start to develop symptoms after a few hours or even days following a motorcycle crash in Los Angeles.
For example, symptoms of traumatic brain injuries can manifest some time after the accident, and brain injuries are pretty common in motorcycle accidents. Telling the authorities or the insurance companies that you are not injured when a motorcycle accident occurs risks losing your Los Angeles claim. This police or accident report will come in handy later when building your motorcycle crash claim.
Exchange Information
You or your personal injury attorney will want to file a claim with the negligent party's insurance company. You need relevant details such as the insurance policy number, insurance company, contact details of the negligent party, driver's license information, and more. The more information you get from the negligent party, the more it will help you during the claims process.
An important thing to remember is whether you're at fault or not, do not admit fault at all times. The moment you admit fault in an accident, you lose the grounds for receiving compensation. California is a fault-based state where compensation is awarded according to the degree of fault. Even if you're at fault, you still have the opportunity to obtain your fair share of compensation.
Take Pictures
Securing evidence during the time of an accident can improve your chances of winning the personal injury case. Skid marks, vehicle damage, and other types of details after an accident are fresh, and there is no tampering at this stage. Take a lot of pictures of the accident scene and the vehicles involved in the accident.
Resourceful attorneys bring on qualified investigative professionals to examine the picture and determine the fault. If you don't take pictures, the other party can repair their vehicle or hire someone to remove evidence from the accident scene, thus jeopardizing your rightful claim.
Head to a Hospital
Once the police are at the accident scene, they will talk to all the parties involved to file an official police report. The report includes the officer's opinion on how the crash happened and who might be responsible. The police report is a document that can help strengthen your personal injury case if the accident was not your fault.
Once the police have investigated the crash or motorcycle fatalities, they will allow you to leave. As soon as you receive permission to leave the accident site, head to a hospital for a quick medical examination to diagnose any catastrophic injury like a traumatic brain injury, spinal cord injury, etc.
Studies suggest a fast recovery when victims undergo immediate medical treatment. But prolonging it can affect your health and your personal injury claim to recover compensation. Even if you don't have injuries, you must head to a doctor to receive a medical checkup. This will identify any internal injuries from motorcycle crashes, if any.
Contact Your Insurer and the Other Insurance Company
Our attorneys suggest filing a report with the other party's insurance company within 24 hours of the accident. Do inform your insurer of the accident so they know your situation and serious injuries.
Make sure you tell the insurer the facts about the accident rather than provide every single detail possible. The same goes for your injured motorcycle passenger, if any. Insurers are in the business of avoiding payouts and will use any information affecting your motorcycle crash claims to work against motorcycle accident victims in Los Angeles. They will even argue that motorcyclist lane splitting is unsafe, even though it's legal in California.
Complete Your Treatment Plan
Once you receive a medical examination, the doctors will decide on a treatment plan you must follow. Skipping out on any treatments or prolonging them provides the insurance company with the grounds to tackle your claim. If you skip out on treatments for your serious injuries, insurance companies will blame you for exacerbating them, not the accident itself. This can lead to reduced payouts or even a denial.
Keep Track of Receipts and Medical Documents
When filing personal injury claims, the injured motorcyclist needs as much information and documents as possible to hand in as evidence. Medical records, police reports, and doctor's letters are all relevant documentation that can strengthen your personal injury case after motorcycle accidents and other auto accidents.
Contact a Los Angeles Motorcycle Accident Lawyer
Once you file a report, a claims adjuster will approach you to investigate your case. But before you talk to them, speak to a qualified Los Angeles motorcycle accident lawyer. Our Los Angeles motorcycle riding accident attorneys have the right experience to protect your rights and negotiate a fair settlement on your behalf.
Contact Ehline Law and Receive a Free Consultation With a Motorcycle Accident Attorney in Los Angeles
We hope you enjoyed reading the "5 things only a Los Angeles motorcycle accident lawyer can tell you." Was someone breaking roadway rules in Los Angeles County, leading to wrongful death or disability? Our law firm helps the injured rider with common motorcycle accident injuries to help recover maximum compensation for medical expenses and lost wages.
Our Los Angeles injury attorneys will review your motorcycle accident case and provide you with the legal options to move forward. If you wish to pursue legal action, Ehline Law offers a contingency-fee-basis legal service where our attorneys only get paid once they win your motorcycle accident claims. Our Los Angeles office understands how a motorcycle wreck can leave a victim with life-threatening injuries, affecting their quality of life. The bias against the fallen motorcycle rider with catastrophic injuries is often unfair in many personal injury cases.
Each motorcycle accident attorney here has helped recover millions in settlements for motorcycle accident cases and can help you with yours. Contact a motorcycle accident lawyer or visit our law offices across California for more information about motorcycle accidents.
If you received motorcycle injuries in an accident that was not your fault, contact us at (213) 596-9642. Schedule a free case evaluation with our experienced Los Angeles motorcycle accident lawyers. Let our proven track record protect your rights and recover fair compensation for your damages with a motorcycle accident claim.