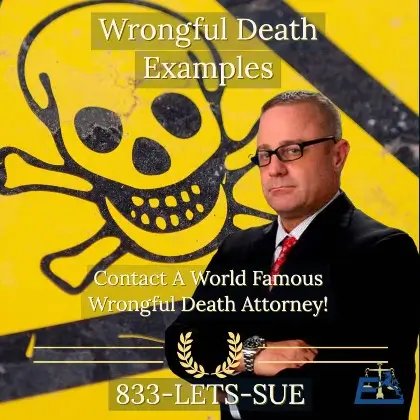 By Los Angeles Personal Injury Attorney, Michael P. Ehline Esq. Find answers to all your questions. Did you or a close loved one lose family members in an accident, and it wasn't the dead person's fault? It is critical for surviving families to learn about their legal rights after a loved one gets killed, mainly if they are financially dependent on the deceased.
Accidents involving cars, trucks, passenger buses, motorcycles, construction, and oil fields may not be entirely accidental. If an accident kills someone negligent (civil negligence, or criminal murder case), rather than accidental death (Ex: an act of God, etc.), one of the decedent's family members (or an estate representative) may be able to initiate a civil case against the at-fault party.
Wrongful death is readily distinguished from those that are legitimately accidental by negligence or willful injury. Our personal injury law firm helps the surviving accident victims recover compensation from the at-fault parties.
Was your loved one murdered in an accident due to another person or company's negligence or intentional damage? You may be eligible for damages compensation. Here is everything you should know if you are thinking about launching a wrongful death case. If you would like more information, contact the Ehline Law Firm for assistance.
Wrongful Death vs. Accidental Death
To assist you in understanding the difference between wrongful death and accidental death, let us look at a few examples:
Wrongful Death
A distracted motorist crosses the road and swerves into oncoming traffic, causing a fatal head-on collision. Since courts consider distracted driving as negligence, the deceased's surviving family members may be able to file a wrongful death lawsuit against the distracted driver who caused the accident.
Accidental Death
A motorist rounds a corner while observing all applicable traffic laws, hitting and killing a pedestrian strolling in the roadway after dark. Even though the driver's activities resulted in a death, death, a jury or court would most likely deem the killing accidental. This is because the occurrence did not involve negligence or improper actions by a liable party.
Therefore, the decedent's surviving family members would probably be unable to pursue a wrongful death claim against the driver.
Who Can Present Wrongful Death Claims?
Only the decedent's surviving spouse, biological or adopted parents, and biological or adoptive children have the right to file a wrongful death lawsuit. Furthermore, a wrongful death lawsuit may get filed by any one of these family members, or the family can bring the claim together.
Suppose no qualifying surviving family members file a wrongful death claim within three months of the decedent's death. In that case, the estate's personal representative may submit the claim on behalf of the estate.
The statute of limitations for wrongful deaths mandates that the case get filed within two years of the decedent's death, irrespective of who pursues the action.
What Are the Essential Elements of a Wrongful Death Claim?
To prove a wrongful death claim, the plaintiff must show that the defendant was previously involved in an accident that led to the death of their loved one.
The following traits or aspects must be present in successful wrongful death causes of action:
The defendant was largely or completely responsible for the death in question. The defendant's negligence, unskillfulness, carelessness, improper behavior, or refusal to perform an obligation directly caused the death.
The person's death had a detrimental impact on the decedent's surviving family members, who have an entitlement to wrongful death compensation under the law. A monetary settlement got reached as a result of the death. Dealing with a legal obligation after a person dies is never an easy task.
Michael Ehline and the attorneys at this law office understand this and are compassionate towards the situation you are facing. You can rest assured, by utilizing our legal services, the negligent party will face responsibility.
This truth remains gospel whether the wrongful death was a result of automobile accidents, slip and fall accidents, medical malpractice, or any other wrongful death or survival actions. It is time for you to receive compensation for the suffering experienced by your family.
What Damages Can You Claim in Wrongful Death Lawsuits?
Surviving family members are frequently dealt emotional and financial blows following the death of a loved one.
Furthermore, wrongful death plaintiffs, on the other hand, can seek compensation for a variety of economic and non-economic damages, such as:
Medical bills
Funeral expenses
Lost wages
Emotional and mental anguish
Advice lost care, support, and guidance
Lost companionship and love
Lost consortium
Financial support.
Are You in Need of a Wrongful Death Attorney? Contact Ehline Law Firm Today!
You might be able to file a wrongful death claim if your loved one got murdered as a result of someone else's negligence. Ehline Law Firm's award-winning legal team can assist you in determining your legal alternatives. Make an appointment with the friendly and charismatic attorneys at Ehline Law Firm today for a no-obligation free consultation and free case review by a trial lawyer.
Our personal injury law firm prides itself on the attorney-client relationship it develops; therefore, you can trust a personal injury lawyer from Ehline Law Firm to take legal action in your best interests! Call us at (213) 596-9642 for further information about whether you are dealing with accidental or wrongful deaths. You can trust us to give you the appropriate legal advice in California.