How Did His Recovery Go?
It was no surprise when people found out that his injuries were severe. Luckily, he was able to persevere throughout his recovery, and he spoke about being stronger mentally and physically. He spent 20 days recovering in the hospital after needing several surgeries, but he worked on his mental toughness.
The UFC fighter spoke about how he has had to ensure a lot of mental and physical pain over the years. He lost his mother in 2011 to pancreatic cancer. Six months later, he was hit by a car while riding his skateboard. His uncle died of alcoholism, and then his grandfather died in 2015. After going through all of this heartache, he ended up in a car accident in 2017, where he lost two more close individuals.
However, he has managed to keep a positive attitude because he believes that these bad experiences have given him a lot of strength and made him the person he is today. Except, he has mentioned that he is numb to pain, which might be a downfall for him one day.
What Were 20 Days in the Hospital Like?
Cocores was in the hospital for 20 days and couldn't sit up properly. He has two breaks in his spine, a broken wrist, and a broken ankle. His internal bleeding was so severe because the seatbelt ended up tearing into a part of his stomach. Also, a part of his intestine needed to be removed. He had two stomach surgeries, which left him with a 12-inch scar going up his entire abdomen.
After 15 days on his back, he needed to learn how to walk again. Also, he lost 20 pounds of muscle because of the diet that he was on. Cocores did say that it felt like he was in bed for a year because he needed to learn how to walk again by only walking five feet at a time.
Will Cocores Be Returning as a Bellator MMA Fighter?
It was a hard three years for Cocores, but by 2020, he was ready to get back in the ring. The car crash left him in pieces, but he managed to get through his rehabilitation and recovery fully, so he could look forward to the future. He believes that he was meant to be here and has a purpose, which is a good attitude.
This was a big shock to the MMA fighter because he did not think he would ever fight again. In 2018, he completed an interview where he said that the odds of competing in a UFC match were extremely low. However, he always believed that he needed to fight again, which helped him recover.
However, his goals changed. He wasn't focused on reaching the UFC again, but he knew he needed to enter the ring again. After being in the hospital for three weeks, he got a nurse to hold his phone while he began to shadowbox in his room because he wanted to remind himself that he could do this. Luckily, he came at it positively because he said this was his chance to start from scratch.
He also gives credit to the medical professionals who helped him because he says that his recovery would have been a lot different if they had not been around. That is why after all of his surgeries and physiotherapy, he was able to fight again. We don't know if he had an attorney representing him, but we assume he did.
After losing everything close to him, he ensured he would get back in the ring and fight again. However, this accident has taught him that he needs to be patient because he wanted to jump right back into fighting. He had difficulty watching his teammates compete and end up in the UFC, but he knew he needed to take time for himself.
Now, he is looking forward to his future in the UFC one day and any future fights he will be in.
Why Ehline Law Firm Can Help with Your MMA Accident
Michael Ehline is an MMA fighter and lover, making him even more passionate about helping those who need a litigation process completed. Every member at Ehline Law Firm is passionate, experienced, and knowledgeable about the subject, so every person can get the compensation they need.
With so much experience, personal injury lawyers know what to look for when their injured client comes to them for help. This is a personal injury law firm that many people have trusted for years with their cases because they know they are there to help them. That is why they offer a free consultation with their best attorney for those who want to ensure they are working with the best team.
Other Ways Personal Injury Lawyers Help?
The personal injury lawyers will gather all of the evidence for the case so that the client can focus on healing.
Battle the Insurance Company
They understand that your insurance company may be difficult to work with, but they will speak to them on your behalf. This is done because an insurance company will try not to give up any coverage money in this situation, balking at the findings of your investigation as to how the accident happened. That's not right for the client and calls for an attorney.
Work with Injured Client
Overall, the attorney will get all the details about the accident before submitting the claim. Also, they will ensure that all the paperwork is completed on time and properly, so the client does not need to think about it. The firm is here to help clients who cannot help themselves at the moment because of the injuries to their health caused by the incident.
Additionally, the team has covered a wide variety of practice areas, so they are ready to help with every accident, including a full-blown jury trial if necessary. The firm will handle the litigation process so that the family can focus on the injured and their injuries. Also, all of the clients that have worked with Ehline Law Firm have been welcomed and looked after like family, even after we collect our fees.
Call the Best Personal Injury Law Firm in Los Angeles Today!
When someone has suffered a bout with car accident injuries, they should speak with attorneys to understand the client's needs to protect themselves financially. Also, the attorneys should make a claim that will help pay for any expenses regarding the incident. However, finding a team that can help with someone in the UFC may be challenging, but it won't be if they reach out to Ehline Law Firm.
The team is ready to speak with anyone, an MMA or a UFC fighter, to get the claim they deserve for their suffering. Moreover, the attorneys will be by their side throughout the entire claim process and will be there if a trial occurs. Either way, clients who have an injury will always be treated respectfully by this team with superior, compassionate legal services.
---
Michael Ehline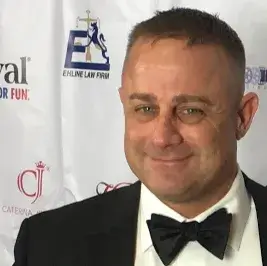 Michael is a managing partner at the nationwide Ehline Law Firm, Personal Injury Attorneys, APLC. He's an inactive Marine and became a lawyer in the California State Bar Law Office Study Program, later receiving his J.D. from UWLA School of Law. Michael has won some of the world's largest motorcycle accident settlements.
---
Recent Personal Injury News
Check out our most recent auto defects, accidents and more, including the famous, infamous and everyday people wounded by at fault parties around the world.