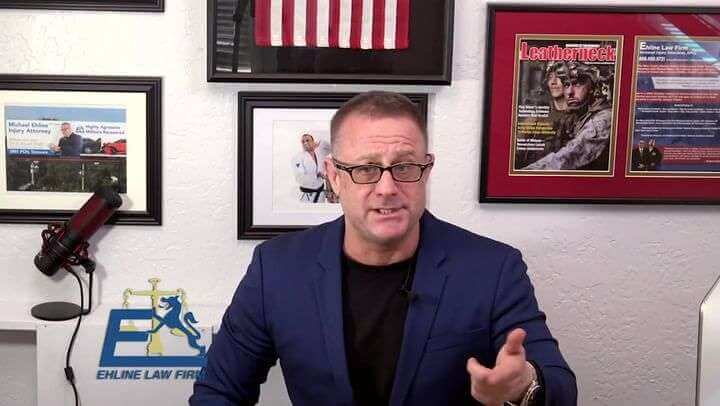 An auto accident can leave an auto accident victim vulnerable to economic and non-economic damages, but fortunately, victims can recover some of the damages from their insurer.
Tired of Deplorable Insurers Ripping you Off?
Receive a Free Consultation Today!
You may file a third-party claim with the negligent party's insurance company if you get into an auto accident due to someone else's negligence. Once a claim gets filed, the insurance company assigns claim adjusters to the case, who investigate the claim and determine its value. Unfortunately, it is challenging for a claims adjuster to determine a fair pain and suffering settlement for a victim since pain is subjective.
The question that arises is how can an insurer quantify the pain and suffering a victim is going through.
Don't Deal with the Insurance Company Alone – Ehline Law Can Get a Fair Settlement for Your Pain and Suffering.
Here, we will explore how attorneys or insurance companies calculate an insurance claim as part of a personal injury settlement. We will also cover how our personal injury attorneys can increase the chances of getting fair pain and suffering compensation for pain and suffering damages following car accidents.
How Does an Insurance Company Calculate Pain and Suffering Damages?
These days, insurance companies pay a physical injury claim using computer software and rely on algorithms to provide them with a claim value for pain and suffering.
Currently, the most popular software used by insurers is Colossus, developed by CSC. The software takes in the information provided by the claim adjuster and uses complex mathematical algorithms to determine the settlement for pain and suffering.
Some of the insurance companies that use Colossus include the following:
Allstate insurance
AXA insurance
Farmers insurance
Hartford
Zurich
and many more.
Colossus uses more than 10,000 different rules to help generate questions for a personal injury claim, including pain and suffering, which the claim adjuster then fills in. After entering the relevant information, the software mathematically calculates the final settlement offer. Although Colossus provides consistency in its results, no two personal injury cases are identical. There is no way software can truly calculate a fair settlement for the pain and suffering experienced by a car accident victim.
Factors That Influence Colossus Settlement Value
The insurance adjuster inputs medical record data into the software and assigns "severity points" to the injuries incurred by the victim.
The severity points multiply the amount of money according to the severity of the bodily injury. Findings in the medical record play an essential role in increasing the settlement offer calculated by Colossus, including headaches, nausea, anxiety, depression, and more.
The findings in the medical record and other information are also known as "value drivers." Value drivers could also include whether or not you visited the hospital for medical treatment, the type of treatment, the timescale of therapy, medications, any impairments, and other relevant information.
The software even considers the attorney working with a victim, the experience of the attorney, and how willing they are to go to trial. It can be easy to quantify medical bills from medical treatments, but it is incredibly challenging to calculate pain and suffering since it is subjective.
Our personal injury attorneys understand the torment of an auto accident and will go above and beyond to protect your rights.
How Does a Personal Injury Lawyer Calculate Pain and Suffering?
When determining pain and suffering damages in a personal injury lawsuit, there are two methods that the majority of attorneys use, and they are the multiplier method and the per diem method.
Multiplier Method
The multiplier method considers all the economic damage from a car accident and multiplies it by the assigned multiplier between 1.5 and 5.
The assigned multiplier for every case is different since it depends on different factors that, include the severity of the accident, the impact of the accident on the victim's life, and the recovery time, among many others.
Attorneys also incorporate the degree of fault into the multiplier since California is a fault-based state.
Per Diem Method
This method calculates a per-day compensation amount, and the aim is to get a daily amount for each day the victim experienced pain and suffering.
Usually, attorneys use the daily wage rate to determine the daily compensation amount; however, depending on the severity of the injuries, that may not be enough.
Using the per diem method can be challenging as the victim must justify the daily rate; however, having a qualified personal injury attorney can help determine the claims and get them the fair compensation they deserve.
What's The Average Car Accident Settlement?
A simple guideline for calculating car accident settlements is to multiply the medical bills by 3. However, other factors go into calculating a car accident settlement, and these could include:
The severity of the accident
Treatment plan
The duration of treatment
Lost wages
and more.
A judge will consider all of these factors before awarding compensation to the plaintiff; however, in most cases, compensation is only offered upon the completion of the medical treatment.
According to the data collected, car accident victims in the United States settle between $14,000 and $28,000, an average of around $21,000. This doesn't mean that your car accident case is worth this much since each accident is different, and working with an attorney can help get you fair compensation for your car accident injuries. Severe and permanent injuries can push settlements into the millions.
Ehline Law has recovered more than $150 million in compensation for over 3,000 injured victims for damages, including medical bills, physical pain and suffering payout, punitive damages, and more.
To give you an idea of how much compensation can vary depending on the severity of the accident, here are some car accident cases and the compensation we retrieved for our clients:
Gilbert v. Quinones – $2.3 million
Hier v. State of California (Caltrans) – $2 million
Doe v. Doe – $600,000
Kramer v. Causly et al. – $145,000
Wickstrom v. Lee – $25,000
If you got into a car accident that was not your fault, contact us at (213) 596-9642 for legal advice on your personal injury case.
Attorneys at Ehline Law work on a contingency fee basis, helping eliminate the financial burden of hiring legal experts for representation after an accident.
Car accidents can turn your life around, and worrying about how much money you might get from your insurer can further add stress.
In most personal injury cases, victims often become targets of bad faith practices, resulting in delayed or rejected claims.
Our attorneys understand how difficult life can be after a serious injury and are here to protect your rights and get you the compensation you deserve. Contact us and get a free consultation today to find out about forming a risk-free, attorney-client relationship with us to recover compensation for personal injuries!