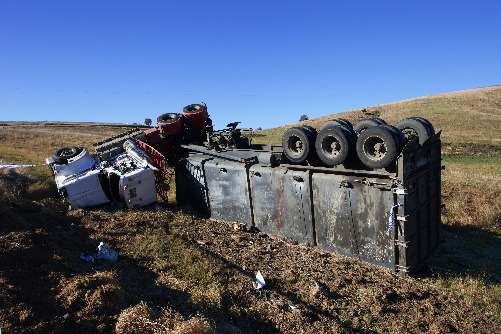 After a horrible car crash that killed his sister, Glory veteran Robin Van Roosmalen was taken to the hospital in January 2021 for critical injuries sustained from the tragic accident.
Read about tragic wrongful death truck accident and dealing with similar tragedies. The sad news that his sister, Melissa van Roosmalen from Den Bosch, died shocked Bellator MMA and the Van Roosmalen family. Unfortunately, to this day, Robin is still dealing with being in the hospital and undergoing surgeries, as can be seen on his Instagram profile.
A Tragic Car Accident
In Nieuwegein, Netherlands, his home country, Van Roosmalen, a former two-weight Glory kickboxing champion, was involved in a car accident. Melissa Van Roosmalen's passing was tragic due to the injuries sustained in the accident. She was 29 years old at the time. Roosmalen, the K-1 black belt with a storied Glory kickboxing career, and his sister were stopped on the road. Suddenly, an oncoming truck hit Van Roosmalen's car, according to the initial report and latest news. Following the car crash tragedy, the truck's driver was reportedly arrested. There are no further details of the truck crash case.
The Career of Robin Van Roosmalen
Van Roosmalen has a 51-18 kickboxing record in his professional career. He won GLORY gold in two weight classes. In 2019, he joined Bellator MMA. In October 2019, he was supposed to fight Cris Lencioni, but he missed weight and had to move up to lightweight. Testing positive for COVID-19 during that outbreak forced him to postpone his promotional debut.
His most recent kickboxing match before his sister was killed by the truck occurred in September 2018. He is 2-0 in mixed martial arts, with both victories coming by TKO or knockout.
What Did Robin Van Roosmalen Have to Say?
The Dutchman addressed his injuries on Instagram, confirming that the operation for his serious injuries went well and thanking followers for their sympathy. He's constantly providing updates on his body and physical condition on Instagram.
Did the Glory Family Have Anything to Say?
Glory offered its deepest condolences to the entire family during the difficult time and wished Robin a speedy recovery. Furthermore, Glory also commented on Van Roosmalen's condition. Van Roosmalen reigned as a Glory lightweight and featherweight champion for years. Glory was deeply saddened by the news of the injuries suffered by Robin and his sister, Melissa Van Roosmalen, passing. Robin's managers at Paradigm Sports Agency also expressed their condolences.
The Story of Robin Van Roosmalen
His sister dies, and he sustains serious injuries that require him to be hospitalized – what could be worse than this? The Glory lightweight champ, Robin Van Roosmalen, had to learn how to be a fighter in the ring and for his life after this tragic accident.
Van Roosmalen, a multiple-weight-class kickboxing champion, eventually decided to pursue MMA full-time and signed with Bellator.
After receiving a positive COVID-19 test in 2020 before his scheduled kickboxing bout and failing to make weight in his debut, he has been unable to compete. Rest in peace, Robin van Roosmalen and may peace be upon her surviving family members.
Contact an MMA Car Crash Lawyer
Did you or your loved one experience a fatality in your family caused by a roided-out UFC fighter? Or were you run over or injured on your way back from the MMA academy? Our Los Angeles wrongful death attorneys stand by our phones 24/7 to assist car accident victims in obtaining financial compensation for medical expenses, property damage repairs, and other out-of-pocket losses, including pain and suffering.
Schedule your free consultation today by dialing (213) 596-9642 or using our online contact us form for verification purposes only. Please don't delay, as sleeping on your rights can hamper our liability investigation and bar your lawsuit under California's statute of limitations. If someone dies, who and when to sue can become confusing without our charismatic, educated lawyers helping you. Contact us today to receive further information.