Major Roads and Busy Traffic Areas
The highest number of accidents involving bicycles happen on major roadways at non-intersection locations. In urban areas, 67% of incidents occur in other locations in areas where traffic is higher.
Some areas where the risk is highest (non-intersections) are on the main street, traffic lights, dual carriageways with multiple lanes in the same direction, and places with many pedestrians crossing.
Anywhere where bicyclists and other drivers should be considered a dangerous location. Using the road responsibly can help limit the chance of injuries.
Other Areas
Rural areas are less dangerous than cities, statistically. The chances of a bicycle accident drop significantly, but cyclists are still injured outside the primary roadway system.
Parking lots, sidewalks, a bicycle lane, trails, and medians make up 10% of bike riding accident statistics.
Lastly, many fatalities occur in driveways and access roads due to reduced visibility and a sense of security that can stop people from paying proper attention.
Bicycle Accidents by Time
The time you choose to ride a bike can also affect the risk of an accident. Here are the most common times of day for cyclist collisions.
Evenings
Most bicycle accidents happen during the week occur in the evenings between 6 pm and 9 pm. Vehicle traffic tends to be higher and visibility reduced. Evening accidents occur less at the weekend, but it is still the most dangerous time.
Weekend Mornings
Saturday and Sunday are the most accident-prone mornings for cyclists.
Fatal Bicycle Accidents
Most bicyclist deaths occur in areas where drivers and cyclists share the roads. Speed limits and vehicle density play a significant role.
Research into statistics in certain areas can assist in an individual case. An experienced lawyer can use incident history from the NHTSA to examine risk factors to help identify fault, negligence, and cause.
What to Do After a Bike Accident: Knowing Your Legal Rights
Cyclists involved in transportation collisions in LA must be prepared to deal with the aftermath and know who to contact.
Gather Evidence
Crash data, witness statements, contact details, and police reports can all help during legal proceedings. If a person's injuries are not too severe, they should gather as much evidence at the scene as possible.
Speak with a Lawyer
A lawyer can help victims get the compensation they deserve after a bike riding accident. They understand the laws surrounding road use and safety, including duty of care and driver responsibility.
Arranging a free consultation with an attorney should be a priority for anyone involved in any bicycle or car collisions as a driver, rider, or pedestrian. Support and guidance under the privilege of an attorney-client relationship can make a difference in every case.
Seek Damages
Injured bicyclists may be entitled to the following compensation.
Property Damages
Damage to the bicycle and other gear (helmets, safety gear, cut pant legs, destroyed clothing or personal belongings).
Personal Injury Costs
Medical bills associated with the bicycle accident

Prescriptions and follow-up care for injuries suffered

Other expenses incurred from bike accidents
Pain and Suffering Damages
Wrongful Death Claims
Claims on behalf of families when bicyclist deaths occur

Cover for funeral expenses

Support for remaining dependents
Speak with the Expert Legal Team at Ehline Law Today
If you have been involved in a bike accident and need a personal injury attorney to fight in your corner, contact the Ehline Law Firm legal team today.
Arrange a free legal consultation with a passionate lawyer with deep knowledge of road accident laws who can navigate the circumstances of the incident and work to defend your rights as a victim.
Years of experience working with Los Angeles bicycle accident victims make Ehline Law one of the best choices of lawyer teams in the state. Call now for a free case evaluation with attorneys you can trust.
Receive the Compensation You Deserve and Begin the Journey to Recovery
People should be able to have fun and ride their bikes safely, but unfortunately, things go wrong sometimes. The statistics are left unchanged year on year, with steady numbers of collisions on the road, sidewalk, and more.
Don't hesitate to speak with us today. A free consultation is the first step on the road to recovery.
---
Michael Ehline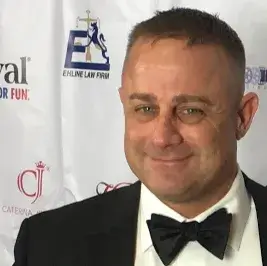 Michael is a managing partner at the nationwide Ehline Law Firm, Personal Injury Attorneys, APLC. He's an inactive Marine and became a lawyer in the California State Bar Law Office Study Program, later receiving his J.D. from UWLA School of Law. Michael has won some of the world's largest motorcycle accident settlements.
---
Recent Personal Injury News
Check out our most recent auto defects, accidents and more, including the famous, infamous and everyday people wounded by at fault parties around the world.