Such people have the tendency to go to any extents to protect their loved ones as well as people in their community. However, their courage and determination only comes out in cases where it is needed and is for the innocent ones.
The Uvalde, Texas Shooting Incident
By now, the entire world knows how a shooter named Salvador Ramos trespassed into Robb Elementary school in Uvalde, Texas, and went berserk, killing fourth grade teacher Eva Mireles, 44, Irma Garcia and several other students. Some of what we know about the victims so far is saddening. AP and other news suggested that Eva Mireles tried to save her students. We heard stories from the local Texas Department of Public Safety about Manny Renfro and how he learned his 8-year old grandson, Uziyah Garcia, was assassinated at Robb Elementary School by a deranged man who liked to torture animals and intimidate others. Annabelle Rodriguez, 10 years old, was also massacred along with Makenna Lee Elrod, 10, Jailah Nicole Silguero, 11, Tess Marie Mata, 10, Amerie Jo Garza, 10 and 10 year old Alexandria Aniyah Rubio.
Another story explained that Eliahna 'Ellie' Garcia, 9, had been identified among the carnage. Her surviving family members Rogelio Lugo and Nelda Lugo, decendent Garcia's grandparents, informed the Los Angeles Times Garcia had been a fourth grader at Robb Elementary School and that she was second-eldest of five girls. Ultimately, in all, 19 children and two fourth grade teachers were slaughtered in the Uvalde, Texas school shooting massacre.
From how the South Texas investigations are unraveling information on the case, it is clear that Ramos only had one motive, which was to kill the innocents.
For now, democrats want more gun laws aka confiscation, and republican parents want more rights to protect their kids with gun control by their hand to aim well and shoot bad people wishing to harm their children.
He entered the Robb Elementary School when the students were busy in their classrooms and started shooting at them. As a result of Ramos's terrorism, lives of 19 young children and 2 teachers were taken.
As the news reached to the parents and the loved ones of the innocent victims, it shocked all of them. Although the incident devastated 21 families but it ended up shaking the entire world.
Jacob Albarado Shares his Story
Jacob Albarado, a US Border Patrol agent, who was off-duty at the time of the shooting has shared his side of the story. He revealed that he was at the barber shop waiting for his turn when he received a text from his wife.
He was a bit concerned because it was uncommon for his wife to send him a text during her work, which in Robb Elementary School. The text he received from his wife was nothing less than a huge shock, especially when it was later learned that 19 children and two teachers were slaughtered while police focused on punishing concerned parents.
She had texted him that an active shooter had found his way into the school. She later texted him "Help," followed by a message that said "I love you." Albarado's daughter also studies in the same school and she is a second-grader there. So maybe he had an idea this was a goodbye text.
Albarado told police officers at the scene he knew he had to do something to get everyone out of the school. He told the barber what was unfolding at his wife's school and borrowed the barber's shot gun.
Albarado's Bravery and Quick Thinking
Albarado made his way to the school teaming up with the officers who had already arrived at the scene. He devised a strategy to flee the victims out of the shooter's reach.
They wasted no time and started evacuating all the students from the school through one of the wings, which was far from where the shooter had barricaded himself.
While evacuating the students and the teachers, Albarado also confirmed if his daughter was safe, and she was. He had a relief after learning about his daughter but carried on with the evacuation, taking everyone to safety.
He told during the investigation that everyone inside the school was in a huge shock and that was normal given the fact that had witnessed a mass-murderer.
Albarado's Condolences for Families Who lost their Loved Ones
Albarado stated that while he was glad to see his daughter was alive and safe, he felt extremely sad for the kids and teachers who had lost their lives.
They also had families and their loved ones who they would never be able to see again. He was extremely sorry for the parents losing their children and partners losing their loved ones due to the incident.
He revealed that his daughter, Jayda who is 8-years-old and a second-grader lost her friends in to the shooting.
He told the officials that it is a small community and everyone knows each other, and he is saddened to see something like this has happened to a peaceful place.
Citations:
Michael Ehline
---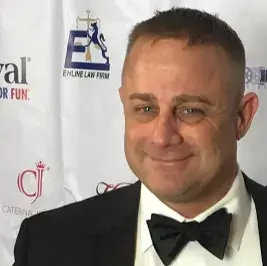 Michael is a managing partner at the nationwide Ehline Law Firm, Personal Injury Attorneys, APLC. He's an inactive Marine and became a lawyer on the California State Bar Law Office Study Program, later receiving his J.D. from UWLA School of Law. Michael has won some of the world's largest motorcycle accident settlements.