Types and Severity Levels of Traumatic Brain Injuries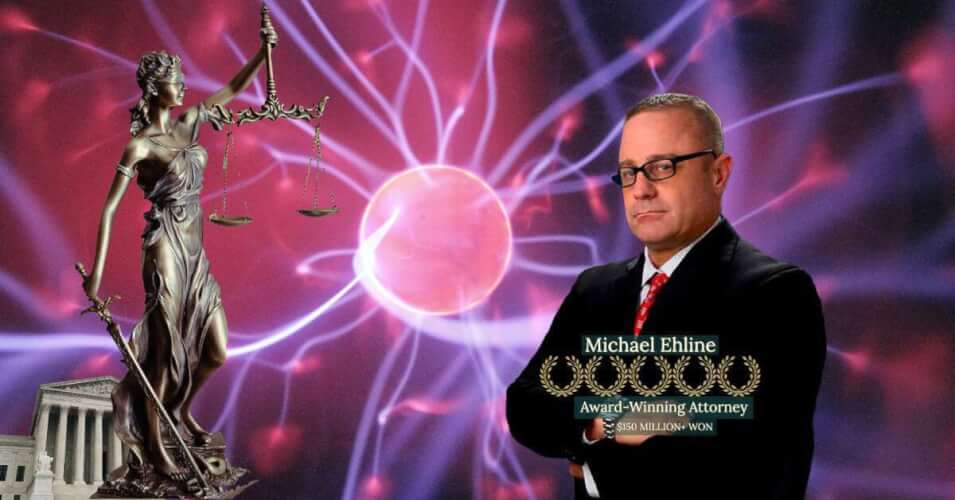 The top four causes of traumatic brain injuries as of 2022 are:
Falling
Auto Accidents
Violent Acts
Recreational/Physical Acts.
Due to the high prominence in recent years, many Americans are familiar with details, facts, and questions about traumatic brain injury, particularly among professional sports stars, such as football players and returning soldiers. Victims and their family members may suffer life-altering changes as a result of these catastrophic health problems. Ehline Law Firm can help!
Cognitive issues are common in people who have had a serious or mild TBI and physical difficulties; either type may leave an individual permanently or temporarily incapacitated. Some car accident cases are slight fender benders with a mild injury to the head or slight whiplash. But sometimes, neurological disorders will develop over time when faced with head injuries like this.
It is also not assured that such damages may heal, especially in situations involving a gunshot wound, including depressed skull fractures or severe penetrating injury. Doctors may only take steps to keep injuries from worsening; however, prevention is almost always impossible. The Centers for Disease Control and Prevention, CDC, and National Institutes of Health Directory Center page provides data on this section and other damages, such as a stroke or concussion. Our brain injury lawyers in Los Angeles are experts in obtaining maximum compensation on behalf of California and texas brain injury victims.
The Four Traumatic Brain Injury Causes
One of the most frequently asked questions on the CDC page, Centers for Disease Control and Prevention in Atlanta, includes the primary cause of TBI.
All accident victims should learn information about the following areas of cause:
I. Falling
What is the most common cause of traumatic brain injury? Falls are the leading cause of moderate or severe TBI for older individuals and young children, according to the Centers for Disease Control and Prevention (CDC.) Install and check handrails in areas where falling occurs, such as restrooms, as a prevention strategy or defense. Learn more from expert slip and fall lawyers in Los Angeles today.
II. Car Accidents
The CDC in Atlanta also says that passengers, drivers, pedestrians, bikers, cyclists, and related people all suffer intense head injuries in motor vehicle accidents. Passengers and drivers must always utilize seat and lap belts, and motorcycle riders and bikers should wear a helmet as a prevention tactic or reduce the risk of injury or concussion during each riding experience. Outcomes vary depending on the related injury, but some can die. Various products are available to provide safety measures to prevent and minimize damages in a car accident.
III. Acts of Violence
Violent acts are one of the most common related causes of the most severe TBI-related deaths. Domestic violence and gunshot trauma occurrences, including child abuse, are responsible for 20% of all brain damage, as per the Centers for Disease Control and Prevention, CDC. Trauma in war zones can also cause severe TBIs.
IV. Physical Activities
Ice hockey and football, and other school sports, for example, create a higher number of traumatic brain injuries than many other activities, as per the Centers for Disease Control and Prevention (CDC). However, experts find that helmets provide only a limited level of protection.
TBI: A Major Cause of Disability and Death
TBI-related wrongful deaths affect a large number of people in the United States. Every day, approximately 166 people die because of TBIs.
TBIs have an impact on people of all ages. A TBI could happen to anyone; however, data suggest that specific populations are at higher risk of death or developing long-term health problems due to the damage. Research and other information show that the types of individuals who are more prone to experience the effects of TBI include older adults and younger children.
Short-term and Long-term Related Outcomes of TBI Diagnosis
TBI victims may experience health problems that last a few days or for the rest of their lives, based on the severity of the TBI, such as bleeding or a stroke. Patients with a concussion or mild TBI may have short-term symptoms and feel better after a day, a few weeks, months, or a year if they follow a proper care plan.
A person who suffers a TBI may suffer long-term consequences because of the injury. The Centers for Disease Control and Prevention, CDC page provides data, links, products, and reviewed information regarding health management and prevention strategies.
Affected people suffering from a suspected TBI should consult a doctor. Your healthcare practitioner or department may have information or links you can follow that can lead to or help with a quicker recovery process.
Following a medical check-up, many patients with a concussion or moderate TBI may recover safely at home. Individuals may require ongoing treatment or support groups to aid in their rehabilitation as time advances after the traumatic event.
Some bad motor vehicle crashes and sports injuries require medication to deal with problems like forming a blood clot inside your open head injury or to help improve blurred vision. You may even be fitted with prescription lenses to help you see better after a severe injury.
Traumatic Brain Injuries in Older Adults
The elderly are more likely to get hospitalized and die than other age groups. TBIs may get misdiagnosed or ignored in older persons because the symptoms coincide with other medical illnesses that are frequent in these groups, such as dementia, disability, or a stroke.
If an older adult develops the following symptoms, experts should look for signs of TBI:
Have you fallen or had an injury due to a fall, blow, bump, or jolt?
Have you been in an accident?
Medications, such as blood thinners, might increase the chances of a hemorrhage after a TBI. After a TBI, a person's brain might bleed, putting them at risk for more serious injury or death.
How TBI with diffuse injuries Affects Brain Development in Children.
TBI or a concussion affects youngsters in different ways than adults.
Damage to the developing cognitive ability of any magnitude can:
Interfere with children's development, potentially requiring speech therapy and an expensive CT or CAT scan on a regular basis.
Restrict their capacity to participate in school and enter other events
A child may encounter differences in their thinking, health, and behavior because of a TBI, which can have an impact on self-regulation, learning, and social involvement, all of which are important for and affect growing into a productive adult after a severe brain injury coupled with a skull fracture, for example.
All this may require expensive neurological surgeons, even for what you thought was only a mild concussion at first. Sometimes a further injury is unavoidable, leading to a concussion or death.
An emergency room physician will typically measure the depth of a coma during intensive care, utilizing the traditional Glasgow coma scale anywhere from 3 to 15.
The Glasgow coma scale evaluates the human eye-opening verbal responses to stimuli, including the associated motor responses. A high GC score indicates higher consciousness and awareness. Several scales and measures will be needed to record patient progress and any awakening in a rehabilitation setting.
Other tools used by physicians to check brain patterns may include a traditional medical evaluation coupled with magnetic resonance imaging (MRI) to check the overall motor response and cognitive difficulties.
Suppose there is a significant amount of poor blood flow or damaged nerve cells. In that case, medical education will be needed to help friends, family, and caretakers to avoid blood clots from bed rest, including bedsores and incontinence issues.
Sleep patterns will be disrupted, requiring round-the-clock care for patients with certain risk factors. Failure to take care of other injuries like this can cause more significant disabilities, even death.
Los Angeles Brain Injury Attorneys Ready To Leap on Your Problems Right Away!
Most people who suffer a TBI or other penetrating severe traumatic brain injury due to another individual's negligence or recklessness may be eligible to receive compensation. Once you are done at the intensive care unit, call us before you run out of the statutory clock to sue both private and government defendants.
Those suffering a traumatic brain injury or their families can typically file a personal injury claim against the person who caused the accident. To gain more information about brain cells, severe head injury, or brain injury rehabilitation, we can help. We are experts on topics like diffuse axonal injury and traumatic brain injury TBI claims.
We are also experts on any related spinal cord injury topic affecting the brain. Get your case involving severe injuries reviewed, and speak to our friendly and charismatic, experienced Los Angeles traumatic brain injury lawyers in your state. Even if you think it's a mild head injury, your brain tissue or that of your minor child may be damaged worse than you think (Examples include shaken baby syndrome or an older adult slipping and falling, banging their head).
Enter your email address on our page or call us at (213) 596-9642 for more information or a free case evaluation to learn about linear skull fractures or other physical symptoms involving traumatic injury to your head or neck area.
Here are some additional answers to frequently asked questions:
What Are the Auto Insurance Claims Laws in California?
Main Los Angeles Location
633 W 5th Street #2890 Los Angeles, CA 90071 (213) 596-9642.