Is Banning Dog Breeds a Form of Legalized Discrimination?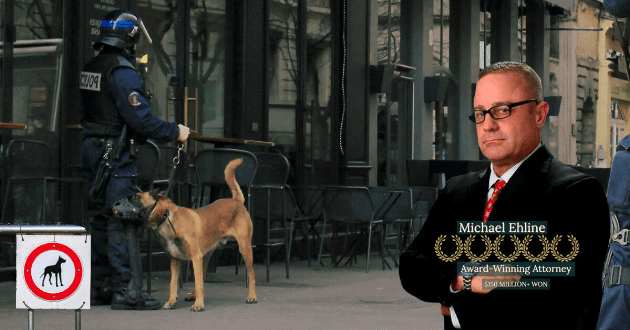 Yes, but perhaps not in a civil rights sense. But there is legal discrimination regarding the dogs you can own. And it is practiced in many U.S. cities and counties. Unfortunately, many locales decide to censor certain dog breeds. In some cases, the towns even outright ban the types of dogs.
Dog bites are a serious problem in the United States. To combat such a problem, breed-specific regulations ban certain dog breeds. Let's explore your legal options against dog breed bans with Ehline Law and our dog bite personal injury attorneys.
So the top dogs on top of the anti-dog list are dogs generally considered more aggressive. However, often the breed is not the issue but the owner. Poor training and treatment are more likely to cause injuries than the dog's lineage or birth parents.
States and Insurance Companies Ban Certain Dogs
It's unimaginable to think that bureaucrats tell you what kind of dog you can own. But they do! Most states, including California, New York, and Texas, support laws that identify and control dangerous dogs regardless of breed.
However, 31 states and more than 1,000 cities across the United States have enacted breed-specific legislation (BSL), which prohibits dog owners from owning certain breeds, including Staffordshire Bull Terriers, American Pit Bull Terriers, Doberman, and German Shepherds, among others. Kentucky, for example, has 30 cities that have bans or restrictions on certain breeds, including Pit Bulls and Rottweilers.
Many insurance companies have a breed ban list that could affect your homeowner's insurance coverage if you bring a dog restricted in their policy.
There is no solid evidence to prove that BSL helps make communities safer. The CDC strongly opposes BSL in an oft-cited study of fatal dog attacks. One of the primary reasons for their recommendation against BSL is the lack of dog bite data, including mixed breed dogs, and the differences between visual determination and DNA determination of the dog breed.
A 2014 national survey by Best Friends Animal Society found that 84% of Americans believe that the government (state or federal) should not intervene in their rights to own whatever breed they want. The results of a 2020 study, "A look at the incidence and risk factors for bites in unincorporated Harris County, Texas," showed a strong correlation between dog attacks and stray dogs.
Many studies by the National Canine Research Council reveal other factors that increase the likelihood of bites than the breed, including lack of training, socialization, and more. American Veterinary Medical Association and other organizations repeal breed-specific laws based on old studies and fake news.
Perhaps. The New York Daily News reported that the shame of banning certain breeds of dogs continued into New York City politics. The city's housing authority banned Pit bulls, Dobermans, and Rottweilers from public housing. Further research shows that dog bans are common nationwide.
Certain states are more likely to ban different breeds, especially at the local level. Statistics show that it is widespread in many forms, especially in the South and Midwest. Kentucky has 31 breed bans, including 11 cities that ban pit bulls. In Louisiana, six towns do the same.
In Michigan, many types of dogs are potentially banned, including the Akita, Alaskan malamute, pit bull terrier, and more. Overall in that state, 36 cities ban or restrict dog breed types. The same goes for 40 cities in Arkansas. Forty-six cities do the same in Mississippi, including two towns that ban Shar-Peis. Wisconsin bans types of dogs in 62 cities, including one that excludes wolf hybrids.
Breed Bans Nationwide
An incredible 89 cities do the same in Missouri, including Pilot Grove, which bans six breeds. In Ohio, this is the case in 90 cities, including 55 that restrict pit bulls. Kansas does the same with 90 cities, including 77 outright bans on breeds, especially pit bulls. Leading the nation in banning breeds is Iowa, with 91 cities with restrictions.
The City of Fairfield bans pit bulls, German shepherds, Rottweilers, and any dog weighing over 100 pounds. These dog bans are likely unconstitutional and place an undue burden on the dog and the dog owner.
Breed-specific Legislation Doesn't Achieve the Goals and Costs the Taxpayers
Breed-neutral dog laws are the way to move forward. Laws should encourage responsible pet ownership instead of banning specific dog breeds such as Pit Bull Terrier, Chow Chows, and others. To make communities safer, the laws should hold negligent owners accountable for the actions of their dangerous pet dogs. A dog owner should be held responsible for purchasing a "dangerous dog" and not training it properly.
Enacting breed-specific legislation, especially a Pit Bull ban, across the United States is a costly and inconclusive experiment. So far, breed bans fail to ensure public safety and violate the due process clause of the Constitution. Banned breeds also violate certain legislations, including the Americans with Disabilities Act.
If you or your family faced discrimination due to your dog breed– especially if it was not involved in an attack, contact the Ehline Law Firm Personal Injury Attorneys, APLC, today to discuss your legal options. If you're facing dog breed discrimination, contact us at (833) LETS-SUE for a free consultation on your case. Call us for a free consultation 24/7.
Main Los Angeles Location
633 W 5th Street #2890 Los Angeles, CA 90071 (213) 596-9642.