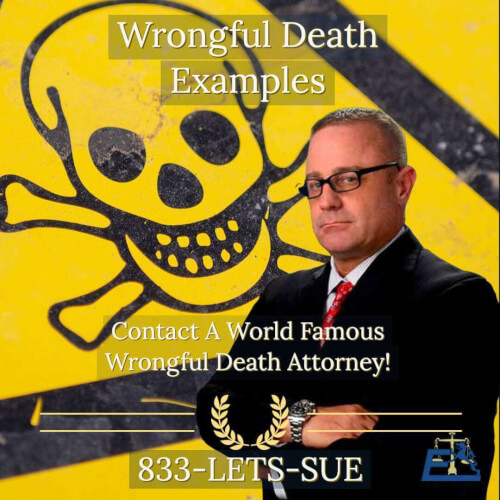 Negligence versus Wrongful Death Lawsuit
Ultimate Guide to Understanding Wrongful Death Negligence Law
I am Los Angeles Wrongful Death Attorney Michael Ehline. I understand that when you find yourself in a wrongful death lawsuit, it is crucial to seek legal advice and consult a wrongful death lawyer with experience and compassion towards prospective new and past clients. I am here to answer this complicated question as a professional with years of experience as an award-winning, life-taking professional Marine and lawyer. Even dealing with the insurance company regarding wrongful death claims, no layperson or lawyer has all the answers unless he is an excellent field commander. At your service, strategy and tactics are what made Ehline Law great.
With a wrongful death lawsuit, consider these two factors: negligence and wrongful death. Negligence occurs when an individual fails to take the proper precautions to prevent an accident or injury to a fellow human being or their loved ones. Oversight can also extend to corporations or businesses where a defective product causes injury or death.
In the circumstance that one's negligence has resulted in death, this is where one's family members can sue for wrongful death. They can also sue if, prior to the end, there was an incurring of medical expenses or medical bills; the family can sue for compensation for these expenses.
The Legal Route to a Wrongful Death Claim
When parties find themselves in a situation where they are being charged or facing charges of a wrongful death claim, whether they are at fault (liable) or not, it can be stressful and overwhelming.
In circumstances where the claimants seek compensation from the accused, the liable individual may use their home insurance to pay for damages caused by their negligence. Depending on the severity of the case, home insurance can help with the settlement of damages.
Holding People Accountable
What is one thing that sets Michael Ehline apart from other legal defense attorneys? His determination and dedication to pursue compensation for those who have suffered an unimaginable loss. He seeks to represent those who, on top of grief, must now deal with the legal obligation of either suing or being sued.
Breach of Duty
For a personal injury lawyer to ensure that the insurance cover wrongful death cases, there has to be proof of a breach of duty, which, in non-legal terms, means that there has to be enough sufficient evidence that demonstrates the defendant did not act in a manner which could have prevented or avoided any liability.
Take, for example, a vehicle accident where another person negligently killed someone else. Suppose witnesses can prove that the car that caused the accident was driving erratically, the driver was above the speed limit, etc. In that case, this can potentially prove that it contributed to the injury or death of the individual.
The wayward motor vehicle driver example remains among many possible scenarios demonstrating a breach of duty to another. However, situations exist where accident victims have reported a breach of duty by medical professionals and businesses as having acted carelessly.
Causation
When you contact the Ehline Law Firm, our team of skilled legal experts strives to get the complete picture. They ensure they have all the necessary information to provide their clients with the most compensation.
Why?
When an accident results in the death of a family member, whether parents or children, the legal team at the Ehline Law Firm wants to prove that you, as the client, have suffered a loss that no compensation can ever fully fulfill.
The Ehline Law Firm works to obtain all necessary specific information about the incident and answer any possible questions or concerns.
How Are Wrongful Death Claims Paid Out?
Suppose you are the injured person or the person filing the wrongful death action.
In that case, you and your family may be eligible to receive financial support or receive compensation for the following:
Funeral costs, such as burial expenses
Property damage
Loss of spouse income or financial assistance
Emotional pain and trauma
Loss of companionship.
These are just a few examples where the Ehline Law Firm can ensure persons receive proper guidance and payment. We act on your behalf to provide services meant to make losing a loved one a little more bearable.
If you are the individual who must pay, depending on liability, insurance may cover some of the damages. The insurance coverage is going to vary. It is best to provide your contact information or do a zip code search to find a lawyer to assist you with such problems.
Wrongful Death Attorney Michael Ehline – Your Legal Representative and Advocate
Unlike some paid attorney advertising, Michael Ehline of the Ehline Law Firm has served clients in the Los Angeles area since 2005. Ehline has been practicing in the field for years, helping his clients and their families be awarded proper compensation. He is an experienced wrongful death attorney who has experience in dealing with sensitive or confidential information.
When it comes to a wrongful death suit, whether you are fighting in court or out of the courts, Ehline Law is ready to support you and your family. Ehline and the Firm are about ensuring the suffering of our clients is sufficiently and adequately covered.
Don't let someone's negligence ruin your life; contact Ehline Law, and one of our attorneys can guide you through the process. With the details provided, we can make sure any injuries sustained are accounted for in the lawsuit.
If you are looking for someone who can win your wrongful death case or ensure you receive proper financial compensation in your illegal death settlement, Michael Ehline is your best choice. With excellent attorney-client relationship reviews, many turn to us as the go-to wrongful death attorney.
Working Around the Clock for You
The next time you find yourself in a civil court or entangled in civil lawsuits, hire the Ehline Law Firm. Contact us at (213) 596-9642 or explore our website for a free evaluation today!