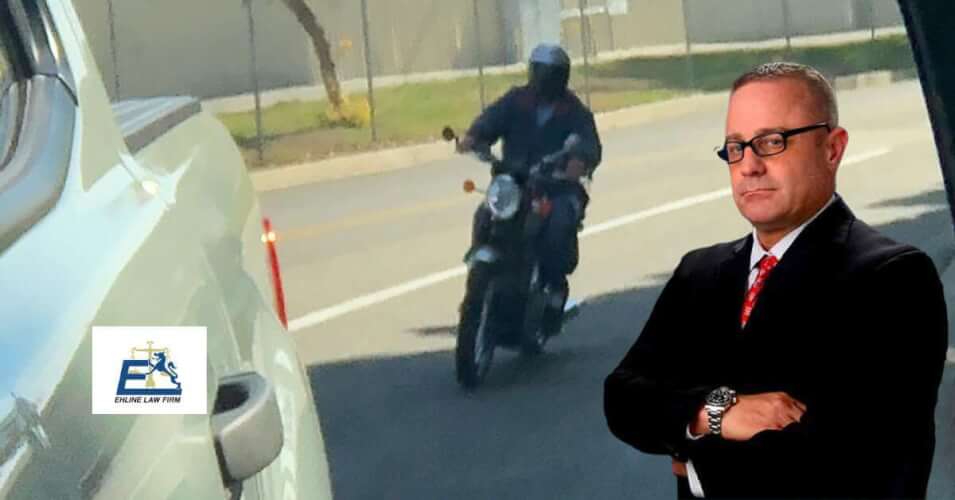 On October 26, 2022, at around 10 AM, a fatal motorcycle accident occurred at Santa Monica Boulevard. Let's explore the details of the accident with Ehline Law and our Los Angeles motorcycle injury attorneys.
Beverly Hills Fatal Motorcycle Accident Case Proceeds to Investigations
According to the Beverly Hills Police Department, the accident occurred between a Chevy SUV and a motorcycle, resulting in fatal injuries.
The emergency services transported the motorcyclist to the hospital, where he succumbed to his wounds and died. In the meantime, the Beverly Hills police closed the intersection at Santa Monica Boulevard and Wilshire Boulevard for initial investigations.
So far, the police have not released the cause of the motorcycle accident.
Cause of Los Angeles Motorcycle Accidents
The most common cause of motorcycle accidents is cars making left turns. According to the National Highway Traffic Safety Administration (NHTSA), almost half of all fatal motorcycle accidents in 2019 occurred when a vehicle made a left turn.
Speeding, distractions, and low visibility are some of the reasons why motorcycle accidents occur when cars make left turns.
Common Types of Motorcycle Accidents
According to a 2019 NHTSA report, the following are some of the common types of motorcycle accidents:
Head-on collisions: Of the 5,114 fatal motorcycle accidents involving a moving vehicle, 75% were head-on collisions, while only 7% were incidents where the car rear-ended the motorcycle.
Collisions with other objects: A motorcycle accident can involve a motorcyclist losing control of their vehicle and hitting an object such as a fence or a tree. Of the 5,114 fatal motor accidents, 23% involved collisions with a fixed object.
Road hazards: Since motorcycles are small and less stable than cars, motorcyclists must pay close attention to the road, as any bumps or irregularities can result in a motorcycle accident.
Motorcyclist behavior: In 2019, 30% of motorcyclists in fatal crashes were alcohol-impaired, and 33% were speeding. Many motorcyclists also do not wear helmets, which is why they suffer catastrophic injuries in an accident. According to the NHTSA, out of 100 riders killed in motorcycle accidents, wearing a helmet could save 37 lives.
Common Motorcycle Accident Injuries
Depending on the type of motorcycle crash, the rider may suffer from the following motorcycle injuries:
Traumatic brain injury
Spinal cord injuries
Head and neck injuries
Lacerations, bruises, and abrasions
Broken bones and fractures
Internal injuries.
Can Motorcyclist's Family Sue for Beverly Hills Crash Death?
An injured motorcycle accident victim or those who lost their loved ones in a serious accident in Beverly Hills can pursue a motorcycle accident claim or lawsuit against a negligent party who caused the accident.
Before victims can pursue motorcycle accident claims, they must identify the party responsible for the accident. There could be one or many parties involved, and for some accidents, it may be challenging for motorcycle accident victims to determine a liable party.
Whether the negligent party is a driver, motorcycle manufacturer, or a governmental entity, an experienced motorcycle accident lawyer can investigate the incident and hold the responsible party liable for the damages.
Recoverable Damages in Motorcycle Crashes
When an injured motorcyclist files a motorcycle accident lawsuit against the negligent party, they can recover compensatory damages, including the following:
Medical bills (past, present, and future)
Lost wages
Property damage
Reduced quality of life
Pain and suffering
Emotional distress and mental anguish.
If someone loses a loved one in a motorcycle accident, they can pursue burial and funeral expenses, loss of companionship, and other damages in a wrongful death lawsuit.
Every accident case is unique, and the damages may vary, which is why it is important to discuss your injury or a wrongful death claim with an experienced personal injury attorney.
Schedule a Free Consultation with Ehline Law
If you suffered severe injuries or lost a loved one in a motorcycle accident, contact us at (833) LETS-SUE for a free consultation with our skilled motorcycle accident attorney, as you may be eligible for compensation.
Our skilled Los Angeles motorcycle accident attorneys will help assess your case, gather evidence, and handle the insurance company to get you the compensation you deserve.