With more than 10,000 miles of roads in California, sidewalks have become a blessing for pedestrians and residents with mobility disabilities. For these individuals, sidewalks help ensure their safety against the increasing number of vehicles each year. They hope they won't get hit by a car and be struck with spinal cord injuries, brain damage, or a fatality.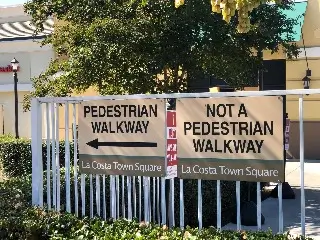 Learn about TBIs and LA Sidewalks Here
Suffer a brain injury on an LA City sidewalk? Receive a Free Consultation Today!
However, even with sidewalks present, there are still a lot of accidents that occur in the State annually on sidewalks causing many to have traumatic brain injuries. Did you have the right of way before being struck due to another driver's negligence? Contact Ehline Law and our expert personal injury attorneys for robust legal representation if you got hurt on a public sidewalk with serious injuries (head injuries, wrist, knee, and ankle injuries, etc.) that were not your fault. (bicycle accidents, pedestrian accidents, other traffic accidents.)
What Is the Leading Cause of Brain Injury?
A traumatic brain injury results from an impact or a blow to the head. This could happen during traffic, bicycle, or other types of pedestrian accidents; however, the leading cause of brain injuries in the United States is falling headfirst. So slip and fall claims, especially with elderly folks, are a significant cause for concern in the City of Angels.
When individual trips and falls, the entire weight of the person and gravity plays against them, and an impact to the head at that time can lead to a brain injury.
How Do Sidewalk Accidents Happen?
Based on the types of claims our personal injury law firm sees, here are our findings of most accident victims. Two types of accidents can occur on a sidewalk, falling due to broken sidewalks or pedestrian collisions in business districts with vehicles on a sidewalk. A bicycle accident or other pedestrian accidents may also occur, even using reasonable care and making reasonable inspections for any dangerous condition on the path ahead.
The Property Owner and Broken Sidewalks
Pedestrian rights are at a premium in Los Angeles. But still, the decay in California's public infrastructure has become self-evident, with almost half the roads in the State requiring repair work at an estimated cost of $1.2 billion. From 2000 to 2008, out of the 4,600 miles of roads that require repair, almost 67 miles have seen some improvement. With such slow progress, reports suggest that it will take 67 years to make improvements to 4,600 miles of roads if no further deterioration occurs.
In 2002, the largest disability class action suit took place in the country, whereby a group of individuals decided to sue the city of Sacramento for causing harm to people due to the broken sidewalks. The Federal court decided in favor of the individuals stating that the American Disabilities Act also applies across public sidewalks.
Property Owners and Liability for Sidewalk Accidents
Forty years ago, the same lawsuit would be different and aimed at a property owner, not the city or the State. Trees from a property and the tree roots can expand, lifting sidewalks and damaging them completely. Any damages from trees and their roots to the sidewalks were the responsibility of the adjacent property owners for the broken sidewalks. However, it's been 40 years since Los Angeles adopted a law where the responsibility for broken sidewalks shifted to the city.
Many argue that the city can not afford to maintain 5,000 miles of roads. Due to this, the city is looking to implement a new program to repair the sidewalks and then transfer the maintenance responsibility to property owners.
In some situations, if the sidewalk is on the land owned by the property owner adjacent to it, you might be able to file a personal injury claim for your broken bones/medical bills against the owner rather than the city. However, there are still conditions to this, as seen in Government Code Sections 830 and 835, whereby the public entity is responsible for street services (tree root pruning and removal, etc.) if city workers know about the condition of the sidewalk or adjacent crosswalks before the injury. Only a well-trained pedestrian accident lawyer with an understanding of the Los Angeles Municipal Code, Vehicle Code, and tort laws can explain everything when you've been hit by a car.
California Public Records Act
It is advised for restricted mobility residents to check maintenance records and city council proceedings transcripts (as per CPRA) to ensure their safety before leaving their homes to avoid being hit by a car. Any available, non-redacted portion of the information reported about a sidewalk in Los Angeles will be obtainable under this section by you or your personal injury lawyer when you get hit by a car.
Motor Vehicles, Bicycles, and Sidewalk Interactions
Besides broken sidewalks and pedestrian accidents, other types of accidents besides falling can also occur on sidewalks, injuring pedestrians. A bicycle under human power, motorcycle, and motor vehicle accident like a delivery truck accident from jumping a sidewalk could lead to a pedestrian accident. A crash like this could result in injuries like skull fractures or death to the walker or runner.
Los Angeles has more than 10,000 miles of road, meaning there are a lot of sidewalks and enough possibilities for hospitalization and severe injuries to a pedestrian. The accident's severity, the vehicle's speed, and the point of impact determine the damage dealt, thus affecting street traffic and pedestrian safety in the State.
Filing Lawsuits Against Negligent Parties
In any lawsuit, according to California Civil Jury Instructions, the plaintiff or their personal injury lawyers must prove the following to win a case:
The defendant had a duty of care
The defendant breached the duty of care
The plaintiff got harmed
That breach caused the plaintiff harm.
Now let's look at how these four elements can impact the type of lawsuit or compensation claim you, a closed loved one, or other family members seek to pursue from insurance adjusters or government agencies.
For broken sidewalks, including parking lots, a victim must file a premises liability lawsuit against the adjacent property owner if the sidewalk is on land owned by the property owner. According to the law, a victim can sue the property owner if the sidewalk damage is due to the failure of the property owner to maintain their piece of land. In such cases, the statute of limitations allows victims to file lawsuits for two years following the accident. If the defendant is the State, county, or city government, make sure you file the lawsuit within six months following the accident as per the statute of limitations. To have a case, the victim must prove the four elements.
If the sidewalk injury or accident occurred due to bike riders, motor vehicles, or other modes of transportation, then the victim must file a pedestrian accident lawsuit. (Examples include running a red light since drivers must yield to pedestrians cross the street.) According to the statute of limitations, a victim must file a lawsuit against an individual for two years following the accident.
The California Vehicle Code states that drivers can not drive or move vehicles on sidewalks unless to enter or exit the property. If the driver has no option but to drive on the sidewalk, in that case, they must yield to pedestrians. Usually, sidewalk collisions occur because of distracted drivers or driver negligence, violating the California Vehicle Code.
Insurance companies will try to create an unfavorable situation for you when filing lawsuits by giving you a lowball settlement offer. They will scrutinize police reports your documents and use delay tactics as releasing compensation affects their business's profitability. The less compensation they give, the more money insurers make, skirting personal injury law requiring just compensation.
If you are not at fault and have all the documents or evidence in your possession, then there is no need to get pressurized by insurers. Get in touch with our personal injury attorneys specializing in fall accidents and pedestrian-vehicle collisions to help you with your case.
Having a lawyer can help you claim the following damages from the insurers and negligent parties:
Medical expenses
Lost wages
Therapy
Surgery bills (Depending on the severity of injuries sustained)
Emotional trauma
And more.
Depending on the accident (Los Angeles County bicycle accident versus City of Los Angeles jogging accident in a business district, etc.) and your situation, you may be eligible for compensation for all of the above pedestrian accident claims or just a few. An expert lawyer can build a strong case and get you the maximum compensation you deserve for your serious injury.
Get a Free Consultation With a Sidewalk Injury Lawyer in Los Angeles
Contact us at (213) 596-9642 and get a free consultation with our experienced personal injury attorneys. Ehline Law has recovered over $150 million in compensation for its clients, and we can do the same for you. There are many complications with any legal case. Proper legal representation is the key to proving your innocence and getting you the compensation to help pay the bills. When medical costs are rising, compensation can help alleviate that financial burden to get your life back on track.
Our brain injury attorneys will investigate the case, collect the required evidence, and help determine and file claims. During the negotiations, if there is no agreement between both parties, our best injury attorney is not afraid to take the negligent parties to trial. Find out about getting free legal advice during your free case evaluation. We specialize in Los Angeles pedestrian accident cases. We highly recommend you find out about forming an attorney-client relationship with our top-notch injury lawyers in Los Angeles County, CA. Call us today. Do so before signing any insurance settlement papers with the insurance defense attorneys!
Citations:
Main Los Angeles Location
633 W 5th Street #2890 Los Angeles, CA 90071 (213) 596-9642.