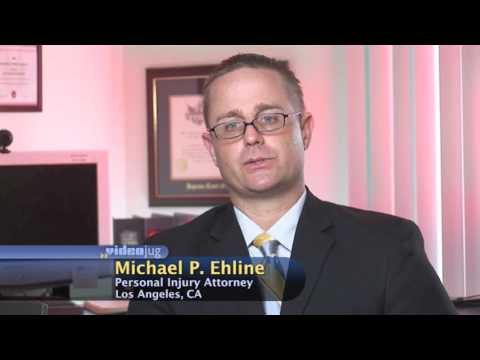 A personal injury accident can turn your world upside down, and in some cases, victims don't make a return. Catastrophic injuries where a victim gets crushed are also called compression injuries. These conditions include broken bones, head injuries, spinal cord injuries, traumatic brain injuries, disfigurement, damaged organs, lacerations, and other serious injuries.
Below, our Los Angeles crush injury attorneys will explain everything you need to win big money for your insurance claims.
The Team at Ehline Law Knows Crushing Injuries are Devastating –
How Do Crush Injuries Occur?
It is easy to believe that crush injuries occur when an individual comes into contact with a vehicle, but in reality, there is a whole branch of physics at play. A compression injury occurs when there is a massive transfer of energy from a moving object to a person.
Can One Get Crushing Injuries from Car Accidents?
When there is a moving vehicle or an object, the energy within that object builds up. With motion providing support, contact with an individual allows for the transfer of the built-up energy. If humans could convert energy, then they would absorb it without taking any injuries. However, we don't have such abilities, which cause the power to enter living tissue, stretch it, and tear it apart. This is why we sustain car accident injuries after a collision.
Crush injuries not only occur after a car accident but can happen anywhere. People caught between objects, a roof collapsing on top of a person, or even an elevator fall can lead to compression injuries.
Is Compression Injury from a Car Accident Considered a Catastrophic Injury?
A compression injury is very serious after an accident resulting in amputations, blood clotting, and infections. These not only require immediate medical treatment but are also life-threatening and may require multiple surgeries to reconstruct tissues.
The human body loses normal functionality in parts of its body due to flattened tissues, and the pain can last for weeks. Due to such severe injuries, many victims start to develop psychological issues like depression, and learning to live with chronic pain or lack of feeling can cause psychological trauma.
How Much Do Injuries from Motor Vehicle Accidents Cost?
With the rising healthcare costs in the US, even minor injuries can rack up a hefty medical bill, while treating catastrophic injuries is beyond the financial means of an average American. One way to secure yourself from such costs is to have health insurance and get our talented attorneys to help recover compensation from the insurance company to pay for your medical expenses.
Treatment costs depend on the type of injuries; some injuries may require life-long treatment and medical care resulting in a staggering medical expenses.
Following are the different types of catastrophic type injuries and estimates of how much it would cost to treat them:
Traumatic brain injury – $85,000 to $3 million (Learn more from a brain injury lawyer)
Spinal cord injury – $350,000 to $1 million in the first year with up to $200,000 in subsequent years (Learn more from a spine injury lawyer)
Amputations – $20,000 to $60,000 surgery only (Learn more from an amputation injury lawyer.)
Prices vary for conditions like CTE, paraplegia, and quadriplegia.
How Much Is Your Collision Crushing Injury Worth?
The amount of compensation a car accident victim can get depends on the severity of the catastrophic injury cases. Victims with minor injuries get enough compensation to cover their bills only. In contrast, some fatal injuries can lead to a wrongful death resulting in a lawsuit by surviving family members, which can go into millions of dollars. (Contact wrongful death attorneys here)
An experienced personal injury lawyer can help determine the value of claims from a car crash by getting testimony from medical experts. A talented attorney can recover compensation for physical pain and suffering, emotional trauma, medical bills, lost wages, out-of-pocket expenses, punitive damage, and more.
File a Car Accident Claim with Ehline Law Firm
Ehline Law is a law firm dedicated to helping personal injury victims get the best possible legal representation in California. Our talented lawyers will help assess your case, determine your claims, and protect your rights by negotiating with insurance companies a fair compensation for your loss. Our professional attorney-client relationship has led to more than 3,000 successful clients and over $150 million in recoveries.
We Offer a Free Case Evaluation if You Want to Seek Compensation
Our Los Angeles car accident lawyers understand that money won't help normalize things after an accident, but it can pay for the hefty medical bills and get your life back on track. Reach out to our injury lawyers on your personal injury case for legal advice today.
If you got injured in a car accident, contact us at (213) 596-9642 and get a free consultation with our personal injury attorney.