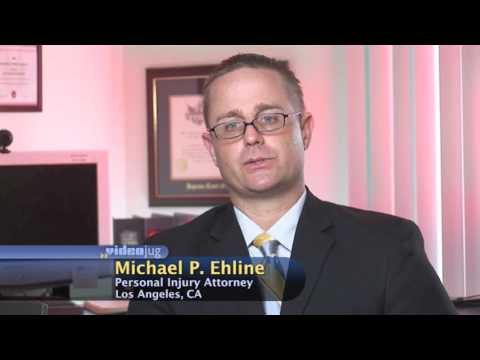 A "crush injury" occurs when there is an excessive force applied to a body part. Crush injuries often happen when a body part is caught in between two objects holding a lot of force. According to the Occupational Safety and Health Administration (OSHA), crushing injuries are among the top 10 causes of workplace disability injuries.
Crushing injuries related to vehicle collisions can vary according to the severity of the accident. These injuries can be serious and also fatal depending on how quickly the injured victim receives treatment.
If you suffered crush injuries in an accident that was not your fault, you may be eligible for compensation. Ehline Law and our personal injury attorneys maintain a close attorney-client relationship to protect their rights and aggressively pursue legal claims to help recover compensation for their losses. Reach out to us and receive a free case evaluation today.
What is a Crush Injury?
When a person's body part or the entire body experiences an excessive force, it can cause severe or permanent trauma in the form of a crush injury. These injuries often occur from accidents on the road or at workplaces.
On the road, when a smaller vehicle collides with a much larger vehicle, such as a truck, due to the sheer difference in size and weight, it can crush the smaller vehicle, causing crush injuries to the driver and occupants inside of it.
In the workplace, crush injuries occur when the employee's body part comes under pressure, for example, when it gets stuck in a rotating or pressing machine.
These types of injuries also occur because of natural disasters. A strong wind can cause a roof to collapse, resulting in serious crush injuries to the people inside the house.
Effects of a Crush Injury
Crush injury victims suffer from two effects of a crush injury:
Initial effects
Secondary effects or complications.
Initial Effects
When the accident occurs, the initial or immediate effect of a crushing injury can be serious and include:
Severe bleeding
Damage to the nerves
Fractures or broken bones
Lacerations and bruising
Muscle and ligament tears.
When a victim is experiencing the initial effects of a crushing accident, they only have a limited time to receive medical attention as the injuries slowly start to get worse due to the constant loss of blood and oxygen.
Secondary Effects
When a victim suffers from a crush injury due to a collision, their first reaction is a complete shock, which causes them to be unaware of their injuries. Oftentimes, the victims will refuse treatment, insisting that they're not injured.
However, it is critical to understand that you can only know the extent of injuries sustained after receiving a proper examination. Internal injuries are difficult to diagnose with the human eye, and some injuries may take longer to manifest.
Delaying a medical examination causes a delay in medical treatment if you require one due to your "hidden" injuries. Those suffering from injuries who refuse to receive a medical examination could seriously deteriorate their health with every passing moment, which can negatively impact their ability to recover.
A crush injury can turn complicated or develop life-threatening conditions over time, and some of these include:
Limb ischemia: A sudden decline in the flow of blood to the affected extremities can cause limb ischemia, an extremely painful condition that can lead to amputation, heart complications, and even death.
Acute compartment syndrome: A sudden pressure buildup in the affected muscles can cause a significant drop in the blood flow, resulting in acute compartment syndrome. It can cause pain and a decreased peripheral sensation. The syndrome requires emergency treatment as it can lead to ischemia and eventually necrosis.
Rhabdomyolysis: Also known as "crush syndrome," rhabdomyolysis is a serious medical condition. Crush injuries can cause severe damage to the muscle tissue, resulting in its cellular integrity breaking down.This leads to the body releasing multiple toxins, which also include myoglobin, into the injured victim's bloodstream. A buildup of toxins in the bloodstream can cause kidney failure and, in the worst situations, death.It can take around four to six hours for the body to release toxins into the bloodstream, but depending on the severity of the injury, it can start in just under 60 minutes.
Common Causes of Crush Injuries
The majority of crush injuries happen due to car accidents where there is a great deal of force exerted upon the occupants of the car, resulting in serious damage to their bodies. Some of the most common causes of crush injuries include motor vehicle accidents, bicycle crashes, motorcycle accidents, pedestrian collisions, and truck accidents.
Besides car accidents, crush injuries are also common in workplaces. According to the Bureau of Labor Statistics, there are more than 73,000 crush injuries resulting in days off from work.
Here are some of the possible accidents that could occur at the workplace that result in crush injuries:
Falling heavy objects from shelves onto an employee.
An employee's hand getting stuck in a machine.
A forklift or a cargo truck runs over an employee's foot.
A crushing accident between the loading dock and tractor-trailer.
Falling of heavy objects from the tractor or truck onto the employee.
A farmer gets crushed between a fence and a large animal.
A week's ceiling structure falls on the employee.
Treatment for Car Accident Crush Injuries
The treatments for crush injuries vary according to the severity of the injuries sustained. Minor crush injuries are nothing to worry about as they can heal on their own. However, a severe crush injury sustained from a car accident requires immediate medical treatment.
Medical professionals recommend the following methods of treatment for crush injuries:
IV fluids for relieving pressure and resuscitating the affected area.
The use of alkaline diuresis assists the kidneys in removing toxins from the body.
Antibiotics to combat secondary infections as a result of the injury.
Surgery for serious crush injuries such as necrosis or compartment syndrome.
Crush injuries are often predictable as they can either heal or result in amputation or your life. Serious crush injuries can cause permanent disability, resulting in lost wages due to the inability to work. Injured victims not only require the support of their family members and medical professionals to recover but also the legal help of an experienced personal injury attorney.
Legal Help for Crush Injury Victims in California
Ehline Law is a leading personal injury law firm with more than 3 decades of collective experience handling personal injury cases. If you have suffered a crush injury due to the negligence of someone else, contact us at + (833) LETS-SUE for a free consultation with our personal injury experts. Accident victims need strong legal representation if they wish to recover maximum compensation for their loss. To learn more about your case or seek legal advice, contact us at our toll-free number or visit any of our law offices across California.